Automation in Practice: Doing the Work of 5+ Consultants in the First Week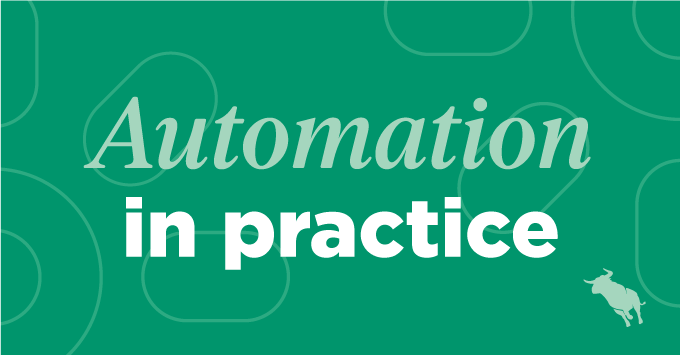 This Automation in Practice is a client that got a great jump start on their onboarding of Bullhorn Automation (previously known as Herefish by Bullhorn). By the end of their first week, they already had their automation doing the work of five internal employees.
Here's how they achieved it:
They focused on the

high ROI Blueprints and tutorials.

Their favorites were the

re-engagement for candidates and clients

, and the

data hygiene updates and tutorials

.

They also focused on

improving repeatable journeys

, focusing heavily on the

submission flow

, as well as the

placement journey

.
The client said Automation was "by far the best product we've ever purchased."
They haven't stopped either – they have continued to add a ton of value to their company with automation.
Here's how you can do this yourself:
A great way to get started and get those high ROI use cases is to utilize the Automation Blueprints. Those are accessible whenever you click the "add automation" button in the top right corner when you're inside Bullhorn Automation.
Here, you can see the "Start from Blueprint" options. They are color-coded, so you can find the correct ones that you want by the entity that you're automating around:
Green for candidate-based

Yellow for sales contact-based

Black for placement-based

Red for job-based

Light blue for submission-based
Many of these Blueprints are those with a big impact, so you don't have to re-invent the wheel. Instead, you can utilize a formula that works. You can also edit and customize any of these Blueprints. They can give you a jump start not only on the structure of the automation, but also the list and the criteria that you want to use to identify the segment that's going through the automation, and lastly also the content itself. Each of these Blueprints will come with pre-built content, but again, you can adjust and customize to your brand.
Another great way to get started is to look at the Automation YouTube channel, where you can find the automation tutorial series, Build With Billy. These are all examples of tutorials that will show you exactly how to build these automations. Here, you can get ideas, follow along with an expert, and get your automations running out of the gate as you're learning the system – and see the impact as quickly as possible.
See this Automation in Practice:
Watch the video below to see Billy Davis put this automation into practice:
Subscribe to the Customer Blog
Subscribe for trends, tips, and insights delivered straight to your inbox.