Run a Better Business with The Bullhorn Marketplace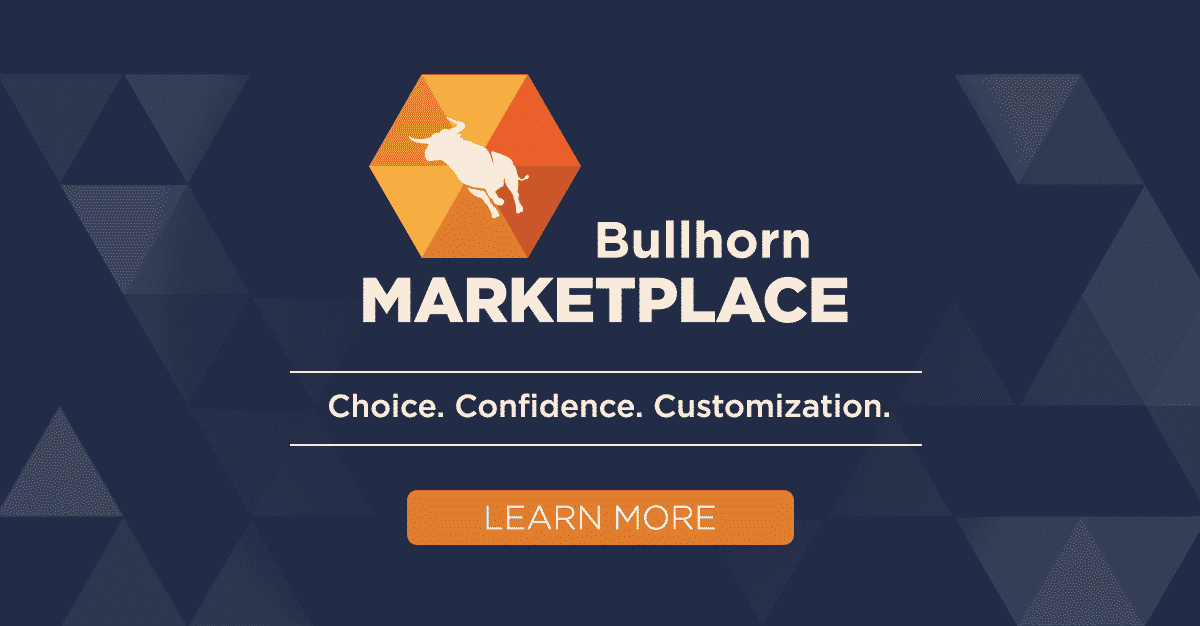 We've spent a lot of time talking to staffing industry professionals (and Bullhorn customers) to learn from the front-line what it takes to run a successful staffing or recruiting business. You've told us about your business goals: finding great candidates, ensuring user activity is tracked in the same place, establishing a rapport with your customers and talent at scale, and much more. We've also learned about the obstacles businesses face on the way to reaching these goals: wasted time on repetitive tasks, difficulty encouraging adoption of new technology and inefficient candidate onboarding processes.
The Bullhorn Marketplace is here to help you take on those challenges and goals with gusto! Over the years, Bullhorn has built an ecosystem of 100+ pre-integrated Marketplace partners to help staffing firms innovate and differentiate from the competition. With the Bullhorn Marketplace, our customers can choose from a wide array of staffing technologies, feel confident in validated integrations, and ultimately create a customized solution. In addition to providing choice, confidence, and customization, the Bullhorn Marketplace helps solve the core tactical problems that pervade the recruitment industry, ultimately allowing you to:
Make your teams more productive from day one
How do you get everyone in your organization using a new system and leveraging its benefits? Thousands of staffing firms have leveraged Marketplace partners to create best practices and automate technology adoption. They have used tools like Whatfix to provide useful training content at the right moment, Sourcebreaker to teach recruiters how to create queries, Cube19 or InsightSquared to track and display activities, and CloudCall's call recording features to enable feedback on recording.
Partners enable your team to ramp-up quickly instead of wasting multiple cycles getting ramped. Leverage seamless, scalable technology to improve yours team's overall effectiveness and increases a user's satisfaction in their role.
Maximize the ROI of your tech stack
Are you running your business as one? Integrate all of your technologies into your Bullhorn instance and operate more efficiently and effectively. For users, access your candidate information in one place, instead of across five or more tools.
Moving information from one system to another is not a value-added activity. Partner integrations serve to automate data entry, saving time and ensuring everybody on your team has complete information on candidates, hiring managers, and open jobs all within Bullhorn. Connect sourcing data, screening information, contact records, and financial data into your ATS/CRM records so you have all the data you need to make the right business decisions and maximize results.
Create a better customer and candidate experience
There's no doubt that your team needs access to your important information in order to succeed. But sometimes, you want to share the information from your system with the people who care the most: your candidates and customers. Leverage marketplace partners to ensure that your candidates and customers have access to the information they need when and how they want it.
Portals, texting/VoIP, marketing and engagement tools, and scheduling tools create a unique, connected experience for candidates and customers, and in the process, can increase NPS and loyalty to your company. And if your customers and candidates are happy, they're more likely to stick with you in the long run.
---
Would you like to invest in an extensible solution that will allow you to conquer these obstacles? Check out our new Bullhorn Marketplace site and learn more about the Bullhorn Marketplace today!

Subscribe to the Customer Blog
Subscribe for trends, tips, and insights delivered straight to your inbox.