Introducing: Bullhorn Onboarding365
It's no secret that your onboarding process has a dramatic impact on your business' health. An incredible onboarding experience can lead to faster candidate placement and, by extension, a higher likelihood of candidate productivity.
In contrast, messy, manual onboarding practices are frustrating not only for your agency, but also for your candidates who are dealing with duplicate and confusing paperwork, and for your clients who are subject to its consequences and placement delays. Issues stemming from outdated solutions ultimately slow down time-to-revenue, tarnish an agency's reputation for delivering great experiences, and negatively impact future business.
Next-gen onboarding solutions digitally transform your business
You need a smart solution engineered to meet client needs and deliver a winning candidate experience that doesn't make your best candidates question their loyalty. Today, we're launching Bullhorn Onboarding365 to establish a new standard for onboarding best practices.
Bullhorn Onboarding365 is the combination of eStaff365's enterprise-grade functionality integrated with Bullhorn's unmatched, experience-centered platform. With functionality that minimizes duplicate work and automates tedious tasks, Onboarding365 makes the recruiter workflow efficient and gets candidates on assignment faster, all while streamlining and greatly improving the overall candidate onboarding process.
What makes Bullhorn Onboarding365 a next-gen onboarding solution?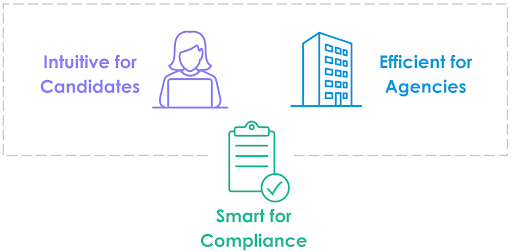 It's intuitive for candidates
Reduce drop-out rate and promote on-time starts by eliminating manual and duplicate paperwork and creating a smart onboarding process that is fast, easy, and accurate. Intuitive web forms with pre-filled data fields use data mapping to speed up form completion and accuracy. The platform is fully mobile-optimized for phone and tablet, making it such that the onboarding experience is accessible anywhere, anytime.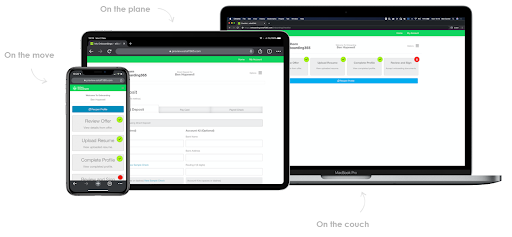 It's efficient for agencies
Get candidates on assignment faster and increase speed to revenue by implementing automated and proactive processes that ensure candidates complete required paperwork on-time. Access to a complete document library of standard onboarding forms ensures that all state and federal requirements are met. A robust rules engine allows you to set document requirements and workflows configured by state, client, branch, and assignment, simplifying the onboarding process and reducing placement delays.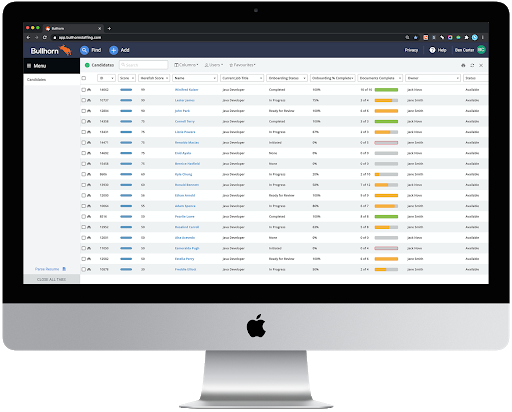 It's smart for compliance
Meet government, client, and agency compliance standards with the ability to customize forms and workflows, automate form population, and keep required forms up-to-date. Built-in I-9 and E-Verify, plus 95+ other standard documents, help you manage onboarding requirements all in one platform. With secure access and standardized compliance, you can be fully audit-ready to meet USCIS standards.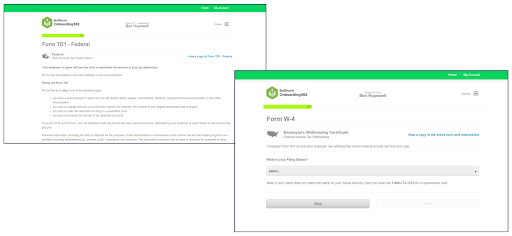 Step up your onboarding game with Bullhorn Onboarding365
Bullhorn Onboarding365 enables agencies to efficiently meet complex onboarding requirements, reduce candidate drop-out, and get candidates on assignment faster, all while delivering an incredible candidate onboarding experience. Agencies can customize workflows and forms by location, comply with government and client requirements, and proactively communicate with onboarders. Candidates can intuitively and efficiently complete online paperwork without the need for complicated instructions or duplicate data entry. Onboarding365 allows agencies to scale their business, speed up time-to-revenue, and achieve healthy business growth.
---
Want to learn more about our next-gen onboarding solution? Request a demo of Onboarding365 today.
Subscribe to the Customer Blog
Subscribe for trends, tips, and insights delivered straight to your inbox.