Quarterly Release Roundup: Q3 2020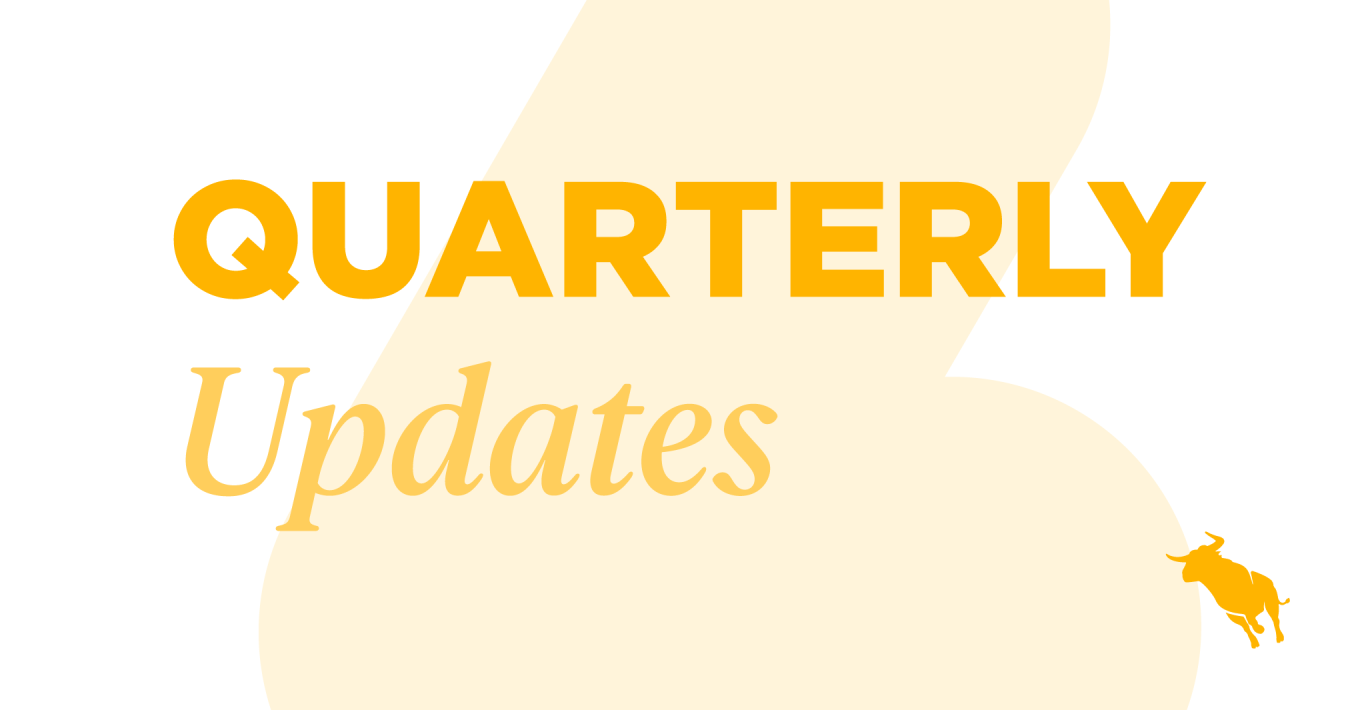 With plenty of product updates each month, it can be difficult to keep up with what's new inside Bullhorn. To make sure you're up-to-date with the most recent enhancements, we've compiled a list of the top product updates from the last quarter so you can make the most out of your investment in Bullhorn. 
Read on for a roundup of the product updates and enhancements that we released in Q3 2020. 
Product Updates to Bullhorn Novo
Parser:

The

Parse as Existing

function will now look at the entire file for changes to parse.

Work History:

When the system setting "autoCreateWorkHistoryfromPlacement" is enabled and a Placement is made, a new Work History record will be added on the Candidate record.

Add Placement from Job Action:

You can now add Placements from the Action drop-down on a Job Overview.

Bullhorn Available in Italian:

Bullhorn is now available in Italian, ensuring Italian users can access Bullhorn in their native language.

Single Sign-On Login After Time Out:

You can now log back into Bullhorn on the first attempt when the session times out.

Manage Ownership Experience

: We have enhanced the 'Manage Ownership' experience on entity lists so that the 'change owner' action is now 'manage ownership.'
Enhanced Credentialing Functionality
Bullhorn's enhanced credentialing capabilities enable customers to efficiently manage credentials across the whole organization, with configurability to best match each agency's unique workflow. In turn, recruiters can ensure that only qualified candidates get submitted to jobs, reducing the compliance risk of incorrectly making a placement with someone who is unqualified.
Credential Requirements List:

Credentials are now a first-class entity, just like Candidates, Contacts, or Jobs, meaning that customers can now view credential requirements in a dynamic list, filter/sort/search/configure the list, and take mass actions. As a result, credentialing teams can efficiently interact with Credentials, just like with other Bullhorn entities.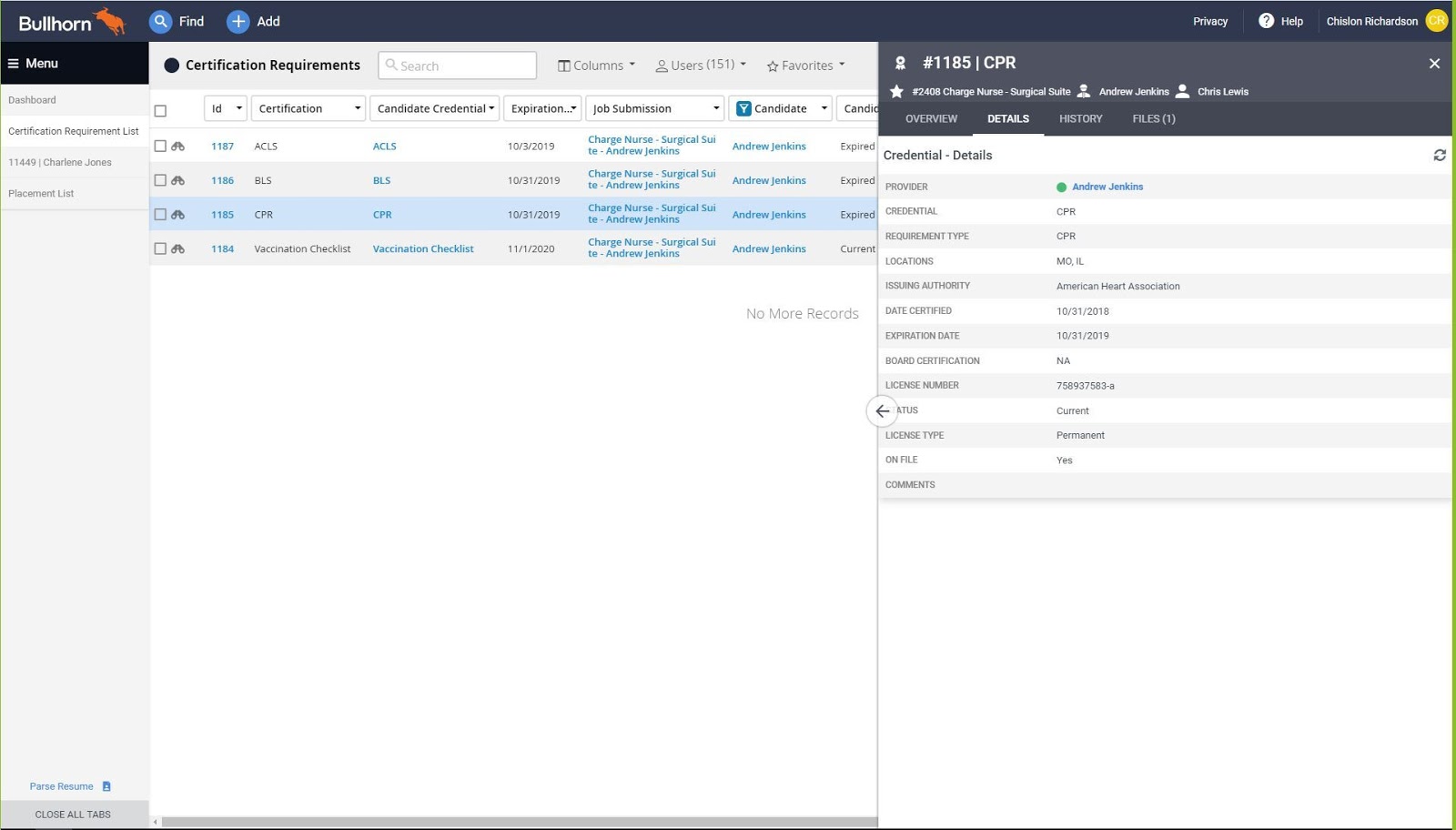 Credential Files as a Secure New Entity:

Individual or groups of credential requirements can now be specified at the client (or facility) level and flow through the recruiting workflow to Jobs, Submissions, and Placements, ensuring compliance across the entire workflow.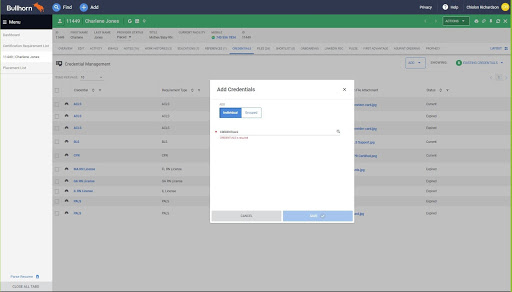 Submission Workflow Enhancements:

File attachments (such as certificate images) can now also be stored securely on credential records, with robust role-based access control to protect confidential candidate and employee data, empowering teams with complete credential control.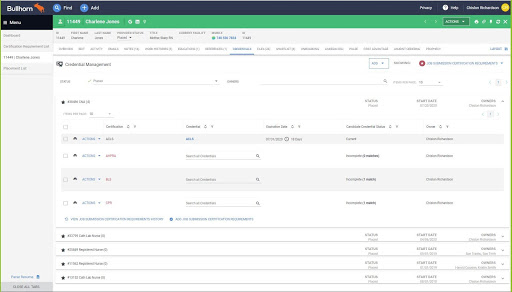 Updates to Bullhorn's Pay and Bill Functionality
Invoicing
New "From Email" Field Available for Sending Invoices:

You can now specify a "From Email" address on the Edit Invoice Template page instead of using the default value set when your system was implemented.
Surcharge Breakdown:

You can now see a breakdown of surcharges on the invoice statement overview.
General Features  
Columns on Issue List Can be Ordered/Named per Private Label:

Your Administrator can now determine the order of columns on the Issue list.

Invoice Delivery Status Displays Correctly:

The Invoice Delivery Status will now display correctly when the Invoice PDF is regenerated after the invoice is emailed.

Invoice Email Now Tracks Under Contact and Invoice:

We resolved an issue where the invoice email did not previously appear under the Invoice > Activity tab or under the Contact to whom the Invoice was emailed.

Surcharge Percentage Support:

You can now calculate surcharges with the type "Percentage."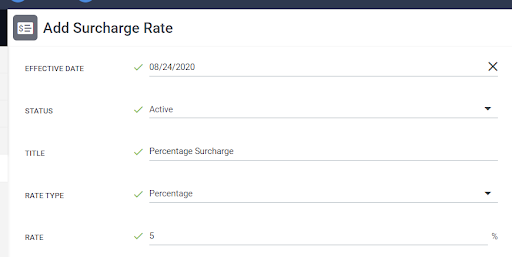 Updates to Manually Added Billable and Payable Transactions:

You can now create charges with unit rates (such as mileage) and amount rates (such as daily flat fee, airfare, etc.) in addition to transactions with hourly pay and bill rates.

Zip Code on Sales Tax Groups:

Zip code information is no longer required to be added to a sales tax group.
Placement Change Requests
Additional Fields Added to Approval Process:

The following fields have now been added to the Placement Change Request approval workflow:

location

legalBusinessEntity

payGroup

payrollEmployeeType

benefitGroup

employmentStartDate

billingProfile

positionCode
Rate Cards
Placement Rate Card Effective Date Drop Down Displays Correctly:

The Placement Rate Card Effective dropdown will now display the correct date if you navigate to other options in the drop-down and allows you to navigate to earlier or future effective dates and display the corresponding rate card information correctly.
New Features in Herefish by Bullhorn
New Survey Question Types

: Users can now include drop-down menus, multi-select questions, and checkboxes to their surveys. This enables users to gather more information to better understand their candidates.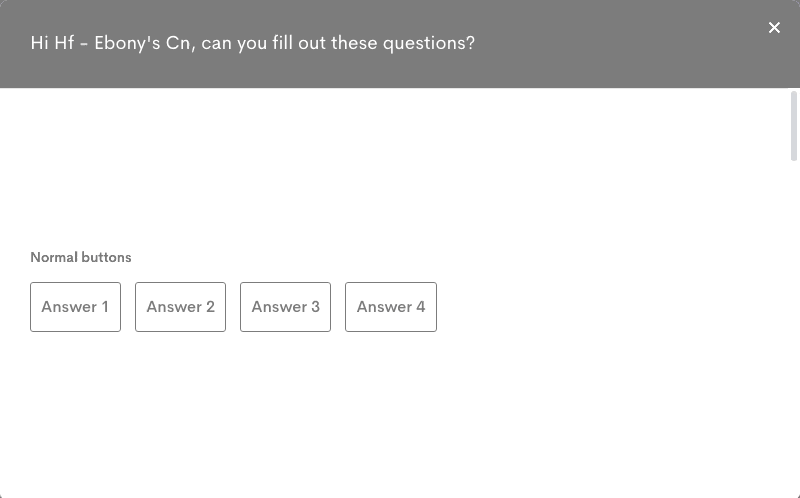 Unused lists and automations

: Any unused lists or automations will automatically hibernate to help users keep their automations organized and manageable.

Contractor Dashboard Stats:

New stats have been added to the contractor dashboard to provide actionable insights into business productivity and key metrics.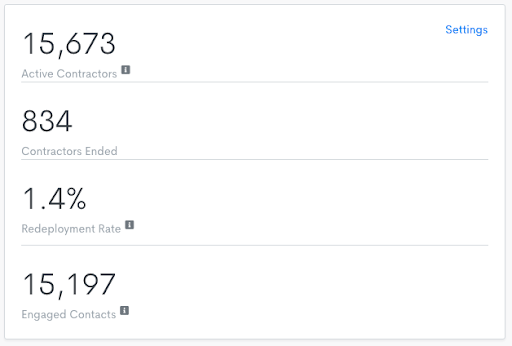 If you have additional questions about our recent updates or enhancements, make sure to explore our full product updates on the Bullhorn Customer Portal. 
---
You can also explore product tips, tricks, release highlights, and more on the Bullhorn Customer Blog.

Subscribe to the Customer Blog
Subscribe for trends, tips, and insights delivered straight to your inbox.