Why Keep Your Sirenum Instance Up-to-Date
At Bullhorn, we constantly strive to improve our features and add new product functionality. We take feedback from our customers very seriously and work hard to incorporate your needs and requests into future versions of our software. Sirenum has added many new features recently; here's why you should consider upgrading to the latest version. 
Connect for Salesforce (previously Sirenum Engage)
One of the main reasons why you should consider upgrading is our new mobile engagement app, Connect for Salesforce. The staffing world is experiencing one of the most profound staffing shortages ever, and talent experience is getting more and more attention to attract, convert and retain candidates and workers. 
This is why we have created a new way to engage your workers – through a mobile app that allows them to manage their availability, accept or reject shifts and even maintain their own compliance and update the supporting documentation. 
Connect for Salesforce takes the place of MySirenum, which, due to changes to Salesforce architecture, is no longer the preferred solution for engaging your workers. Please get in touch with your account manager to find out more about this. Connect for Salesforce will have much more functionality than MySirenum as well: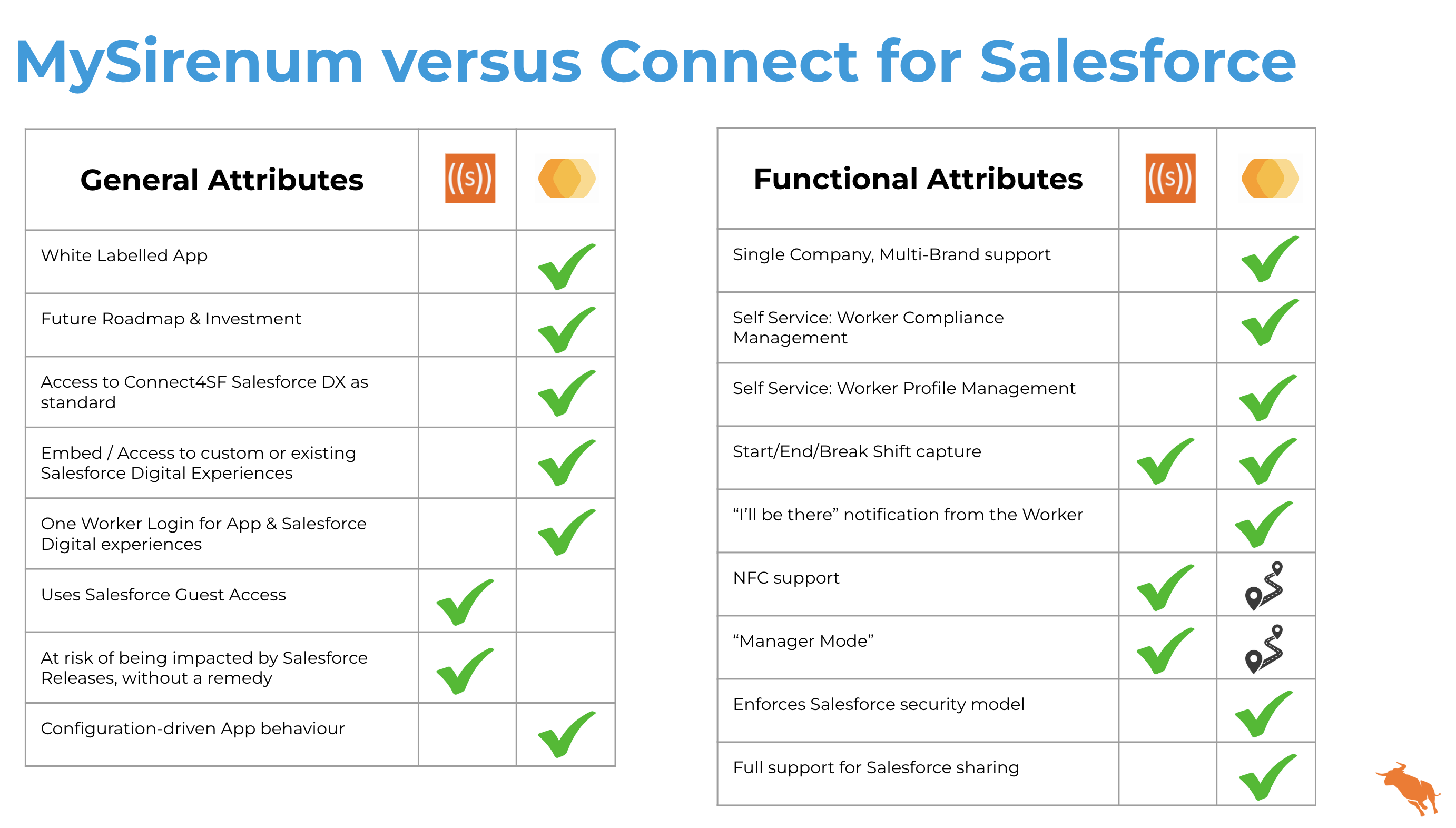 Staying up-to-date with Salesforce
Salesforce releases a new version of their system three times per year: spring, summer, and winter. Sirenum functions on the Salesforce platform and is subject to enforced changes, deprecations, and technology changes that we must react to. We ensure our product is compatible with the latest Salesforce release as these are forced upgrades. Therefore, the more proactive your upgrade strategy is with Sirenum, the lower the chance that something will break or be deprecated in a new Salesforce release and will affect your business continuity. 
Future-proofing your business
New versions of Sirenum will have important security updates, which will ensure your business has the latest protection as soon as possible. You'll also increase the efficiency of your team as you will have access to all the functionality that's being developed, and you will make sure that your instance is compatible with all the things that Sirenum still has on the roadmap – of which there are a lot (contact your account manager for a look at the planned roadmap)!
Please contact sir-support@bullhorn.com, who will be able to answer any questions and start the upgrade process. They will show you what the biggest differences between your current version and the latest available are. Plus, they will first upgrade your sandbox so you can test everything before going live. Upgrades are done on a first-come, first-served basis, so don't lose any time getting in touch!
Subscribe to the Customer Blog
Subscribe for trends, tips, and insights delivered straight to your inbox.