So, how exactly do we define candidate engagement?
Candidate engagement is the process and measurement of continually communicating with your candidate pool via text, email or face-to-face. For staffing, the goal of engagement may be email opens, text replies, job views or job applications.
Generally, candidate engagement involves 3 functional areas:
People – who owns the candidate engagement process and who are the audiences
Process – how will we engage with candidates and what is our strategy
Technology – which tools will we use to implement, execute and measure
We'll dive into each area, exploring tips, pitfalls and triumphs.
The utopian vision
We haven't met a staffing agency owner or senior recruiter who doesn't think candidate relationships drive the business forward. In an ideal scenario, new candidates are sourced, categorized and automatically nurtured until they are a good fit for an open req. This system can run forever; always incorporating new candidates into the process.
Having a solid candidate engagement strategy in place paired with automation software allows engagement to run in the background and bubbling up candidates when they fit certain criteria like visiting certain pages, applying for an open position, clicking and opening emails or engaging with text messages.
It takes some planning and execution, but a solid candidate engagement plan can reap on-going rewards for the savvy staffing firm. By consistently nurturing new and existing candidates, firms reduce their dependence on job boards and cultivate a super-engaged pool of talent (their ATS).
The reality
Let's face it, the reality of candidate engagement is…well there really just isn't much that's done once candidates get sourced. Let's walk through a scenario and let us know if it sounds familiar:
You source 20 candidates for a new job order. Out of the 20 you get ahold of 5 (you sent a blast email; the first in awhile) and out of those 5 you submit 2 with 1 landing an interview. You completely forget about the 15 you didn't get ahold of because, well…a new job order came in…the process repeats….
Don't feel ashamed, it's very uncommon for a staffing firm of any size to have a rock solid engagement plan in place. That's because it's more of a marketing function that most firms realize. The above scenario results in thousands of forgotten candidates that accumulates over years and years, leading to wasted expenses and lost opportunities.
Who is involved in candidate engagement?
This one is pretty straightforward, but does beg to be explored. Basically the people required to make a candidate engagement engine run are a) internal staff and b) candidates. Let's look at both.
Internal staff – In most cases, this is a person with marketing experience who understands the candidate journey in your company. Candidate engagement can be looked on as a marketing function, where candidates receive automated email or text messages depending on their stage in the lifecycle. Ideally, recruiters don't have to operate the 'engine' and simply receive notifications or alerts when candidates exhibit certain behaviors. Like we've covered, those behaviors could be an email open, job apply or it's simply the end of their contract and they need a phone call.
Candidates – It goes without saying that you can't have candidate engagement without the candidates. Candidates can fall into different buckets and should be segmented by interests or categories to focus the effectiveness of your engagement plan. For example, software engineers should receive messages containing engineering jobs, while accountants receive CPA openings. It may sound simple, but nailing these segments helps build the bigger plan down the road.
Bottom line: The people required to make an engagement engine run isn't overwhelming. The biggest challenge is finding the right people to run the program internally and segmenting candidates to improve your effectiveness.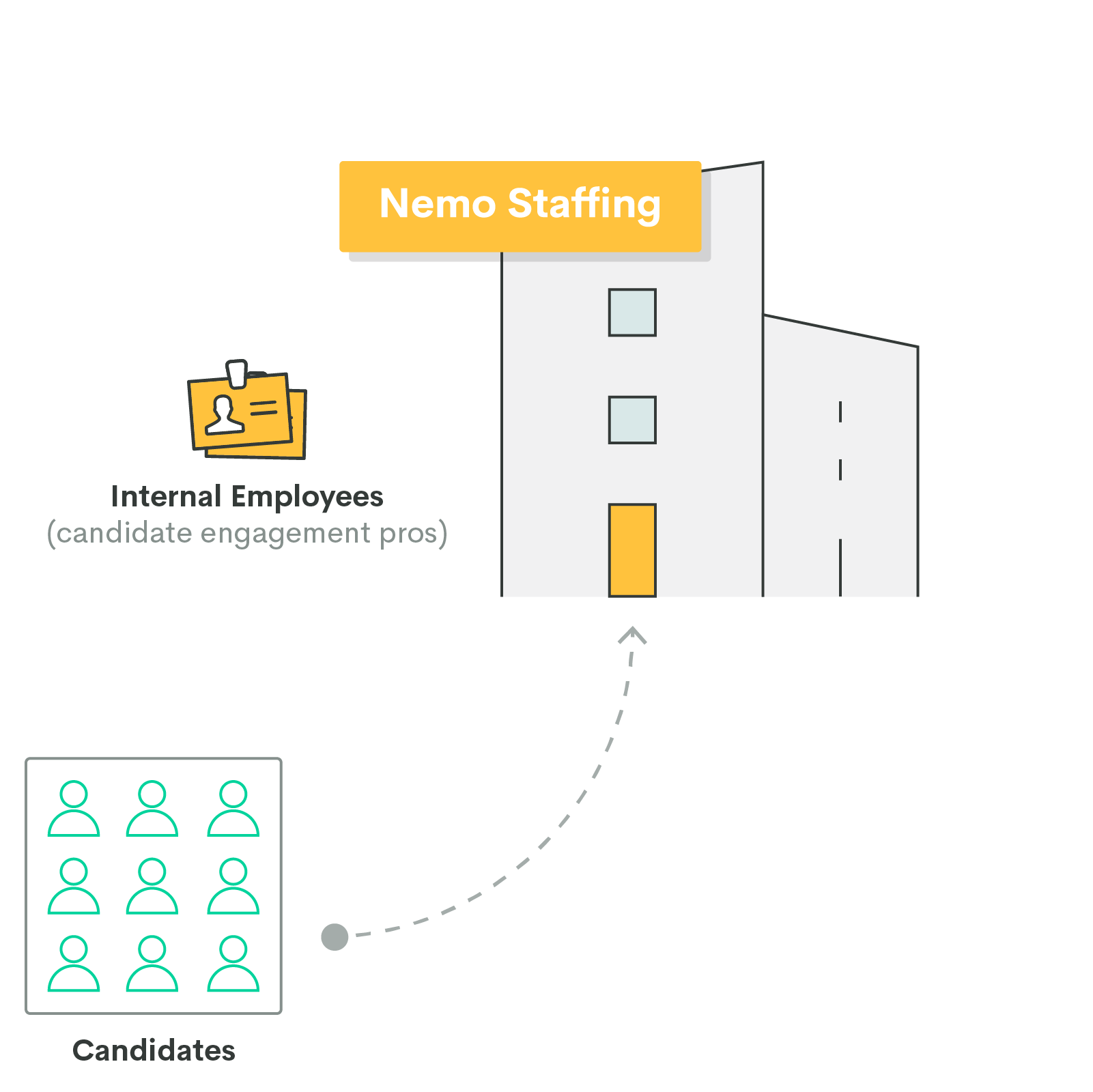 What does the candidate engagement process look like?
We've outlined this in-depth here and even wrote a business case here, but it's worth repeating. The process of candidate engagement starts with your goals and ends with your results. Let's take a deeper look.
Goals – The starting point for any good plan. For a staffing firm, the goals may be:
drive 30% more placements from our current ATS data
improve redeployment rates by 25%
engage with 100% of newly sourced candidates
With these goals in mind, we can now get to the strategy portion of the plan or the 'how are we going to do x,y & z'.
Strategy – This is the fun part – figuring out how we'll move from point A to point B. For candidate engagement, the strategy for the above goals may be:
drive 30% more placements from our current ATS data – Use a recruitment marketing tool to re-engage with candidates. We'll deliver useful career related content and include matching jobs at a regular cadence. This will allow us to remove non-engaged candidates and nurture relationships with those engaging with our content.
improve redeployment rates by 25% – When contractors are about to end their assignments, we'll use an automated text and email tool to send a text message a week before the assignment ends and put a task in the assigned recruiters ATS to call and match with a new assignment.
engage with 100% of newly sourced candidates – Every new candidate that enters the database will receive an automatic email message from the assigned recruiter and will continue to receive monthly newsletters along with relevant jobs.
Bottom line: By starting with the goals, we're able to attack the goal and put strategies in place and move on to the tactical portion of the process.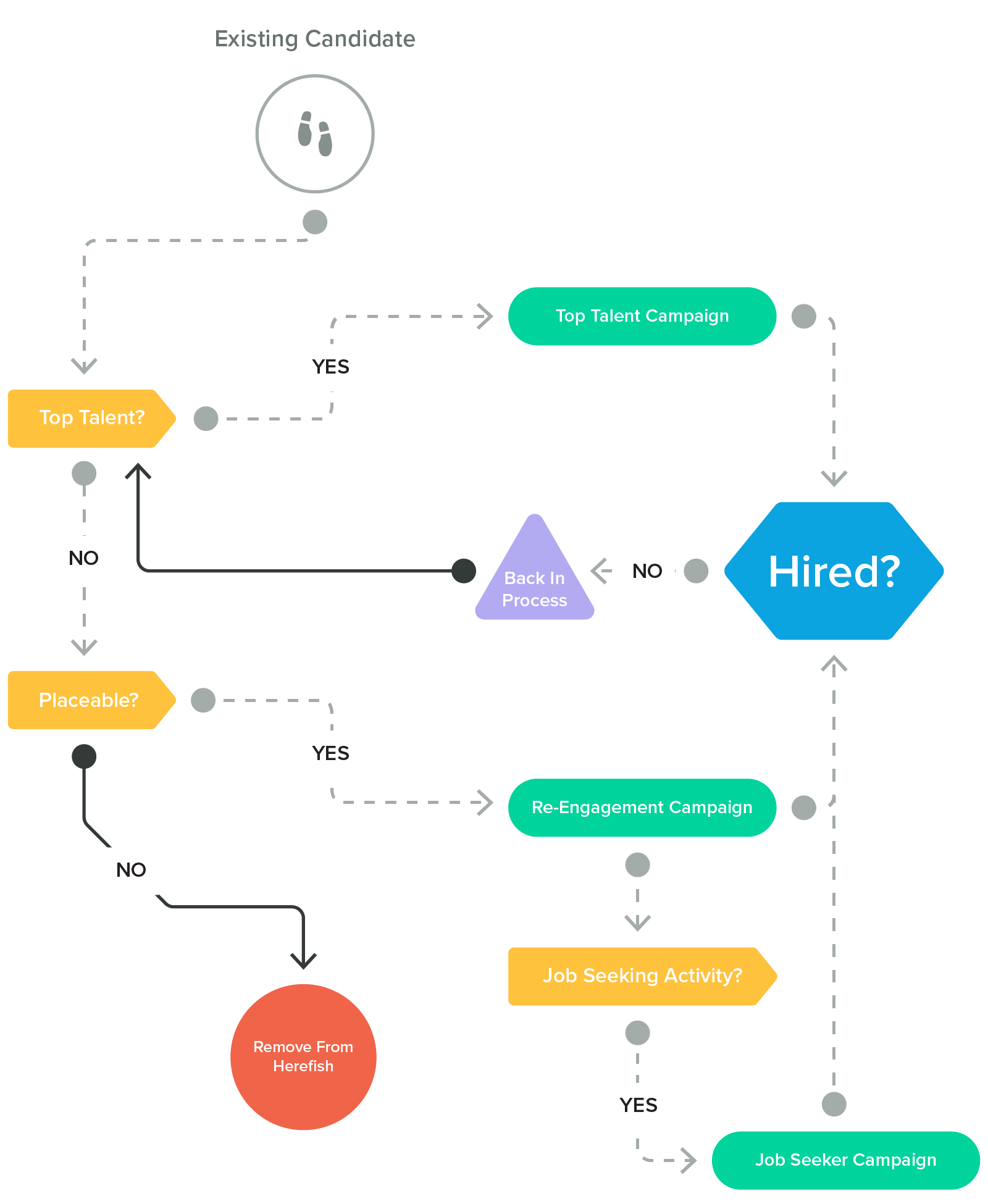 As you can imagine we have a few thoughts on this subject. As a candidate engagement technology provider, we've been at the forefront of bringing recruitment marketing technology into the hands of professional staffing organizations. However, anything we outline can be achieved using widely available B2B marketing tools; you just need to the know how and drive.
First, let's look at the feature set to kick-off a solid candidate engagement plan. Below are some key things to look for:
ATS integration – pull new candidates, update fields and view data right in ATS
messaging – ability to send email and text messages
automation – create workflows that automate mundane tasks like send text message on first day of deployment
web-page tracking – track candidate behavior on your website and kick off campaigns
segmentation – ability to create lists of similar candidates
job matching – send relevant jobs to candidates (automatically of course)
reporting – easily see key stats for campaigns, messages and candidates
Second, critically think how you'll use technology in your candidate engagement plan. Do you just want to send autoresponders to all new applicants? If so, then your technology needs may not be as great as a firm that wants to send a text on day 1 of a new assignment, an email 21 days before assignment end date and add a task on the recruiters dashboard – two automated workflows with two very different paths.
Lastly, if you've made it this far and still haven't created a solid plan, then please, PLEASE do! The hardest part of any new marketing initiative is thinking through the steps. By starting out small (simple autoresponder email to new candidates) you can master the tools and think through more complex scenarios. We've written quite a bit about the subject and are eager to help regardless of which tools you use; just ask.
Bottom line: Technology is the execution arm of any candidate engagement program but it does require solid strategy. Our advice is to start small, master the tools then work into more complex automated workflows that benefit your bottom line.