Now Available: 2015 North American Staffing and Recruiting Trends Report

Today we released our 2015 North American Staffing and Recruiting Trends Report – "Revving the Engine." This year, we once again examined key recruiting industry benchmarks, including hit rate, fill rate, time-to-fill, recruiter compensation, agency revenue, importance of various metrics, and the most successful candidate sourcing strategies. The report is based on a survey of 1,285 recruiting agency professionals.
Download it for free: 2015 North American Staffing and Recruiting Trends Report
Over the next several months, we'll be sharing in-depth data on recruiting industry trends from the report, along with some valuable information that didn't make it into the final report. This particular post will break down some metric-based highlights from the Trends Report.
Metric Importance and Performance:
As in past years, total number of placements and fill rate carried the day for recruiting professionals who took our survey, each taking more than 50% of the "most important" votes in their respective categories of "revenue-driving performance metrics" and "recruiting delivery process metrics."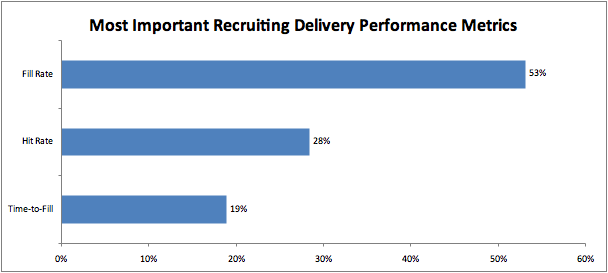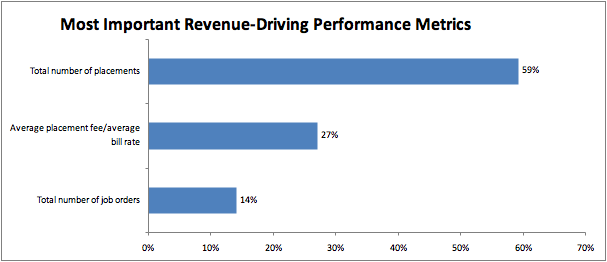 Across the board, the importance of various metrics was consistent, with a few notable exceptions. For instance, 26% of respondents from large firms (those with 75 or more recruiters and salespeople) valued time-to-fill more highly than fill rate or hit rate, signifying a forward-thinking approach built on speed and quantity as well as the availability of resources and assets in order to use a more volume-based strategy.
Additionally, respondents from temporary firms gave more credence to their total number of job orders than respondents from all other recruitment types, and less importance was placed on their total number of placements. This favor appears to be for similar reasons as large firms' preference for time-to-fill, as temporary firms are more likely than other firm types to focus on speed and volume when processing job orders, perhaps at the expense of a high placement rate.
Sourcing Strategies, Compensation, and More:
You can use information from the Trends Report like the metrics above to inform your firm's decision-making, including:
Compensation figures and revenue earned per recruiter/salesperson, to help you determine the value of each employee on your staff: despite recruiter compensation's inverse relationship with firm size, revenue per recruiter/salesperson decreased as firm size increased. Interestingly, salesperson compensation stayed relatively even across all firm sizes.
Industries with high reported fill and hit rates, like industrial and manufacturing, could be relatively simple sectors to enter for firms looking to branch out.
The most popular sourcing strategies by firm size and recruiting type – give your firm the best tools and resources to succeed in your segment! A small contract firm, for example, is probably best served by focusing predominantly on high quality candidates from its applicant tracking system (ATS) and referrals from prior placements. Large temporary firms, meanwhile, have reported greater than average success when using job boards or re-hires, a sign of higher importance placed on convenience and speed.
Stay tuned for more industry data and insights in the coming weeks, and download "Revving the Engine" – the 2015 North American Staffing and Recruiting Trends Report – here: 2015 North American Staffing and Recruiting Trends Report
Subscribe to the Staffing Blog
Subscribe for trends, tips, and insights delivered straight to your inbox.