Why a "Free Applicant Tracking System" Isn't Always Free
We're taught from an early age that shortcuts don't pay off—an investment of time or resources early on will benefit you in the long run. But that doesn't make the advice any easier to follow. Have you ever broken a pair of headphones? You can pay a steep cost for a good replacement, or drop five bucks on a cheap pair. But if you buy the five-dollar headphones, chances are you'll be shopping for a new pair in a week.
The same is true for your staffing firm. A free applicant tracking system or a spreadsheet solution may fill an immediate need at a minimal cost, but it can severely hinder your ability to grow and become profitable in the future. Here are three benefits of investing in a top-notch applicant tracking system (ATS) that will set you up for success down the road.
Good Applicant Tracking Systems Lead to More Placements
An ATS is a powerful tool for producing more productive employees. Productive employees help boost the profitability of your firm, and applicant tracking systems excel in eliminating inefficiencies from your staffing operation.
How much of your recruiters' time is spent on tasks you could automate? An ATS will automate otherwise manual tasks for you, giving your recruiters more time to focus on your candidates.
Want your B and C players to perform like your A-team? An applicant tracking system makes it possible to identify and reproduce the habits of your top performers.
Here are some of the reported benefits of firms that switched to an ATS: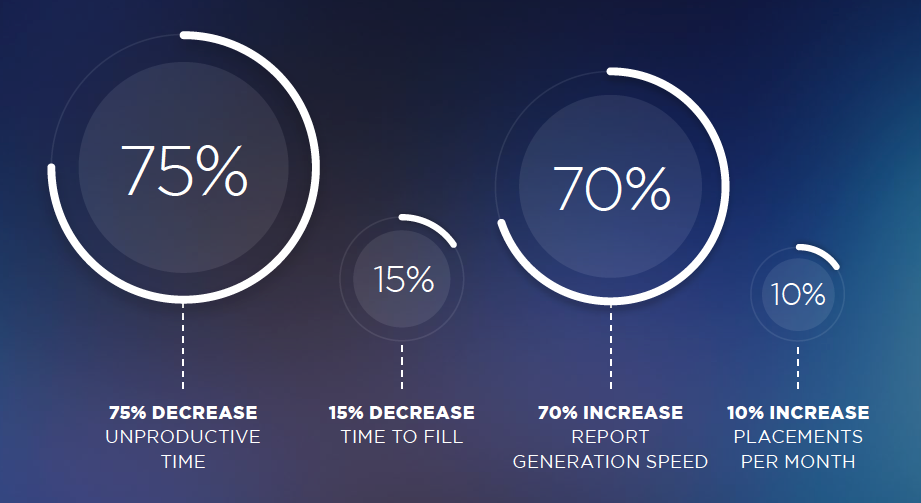 Firms that use an ATS make more placements, take less time to fill a position, and are generally more productive. These incremental improvements can have a significant impact on your ROI on a quarterly and yearly basis.
You'll Deliver a Better Candidate Experience
Candidates have never had more leverage in the job market than they do now. And delivering a bad candidate experience can be deadly for your firm: 1 out of 5 candidates who have a negative experience will tell their peers not to apply to that firm.
Want happier candidates? Eliminate the steps that lead to hassle and frustration. An excellent ATS and its integrations can help simplify every step of the candidate lifecycle, from streamlining the application process to eliminating timely paperwork during the onboarding process. 
But it's the human touches that truly make for a great candidate experience. The best applicant tracking systems will provide your recruiters with the insights they need to better manage their candidate relationships. And by eliminating the need for entering data, they'll have more time to devote to them.
You Can Train Productive Recruiters More Quickly
It's no secret that the staffing industry is impacted by turnover. The recruitment industry sees an internal staff turnover rate of more than 50 percent in the first year of employment. Making matters worse, a third of staffing firms take at least four months until their recruiters are ready to perform at an optimal level.
An ATS is a great tool for getting your new recruiters and salespeople up to speed more effectively. A good ATS will also track all of your recruiters' activities so you can provide custom feedback based on the performance of each recruiter. An ATS can also help recruiters to quickly perform at a seasoned level. An ATS with predictive intelligence (something that free applicant tracking systems won't offer) will automatically analyze your interactions with a client so your recruiters can identify costly mistakes before they happen.
So just how effective is an ATS for training new hires? A survey of staffing professionals found that firms with an ATS were 57% more likely to onboard new hires in a month or less.
---
Want to learn more about the benefits of an applicant tracking system? Check out the ATS Buyer's Guide for everything you need to know to make a worthwhile investment in your staffing firm's future.

Subscribe to the Staffing Blog
Subscribe for trends, tips, and insights delivered straight to your inbox.