What is an Applicant Tracking System (ATS)?
Agencies manage many jobs at a time and will receive a high volume of resumes for just one job ad. An applicant tracking system is a software application that helps recruiting agencies organize these resumes and candidates for hiring purposes.
As implied in the name, an ATS tracks potential candidates through the hiring process and aims to make this easier for the recruiter while keeping the candidate informed of the status of their application.
An ATS also automates an agency's recruiting operations and provides a central repository for collecting candidate information—including resumes and applications. Using automation and screening functionality, an ATS helps recruiters narrow the applicant pool and highlights the top candidates for the job. It does this by using artificial intelligence-type algorithms that analyze the applicant and match their background to the job description.
At its core, an ATS helps you better manage every stage in the recruiting process, from posting a job opening to collecting applications and hiring, all while delivering greater overall efficiency and streamlining your hiring process.
An applicant tracking system can sometimes be confused with recruiting software, but there is a difference. Click below for a more detailed overview.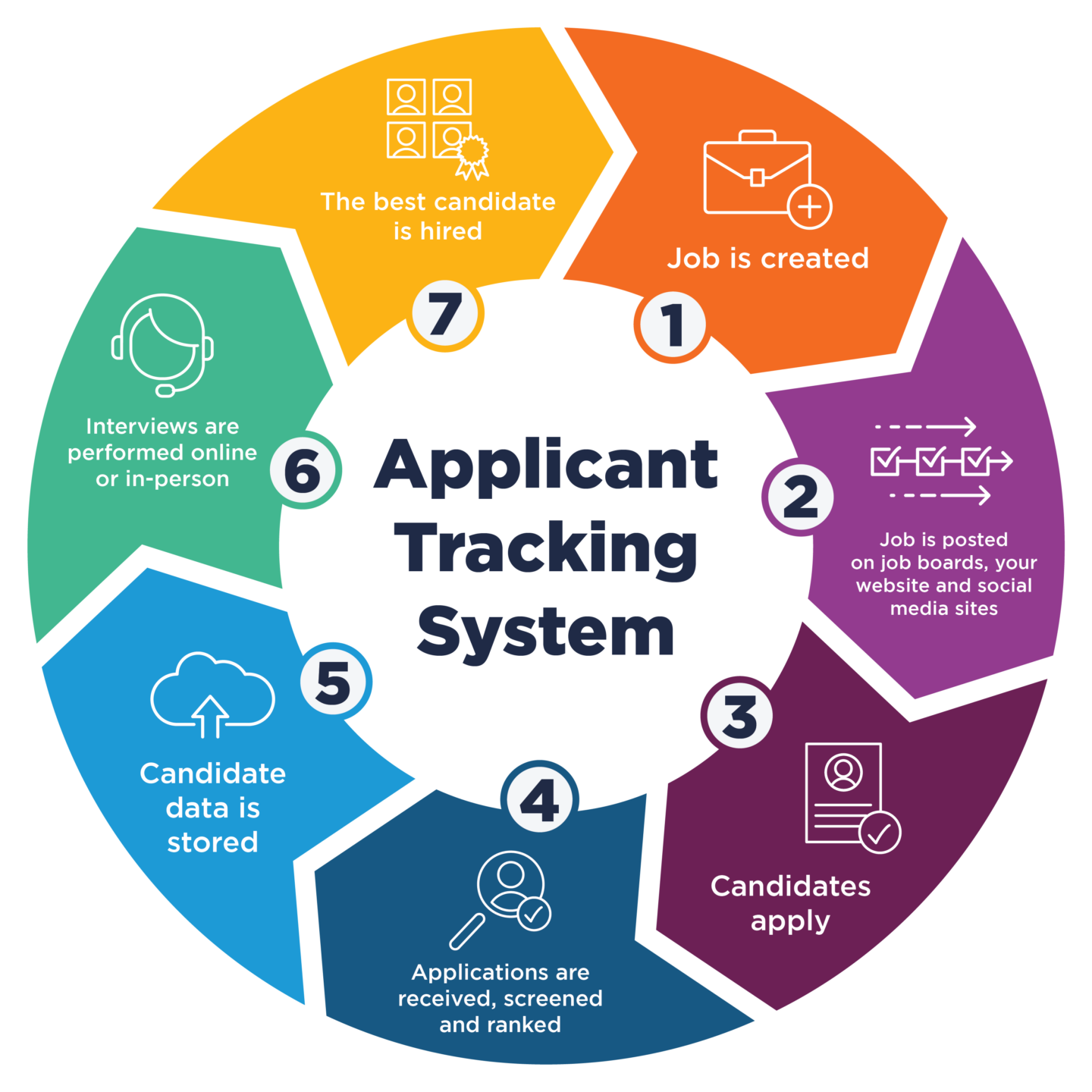 How Do Applicant Tracking Systems Work?
Applicant tracking systems track your candidates' activity, automating all stages that would otherwise require manual data entry. A good ATS will track all activity from the candidate's resume in your inbox through final placement (and beyond), freeing up your recruiters to focus on building relationships. Because the applicant tracking system captures all of this data in real-time, you can also use it for real-time reporting to learn how to improve your processes.
There are seven main stages in the recruiting process that an applicant tracking system will help agencies complete more efficiently:
1. Create the job
2. Post the job on job boards, your website, and social media sites
3. Allow candidates to apply where the job was posted
4. Receive applications as well as screen and rank those applications
5. Store candidate data
6. Interview candidates online or in-person
7. Hire the best candidate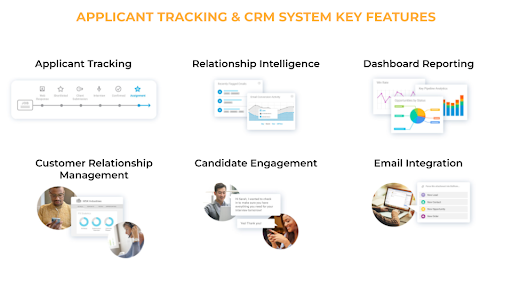 Features in an Applicant Tracking System & CRM
Each ATS may vary based on software provider, but a good ATS that can integrate with a CRM typically offers the following:
Applicant Tracking: Centralize your candidate management, jobs, and tasks streamlining the recruitment process and optimizing team productivity.
Integration with Your CRM System: Break silos between account management and recruiting and gain visibility into your customers' changing needs with a mobile CRM purpose-built for recruitment.
Email Integration: Automatically upload resumes, add notes, easily create tasks from your Outlook or GMail and automatically track all emails in your ATS.
Dashboard Reporting: Transform your team's activity into actionable business insights with configurable reports tailored to your specific goals and KPIs.
Relationship Intelligence: Track all email activity associated with a particular candidate record and update that record in real-time, offering a complete view of your candidate interactions and relationships.
Candidate Engagement: Allow job seekers to easily find and apply to your open positions – then leverage mass mailing to engage with the top candidates.
Why Do You Need an Applicant Tracking System?
94% of recruiting professionals say their applicant tracking system has positively impacted their hiring process.
Finding and placing the right talent is becoming more difficult in a market impacted by talent shortages. An ATS can help recruitment agencies and organizations find, hire, and retain strong candidates. A good ATS has the power to overhaul your entire recruiting operation into the most productive, profitable, and efficient business it can be. With proper implementation, they increase recruiter productivity, save time, and provide organization and structure for your recruiting operations. Agencies that use an applicant tracking system report more placements and more productive time than agencies that don't.
Who Uses Applicant Tracking Systems?
Most large corporations and almost all recruiting agencies use an applicant tracking system to help them with the hiring process. The job applicant won't know that their application is managed through an ATS as they will submit their application on a job board, website, or social media site. Only the end user will see the ATS interface. Typically, the end user will be the recruiter who uses the system to track and manage candidates through the recruitment process. If the applicant tracking system offers reporting tools, Recruiting Managers, Directors and CEOs often use them to get an overview of overall and individual performance.
Top Benefits of an Applicant Tracking System
There are many benefits to agencies using an applicant tracking system to manage their recruitment process, including:
Maximizing recruiter performance with clear workflows and easily accessible information, making faster placements and increasing margins.
Providing a better candidate experience, increasing retention and redeployment rate.
Creating a single source of truth for all candidate information, enabling recruiters to connect with a candidate in real time to increase engagement and retention.
Making better business decisions leveraging key metric reporting from the desk- to executive-level.
How to Choose the Best Applicant Tracking System for Your Business
Define the problem you're trying to solve.
It is important to fully understand what problems you are trying to solve by adopting a new ATS. Identify the major pain points you're experiencing with your current solution and what negative effects those are having on your business outcomes. This key step will help you understand which solutions will provide the most value for your business.
Diagram your workflow.
Carefully think through every step of your recruiting cycle and what capabilities you expect from your ATS in each one. In doing so, make sure to consider everyone who will be using the ATS. One solution will not likely fulfill every need perfectly but prioritize the most important things to ensure your chosen ATS can provide the features and functionality critical to your business.
Research your options.
Once you know what you are looking for, speak with multiple software providers about their ATS offerings. Take advantage of free trials and demos and get quotes to price out each option. Also, make sure to get a firm understanding of the implementation and rollout process of each offering. During your search, ask as many questions as you need and use your pre-determined feature and functionality checklist to evaluate how well each offering fits your organization's needs.
How Much Do Applicant Tracking Systems Cost?
Most ATS providers offer various packages based on a business's size and complexity.
The Future of Applicant Tracking Systems
Applicant Tracking Systems have come a long way over the past 15 years and continue to improve and evolve. When they were first introduced to the market, they supported simple, routine tasks. Now they're an integral part of a recruiter's job and can integrate with other powerful systems that allow firms to automate, report, and so much more.
The future of the applicant tracking system will likely be about fine-tuning the existing functionalities and features. It will use enhanced artificial intelligence and automation, and focus on simplifying the recruiter and candidate process in further. The ATS will continue to center around:
Improving the candidate, client and recruiter experience.
Providing a complete digital transformation of businesses where technology will maintain most administrative tasks.
Integrating with other systems without needing multiple logins, tabs or screens (a unified digital experience).