Celebrating 20 Years of Creating an Incredible Experience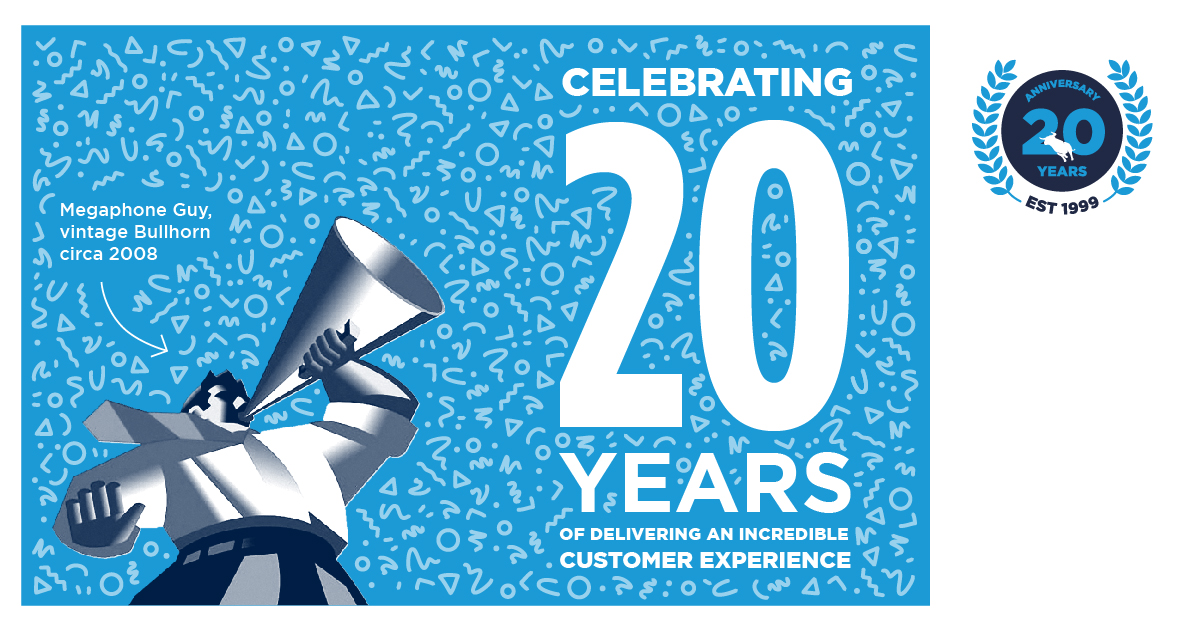 August 8th marks a very special day in the history of Bullhorn. Today we celebrate our 20th anniversary. Since its beginnings in 1999, we've helped put the world to work while striving to make a positive impact on the lives of our customers, employees, and the community.
And in that time, the staffing industry has undergone incredible changes: candidate and client needs have changed, technology has evolved, and new innovations and ideas continue to emerge every day. One thing remains constant: the people. Just like the staffing companies we serve, our business is built on the foundation of relationships.
With that in mind, today is not just a celebration of Bullhorn's history, it's a celebration of the people who made this happen: our customers, our partners, and our employees. Here are some important and memorable highlights from the first 20 years of Bullhorn.
The Early Years
Bullhorn is now a global tech company with 16 offices around the world, 178,000+ global users, processing more than 78 billion transactions a year, but it began as an online marketplace for creatives to search for contract work.
In 1999, Art Papas and Barry Hinckley teamed up to start a tech company, and the Bullhorn journey began. The first line of code was written in Art's apartment in Cambridge, MA, and as many as five people came to work every day. Art wrote much of the code for Bullhorn's original applicant tracking system and a portion of this original code was still in use up to 2015.
Our products and services have evolved radically since 1999, but we've always been obsessed with creating an incredible customer experience. Bullhorn's first customer, Leslie McIntyre, approached Art and asked his team to build a system to help speed up cumbersome processes for her staffing company. Art pitched the idea of hosting the entire system on the Internet, and while it seemed risky in those early days of the World Wide Web, Leslie had faith in Art and his vision. The result was one of the first versions of Bullhorn's ATS. No matter the scope of the request, the Bullhorn team did everything they could to grow the system to meet the needs of Leslie and her staffing firm. This project was the inspiration behind Bullhorn's "Service" core value.
The Bullhorn Mission
How have Bullhorn's core values evolved over the last 20 years? Our first mission statement was To power the desk of every staffing and recruiting professional. When Bullhorn officially expanded internationally in 2009 and added an office in London, we added the word "worldwide." In 2013, Bullhorn refined this mission statement with our current core purpose, To create an incredible customer experience, a mission that every Bullhorn employee works to achieve every day. 
The Power of People
With a commitment to empowering every customer in mind, we hosted our first conference, Bullhorn Live, in 2007. This conference was originally geared toward enabling users to better use Bullhorn, but we quickly learned from attendees that there's an incredible value in learning about the trends and ideas driving the industry as a whole. Boston's Bullhorn Live became Engage in 2015, focusing on a combination of industry trends and product expertise. Engage has now grown to host more than 1,300 attendees every year in North America, while expanding to Sydney and London as well. We hope you'll join us in Texas for Engage Austin 2020, our biggest and most ambitious Engage yet!
Innovating and Evolving
How do you create an incredible customer experience? Through an expansive ecosystem of partners and solutions. Over our first 20 years, we've introduced a huge number of solutions and tools, learning from each experience.
One of our most significant milestones was the SOAP API service in 2008. At the time, it was Bullhorn's second API and it enabled total access to third parties. This open API paved the way for a vibrant partner ecosystem and helped Bullhorn establish its foothold in the market with enterprise customers and was pivotal for growth. The service allowed for the creation of Bullhorn's first partner ecosystem called Rainforest. Rainforest is now Bullhorn Marketplace, the largest partner ecosystem in the staffing and recruitment industry comprising more than 100 partners.
In 2013, Bullhorn released the REST API. The REST API became the scaffolding for many Bullhorn solutions to follow, including S Release in 2014, Novo in 2017, and the Mobile App earlier this year. 
Bullhorn Now and Beyond
We're not done yet; we're still constantly evolving to meet the needs of the industry! For 20 years, we've provided best-in-class applicant tracking and CRM solutions to 10,000 staffing businesses across the globe. Through conversations with customers like you, we realized there were complex needs across your business beyond applicant tracking—needs that we could help solve. 
We invested in developing new functionality, acquiring businesses to diversify our portfolio of products, and building out a strong partner ecosystem to extend the capabilities of our solution. Customers are now using Bullhorn to onboard candidates, track time and expense, pay candidates and bill clients, submit to vendor management systems, report on performance, and much more. With Bullhorn, firms can now Run as One.
What an incredible journey it's been so far. We're already looking forward to the next 20 years of Bullhorn. Where will we be? We can't wait to find out, but we know for sure that it'll be in the service of creating an incredible customer experience.
Subscribe to the Staffing Blog
Subscribe for trends, tips, and insights delivered straight to your inbox.