CRM Evolution? Human Evolution.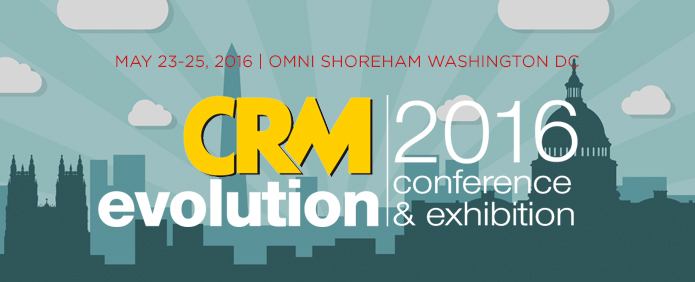 I was fortunate enough to attend the CRM Evolution conference in Washington, D.C. last week. Organized by CRM Magazine and chaired by the impeccable Paul Greenberg, CRM Evolution comprised three days of sessions and panels focused on future trends in relationship management technology. Even more importantly, the conference assembled the brightest and most influential minds in the CRM industry all under one sprawling hotel roof.
As a platinum sponsor of CRM Evolution, Bullhorn was proud to support the great work and conversations facilitated by this year's event. I managed to catch up with a host of analysts and influencers who have their fingers on the pulse of CRM.
Anticipatory Analytics
One CRM Evolution session that resonated strongly with me was Constellation Research founder Ray Wang's Wednesday presentation on building insight-driven customer experiences. Ray spoke about B2C technology advances that have dramatic B2B implications: water usage sensors for showers help hotels reward customers who conserve water with loyalty points, elevators with smart technology can identify which of your contacts are hanging out on a given floor, and mobile apps can observe your coffee consumption habits and tailor coupons and discounts to you based on continual A/B testing. This is the promise of "anticipatory analytics," and it's fascinating to us at Bullhorn.
Bullhorn is a predictive analytics powerhouse by nature of our Pulse intelligence solution, but we're also very dialed in to the potential of the Internet of Things (IoT) to revolutionize how businesses and business users operate. Mobile, for instance, isn't just a device or a means to an end – it's how you remain effective in motion. What's special about your phone isn't its series of wires and plastic casing – it's what it frees you to do. Great CRM solutions allow you be to be human and engage interpersonally by eliminating your need to interact with machines. No more data entry, no more manual analysis. The robots serve you – you don't serve the robots.
Moments of Wow
Another session that I felt was an absolute must-see was the CRM influencers panel hosted by Paul Greenberg on Tuesday morning. CRM thought leaders including Brent Leary, Kate Leggett, Marshall Lager, Denis Pombriant, Rebecca Wetteman, Michael Fauscette, and Jesus Hoyos discussed trends in CRM and did a fantastic job of very quickly differentiating between surface-level business speak and actual, needle-moving ideas.
For instance, companies often speak of the need to "delight" customers, but the concept of "delighting" anyone can imply a slippery slope of ever-improving, eventually unsustainable service levels. The panel concluded that companies should aim to avoid dropping the ball as far as customer service is concerned, and facilitate a degree of responsiveness, reliability, accuracy, and efficiency that enables customers to move on with their day instead of viewing interaction with your company as a roadblock.
In other words, create a customer service experience that is, first and foremost, competent. By creating a dependable path for your customers, you open the door to delight, especially if you intersperse an efficient experience with "moments of wow" (a term from Monday's keynote speaker, Dennis Snow). A "moment of wow" is exactly what it sounds like: a micro experience that reminds human beings that they are special, unique, and human.
Open Concept
The final standout session that I saw came from Bullhorn's very own Gordon Burnes, chief marketing officer, who hosted a solution session on the move towards radical transparency and open concept CRM. At Bullhorn, we live the open concept life in every capacity: we have an open concept office that engenders true, unfettered collaboration, and we create open concept software that unlocks the silos of email communication and democratizes it for the purpose of organization-wide intelligence and relationship insight. The benefits you can get from embracing openness align well with business success: staying one step ahead of your customers, knowing who has the best relationships internally and externally, identifying the ripest opportunities, and gaining prescriptive insight into what you should be doing next to close a deal or grow a relationship.
Gordon's presentation focused on the "doom loop" of status quo relationship management: data that gets locked down within emails (leading to a potential loss of knowledge when account reps leave an organization), siloed departmental walls that prevent effective cooperation between marketing, sales, customer service, and other functional areas, and manual data entry, which creates an incomplete, wildly disparate, conjecture-based view of customer relationship health. This status quo is entirely the opposite of what businesses need and what human beings want in order to engage with their prospects and customers. We've too long held information hostage instead of liberating it and gleaning anticipatory intelligence from it.
We're tremendously excited for what the future holds in the relationship management technology space, and we're at the forefront of bringing many of the trends discussed at CRM Evolution to fruition from a software perspective. But what we're most excited about, and what always excites us, is the prospect of helping our human customers leverage the software we create to do what they do best: be wildly effective, tremendously engaging, and ultimately successful humans.
Subscribe to the Staffing Blog
Subscribe for trends, tips, and insights delivered straight to your inbox.