Hot Staffing Trends and How They Will Impact Your Business: Webinar Recap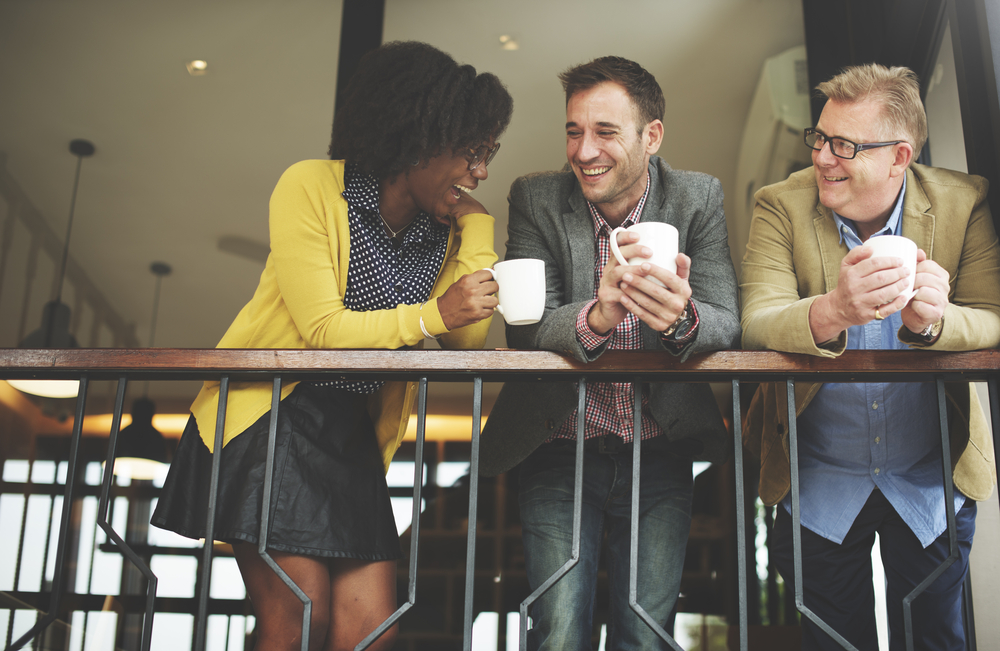 What are the top staffing trends impacting the industry and what actions can your firm take to be one right side of them? Randy DeHaan of InsightSquared and Jeff Neumann of Bullhorn recently presented on three of the most prominent trends impacting staffing firms as well as some metrics-based measures firms can take to position themselves for success. You can catch the webinar here or read the recap below.
Candidate Engagement is a Best Practice and Good for Business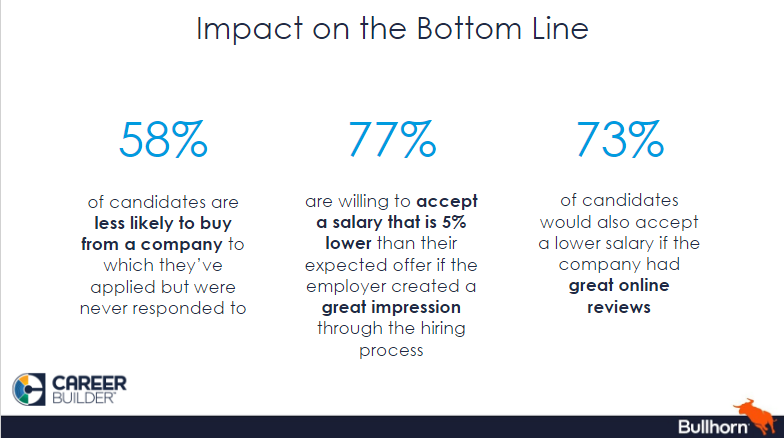 Staffing firms are increasingly paying attention to the quality of their candidate experience. While the impact a job can make on a candidate's life is one of the things staffing professionals love about the industry, the reason for this emphasis on candidate experience is primarily business-driven. "The staffing firms that we see investing the most in this area are doing so as they know it impacts their bottom line," Randy DeHaan said in the webinar. 
The talent shortage is a driving factor—over sixty percent of respondents in the 2017 North American Staffing & Recruitment Trends Report said that the skill shortage is a top-three challenge—but other important factors like the competitive market are also responsible.
Given how important candidate experience is, one key to running a successful staffing firm is to stay on top of your outreach and know who needs your attention.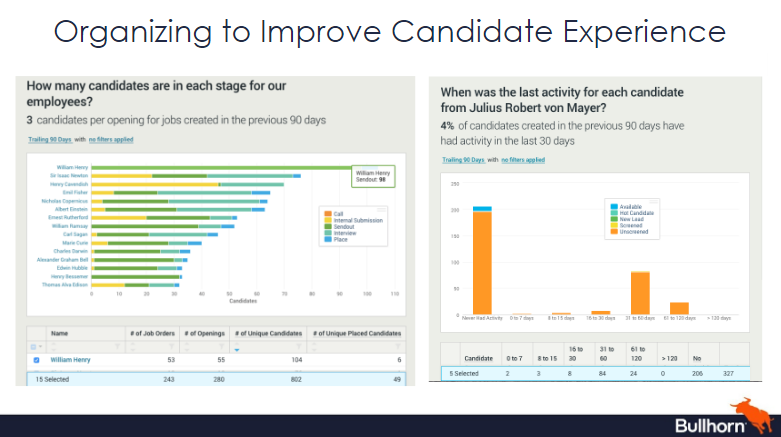 How can you use metrics to support your candidate engagement goals? Structure your candidate engagement strategy into stages, to track what your team needs to do at each stage to keep candidates happy. Make sure to also track key metrics that correlate to a better candidate experience, such as the frequency at which a recruiter reaches out to candidates.
AI and Automation Are Game Changers for Firms That Know How To Leverage Them
Automation and AI are two of the most buzzed about topics in staffing. And while some articles about AI's impact are sensationalized, it's irrefutable that robotics, automation, machine learning and artificial intelligence will change the industry forever. 
The staffing firms that leverage this technology to improve their teams and processes will be in the best position to succeed. Jeff Neumann singled out predictive analytics in the webinar as a technology with profound implications for firms.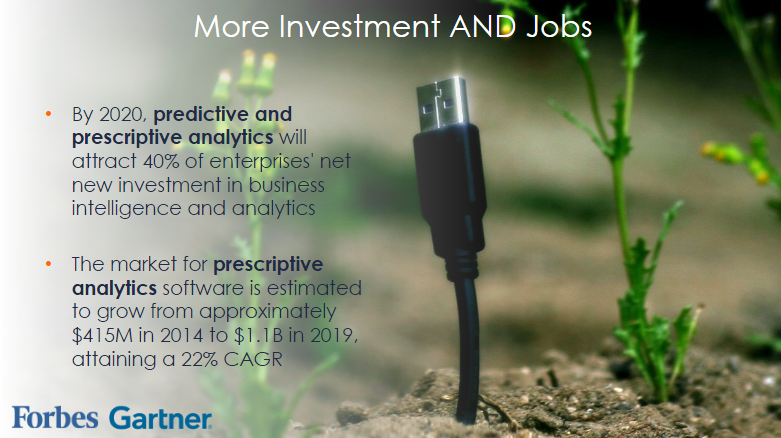 Predictive analytics is so powerful for staffing firms because firms can use it to leverage all of the data and relationships they've already tracked in their systems. Software powered by predictive analytics can learn based on your common actions as well as predict what next steps will result in the best possible outcomes.
As powerful as AI and automation are, they're still dependent on a baseline of quality data, which is dictated by the behavior of your recruiting team and the way they're managed.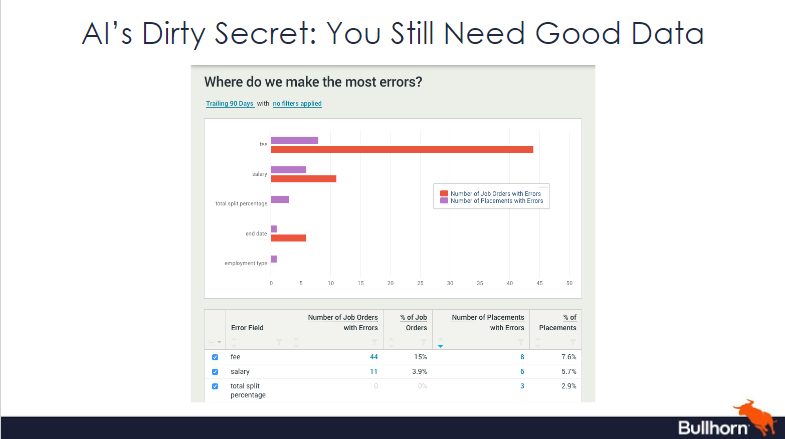 A way to ensure you can take advantage of this trend and keep up with your competition is to make data quality a key performance indicator (KPI), and manage to it. This improves your ability to engage effectively with candidates and sets you up to leverage analytics and AI.
Relationships Are Everything

—Now More Than Ever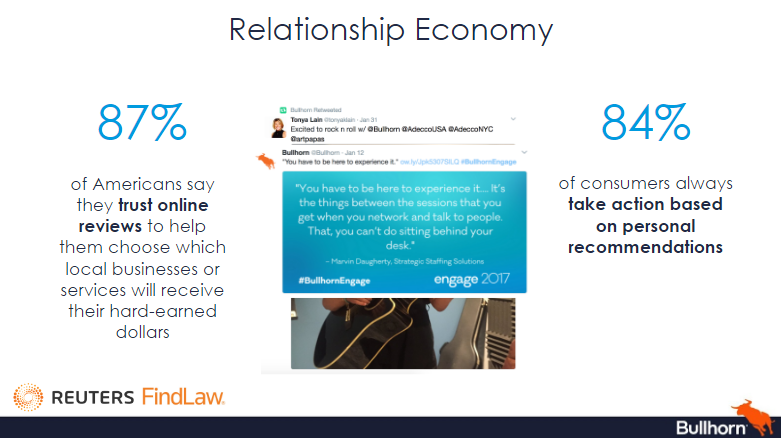 The last trend Randy and Jeff discussed was the increased importance of incredible relationships in the staffing industry. Buyers are moving away from impersonal experiences and want to build long-term relationships with their partners.
While relationships have always been important, the prevalence of information available to any potential customer has amplified the importance of strong relationships. As the rise of user-review platforms like Yelp and G2 Crowd have demonstrated, people trust recommendations from others, whether they know them or not.
How do you leverage the relationship economy? Provide great service, then make sure your happy customers are talking to you. Keep up with people you've placed, and check in on their progress, and they'll be happy to provide references for you when you need them.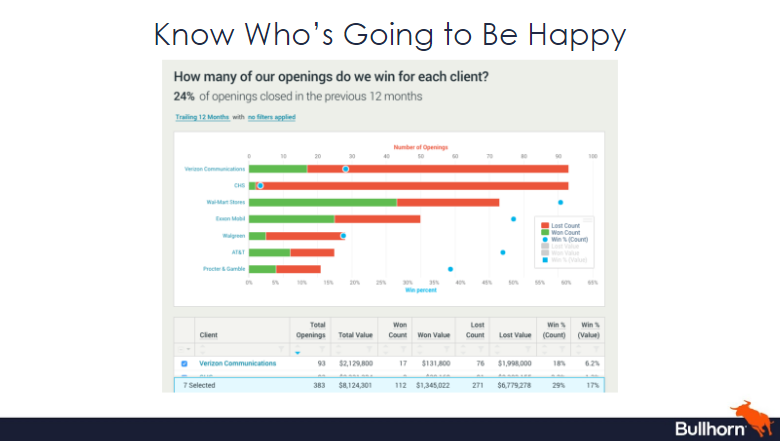 One of the best ways to keep candidates well-informed and happy is to have a firm grasp on what your clients are looking for. Use historical data in combination with automated reminders to build consistently strong, communication-rich relationships.
It's important to remember: relationships and strong data aren't mutually exclusive. As DeHaan, notes, "Don't forget to focus on relationships, not only transactions and volumes. Sentiment and happiness is a key metric to track on a regular basis."
---
Interested in 2019 staffing and recruiting trends? Check out Bullhorn's Global Recruitment Insights and Data (GRID) site to explore the industry insights that matter to your business.

Subscribe to the Staffing Blog
Subscribe for trends, tips, and insights delivered straight to your inbox.