Funding for Staffing Agencies: Is It Time to Consider Flexible Funding?
Running your staffing business takes a lot. Growing your practice takes even more, and when you celebrate that big new client win or the expansion of an existing account, you need to be set up to deliver on the contract.
This means having 30 to 60 days of funds available to cover payroll expenses, given typical customer payment terms.
Finding the right financing option to help you cover that 30-day-plus cash flow gap can make the difference between a clear path to growth or unnecessarily hard tradeoffs and headaches. Staffing firms have traditionally relied on three options for covering payroll expenses. We'll discuss each option and share tips for evaluating which option may be best for you.  
How your current financing options stack up
To determine whether you have the right financing option for your firm, it helps to know what's available. Comparing different options is key, and so is knowing what questions to ask. To begin, you can start with these:
Amount
Can you get what you need, and will the amount available increase as you grow?
Rate
How much are you paying to borrow? Does this make sense for your business' margins?
Structure
What are the fees, how are they calculated, and when do I owe them?
Flexibility
How easy is it to turn the funding on and off?
Speed
How quickly can you get approved, and funded?
Approval Likelihood
How likely are you to get approved?
Overhead
What is involved in maintaining funding availability?
Additional Benefits
Does this funding option provide other ancillary benefits to my business?
Traditional Funding Options: An Evaluation
With these questions in mind, let's review the traditional funding options most typically sought by staffing firms and how they stack up against our criteria.
Bank Financing
Bank financing can be a great option if you qualify and have time on your hands.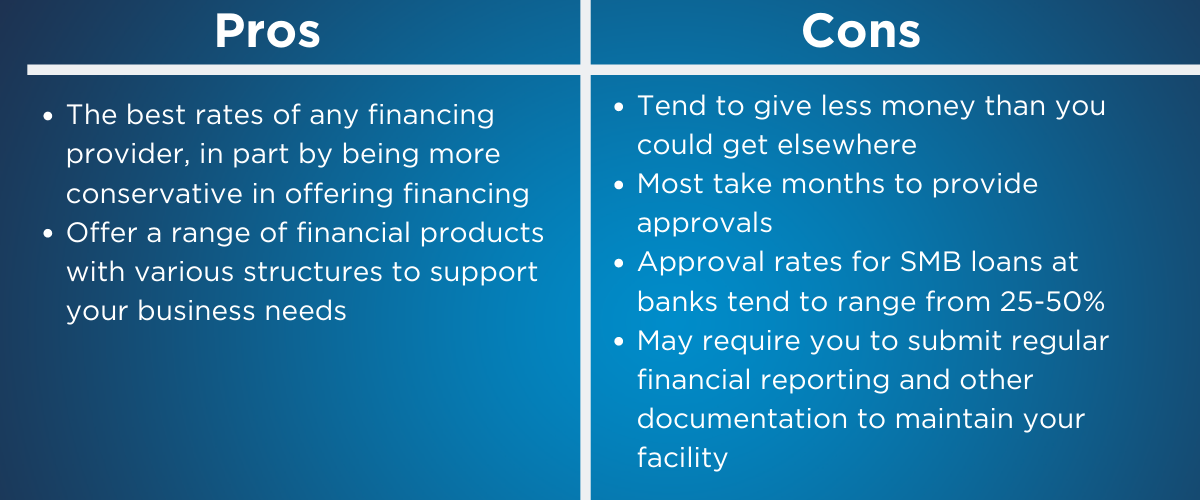 Payroll financing
This is where a 3rd party handles 100 percent of payroll, from payroll payments to claims and taxes.

Traditional Invoice Factoring
Invoice factoring is an advance on your unpaid invoices – submit your invoices to the factoring company and they'll advance you most of the funds right away and will send you the remainder, less a fee, once your customer pays the invoice.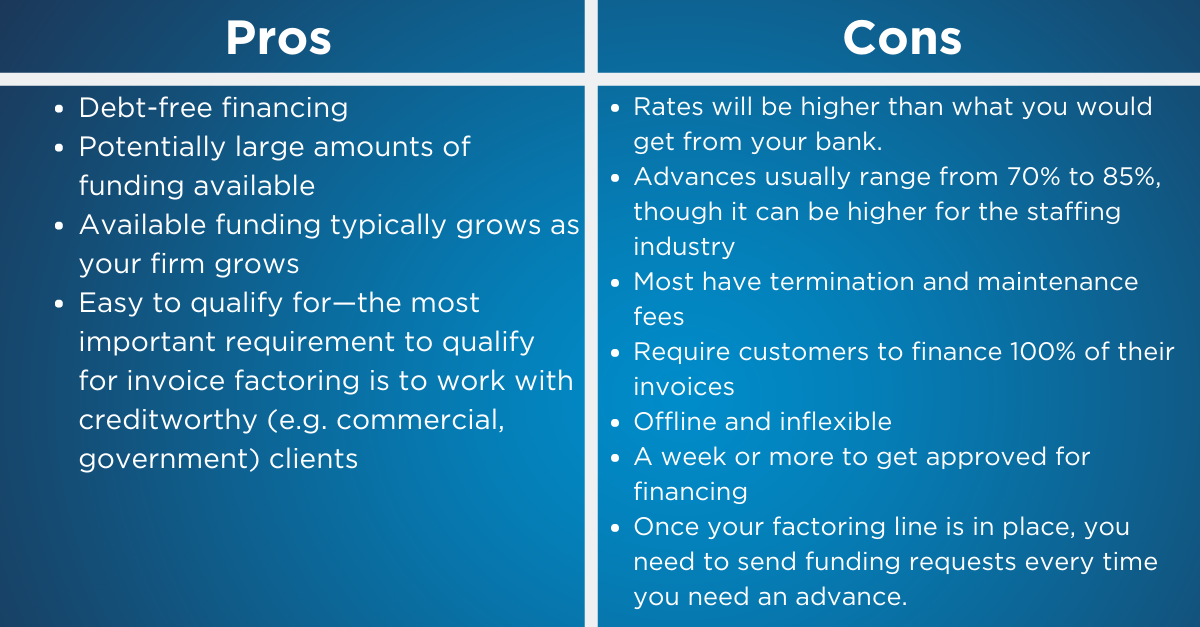 Staffing firms typically find these traditional financing options to be burdensome, restrictive, and insufficient in meeting all of their financing needs. So, where else can you turn for financing?
Flexible financing options for staffing firms, from Silicon Valley
With the advent of fintech, there are now more flexible financing options for staffing firms. These new alternative lenders use data and technology to underwrite loans at a faster speed, allowing them to approve borrowers quickly and get funds to them quickly.
Their rates aren't typically as low those offered by banks, but their speed, lower credit requirements and flexible contracts appeal to small and mid-sized business owners who aren't getting what they need from the existing options. When going this route, consider online invoice factoring solutions that offer an added level of speed and convenience.
Of these new alternative lenders, BlueVine is the only provider of an online invoice factoring solution. They also offer online flexible lines of credit. Small and mid-sized staffing businesses benefit from their simple, online, on-demand financing.
Let's see how BlueVine stacks up against the other options according to our criteria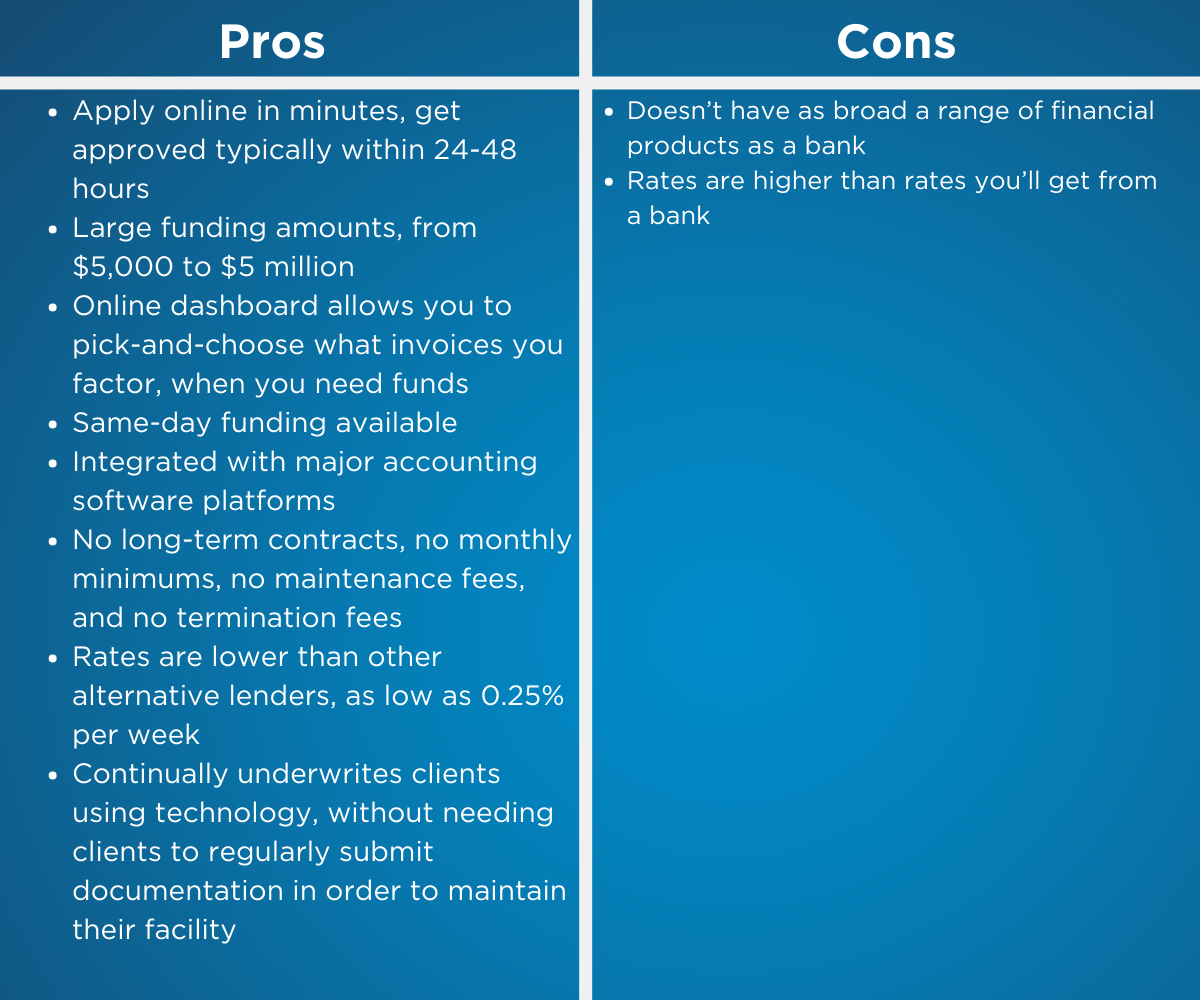 Staffing firms benefit from BlueVine's flexibility, business-friendly terms, and speed of access to funds. BlueVine's solutions can also be paired with other financing options to fill in the gaps where the business' existing financing falls short.
For example, BlueVine's invoice factoring product is commonly paired with bank financing – this allows staffing firms to utilize BlueVine's advances on select invoices to fund payroll expenses while utilizing their bank loan to fund large expenses or investments.
As a staffing firm, you have a unique set of cash flow challenges. You should determine what's most important to your firm in a financing provider, starting with the criteria we suggested.
Consider fintech lenders like BlueVine who can replace or supplement your existing financing to give you the utmost speed and flexibility to meet your critical working capital needs. Invest the time today to choose the right financing for your firm and you'll be equipped with the capital and confidence to take on opportunities that will grow your firm tomorrow.
---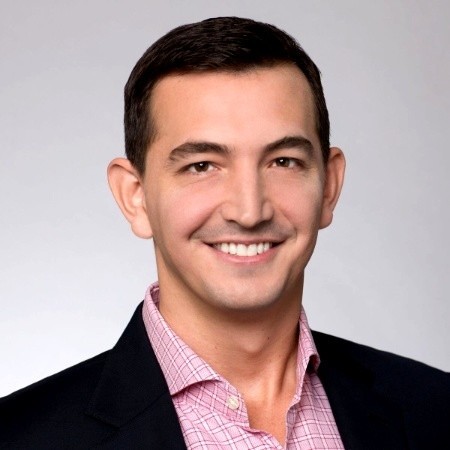 About the Author: Charles Amadon is the Vice President of Business Development & Partnerships at BlueVine, responsible for the company's partnership strategy & execution. He was previously the VP of Business Development & Strategic Partnerships at Bill.com and worked in strategy and business development at NBC Universal, American Express, and iHeartMedia. Charles received his BA degree from Georgetown University. 
---

Subscribe to the Staffing Blog
Subscribe for trends, tips, and insights delivered straight to your inbox.