24 Experts Share How to Grow Your Business Through Relationships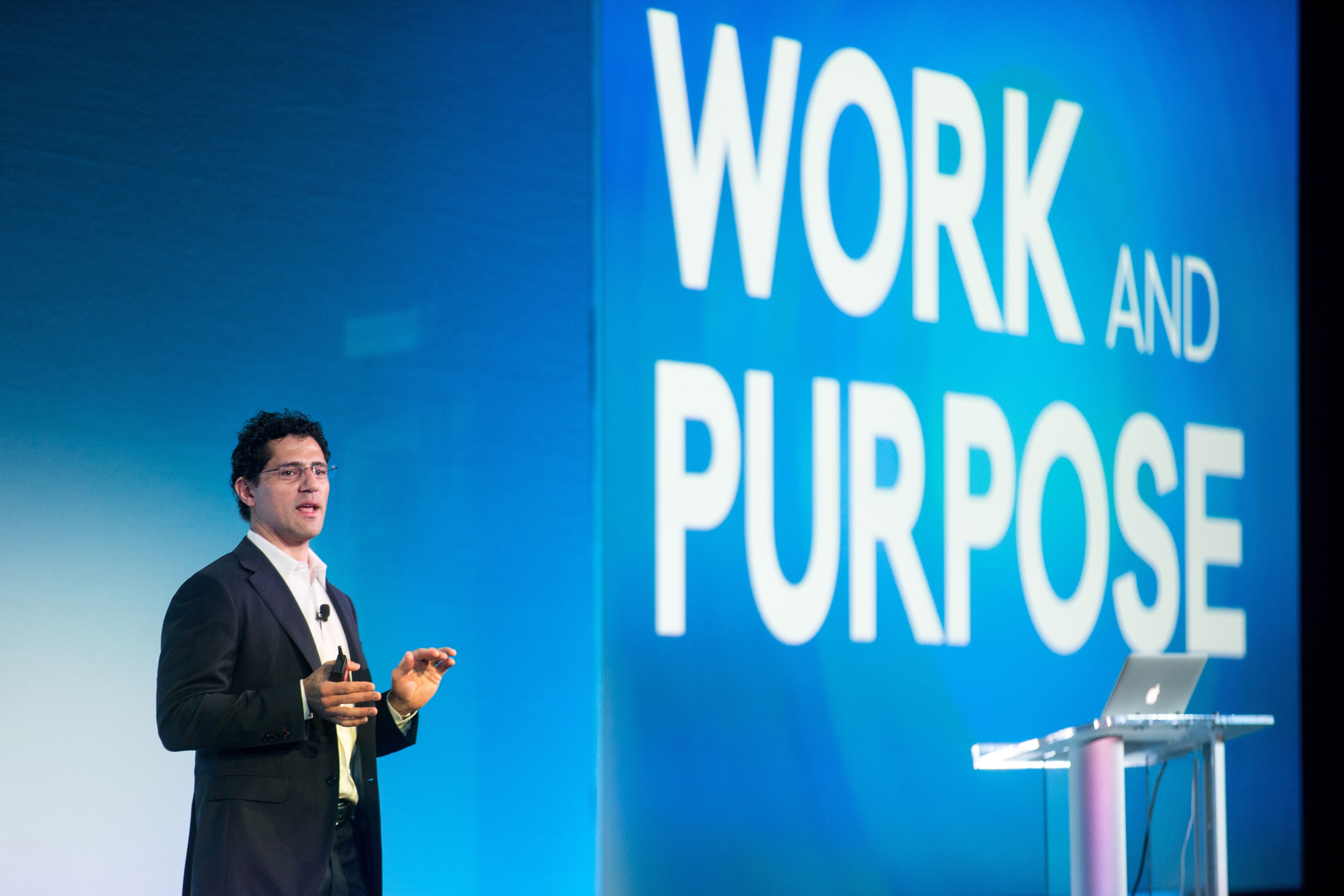 We're living in an age where relationships are the new currency. Building your business on a relationship-based strategy is foundational to success, and a strategy that's proven to be the greatest accelerant for growth is the Incredible Experience Cycle, a term coined by Art Papas, CEO of Bullhorn.
The incredible experience cycle works like this:
Engage Talent:

Set a customer-centric culture and engage employees in your mission.

Engage Customers:

Live the mission and create an incredible experience for your customers.

Accelerate Growth:

Happy customers become raving fans who grow your business by telling their friends.

Build Leadership:

As your business grows, you have to hire more people and create management jobs for top performers who build better products and drive growth, and this momentum starts the cycle all over again.
We listened to leading business experts share innovative strategies for every step of the incredible experience cycle at Engage 2016. The speakers were leaders from a wide variety of industries and taught people-first tactics to accelerate your business growth.
Here are 24 key takeaways from Engage speakers on how to grow your business through relationships:
Engage Talent
Each individual has a unique combination of strengths. Strong leaders learn how to identify and unlock those unique strengths. Teams that put people first and focus on their unique sets of skills have more engaged employees leading to greater productivity and increased loyalty. – "Unlocking the Hidden Talents of All Your Employees" by Paul Allen, Gallup
Attracting top talent starts with a great company culture. Implement freedom and responsibility, and allow for fun in the workplace. Unfortunately, a lot of businesses have cameras on employees. But if you give employees freedom and fun, they'll have incredible loyalty and they will produce. – "Sourcing Talent Through Great Company Culture" by Murali Balasubramanyam, The Ian Martin Group
Never hire in a panic, you're most likely to make the wrong decision under pressure. And there's a high price to pay for a poor hire. It costs companies 250 percent of annual compensation per exited employee. Pro tip: even if all desks are full, never stop meeting new candidates. – "Strategies for Identifying and Assessing Talent for the Staffing Industry" by Jay Brunetti, HireAlliance
Failed onboarding puts your company at risk. Eighty percent of revenue ends up coming from the top 20 percent of your employees. Your company becomes a revolving door for talent and you can't scale your business. If you want training to be successful, leadership has to be involved top-down. People do what people see. Leaders have to reward and model positive behavior. – "Onboarding Designed to Engage and Delight Customers" by Dan Fisher and Gerry Gadoury, Menemsha Group
Do you trust your employees to make important decisions? Take a vacation and give the team a project to complete – but don't ask or check-in while away. Then you'll find out if you can trust your team. It's critical to let people do the job you hired them for so the business can grow. Lead your team into the future, that's your job as a manager. – "How to Hire the Right Team So You Can Stop Micromanaging and Start Growing" by Christine Perkett, SeeDepth Inc.
Engage Customers
Customers want an incredible, customized experience. They want companies to know who they are, what they've bought in the past, and how they've interacted with you. But why is it so important to provide these differentiated experiences? It's good for business. Personalized, differentiated customer experiences keep clients satisfied and loyal. – "How the Future of CRM Can Help Your Customers and Your Business" by Kate Leggett, Forrester Research
To run a successful, service-based business, you have to know your customer. You get to know your customer through empathy – a simple tactic we easily forget. Listen, don't interrupt or clarify. Tune in to nonverbal communication. Use people's names, take a personal interest in them, and smile. – "Know Thy Customer: Customer Engagement Through the Hard Times" by Nancie Freitas, The Freitas Group
When trying to increase customer advocacy, it's important to know that everyone has part of being an advocate in them – you just need to draw advocacy out of them. One of the ways to tap into this potential for advocacy: provide an opportunity to have meaningful impact, then take their impact and use it to make their life or career more valuable. – "The Advocacy Code: A Framework to Activate Advocates in Any Industry" by Mark Organ, Influitive
Happy, engaged employees lead to happy, engaged customers. So follow the platinum rule of employee engagement: give people what they want, and they will reward you. It's not luck; it's hard work. You have to treat them really well. But it works. – "Do Your Customers Love You?" by Rolf Kramer, Kranect
Accelerate Growth
Companies need a mission people want to get behind — beyond just making the boss rich. Our incredible customer experience cycle helps employees see how the mission relates to them. If we live the mission, then we create raving fans who grow the business by telling their friends. "Culture isn't just touchy-feely; it's about actually running a better business." – Art Papas, Bullhorn
To grow as a company, you must use your mission and values a compass. Then the rest will fall into place. Do the right thing always — it makes decision-making easier. Remain true to your values and keep your eye on your mission. – "Charting Your Course for Growth" by Alena Pierce, Strategic Staffing Solutions
Research shows that a lot of the time we spend trying to influence people (bosses, sales prospects, customers), we talk about HOW. Evidence shows there's a lot of persuasive oomph in the WHY. If people know why they're doing something, they're more likely to do it. – "To Sell is Human: The New ABCs of Moving Others" by Daniel Pink, Best-Selling Author of "To Sell is Human"
The single worst thing to happen in dodgeball is to be the very last person picked. Being the weakest link on the team is the greatest fear. The single biggest point of failure in leadership is when we try to cover up insecurities out of fear. The solution is feedback — invite feedback and get good at standing in the unpleasant truths. – "Why and How do Leaders Fail" by Meghan Messenger and Charlie Kim, Next Jump
Sales is a game of chess, not war. You can't win in chess with just one move. The same applies to selling. Successful selling requires a minimum of 10 connects before a sale, relying on numerous targeted messages to your 'suspects' (people you think they might use your services). – "Integrating and Executing a Highly Effective Sales Process" by Tom Erb, Tallan Resources and Andy Moss, M Force Staffing
Automation is key to maximizing revenue in VMS orders – the more automation the higher the level of satisfaction of users. Submission of candidates through the VMS is the best place to improve efficiency. – "A Study of VMS Best Practices" by Eric Gregg, Inavero
Build Leadership
We're all living under the collective delusion that to succeed, we have to burn out. But when you're burnt out, it's more difficult to find solutions to problems. Who wants employees who show up with 40 percent or 60 percent of themselves? The innovative solution is sleep. "Sleep affects every aspect of our health, productivity, and happiness… Sleep is becoming a competitive advantage." – "Leadership and the Importance of Sleep" by Arianna Huffington, The Huffington Post
Your business has to be authentic and human to be successful. Part of being authentic is a willingness to live outside your comfort zone. It takes courage and requires a willingness to fail. Leaders must share their personal life, their humanness, and their failures with co-workers to foster authentic relationships. – "Innovative Leadership at a Growing Company" by Susan Salka, AMN Healthcare
We talk about how millennials don't want actual physical things as a reward. But what rewards are incentives for them? Millennials want rewards like experiences, recognition for the work they've done, opportunities to grow their network, the ability to work from home, and nap rooms. But it's important to note that this isn't a "one prize fits all". – "Millenials – They're Really Not That Different, Except for Everything is Different" by Joyce Russell and Hilary Jarman, Adecco
In the past, change was an event. Now, change is a constant. To stay competitive you have to drive change and innovation in your own space. One way to overcome internal barriers to change are to promote curiosity and risk taking within your company. – "Leadership at the Speed of Now" by Tyler Durham, Ketchum Change
Hire talent who aren't afraid to work hard. Then hold regular meetings focused on skills development and new challenges. Hard workers are naturally motivated to learn and grow, will rise to opportunities, and will ultimately perform better. "The better your individuals perform, the better your company performs". – "Focus on Your People and Growth Will Follow" by Mark Eldridge, ALKU
These 24 innovative business leaders know the fastest growing companies put people first. They build on authentic relationships with their customers through creating an incredible customer experience.
Learn how the power of relationships and these strategies can help you grow your business by downloading their full presentations.
—
Engage is the industry event to rethink traditional business approaches and learn transformational relationship-based strategies to improve leadership, customer success, and employee engagement. Learn more about Engage 2017.
Subscribe to the Staffing Blog
Subscribe for trends, tips, and insights delivered straight to your inbox.