The Reskilling Opportunity — Top Takeaways from Art Papas' Engage Boston 2019 Keynote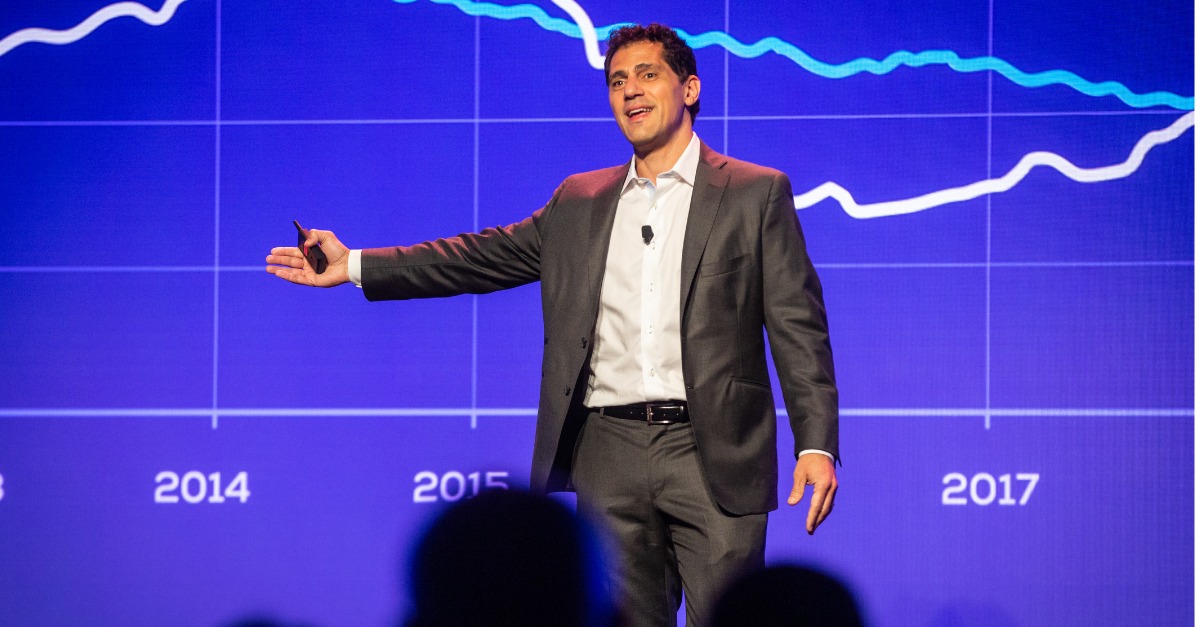 How can staffing firms combat the historically low unemployment rate? How can recruitment companies transform the industry and changes lives in the process? These were some of the questions Bullhorn CEO and founder Art Papas explored in his Engage Boston 2019 keynote. Read on for some of the top takeaways.
An Unprecedented Moment in Staffing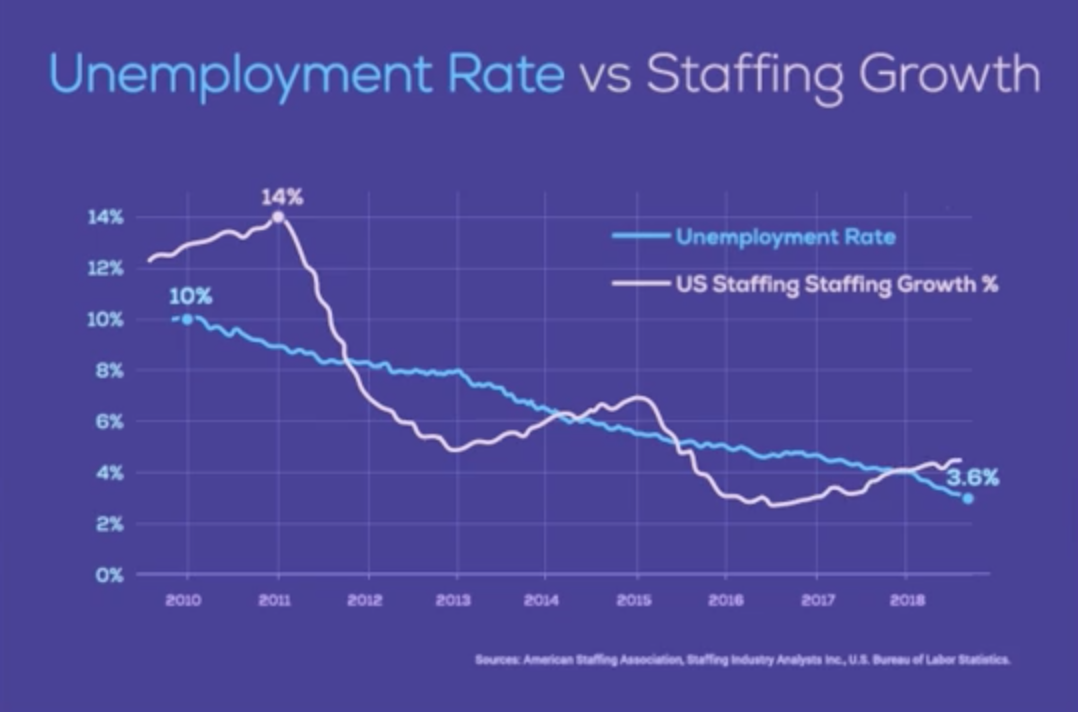 Art Papas kicked off his keynote by observing that we are in the middle of a historic period for the staffing industry. The unemployment rate continues to drop to a historic low. And that low unemployment rate is having an impact on staffing industry growth. When unemployment was higher, the industry grew at a fantastic rate, but now growth has stifled.
How can the industry grow again? "We need people but they're already working," Art said. "For the staffing industry to grow, we need people to become available. We need liquidity."
One way to do create liquidity, Art said, is to have a recession. "But you didn't come to Boston to hear me say that the solution is to have a massive recession." A second solution is through robots and automation. "It's a real thing. It's happening. Automation is having an impact. Robots aren't taking over the planet… yet, but it's real."
Automation is creating the liquidity we need and frees people up from outmoded jobs to make them available for the jobs we need. "But technology can't eliminate jobs fast enough to create liquidity," he said.
The Redeployment Dilemma
Staffing firms currently have a 40 percent redeployment rate. This, Art noted, is a huge opportunity for the staffing industry. What if you could improve that redeployment rate, make more placements, and change lives in the process?
One of the reasons the redeployment rate isn't higher is because otherwise-qualified candidates don't have the skills they need to be replaced at a company. What happens when a client likes a talent, but the talent doesn't have the skill they need for a role? Traditionally, it has meant the client moves on and looks elsewhere.
The Reskilling Opportunity
It doesn't have to be that way. Art shared the story of Timothy Faircloth with the audience. Timothy had been incarcerated, and like many people in that situation, had difficulties finding a job. ResourceMFG took a chance on him and gave him a job sweeping floors. He was extremely grateful for the opportunity. He was also a fantastic employee.
Skill based training can change a persons life. @artpapas talking about how @EmployBridge @BetterWorkLife @ResourceMFG invested in Timothy Faircloth's training. "This is how you transform a problem into an opportunity… It is the Future," @Bullhorn #BullhornEngage pic.twitter.com/v84TiT1FWf

— Joanie Courtney (@JoanieCourtney) June 13, 2019
ResourceMFG soon found themselves in the classic dilemma. They needed someone who could read blueprints, and they wanted to place Timothy in a job with more responsibility, but Timothy didn't have the training to read blueprints. If this story played out the way it usually does, Timothy would end up as one of the 60 percent who can't get redeployed.
It didn't happen that way.
ResourceMFG partnered with Penn Foster. They offered to train Timothy, and it would be free to ResourceMFG and free to Timothy. They would simply take a markup if he got hired. He got the job, and in the process developed incredible loyalty to ResourceMFG. And ResourceMFG established themselves as a true differentiator from the competition. They provided more than a job—they changed a life.
Together, We Can Transform the Industry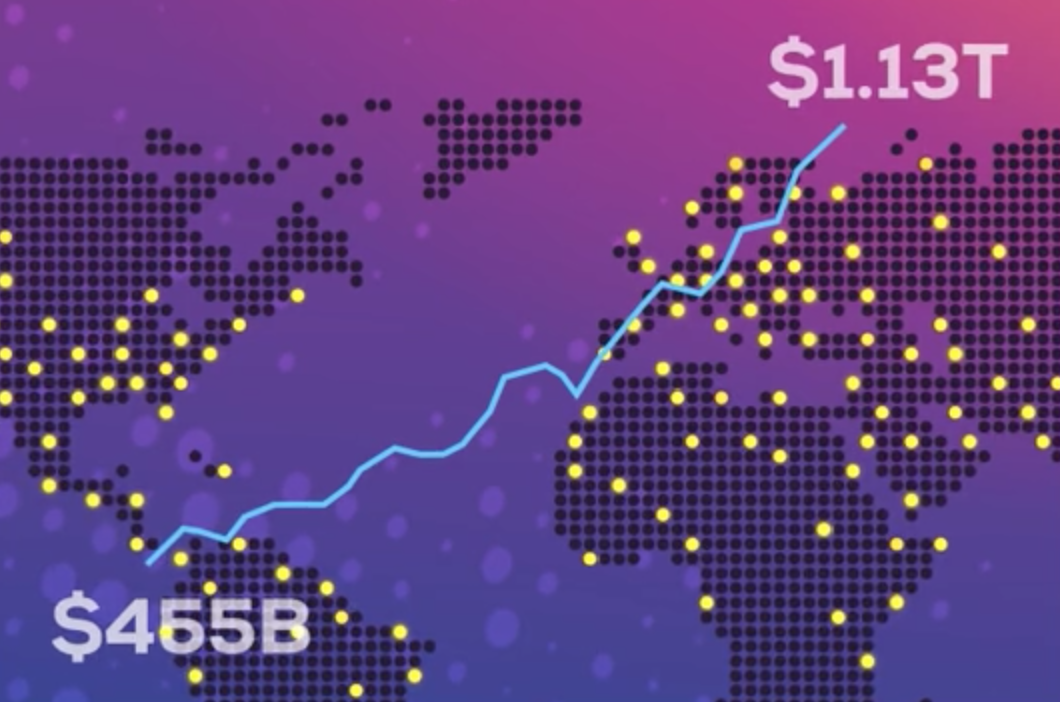 Art closed his keynote with an invitation to transform the industry together. Imagine if we took employees from lower-wage jobs and reskilled those people. Imagine if we provided opportunities to people with the talent and the ability but not the training or the skills. The staffing industry has the potential to go from a $455 Billion industry to a 1.13 Trillion industry. "This is my vision for the staffing industry. This is where we can go together. I hope we embrace the opportunity. I hope next year we can tell more stories of staffing firms doing incredible things with reskilling."
---
Interested in learning more about reskilling and the other challenges, opportunities, and ideas that will shape the staffing industry in the year ahead? On the Global Recruitment Insights and Data (GRID) site, you'll find key findings and spotlights on top trends shaping the industry, plus free downloadable resources, like social shareables and powerpoint slides.
Subscribe to the Staffing Blog
Subscribe for trends, tips, and insights delivered straight to your inbox.