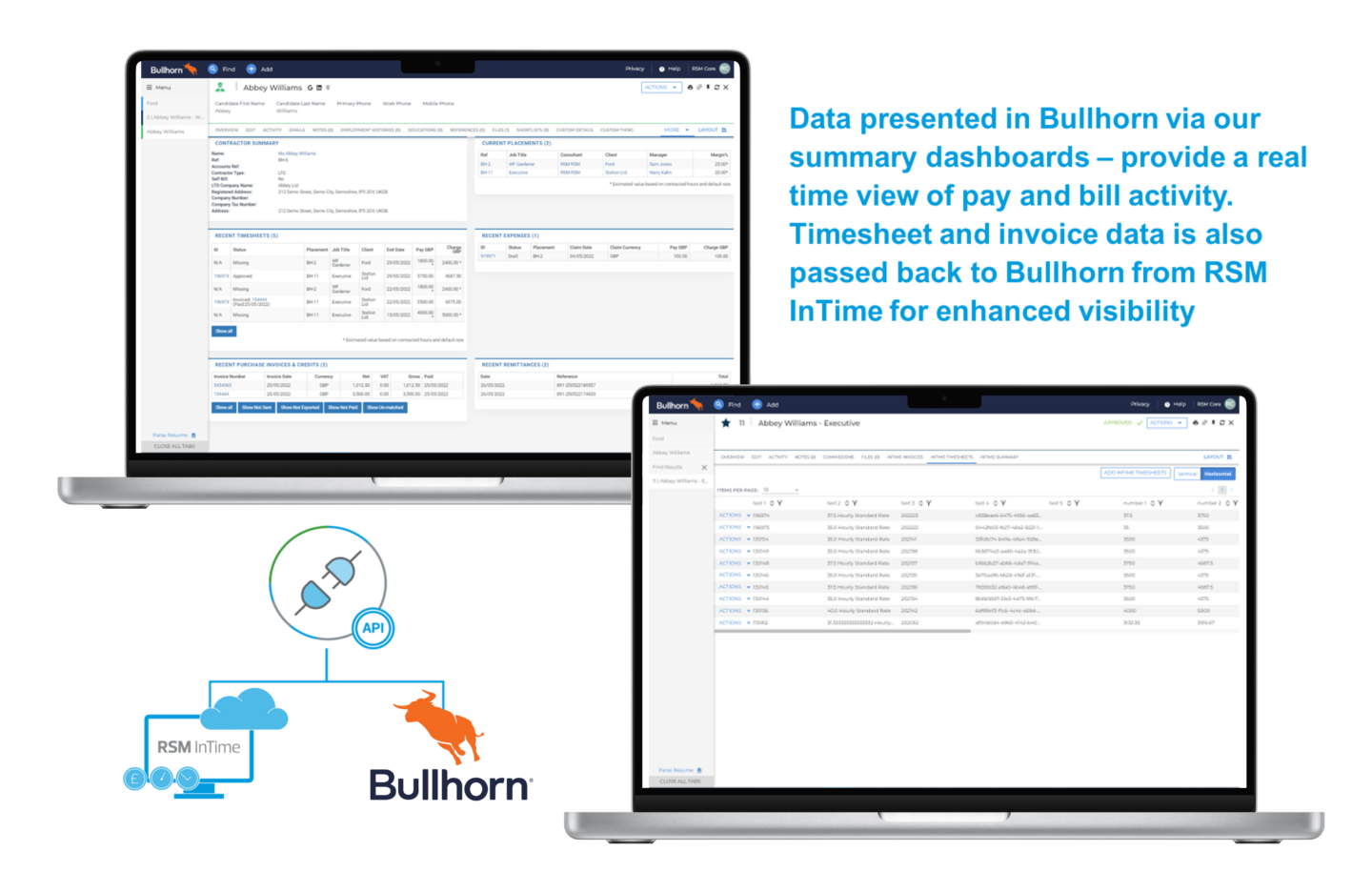 RSM InTime & Bullhorn – a real time two-way integration
Our integration with Bullhorn allows agencies to automatically synchronise real-time, front end placement data to RSM InTime in just seconds.
RSM InTime's pay and bill summary dashboards are visible within Bullhorn against the placement, client and worker records which provide real time insight at a glance. This gives front office users greater visibility of pay and bill status. The integration also supports SSO from Bullhorn, allowing users to drill down into underlying data where required.
Once timesheets are approved and invoices generated in RSM InTime, this data then flows back into Bullhorn to allow reporting based on actuals, rather than estimates – enhancing Bullhorn analytics reporting.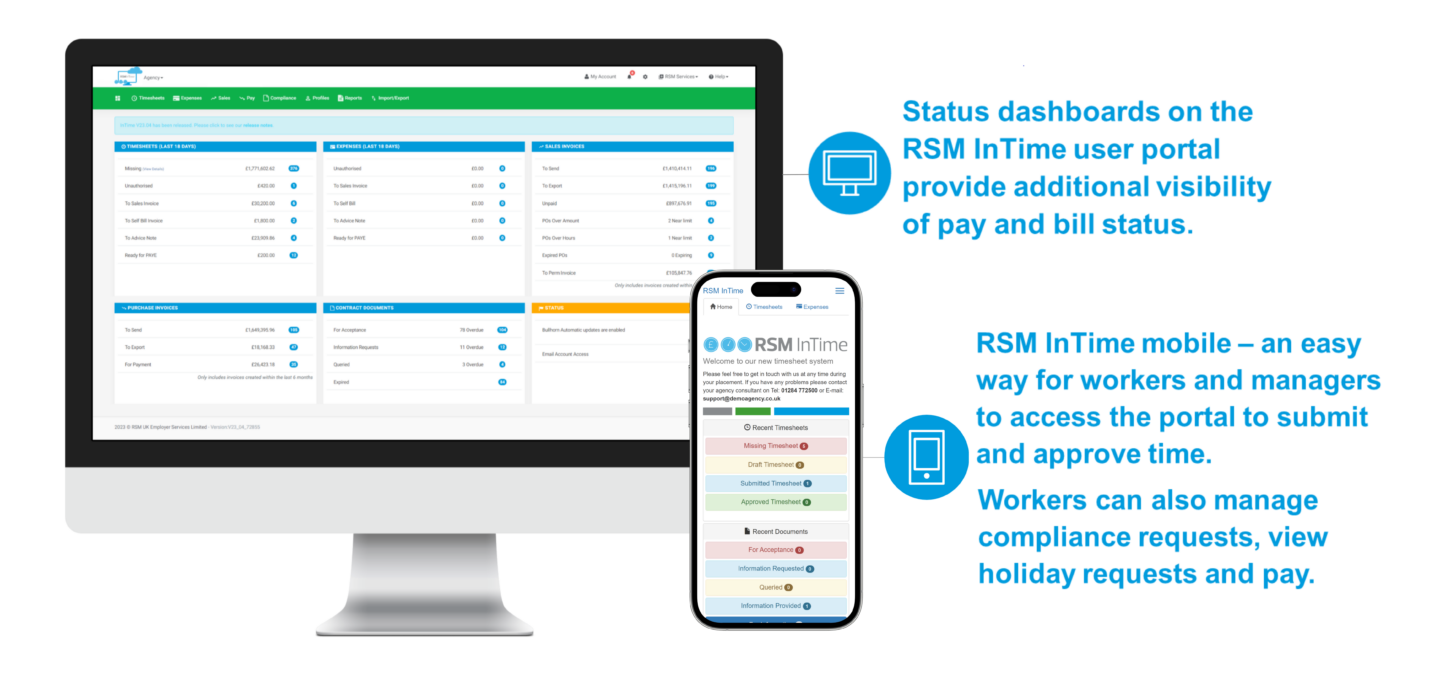 Cloud-based software, driving your business forward
RSM InTime provides extensive benefits to your business:
• Delivers time & cost savings through automation of back-office operations
• Improved accuracy and streamlining of payroll, billing and accounting processes
• Enhancing service levels for workers and clients through intuitive online user portals and mobile platform
• Scalable and flexible solution to suit all sectors, futureproofing mid-size to enterprise agencies
• Configurable to support multiple agency groups, brands, and overseas entities.
• Continuously adapts to changing needs of client and legislative requirements through innovative development
• Growing ecosystem of 3rd party API integrations, eliminates data entry duplication across your front and back-office systems
• ERP, tax, commission and data warehouse integrations, streamline your data flow and analytics
• Ongoing support –access to our experienced technical team, account management and wider firm recruitment sector specialists.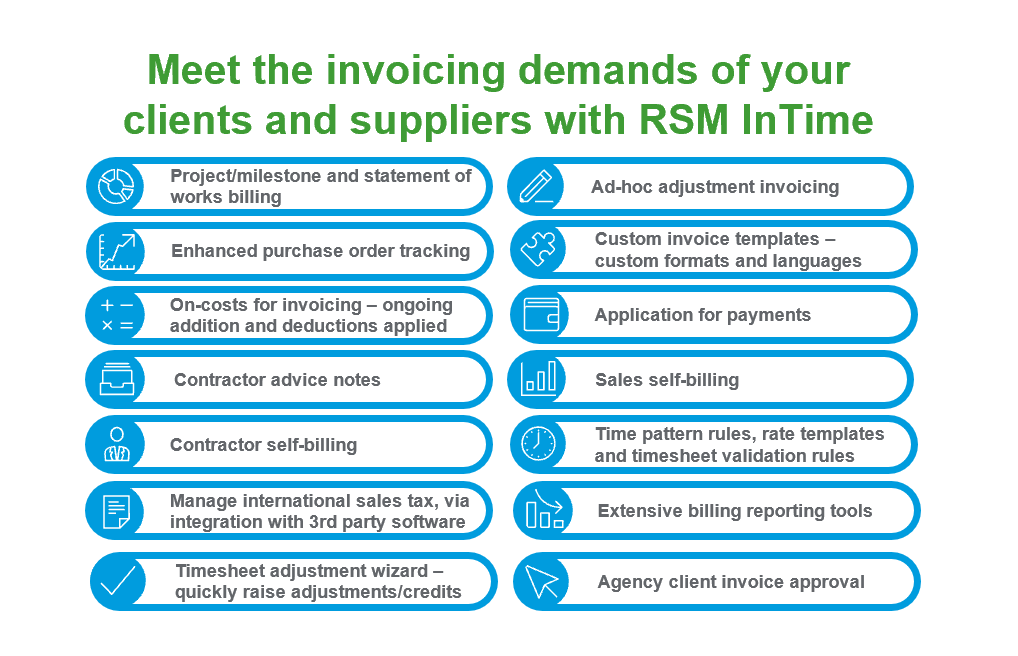 Boost efficiency with enterprise functionality
• Multiple methods of timesheet & expense capture & approval including online timesheets with email approval, mobile, paper upload and bulk upload from 3rd party systems
• Comprehensive tools to allow you to meet varied billing requirements
• Tools to simplify management and payment of your Ltd company contractors, umbrellas, and off payroll workers (IR35)
• Payroll processing – manage PAYE, CIS and holiday using our integrated payroll software, InPay
• AWR and online contracts – a range of onboarding tools to track and enforce compliance (with contract packs, information requests, e-signatures and expiry notifications)
• Extensive real-time reporting & open access to your data through integrations with SQL server, MySQL, Google BigQuery – supporting data analytics initiatives
• Branding and custom text to support your brand strategy
• Optimised and secure platform for high-capacity processing – ensuring quick response times and a stable and resilient solution to support growth.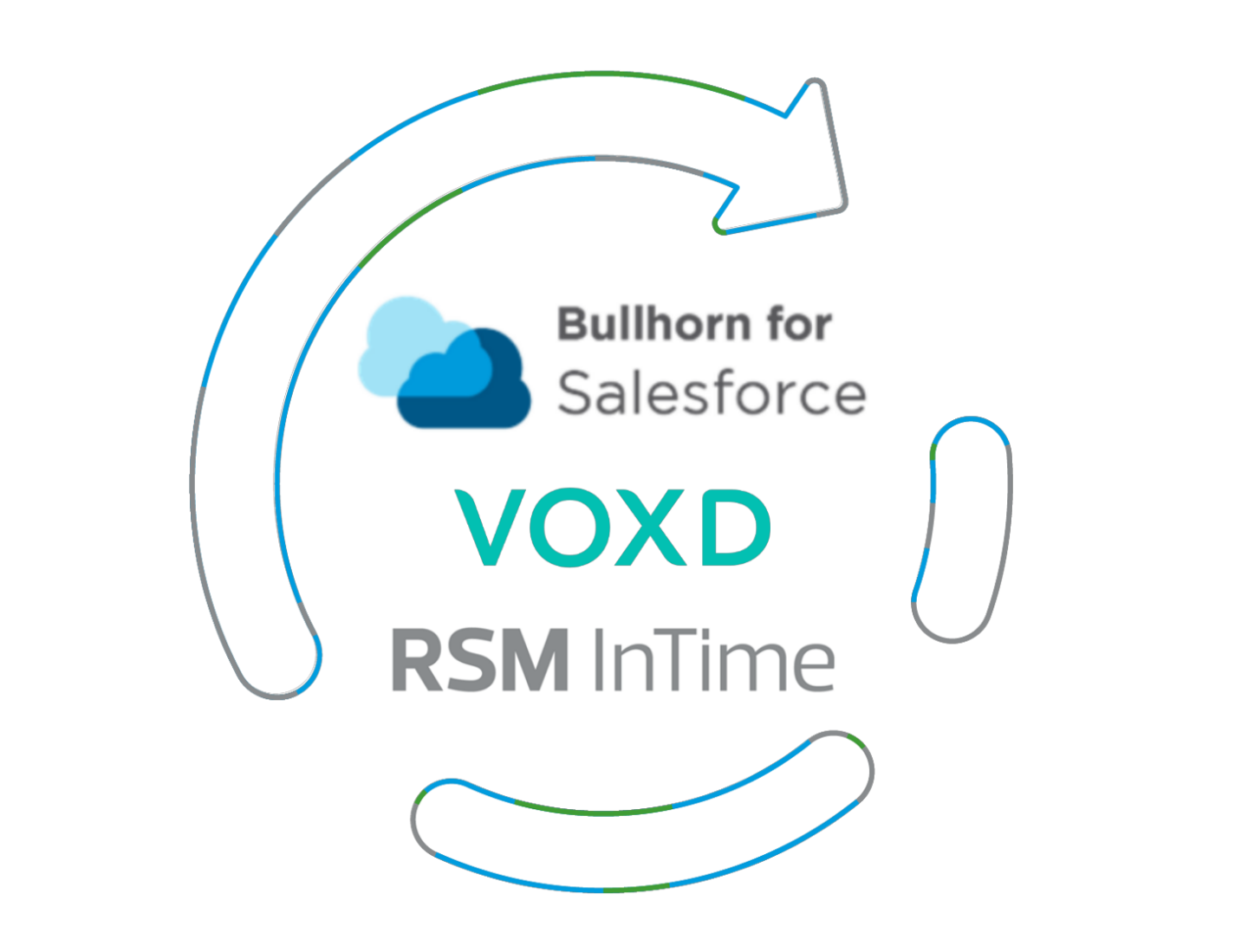 Bullhorn for Salesforce integration, with VOXD
Bullhorn for Salesforce users can benefit from a seamless two-way integration with RSM InTime, ensuring smooth data exchange between the two platforms. The integration is facilitated by our trusted Salesforce integration partner, VOXD, who provide expert guidance from initial setup to implementation, optimisation, and ongoing support.
The real-time integration can be tailored to meet the specific requirements of each client; saving time and resource, improving accuracy, cutting out manual processes and improving reporting for recruitment finance teams.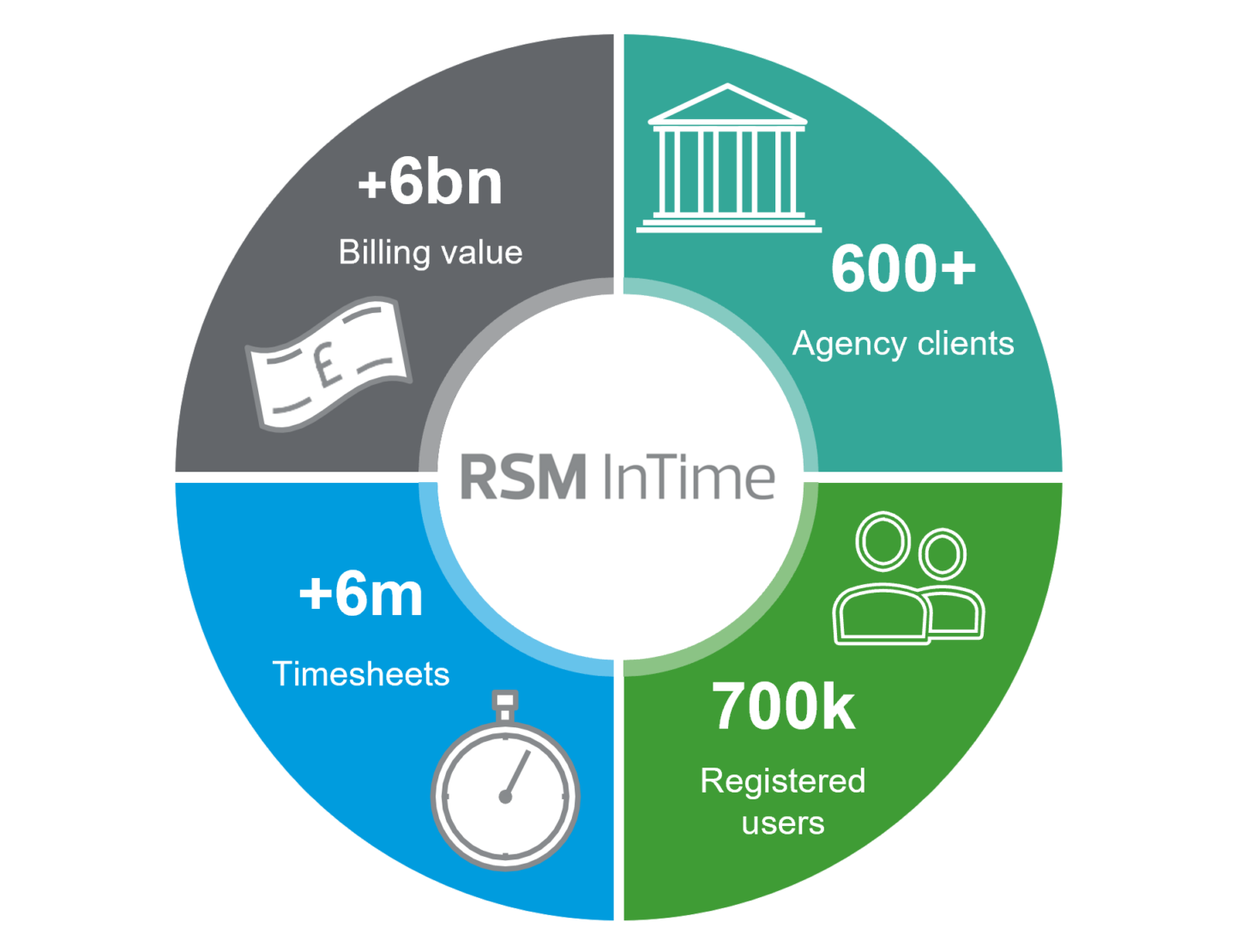 What our clients say
"Implementing RSM InTime has been a very positive move for Hobson Prior. It is comprehensive, intuitive and meets our needs, as well as our workers and clients' needs. We have implemented additional instances of RSM InTime helping with our expansion. The efficiencies gained allows us to run a lean back-office team." – Hobson Prior, part of Acacium Group
"Moving to RSM InTime has enabled us to reduce headcount by over 50% and has greatly reduced the number of payroll queries, saving us time and resource." – Hydrogen Group
"We have been very impressed with how user friendly and accessible the systems are to use. Compared with other pay and bill systems we have used, RSM's solution takes away manual processing and communications, reducing our team admin substantially." – Staffing 360 Solutions Limited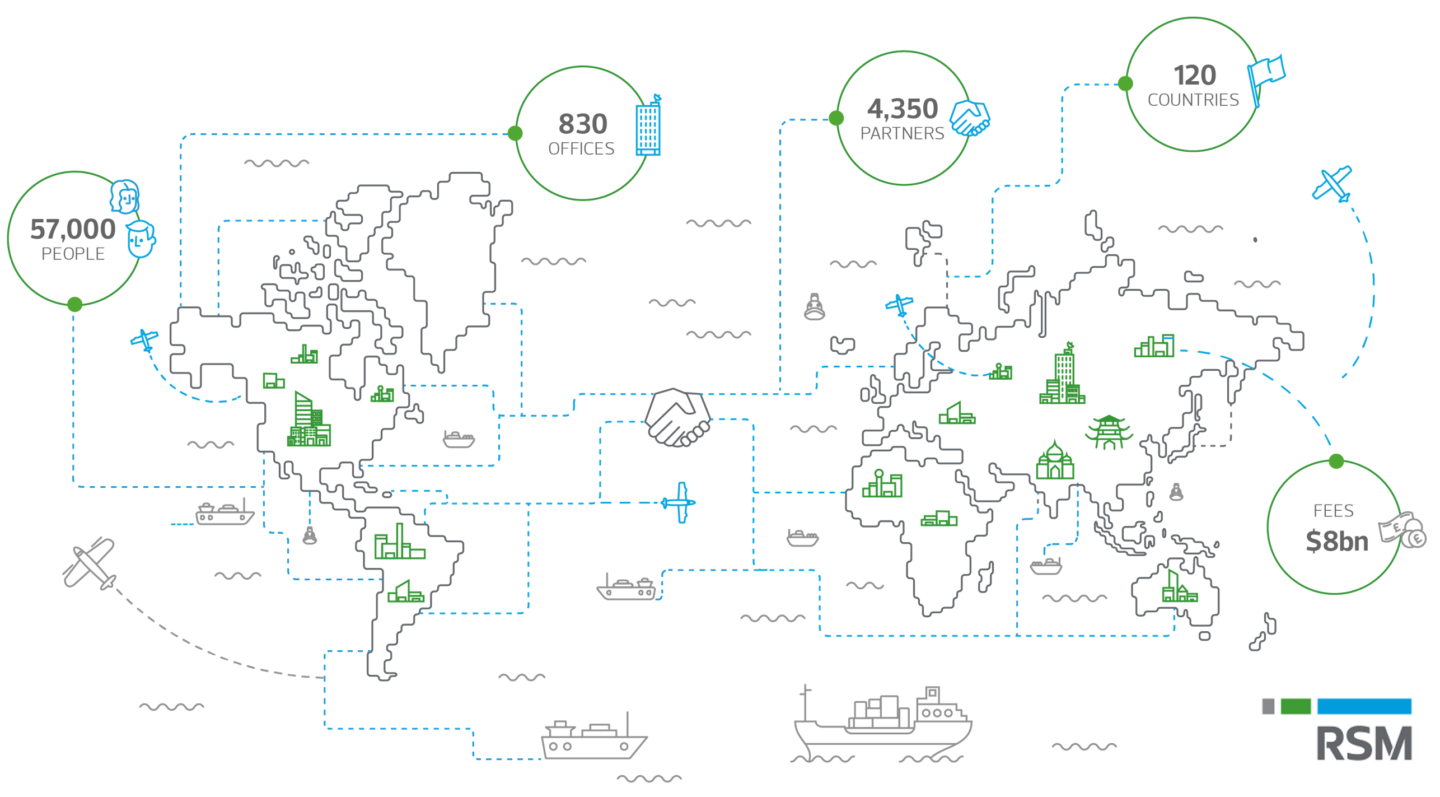 RSM and the recruitment sector – a safe pair of hands
RSM also offers specialist services to recruitment businesses of all sizes. Our team of sector experts provide recruitment consulting so that your business can successfully navigate each stage of its growth journey. RSM can offer tailored solutions, such as:
• dealing with changing HMRC legislation, such as IR35;
• business structuring and general tax planning, for example best use of company and limited liability partnership hybrid structures;
• fully outsourced pay and bill service for recruiters;
• digital and IT strategy services to help identify opportunities to better deploy technology to streamline business operations;
• international expansion advice and connectivity to an advice network; and
• corporate finance advice on buying and selling your business, including preparing for and achieving an exit.