Announcing Our Biggest Conference Yet—Engage Austin 2020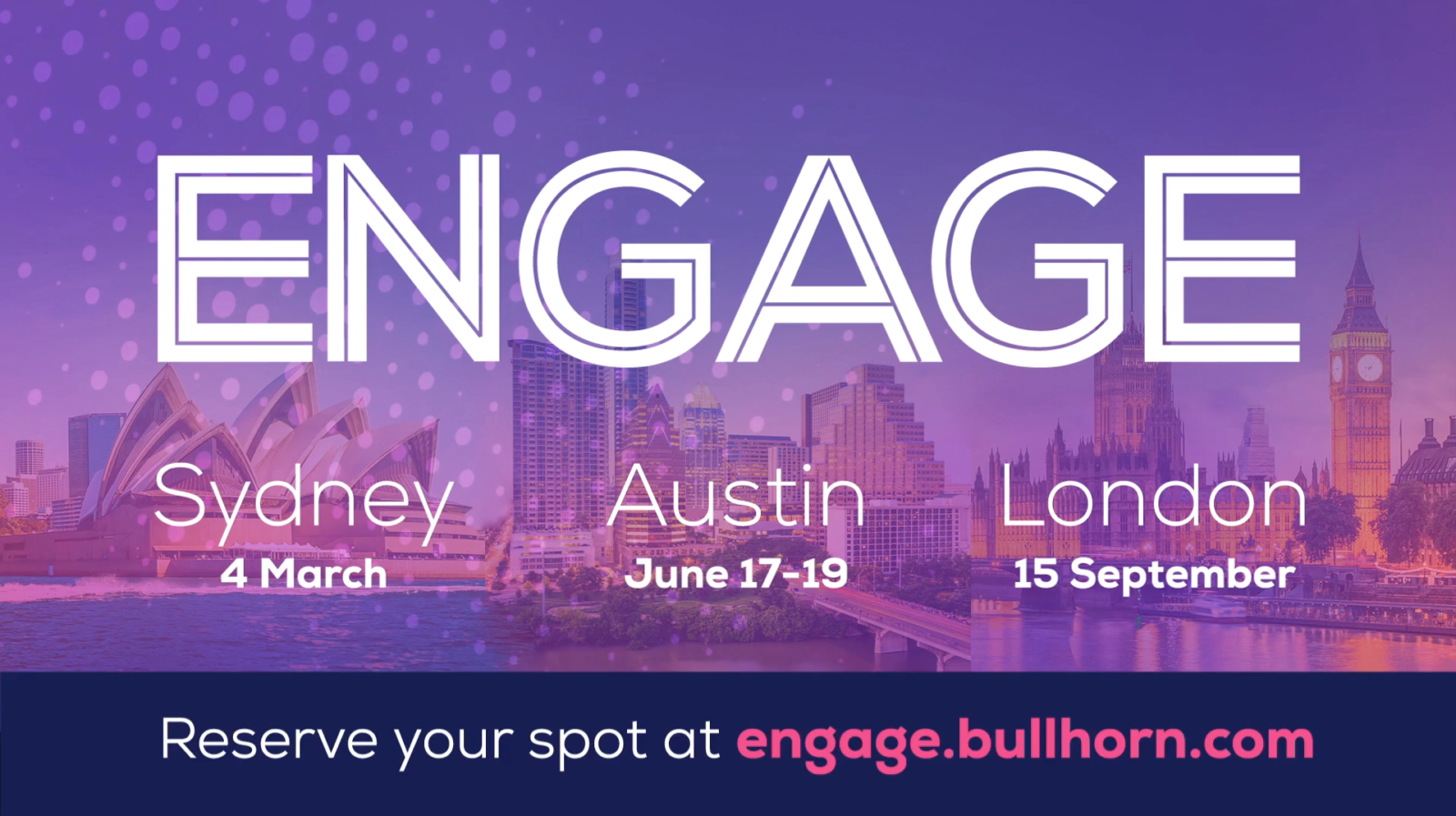 Four years ago, we launched our premier conference—Engage Boston—and in doing so we created one of the largest global staffing industry events to date. Through engaging talent, clients, and leadership, we sought to connect the staffing industry with innovative tech companies, talented thought leaders, and passionate staffing and recruitment peers. Year after year, we come together to discover what the power of people can collectively accomplish.
Through its evolution, Engage has become a staffing industry event like no other—it's the only conference where you can experience the intersection of technology and industry trends that shape the future of recruitment. Engage offers the unique opportunity to immerse yourself in key industry trends, technology innovation, and Bullhorn best practices in order to make the best decisions for your business through a highly personalized experience and one-to-one interactions with ecosystem partners, agency peers, and Bullhorn experts. We often hear from our attendees that Engage is unlike anything they've experienced before. Every year, we set out to create a memorable event that offers cutting-edge content, highlights trends in technology and current events, and brings the entire staffing and recruiting community together.
In 2020, we're excited to take our flagship conference to Austin, TX. Everything is bigger in Texas, and Engage will be no exception. Engage Austin will offer the most content, the most marketplace partners, the most inspirational keynotes, and the fullest experience we have to offer. As an attendee, you'll walk away with not only a deeper understanding of the staffing and recruitment landscape, but also actionable industry content you'll be able to put into practice immediately.
For those looking for guidance on how to get the most out of your Bullhorn investment, we offer plenty of opportunities to hear from our team of Bullhorn experts. At Bullhorn Connect, you'll be able to meet with our developers, customer success team, and trainers to receive individualized technical support. Interested in learning about platform extensibility? Our partner ecosystem gives you the choice, confidence, and customization you need to address the unique challenges of your business. Hear from our 100+ partners on how to future-proof your investment and enhance the capability of your platform.
Whether you're looking for industry trends and thought leadership, insights into technology, inspiration from your peers and colleagues, or the opportunity to elevate your Bullhorn platform to the next level, Engage Austin 2020 has everything to offer. Engage is truly a one-of-a-kind event, and I hope you will consider joining us in 2020 for an unforgettable experience.
Learn more about Engage Austin and register at https://engage.bullhorn.com/. 
Subscribe to the Staffing Blog
Subscribe for trends, tips, and insights delivered straight to your inbox.