Announcing EngageX: The Engage Experience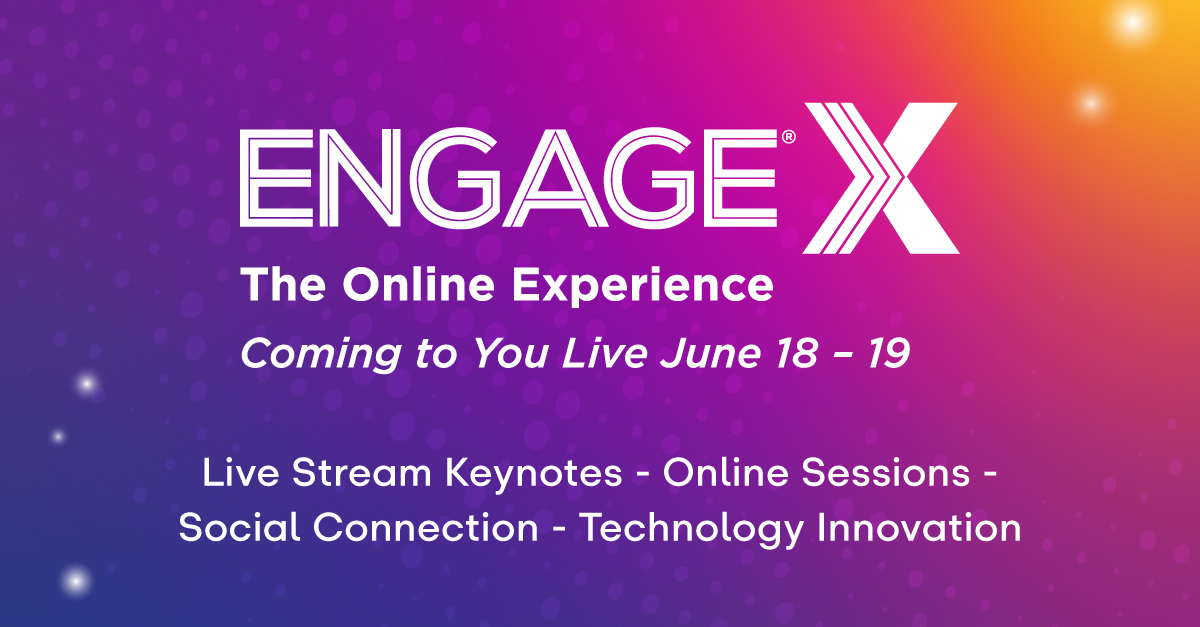 The foundation of Engage has always been our incredible community of staffing and recruiting professionals sharing ideas and learning from one another, celebrating the Power of People.
In light of the spread of Covid-19, we made the decision to transition Engage 2020 to an immersive online conference experience to give our attendees the Bullhorn industry and product-related content they value without requiring them to physically congregate in a specific space. We're pleased to introduce EngageX, the Engage Experience.
The format of our event has changed, but our community—and the power of our people—remains as strong as ever. Mark your calendars today for this completely free event and join us live on Thursday, June 18th.
What can I expect from EngageX?
At EngageX, you will enjoy many of the same rich experiences you've come to expect from Bullhorn's global conference series in an immersive online format. This means you'll still hear from an all-star lineup of expert speakers, discover top technology trends, learn tips to get the most out of your Bullhorn investment, and engage with a community of like-minded professionals.
Agenda sneak preview
What's on the menu for EngageX? While the full agenda isn't out yet, join our mailing list to be the first to discover the latest EngageX announcements. Here's a teaser of what you can expect.
Get inspired by Dr. Dava Newman 
How can we combat adversity with dedication? Dr. Dava Newman will share her compelling personal story of rising above systemic challenges. You won't want to miss the leadership insights Dr. Newman has to share gleaned throughout her distinguished career at NASA. Dr. Newman is the Apollo Program Professor of Astronautics at the Massachusetts Institute of Technology (MIT) and was the first female engineer and scientist to serve as NASA Deputy Administrator (2015-2017. During her keynote address, Dr. Newman will use her experience as a leader at NASA to inspire the audience to grow their own leadership qualities and team-building techniques.
Hear from Bullhorn leaders
The sessions from CEO Art Papas and CTO Matt Fischer are Engage staples, and both will be presenting at EngageX. Art Papas's session will cover the emerging trends in the industry that will shape business practices in the future, while Matt Fischer will share Bullhorn's product vision for 2020.
Learn Bullhorn best practices
Engage provides one of the best opportunities to level up your Bullhorn knowledge, and EngageX is no different. Attend engaging breakout sessions offering best practices from real customers, strategies from product experts, and live Q&A with the Bullhorn team.
Engage your way
There'll be no shortage of opportunities to build community with agency peers, ecosystem partners, and Bullhorn experts, but now you'll have an unprecedented level of freedom in deciding how you experience Engage. You can join the experience live to participate in streaming Q&As and conversations or explore top on-demand content as your schedule permits.
Get Notified When Registration Opens
Frequently asked questions
We're here to answer your Engage questions. Read on below for some of our most asked questions. You can find the full list of FAQs here. 
What happens to my Engage Austin 2020 registration?
All Engage Austin 2020 registrations will be automatically canceled and payments refunded no later than April 30th, 2020. All registrants will be notified when registration opens for the EngageX online conference experience. Sign up here to receive future EngageX updates.
Am I eligible for a refund?
All Engage Austin 2020 registrants will receive a 100% refund automatically. You can expect this refund on your original payment method no later than April 30th, 2020. Registrants who previously paid a cancellation fee will also receive a refund.
How do I cancel my hotel reservation?
Reservations within the Engage/Bullhorn group block at the JW Marriott Austin hotel can be canceled without penalty or fee by calling +1 512-474-4777.
Are you still planning to host Engage London 2020?
We will continue to monitor the global health situation. At this time we are still planning to host Engage London 2020 on 15th September. Register and learn more here.
Is there a cost to participate in EngageX?
The EngageX online conference experience and on-demand content is completely free. Engage Austin registrants will automatically be notified when registration opens for EngageX. If you did not register for Engage Austin, sign up here to receive EngageX updates.
Have a question that isn't addressed here? Reach out to our team at engage@bullhorn.com at any time. Stay safe, stay well, and stay engaged.
Subscribe to the Staffing Blog
Subscribe for trends, tips, and insights delivered straight to your inbox.