Connected Recruiting: How To Take Your Onboarding Experience from Mess to Success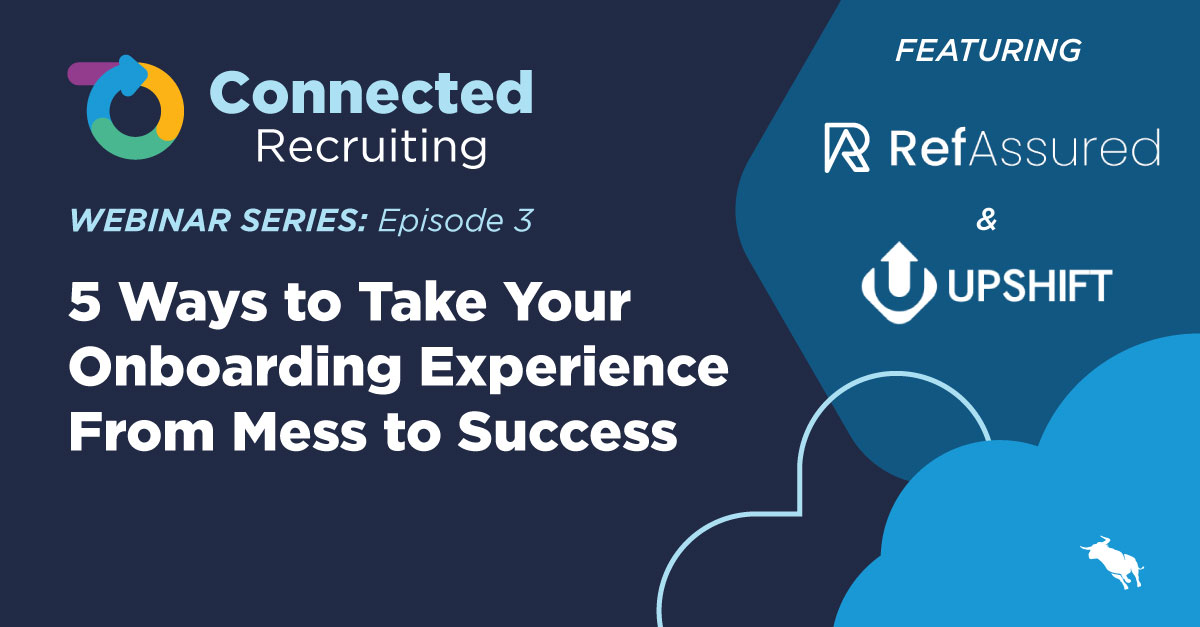 Today's candidates have high expectations for staffing firms. What used to be the priority for candidates – getting a stable job – has changed in the wake of digital transformation and a younger talent pool. The modern candidate wants speed, flexibility, choice, and happiness. Everything in the younger generation's life has been made easier through digital, and they now make up an increasingly large percentage of candidates.
New "tech-first" employment systems, built on talent communities rather than talent pools, are here to fulfill this value system. They differentiate themselves from traditional models by focusing on the user experience. After all, when talent is in control, they'll select who they work with based on who provides them with the best, most seamless experience. 
What does this mean for your staffing firm? Put simply, the world of work is changing, and your candidate onboarding process needs to change with it.
Andre Mileti, Product Evangelist, Talent Experience at Bullhorn, sat down with Brian Vesce, Founder and CEO of RefAssured, Steve Anevski, Founder and CEO of UpShift, and Matt Gorman, SVP of Sales at UpShift, to discuss how to turn onboarding from a detractor to a driver of ratings, reviews, referrals, and redeployments.
Read our recap below, or watch the full webinar here.
What is the Connected Recruiting framework?
Bullhorn introduced Connected Recruiting earlier this year to give the industry the tools with which to drive an incredible talent experience from start to finish. Through smarter engagement, better automation, and a more user-friendly experience, firms can build a flywheel of connected talent experiences. Altogether, these experiences – in person, over the phone, and online – will provide a sustainable talent experience, ultimately driving more engagement, higher open rates, positive reviews, more referrals, and more chances for redeployment.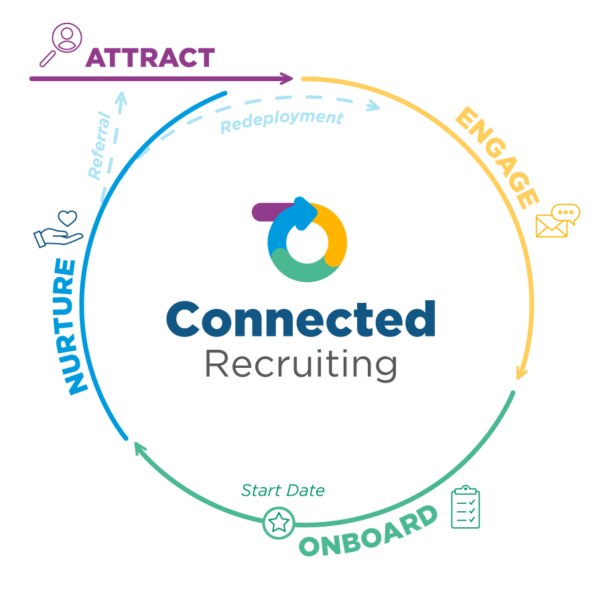 In the first two sessions of this webinar series, we talked about attracting and engaging talent. Today, we're tackling onboarding, and how you can use Connected Recruiting best practices to make the process more streamlined, personalized, and easier than ever before.
The trouble with onboarding
As talent expects more from their staffing and recruiting experience, onboarding remains a pain point. In our latest GRID Talent Trends Report, 66% of workers reported abandoning a promising opportunity because the process took too long. Additionally, respondents listed the application and onboarding process as one of the largest challenges of the talent lifecycle.
Gorman isn't surprised by these numbers. The candidates that he works with are looking for brevity and transparency during the hiring process. Onboarding traditionally stems from the operations department, noted Mileti; therefore, it's not typically built to cater to the candidate experience. "Don't get me wrong," said Mileti, "compliance is important – but experience needs to be right next to it." Added Vesce, "It's dangerous to have that high-friction onboarding experience because then, you'll have people leaving that experience and telling others about how horrible it was."
Talent also reported in the GRID Talent Trends Report that their top problem linked to a poor experience was inadequate training or preparation for the role. Preparation for the first day is part and parcel of onboarding – but it's not happening at the level it needs to. Gorman attributes this to the workload of the average recruiter: "Most recruiters in the contract labor space are stretched super thin." 
Gorman added that between juggling active and prospective candidates, recruiters default to listing off job requirements as a means of onboarding, instead of having a quick, two-minute conversation to chat with a worker about the scenario they're walking into. Structuring time in order to connect personally with workers will be what sets a successful recruiter apart from the rest. 
Key onboarding touchpoints
Contrary to popular belief, onboarding is more than just completing documents to make a candidate an employee. "Onboarding temporary or contract labor starts well before they get to the facility," said Vesce. The process includes:
Application/intake/registration

Skills selection/validation/matching

Interview/qualification, including references and background checks, screenings, and credentialing

Agency, client, and state/federal onboarding, including tax/employment law

Day one prep

General support through the process to keep talent engaged

Alternative matches in case the top choice falls through

Surveys

Referrals
A lot happens during onboarding, and all of this needs to happen quickly. Staffing firms are looking to automate as many of these steps as possible, given that it's difficult for recruiters to manage this entire process manually and still personally connect with candidates during the moments that matter.
Vesce also advises staffing business owners to look at this list and determine at which step you need information from the candidate. That will look different for firms in different sectors; for example, in light industrial, where onboarding happens sooner in the recruitment lifecycle than in other sectors. Once you have your process laid out, you can determine where you can implement technology to help you and your candidate as you go.
Using your tech stack to improve onboarding
In the contract labor world, Gorman has seen candidates spend hours onboarding for jobs that may only last days. "Looking where your friction points are, and seeing what can be streamlined and what can be removed, is super important," he advised. "With technology, we've been able to create efficiencies, specifically in the onboarding process, that just didn't exist in traditional models, and also provide the flexibility and choice that gig platforms have."
Gorman also acknowledges, however, that firms need to strike the right balance between moving quickly and ensuring a level of quality control. After all, onboarding is where you can evaluate whether your candidate is the right person for the job. "Creating friction shows intent for talent," added Mileti. If talent is willing to move through your onboarding process, they're willing to show up – really show up – for that job. Vesce noted that onboarding is as much "will the person do the job?" as it is "can the person do the job?" Leaning too much on automated, digital-only processes without that human touch element risks removing that quality control element and providing poor-quality labor to your clients. There are touchpoints throughout the entire onboarding process where you can ensure that your candidate is engaged and interested in the role.
This is also where tools like reference checks can come in handy. "There is an unbelievable amount of data that you can get in a well-formed reference checking process," said Vesce, "and it becomes invaluable tool for recruiters." Vesce also pointed out that a good reference check – and an early one, done before the hiring process – is helpful for all of the stakeholders in the recruitment lifecycle. After all, a solid, unbiased reference is a great tool to hand to a client – plus, references can be a wonderful place to network.
No matter where you leverage tech in your onboarding process, Gorman noted, "This is a people business. I don't see a future where there is no direct human interaction in staffing. We need people." The key when using tech like automation, Vesce added, is not removing that human touch, but rather expanding the reach of a recruiter and increasing the amount of candidates they can interact with. "It's about optimizing the people that manage those relationships," he added.
Said Gorman, "You need to have people behind the power, always."
---
Want to learn more about Connected Recruiting? Register for our next and final webinar of our series, taking place on December 7.
Subscribe to the Staffing Blog
Subscribe for trends, tips, and insights delivered straight to your inbox.