How Do Gen Z Workers Feel About Staffing Firms? | A Bullhorn GRID Report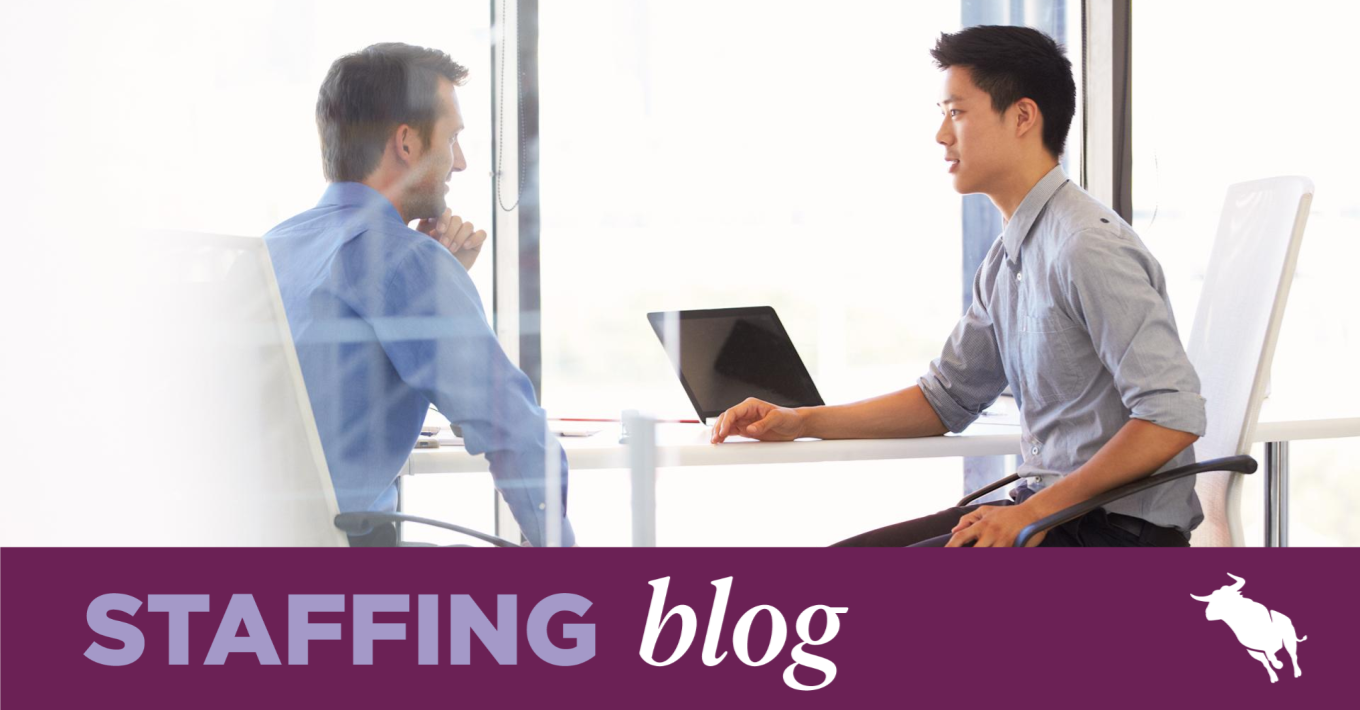 The staffing industry is experiencing a moment. The industry is projected to grow at least 15 percent year-over-year for the second straight year in a row. The opportunity for firms is enormous, but only the firms that can build and maintain a talent pool will be able to seize it.
Talent acquisition is the number one priority for firms, according to our GRID staffing and recruitment trends report, and candidate recruiting is as difficult as it has ever been, according to the SIA's Staffing Industry Pulse survey. Staffing firms that can meet and exceed the expectations of the incoming Gen Z workforce are well-positioned to edge out the competition.
What are those expectations? Bullhorn surveyed 1,000 U.S.-based Gen Z candidates —born between 1998 and 2004 — about their attitudes towards work and staffing firms throughout Summer 2022 to learn their thoughts on the job landscape, their sentiments towards staffing firms, and their expectations for recruiters.
Workforce outlook: Online talent platforms are on the rise
Like the staffing industry, online talent platforms have also seen enormous growth since the start of the pandemic. Gen Z attitudes toward the jobs landscape suggest even further growth on the horizon.
Two-thirds of Gen Z respondents cite strong familiarity with freelance work platforms, and one-third plan to work freelance in the near future. (Just one-fifth of the general workforce expressed an interest in near-term freelance work platforms, according to Bullhorn's upcoming 2023 Talent Report.) One-third of Gen Z workers also say that freelance work is more appealing to them than traditional work models.
Staffing industry sentiment: Positive but muted
 Only 25% of Gen Z workers have a strong understanding of what staffing firms do
There's good news and bad news for staffing firms worried about increased competition from online talent platforms and other labor models: Gen Z workers who have an opinion on staffing firms express positive sentiments, but staffing industry awareness and recognition is low on the whole.
Three out of four respondents say they lack a strong understanding of what staffing firms do. Still, nearly half of respondents plan to work with staffing firms in the near future or are working with firms now.
An incredible 95 percent say they believe recruiters will help them find a better job, but respondents who haven't worked with firms are more likely to hold this opinion than those who have.
Talent expectations: Streamlined process, consistent engagement
 3 out of 4 Gen Z respondents have abandoned a promising job opportunity midway through the process
Staffing firms may be losing countless opportunities due to a cumbersome or outdated placement process. Three out of four have abandoned a promising opportunity due to an obstacle in the process, and one-third have abandoned an opportunity before submitting an application.
Overwhelmingly, talent cite issues with communication or engagement as the major challenge facing them. While 17 percent cite concerns about salary or benefits, this came in fourth place behind poor communication from the recruiter (24%), a time-consuming process (20%), and an overly complicated process (19%).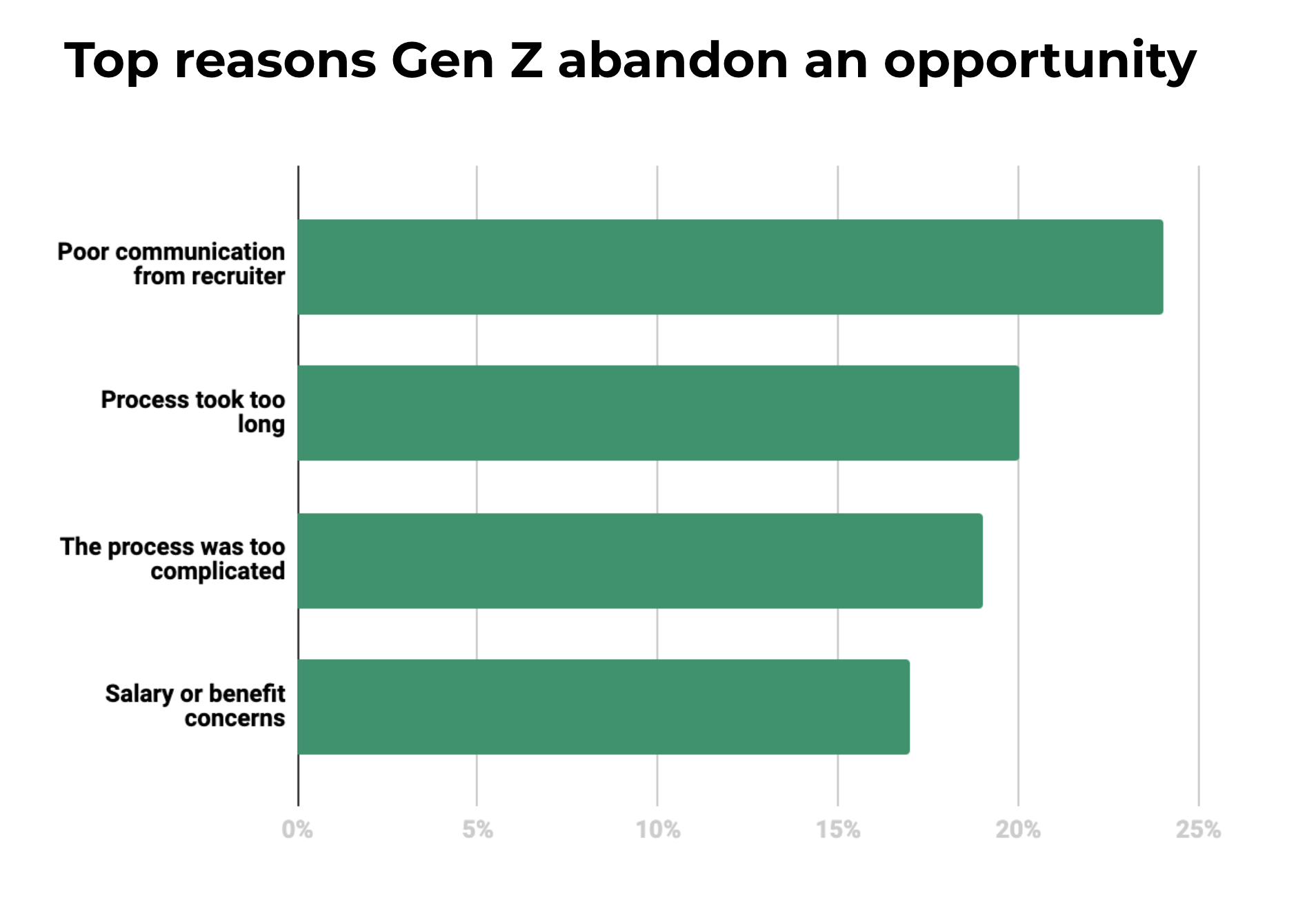 Technology preferences and expectations: Modern and mobile-friendly
85% say the entire job search and placement process is outdated
We asked Gen Z respondents to weigh in on how technology impacts their experience. While one-third had no opinion on the subject, those with an opinion express a strong desire for a more modernized recruitment process.
Eighty-nine percent of respondents with an opinion on the topic of staffing websites said that an outdated website makes them distrust a firm. Eighty-five percent believe the entire recruitment process is outdated.
How does Gen Z feel about the role of AI and automation, such as chatbots, in the process? When asked for their preferences about human contact during the search and placement process,  two out of five respondents said they prefer to work with chatbots exclusively without contact with a human recruiter. Three out of five still prefer at least some human interaction in the search process, suggesting that firms would be well-served to have multiple options tailored to the unique needs of each candidate.
Firms looking to improve the experience for their entire talent pool would do well to focus on the mobile experience. Seventy-one percent of Gen Z respondents primarily use a mobile device to apply for jobs. While 59 percent of all respondents primarily use their smartphones to apply for jobs, just 9 percent use dedicated apps.
Communication preferences: Frequent outreach on their own terms
3 out of 4 Gen Z workers want recruiters to reach out to them with an opportunity at least biweekly
Gen Z preferences for communication closely mirror those of their older generational counterparts. Nearly half of workers want recruiters to communicate through email, making it far and away the medium of choice for opportunities or assignments. LinkedIn is the second-most selected medium of choice regarding both opportunities (26 percent) and assignments (18 percent).
When they're working with recruiters, Gen Z overwhelmingly say their recruiters aren't reaching out enough. Four out of five respondents want their recruiters to reach out at least twice a month, and fifty-five percent want to hear at least once a week.
Firms looking to meet or exceed these expectations may want to automate the scheduling of regular outreach. Firms that automate report a 64 percent higher fill rate, and redeploy 20 percent more of their talent, according to aggregated data from Bullhorn's customer database.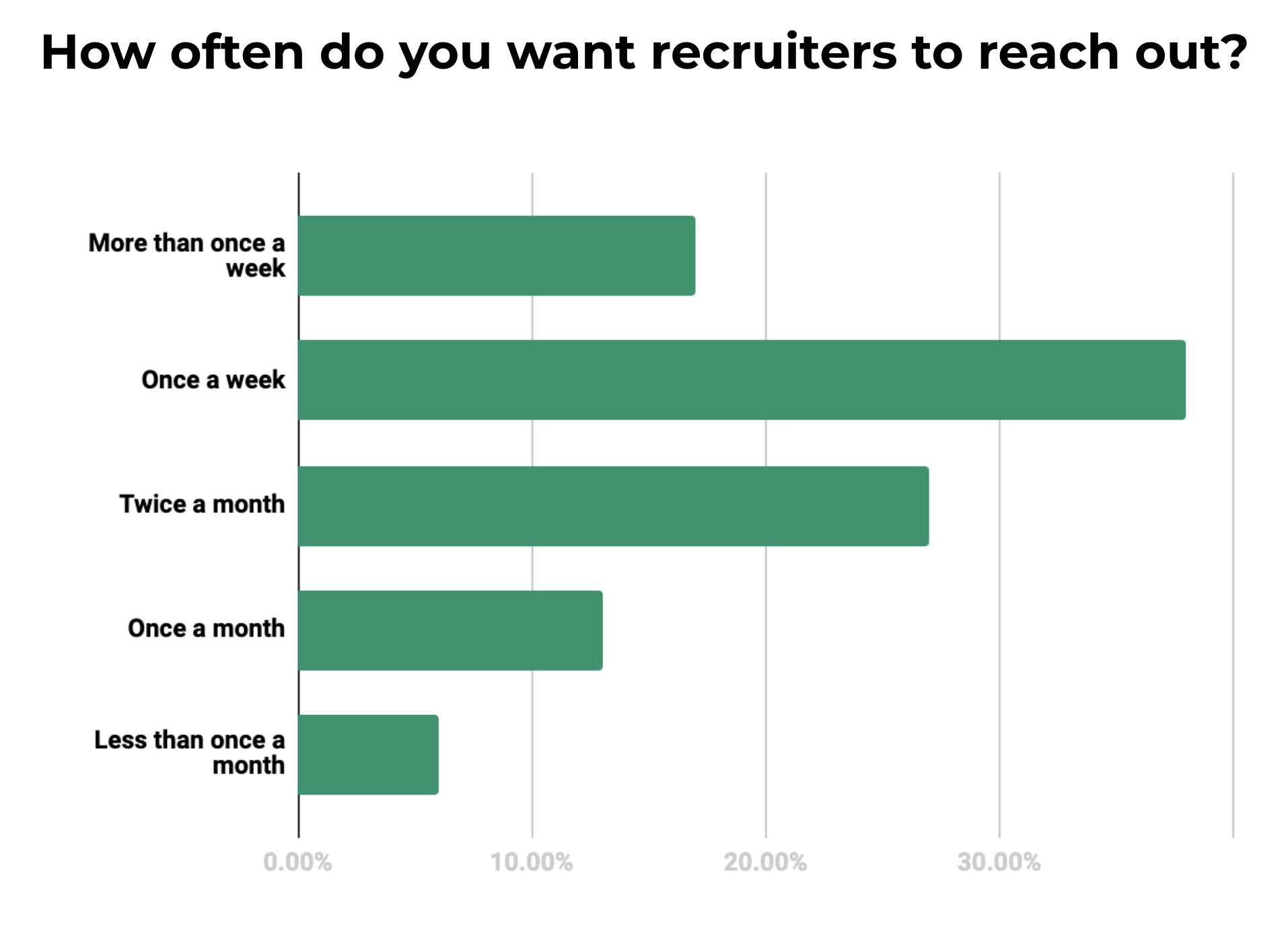 Building a loyal Gen Z talent pool
Gen Z workers believe in the value of recruiters, but they won't put up with outdated processes to pursue staffing firms. Like their generational counterparts, Gen Z talent expect a streamlined experience punctuated by clear and consistent communication.
Firms that want to deliver a best-in-class experience tailored to Gen Z preferences should consider:
An up-to-date website optimized for mobile use
Chatbots to optimize the job search for the two-fifths of Gen Z candidates who prefer it to working directly with a recruiter in the initial process
The automation of regularly scheduled outreach to ensure frequent communication throughout the process
Firms that combine engagement best practices and cutting-edge technology are well-positioned to attract and win Gen Z candidates for the foreseeable future.
Subscribe to the Staffing Blog
Subscribe for trends, tips, and insights delivered straight to your inbox.