Connected Recruiting: Attract and Convert More Candidates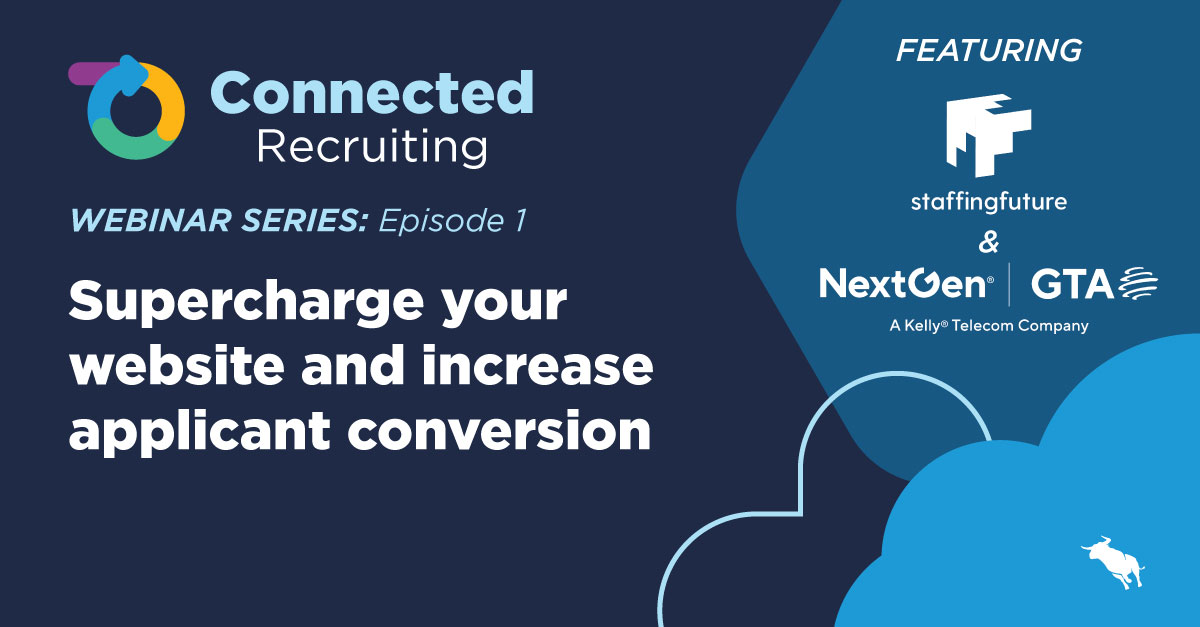 In the midst of today's unprecedented staffing shortage, it's never been more important for staffing firms to create a consistently engaged talent pool – but at the same time, it's never been more difficult to attract and convert new candidates. 
According to research from our GRID Talent Survey, 90% of applicants wished the process of finding a job was easier, 50% gave up on a job because the process took too long, and 93% said it was easier to work with online staffing programs. 
The data makes it clear: staffing firms need to deliver the right message, at the right time, at every step of the journey.
This is where Connected Recruiting comes in.
To talk about how firms can attract more candidates with the Connected Recruiting strategy, Bullhorn's Billy Davis, Product Manager, Automation & AI sat down with Jack Copeland, Co-founder & CEO, Staffing Future, and Jonathan Langley, Executive VP, NextGen Global Resources in the first of four webinars on Connected Recruiting, featuring stories and experiences from Bullhorn customers, Marketplace partners, and industry experts.
Read our recap below, or watch the recording here.
What are the core components of Connected Recruiting?
Connected Recruiting is a strategy that empowers staffing firms to engage talent at every stage of the talent lifecycle, built based on conversations with those in the industry looking for best practices to unlock the benefits of their technology stack. Bullhorn developed this framework to help customers change how they think about attracting, engaging, onboarding, and nurturing talent.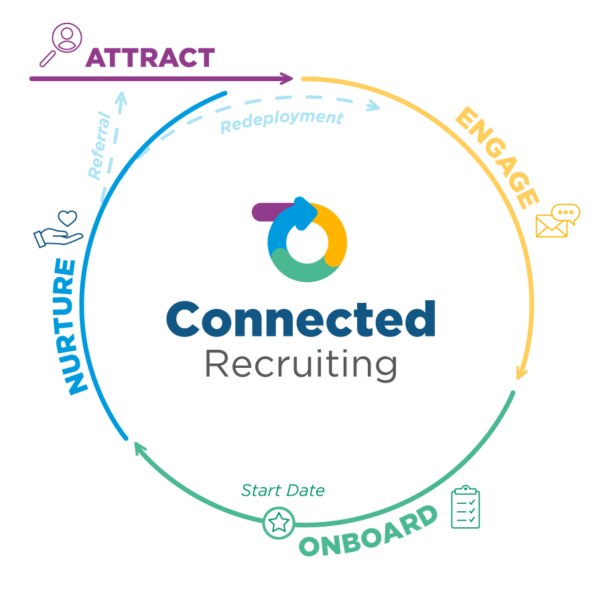 Connected Recruiting is all about combining technology, your team, and best practices from the industry to have all these phases working together. The goal is to have each stage flow seamlessly into the next to create one continuous talent pipeline.
What is the attract phase?
Attracting candidates is the first phase of the talent lifecycle; it's all about pulling talent in through different channels and following up right away to ensure they don't slip through the cracks.
In the attract phase, there are a few key considerations:
How do you attract people to your website? To your job advertisements?

How is your team currently measuring the success of job boards?

How are you currently taking action on and communicating with talent from job boards?

Can you automate any of your initial interactions with job board candidates?
Mastering this phase means getting more out of your job board spend, doing more with less, and improving your candidate experience from the start.
What are some strategies to attract candidates?
Attracting candidates begins with your job board and your website, said Copeland, and within those two interfaces are different forms of traffic:
Organic traffic

, including Google, Bing, and Indeed organic traffic, as well as organic aggregator traffic.

Paid traffic

, like programmatic paid spend from traditional methods like Indeed or ZipRecruiter.

Direct paid spend

from social sources. 
Firms can also look to attract candidates through coordinated social media and email campaigns.
What can be done to increase interest in roles?
Using your database is essential in increasing candidate interest, said Langley. NextGen has found success through creating targeted campaigns around job-specific skill sets. Searching for candidates within their own database and then sending them targeted job information has provided great returns, including click rates of up to 60%.
Persistence is also crucial, Langley said: "This isn't a one-and-done. It's a true campaign." Adjusting your messaging is also important; if one campaign doesn't work, it's important to learn why and adjust for the future.
How can data and content help attract candidates?
"Targeting the audience at any level is the best way to focus on getting the best conversion," said Copeland. It's one thing to attract users to your website, but converting candidates depends on showing them the right information at the right time. 
"Whatever you're doing for any of these different elements, whether it's emails from your database, whether it's social, whether it's paid – you've always got to be thinking, 'How relevant is the way that I broadcast, and what I broadcast, to the talent I'm seeking?'" 
When it comes to attracting candidates, it's also helpful not to ask for something right away but rather to build a relationship by providing something of value, like content. This can ultimately help improve conversion rates. 
Langley's recruiters engage with candidates by sharing content on LinkedIn and Facebook that isn't strictly about jobs. Said Langley, "If you're only broadcasting positions, then that's all you do." Instead, Langley's team looks to attract candidates by sharing information about specific segments and skillsets and using this thought leadership to build a community. This is particularly helpful for smaller firms, added Copeland, who have the advantage of being more dynamic in producing content.
How can agencies convert candidates?
"People tend to view conversion as one thing," Copeland said. They strictly look at leads, he said, without acknowledging that the attract phase is ongoing. Attracting candidates includes engaging with website users and trying to work them into the funnel in the first place, by, for example, capturing emails through gated content. If a user isn't ready to apply to a job immediately, at least you have their information and can continue to reach out, so they know where to go when they are ready.
Easy application processes are also important. Suppose your application process is quick and user-friendly. In that case, you're more likely to have a higher application conversion rate, added Copeland, but the more convoluted your process is, the higher the chance is for conversion rates to drop off. 
Copeland highlighted the high conversion rates of various organizations leading the gig economy, and replicated their simple process – which just requires a user to submit their email address, first name, and last name – for a number of clients using Bullhorn Automation. With just this information, Staffing Future can remind those users to fill out an application, send them relevant information, and continue to nurture their talent pool.
What role does Bullhorn Automation play?
"One of the ways we capitalize on automation is by building campaigns that are specific to skill sets, as well as to recruiters," said Langley. They direct candidate engagement alerts not to the entire company, but to select recruiters working within that candidate's specific skillset. It's then up to the recruiters to take action quickly: "In today's market, the speed to respond to candidates is massively important," Langley added. 
Automation can also help to check in with candidates that haven't engaged in a while to pull them back into the recruitment lifecycle. Targeted check-in surveys, reminders, follow-ups – all of these can be automated to ensure that candidates are still in the loop if conversion doesn't happen on the first attempt. 
NextGen ran a campaign along these lines, reaching out to candidates that hadn't engaged in the last 15 days, and saw an 82% open rate, received 154 resumes, and had 250 candidates update their information. "Automation needs to be part of a recruiter's toolkit to get the job done," said Langley.
What's next for attracting candidates?
The future of the attract stage – and for staffing websites in particular – will likely be making the process even more personalized and precise to the user. "A user might land on our website, but it might not be the right time for that message. How do we manage that?" asked Copeland. 
He elaborated that understanding the user is key to tailoring the message and ensuring it reaches them at the right time. Using methodologies like cookies and search histories, firms can learn if users are active or passive job seekers, new or returning users, or even prospective clients. Information, like open jobs or new blogs, can then be tailored to that particular user's needs. Added Copeland, "It's that level of sophistication that I think the industry is moving towards, and we already see it in other walks of life."
---
Want to learn more about the next steps of Connected Recruiting? Join the remaining episodes of our webinar series, and dive into the full strategy here.
Subscribe to the Staffing Blog
Subscribe for trends, tips, and insights delivered straight to your inbox.