The Top Challenges for Staffing Firms in 2019
Combatting talent shortages, embracing digital transformation, and getting employers to accelerate pay increases are three of the biggest challenges facing staffing firms in 2019.
According to Bullhorn's Global Recruitment Insights and Data, staffing firms are overall optimistic about their grow this year as 79 percent of respondents expecting revenue to increase from 2018. However, due to the changing nature of work, firms are tackling some hurdles related to hiring, operations, and macroeconomics. Here are three of the biggest challenges facing firms this year.
Recruiting Challenge #1: Combatting the Talent Shortage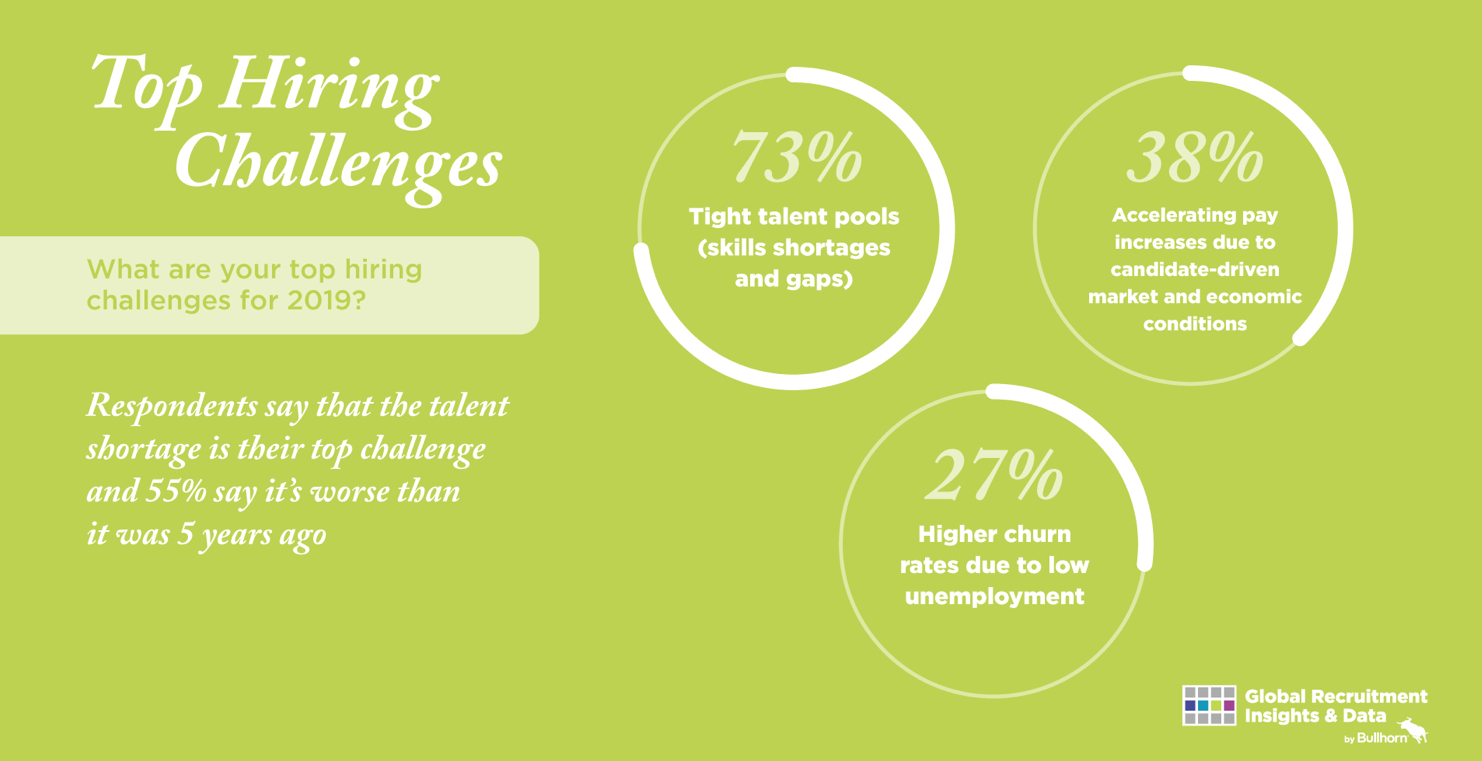 It's no surprise that a skills deficit continues to plague the staffing industry with 73 percent of firms citing it as one of their biggest areas of concern this year. In the U.S., workers are quitting their jobs at unparalleled rates because of a healthy economy.
In a tight labor market, how should firms find the best talent for the best opportunities? One strategy firms are relying on is reskilling – or updating workers' skills through education and training. Seventy-four percent of staffing firms believe that reskilling workers represents an effective strategy to thwart the skills shortage and help create new talent pools, fill key roles, and transform lives.
Recruiting Challenge #2:  Embracing Digital Transformation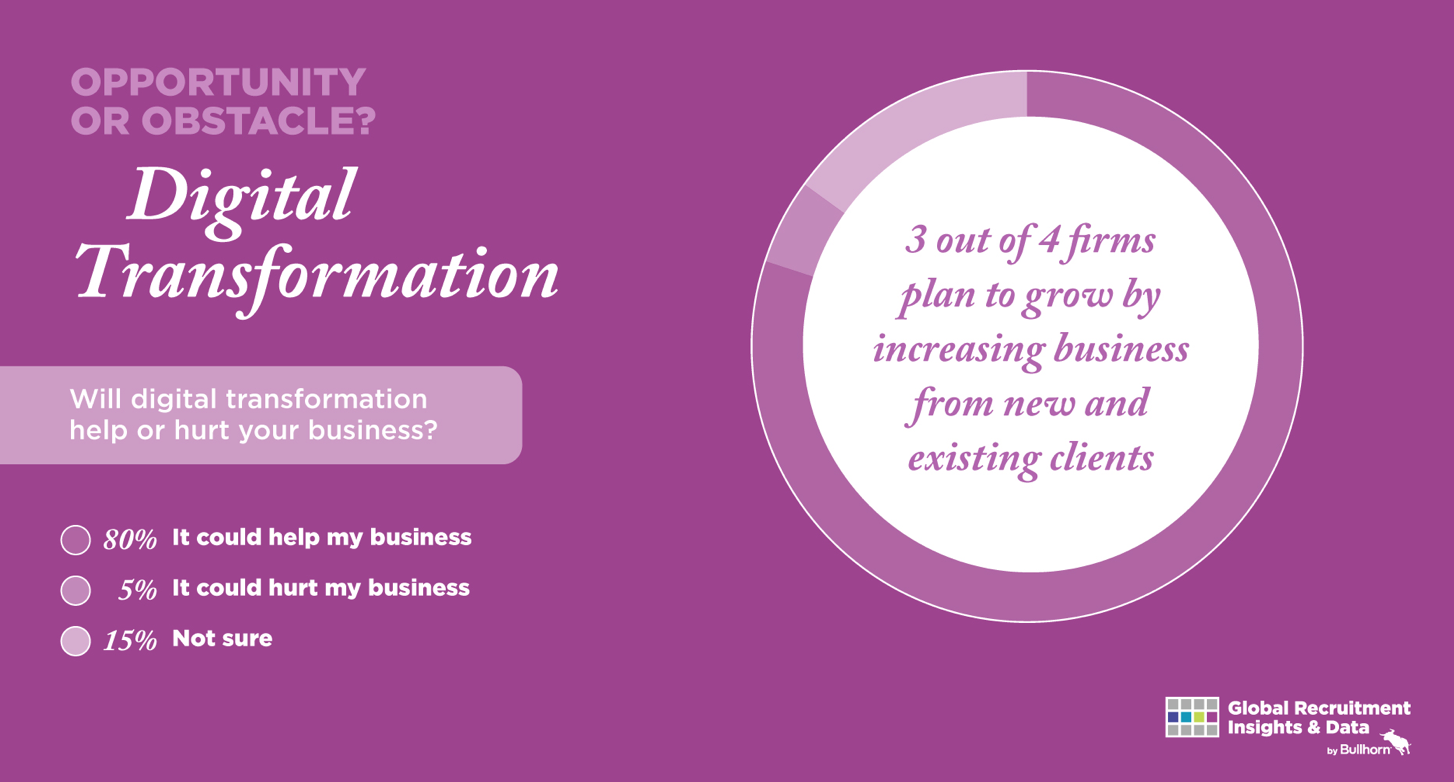 Digitization is one of the major themes of 2019, but it undoubtedly presents some barriers for firms as they start adopting it as a strategic competitive advantage. Forty-nine percent of staffing professionals selected embracing digital transformation – defined as the integration of technology into all areas of their business for the purposes of improving operations and the way they deliver value to customers – as their top operational challenge. Why is this a top challenge?
It's because firms are trying to find the best ways to incorporate automation and artificial intelligence technologies into the recruiting strategies. While process automation is here to help firms alleviate administrative and low-level tasks, true artificial intelligence isn't here yet. After all, in relationship-driven businesses such as staffing, only humans have the precise empathy to match and advance conversations that can yield stronger relationships with candidates and clients.
Recruiting Challenge #3: Getting Employers to Increase Pay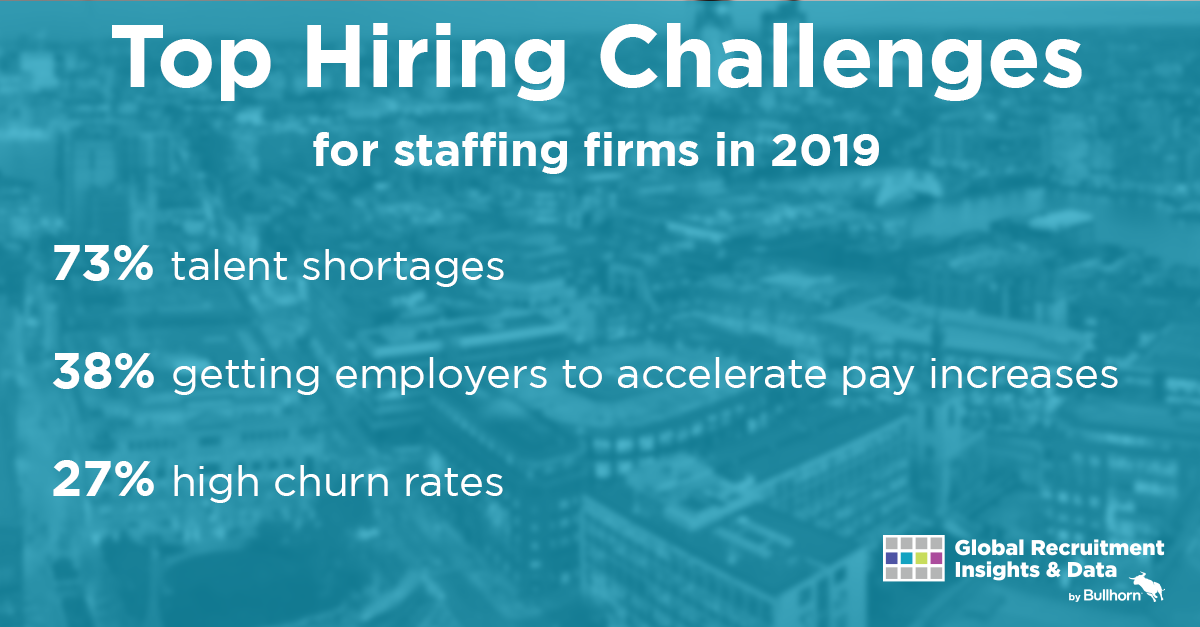 In today's candidate-driven market, more people are quitting their jobs at rapid clips and minimum-wage rates are increasing to closely match cost-of-living hikes.
What does that mean for staffing firms? They might have to work with employers to increase compensation ranges for open roles, so they can attract the top talent. According to Bullhorn's research, 38 percent of staffing firms believe getting employers to accelerate pay increases for workers is a top hiring challenge this year. Some staffing firms are reluctant to pay employees more because they simply don't have the budget or just don't want to in general.
While these three challenges are only a snapshot of a few barriers to mitigate in 2019, finding creative strategies for tackling these obstacles may be a key factor in reaching your goals for the year.
---
What are some of the other challenges staffing firms are tackling this year, and what are some of their top priorities to undertake this year? Read more at grid.bullhorn.com.
Subscribe to the Staffing Blog
Subscribe for trends, tips, and insights delivered straight to your inbox.