Engage 2017 Event Recap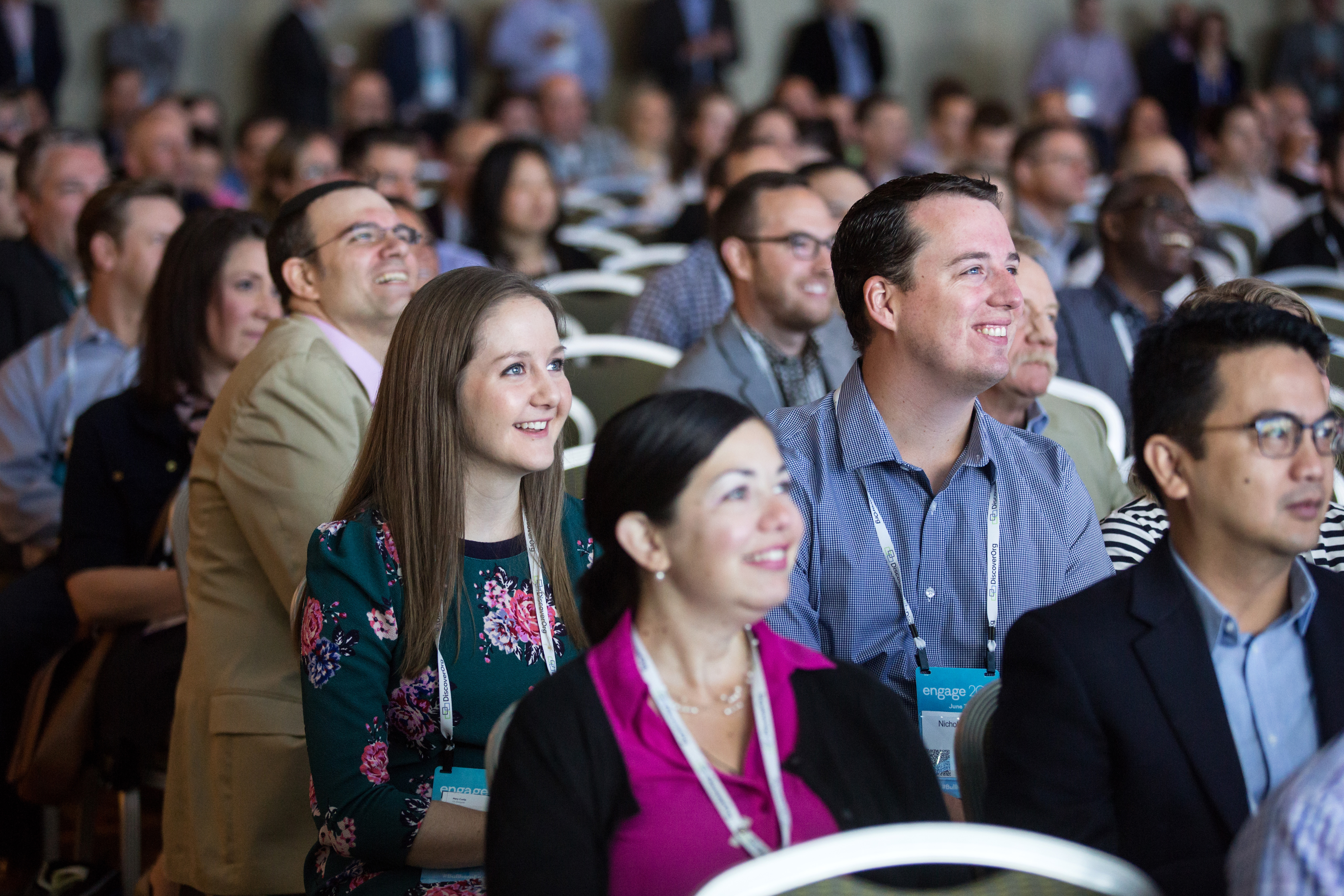 Engage 2017 was an exciting, action-packed meeting of 1,000+ staffing professionals. Read our recap of the first full day's keynotes from Steven Levitt, Art Papas, the Bullhorn product team, and General Ann E. Dunwoody.
On the second full day of Engage, Tim Sanders wowed us with a message of more compassion at work, we heard new ideas for Bullhorn technology at the Innovation Throwdown, the Bullseye Awards honored the most innovative people and organizations in staffing, and our talented breakout session speakers left us inspired to create amazing customer and candidate experiences.
Tim Sanders: Love Is the Killer App
Tim Sanders is the author of five books, including the New York Times bestseller Love Is the Killer App: How To Win Business & Influence Friends. His high-energy, mile-a-minute keynote was full of stats and stories from his career in sales, including his life-changing experience working for Mark Cuban. But Sanders' key takeaway for Engage attendees was closer to the heart: Caring is the key to your success. Leave a legacy of love.
Sanders learned early in life the power of relationships. "I learned that the best time to develop relationships is long before you need them," he says. He had a difficult childhood and was often bullied, but his grandmother taught him to lead with love, even when others weren't acting especially loveable. "I decided to find a way to engage the bullies and trolls," he says. He learned to put himself in others' shoes and rethink what might be causing them to behave in a certain way.
That skill served him well in his sales career. He threw himself into building connections and collaborating with others, especially people outside of his own team. He describes walking into the lunchroom at Yahoo! and making a decision: Every day, he was going to find a new group of people to sit with. After two years of lunches with strangers inside the company, he'd built an army of connections and allies that helped him when he faced big challenges. He's found that collaboration is actually pretty rare, so if you're willing to put in the work to build connections with people, you can set yourself apart. "Collaboration for most people is a last resort and not a first response," he says.
Intangibles that you can share with other humans: compassion, network and knowledge. #BullhornEngage @sanderssays pic.twitter.com/M7JyR2EJQ3

— Anna (@a_tuts) June 9, 2017
"If you want to be a success in business, you have to devote yourself to the success of other people and expect nothing in return," he says. He encouraged attendees to share three things with others:
Compassion: "Be an empathetic human being. Take someone else's perspective and wear it. That's a superpower at work. That validation and sense of community is the greatest gift humans can give each other."
Network: Set a goal to connect three people every week, without expecting any direct benefit or taking credit for any work they do together after you introduce them.
Knowledge: Sanders is convinced that today's readers will be tomorrow's leaders. He reads at least one non-fiction book every two weeks, and says that the best gift you could give a customer is a book about their business challenges that you've read and annotated.
"Your network is your net worth" @sanderssays #bestsellingauthor #bullhornEngage @Bullhorn #loveisthekillerapp pic.twitter.com/GzMRZBsQhi

— Joanna Mamo (@JoannaMamo) June 9, 2017
Finally, he left the audience with four "big love assumptions" that allow him to "scale his ability to care about people."
He always assumes about others:
They are paying it forward. (Even if someone doesn't thank you, assume they are passing on the favor to someone else.)
They are operating under the best intentions.
They are more likely clumsy than evil.
You were just like them at one time. (You got where you are because someone helped you. Your willingness to help them can make them just like you.)
Some final takeaways from @sanderssays fantastic keynote at #BullhornEngage. Try and always make these assumptions: pic.twitter.com/58MR620Cuv

— Tom Bennett (@_TomBennett) June 9, 2017
Tim Sanders was an inspiration at Engage. You can find out what's been inspiring him by checking out the reading list he made just for Engage attendees, at timsanders.com/engage.

Innovation Throwdown
At our fourth annual Innovation Throwdown, some of Bullhorn's developers took the stage to pitch their side projects—the new ideas they're working on as part of Bullhorn's Innovation Week. 
Such an intelligent, creative, dynamic and highly intelligent group of developers! #BullhornEngage #geekingout pic.twitter.com/7J4T17V1nN

— Lauren B. Jones (@lbuffjones) June 9, 2017
Bullhorn developer Yi Ren got a lot of laughs from his creative presentation.
Yi is crushing the demo at the @Bullhorn Innovation throwdown #BullhornEngage pic.twitter.com/BhzjfMXb4k

— Leah McKelvey (@LMcKelvey) June 9, 2017
The Engage audience listened to the five pitches, then voted in real time for their favorite.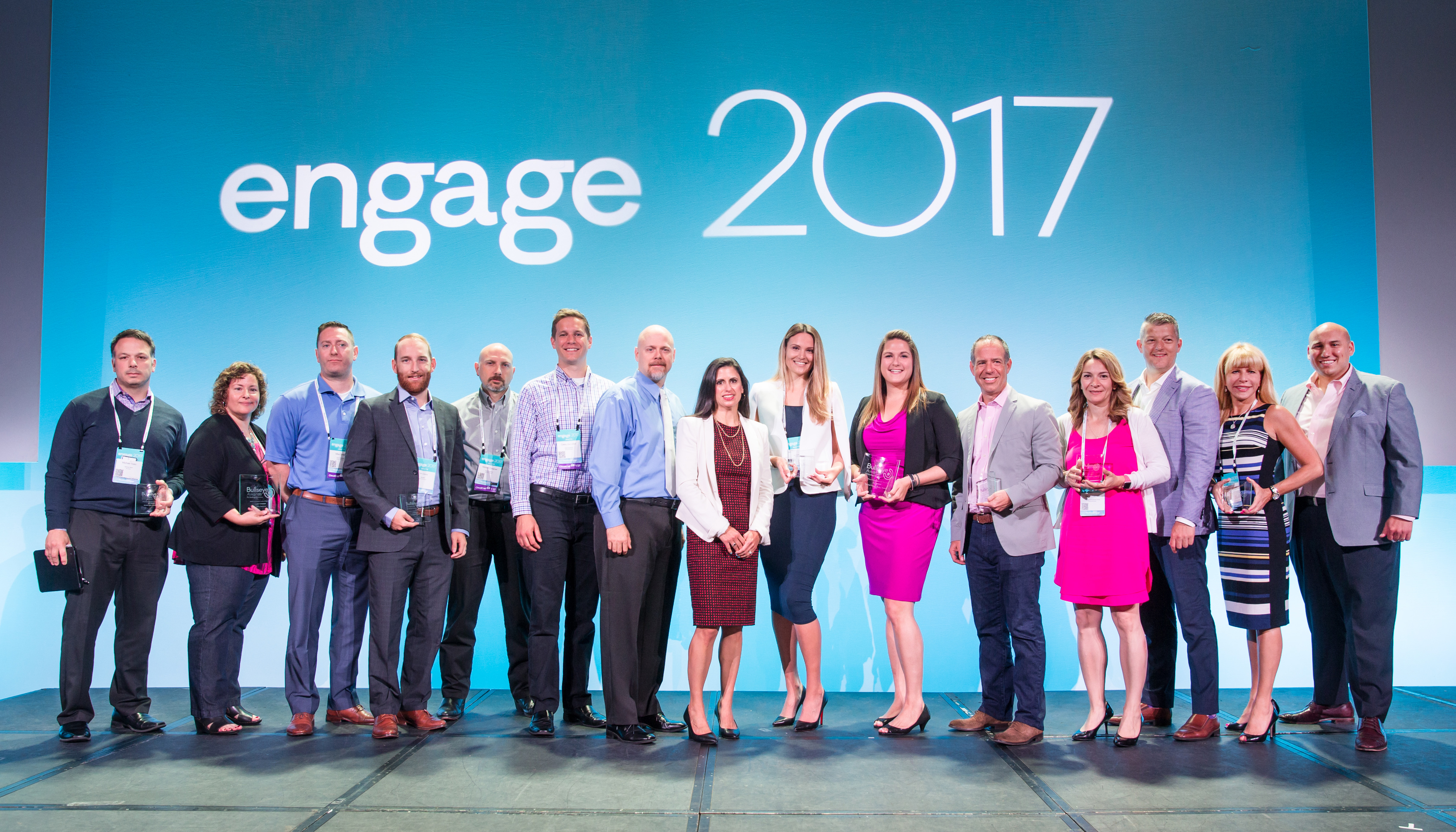 The Bullseye Awards
Leslie Vickrey, CEO and founder of ClearEdge Marketing, hosted the first annual Bullseye Awards. The awards were designed to recognize the people and the companies creating innovation and excellence in staffing. We received 100 nominations for the 3 awards categories, and we chose 10 total finalists.
Congratulations to the winners:
Rising Star in Sales and Recruiting: Rachel Freedenberg, Division Manager at Treeline, Inc.
Rising Star in Operations and Technology: Gina Chisholm, Director of Marketing and Technology at Kelly Mitchell Group
Most Innovative Use of Technology: Apex Systems

Breakout Session Highlights
Engage 2017 featured more than 40 speakers across six tracks, focused on engaging customers, candidates, leadership, the future, and Bullhorn technology.
The On-Demand Workforce Is Here to Stay
Shiftgig CEO Eddie Lou outlined the future of work, in a workforce where 250,000 Baby Boomers are retiring every month. The Gig Economy is driven by Millennials and others who want new ways to work. Businesses can embrace those new expectations from workers—or be left behind.
Lou shared five takeaways on the future of work:
Today's worker holds the power.

Employees are no longer "lifers." Members of Generation Z might work for 30 different companies over their careers.

Frequent feedback is the new normal.

Your online work is today's resume.

Labor platforms are consolidating to create a less fragmented staffing landscape. The biggest digital companies are also getting into the HR space.
@amazon , @Google, @Microsoft, & @facebook have invested in digital HR. That says a lot. – Eddie Lou of @shiftgig #BullhornEngage

— Nicole Plant (@nicolemplant) June 8, 2017
The Power of Failing Forward
Loretta Penn, former President at Spherion Staffing, gave Engage attendees an inspiring lesson on failure. She thinks of the word "fail" as an acronym for "From All I've Learned." She shared common reasons leaders fail, and ways to rethink those mistakes, including:

Why We Fail: We put 'I' over 'we' and don't listen to others' feedback.
The Fix: Surround yourself with people who will call you out on your shortcomings, and allow yourself to be vulnerable.
Why We Fail: We try to do too much. "When you have 19 goals, you don't have goals anymore… you have a wish list," she says.
The Fix: Ask yourself three questions: "Can I do it?" "Why should I do it?" If someone else could do it, "when should you give it to them?"
"We have a lot to learn, and we have a lot of opportunities to make mistakes," she says, "but most of all, we have a boat load of things that we can do to enhance our success."
With Loretta Penn who says "Create a stop doing list and focus on doing the right thing" #BullhornEngage @kyloe_partners

— Raymond Pennie (@rpennie) June 8, 2017
The Future of AI in Staffing
One of the most interesting panel discussions was about finding the balance between bots and humans as AI starts to make an impact on the way we work in the staffing industry.
While AI will make staffing firms faster and more efficient, it will not take the place of humans when it comes to building relationships, the panel agreed. "AI is not going to replace the connection in relationships," says Jay Brunetti, CEO of HireAlliance.
"AI is a collaborative thing. It is there to augment those experiences. Embrace it and leverage these technologies," says Eyal Grayevsky, CEO of FirstJob.
But, Brunetti cautions, AI will take over parts of the traditional recruiting job. "If you are a recruiter that relies on speed, you won't beat the machine. Make sure you are focused on the providing value."
"The recruiters are going to be there, it is just a shift in skill set," Grayevsky says.
Jonathan Novich, VP, Platform & Staffing Technologies at Bullhorn, warns that we need to be aware of our own prejudices and dispositions to ensure that we don't inadvertently pass them on to our AI. "We need to be cognizant of our own biases when we train," he says.
The panelists' overarching message: Embrace AI and experiment with new ways to improve your core business processes. "We can expect to work harder, but also tech will work harder for us," says Adrianne Nelson of Staffing Industry Analysts.
What is the future of #AI in #staffing? @sia_anelson @SIAnalysts #bullhornEngage pic.twitter.com/j2XbDRGKQg

— Bullhorn (@Bullhorn) June 9, 2017

Fun at Engage
We can't recap Engage without mentioning all of the fun that happened outside the sessions.
For a new twist on the normal conference lunch, we hosted a Lunch & Learn on Thursday, where attendees joined speakers, marketplace partners, and Bullhorn pros for lively roundtable discussions.
CareerBuilder hosted a Taste of Boston party, featuring our hometown's best burgers, lobster rolls, pizza, donuts, ice cream, and beers, plus t-shirt making and a full set by Bullhorn's home-grown band, Stampede.
These guys rock! @Bullhorn @bandstampede @artpapas @therealbhcto #BullhornEngage pic.twitter.com/5nwPkXwD4H

— Diana Fischer (@Diana_C_Fischer) June 9, 2017

Engage 2017 Sponsors
Huge thanks to all of our sponsors, who helped make Engage 2017 so memorable, including our platinum sponsors: CareerBuilder, CloudCall, First Advantage, Indeed, and Kyloe Partners.
Engage 2018: Registration's Open!
Get more pictures, videos and sound bites by following #BullhornEngage. Ready for next year? Registration for Engage 2018 is now open — reserve your spot for June 2018 in Boston! 

Subscribe to the Staffing Blog
Subscribe for trends, tips, and insights delivered straight to your inbox.