Top Ways to Connect Your Healthcare Staffing Firm's Operations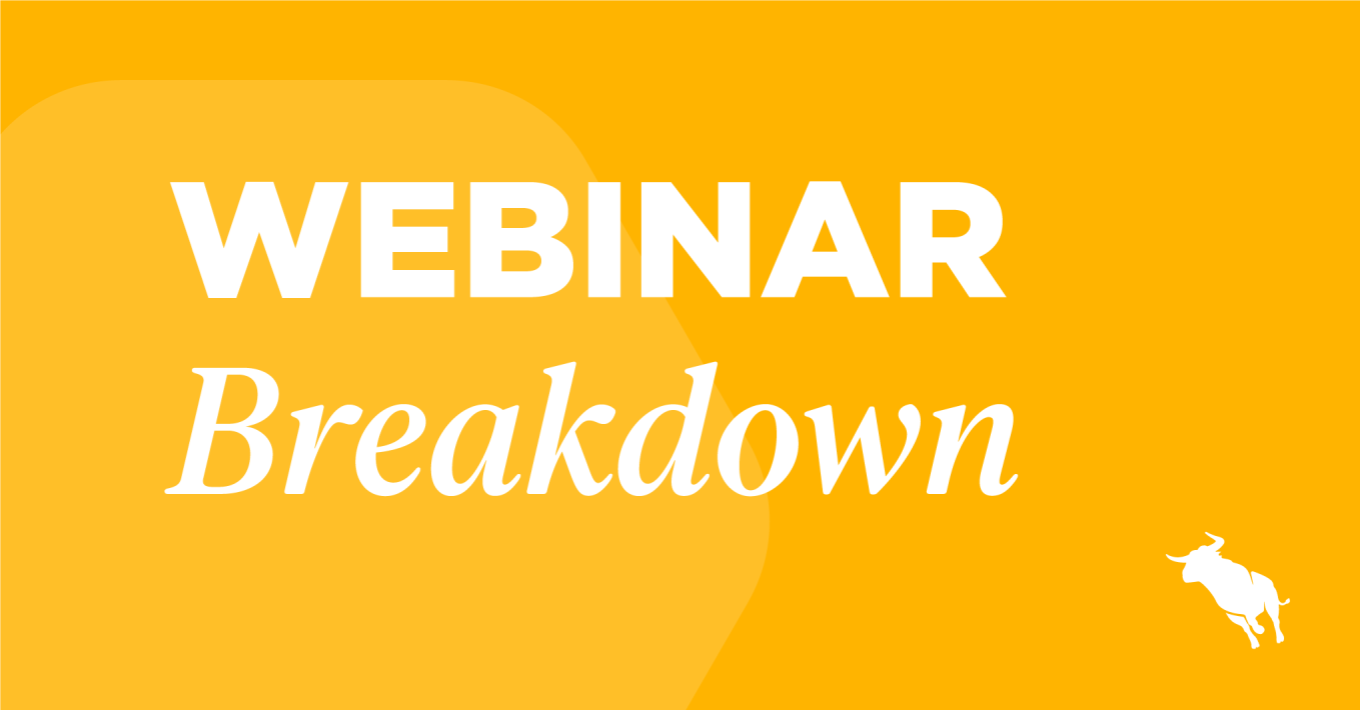 Bullhorn partners closely with our healthcare customers, and we've found that there's a gap between where many healthcare staffing firms are and where they want to be. Firms are spending unnecessary time on administrative activities or are seeing delayed starts due to insufficient paperwork. Others may have workers that aren't compliant on the job or have no visibility into their recruiters' performance.
Firms want fast, efficient solutions that free up time to focus on revenue-generating activities. They're also looking for stronger relationships with clients, improved candidate experiences, and to stay in compliance with credentialing, all while using reporting solutions to identify areas of weakness.
Bullhorn's own Sophia Chang, Product Marketing Manager, and Jay Riemitis, Solutions Consultant, sat down to unpack a few tools healthcare staffing firms can use to connect their operations and see incredible growth. Watch the webinar recording here, or read our recap below.
State of the Healthcare Industry
The healthcare staffing industry comes with its own unique challenges. At the beginning of 2022, we surveyed healthcare staffing professionals across North America as part of our Global Recruitment Insights & Data (GRID) Trends Report and found the three largest challenges for this year:
Impact of COVID-19 on Jobs:

During the pandemic, with the increase in hospitalizations, surgeries and procedures were delayed – and now, these are being prioritized. Even though healthcare is shifting to a new normal, the volume of jobs is still very high.

Talent Shortage:

In September of 2021, more than half a million workers quit their jobs; some retired early, whereas others chose to leave the healthcare industry altogether. Ultimately, there are simply not enough healthcare workers to bridge that widening gap. 

Digital Transformation:

Healthcare firms are looking to technology to support the growth they've experienced – and will continue to experience. They're looking to understand not just what the best tools are but what the best practices are to use technology to achieve their goals.
As part of our GRID survey, we also reached out to healthcare workers. We found that 71% wished the process of finding jobs through staffing firms was more streamlined. Additionally, 96% said that working with online talent platforms is easier compared to more traditional models, but 60% said they prefer working with recruiters over platforms.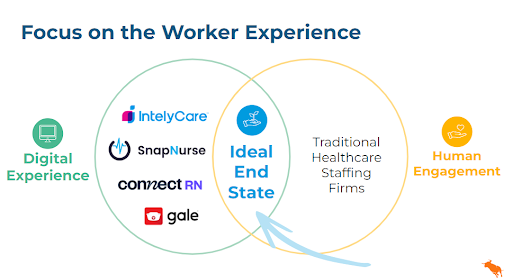 While modern online talent platforms have seen incredible growth, we've also seen that these digital-first platforms are looking to incorporate human engagement into their talent experience. Similarly, traditional healthcare staffing firms that have historically been strong when it comes to human engagement are looking to add a digital experience. It's clear, then, that the ideal candidate experience combines these two elements: high-tech and high touch.
This is where Bullhorn comes in.
Why Bullhorn?
Following the Bullhorn digital transformation journey, you can focus first on digitizing with the Bullhorn platform to deliver better customer service, manage compliance, reduce mistakes, and redeploy headcount. From there, you can move to Bullhorn Automation to reduce manual activity and outrun the competition. The last piece is empowering your community to engage via self-service.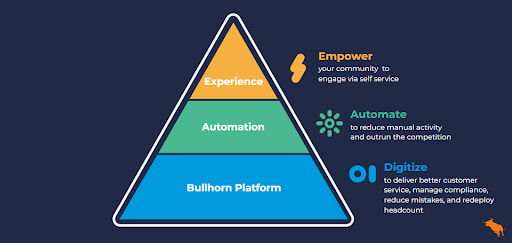 Digitize
With Bullhorn Growth Edition, you can build a single source of truth through the entire recruiting lifecycle, from winning clients to recruiting talent to managing and placing and managing time and pay. With this tech stack, you'll be able to increase your bottom line and efficiencies while adapting quickly to improve the candidate and client experience.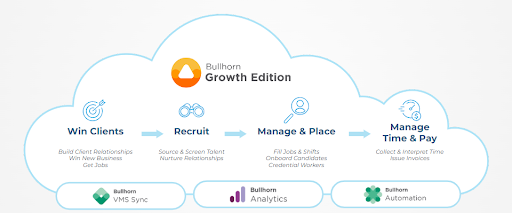 Fill Shifts Faster
As part of Bullhorn Growth Edition, you'll be able to work with our Shift Scheduler within the Bullhorn ATS & CRM. This feature helps increase productivity, allowing you to manage and fill shifts at scale. It also helps to boost visibility to see where you need coverage. You'll also be able to target the right workers by collecting and sharing information to identify shifts they can work.
Manage Credentialing at Scale
Bullhorn Growth Edition for healthcare firms helps agencies to stay compliant and have credential control across the Bullhorn platform. Within the Bullhorn ATS, you can store and manage credentials, giving you an efficient, highly-visible compliance workflow and repository with a centralized list view. When those credentials get close to expiring, you'll be able to send automated expiration alerts to notify workers and your team with the power of Bullhorn Automation.
Scale Your Growth with Bullhorn Analytics
Bullhorn Analytics (formerly known as cube19) makes powerful, easy-to-understand, real-time reporting and actionable insights accessible to users at every level in your staffing organization. Bullhorn Analytics provides desk-level insights, providing personalized data so each individual recruiter and salesperson can make strategic decisions to achieve their goals with autonomy. It also provides self-serve reporting, which breaks down barriers to success by neutralizing the lag between needing data and acting on it. This encourages the adoption of the Bullhorn platform: the more information you have in your system of record, the more insights you receive. 
Automate
With the power of Bullhorn Automation, your entire team can reallocate time and energy to building relationships. From recruiters to salespeople, operations to marketing, automation can seamlessly integrate with any part of your agency's operations to boost your efforts. 

Bullhorn Automation works through an "if this, then that" mechanism – that is, if something happens in your system of record, it triggers a specific action. A few top automation examples commonly used for healthcare customers include:
Sending credential expiration alerts

Improving data health

Sending personal birthday notes

Redeploying providers

Building effective task lists
Close the VMS Loop with VMS Sync
Bullhorn also offers VMS Sync, helping you achieve higher revenue with complete req visibility and speed to market while eliminating manual errors. VMS Sync offers 35 integrations for healthcare. With these integrations, those jobs will seamlessly sync to your Bullhorn ATS, notifying your recruiters and allowing them to search and source workers. For most integrations, those job submittals will then sync back automatically.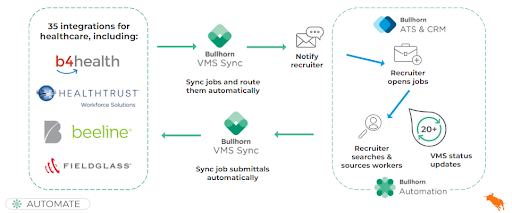 Empower
Lastly, the Bullhorn Platform can help empower your community by delivering customized user, candidate, and client experiences. Our system is built for you with unmatched customization and usability, designed with the mobile experience in mind. We also work with over 100 developer Marketplace partners, so you can build a tech stack that fits your needs.
Bullhorn also continually invests in our platform, with over $40 million annually committed to R&D and innovation. Here are a few of our latest innovations:
COVID-19 management solutions for vaccine and testing documentation

Credentialing management enhancements for additional GDPR support

Automatic survey job logic to enhance candidate experience, tailoring personalized surveys and automated actions (in development)

One single login user experience for Bullhorn and marketplace partners (in development)

Chatbot to engage candidates, streamline information gathering, and deliver interactive digital experience
With the power of Bullhorn Growth Edition, you can meet the moment head-on and take your healthcare staffing firm's growth to the next level.
---
Interested in learning more about Bullhorn Growth Edition? Watch the full webinar here with a full demo, or visit our product page.
Bullhorn Growth Edition is only available to North American staffing firms with 1-20 users. For more information, please reach out to your Bullhorn Account Manager.
Subscribe to the Customer Blog
Subscribe for trends, tips, and insights delivered straight to your inbox.