Why is this helpful?
Promote your content and engage your client contacts with Bullhorn Automation powered automated client marketing and email campaigns.  Customize your client marketing emails into segments, delivering relevant and interesting content to your client contacts.
You can make this workflow as simple or robust as your firm needs it to be, and you can always start with one segmentation if your content is applicable to most client contacts in your CRM.
Deeper dive
1. Determine which segmentations you want to use in your content promotion workflow, and create lists. Depending on the content you plan to send, you could target all client contacts or segment lists.
Status – content relevant to where they are in the sales cycle.
Facility type – articles and content targeted to their unique needs.
Interests – content segmented by a client's previous page and topic views on your site.
Job title – segment certain content to the c-suite versus to the in-house recruitment team.
Geography – send focused articles targeted to rural or urban recruitment or a specific region.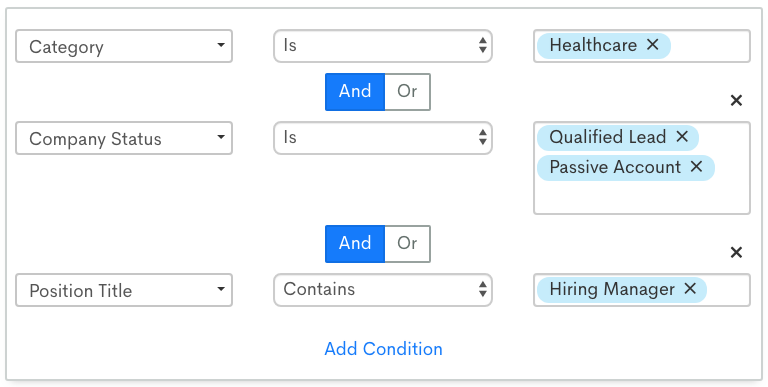 2. Create a content email template (or multiple templates for various lists), customizing the articles included, header image, CTAs, etc.
Hi %FIRSTNAME%,
In researching %COMPANYNAME%, I noticed you are looking to hire several %CATEGORY% professionals this year.
I thought you might enjoy our recent blog article which covers [ENTER RELEVANT BLOG TITLE] [ADD LINK TO BLOG ARTICLE ON YOUR WEBSITE]. It offers great insight for recruiting the right candidate for your organization and community.
If you are in the mood for reading, we've also published some short posts on [ADD BLOG 2 TITLE AND LINK] and [ADD BLOG 3 TITLE AND LINK].
[YOUR COMPANY NAME] has helped [INDUSTRY] teams like yours hire top talent and grow rapidly for the past [NUMBER] years. We help bring on the right contractors quickly and without the overhead of a full-time employee. Companies like [X], [Y], and [Z] have used our services to decrease the cost (and time) of finding the best talent.
If you'd like to chat about the recruitment and hiring trends we are seeing, or discuss your specific needs, book a time on my calendar here or let me know a good time for you.
Have a great day,
%OWNERFIRSTNAME%
3. Determine your content timing and build a workflow for each segment, and determine the frequency of your content emails, as well as, which follow-up triggers you'd like to include:
Notify contact owner if client contact clicks a link
Create a followup task if client contact opens email
Populate contact record's skills (or interests) for links clicked by topic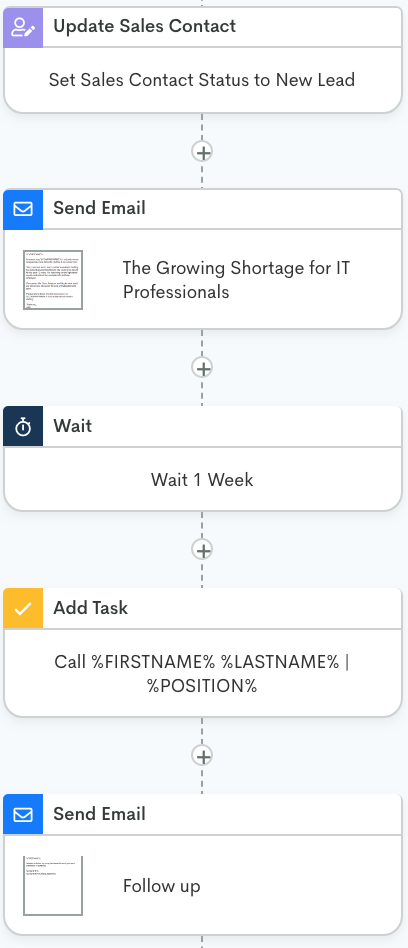 4. Update the content of the emails as new articles are created.
Final Thoughts
This workflow doesn't just engage client prospects, in our opinion, it is critical to effectively gaining a partnership with prospects. You can expect better engagement scores (and closing ratios) from clients that are actively being nurtured vs. those that are not.
Additionally, nurturing sales prospects with valuable content enables salespeople to focus on more engaged and ready-to-buy leads while not-ready-to-buy prospects automatically are engaged with. Some things to track are:
Engagement score
Pipeline revenue
New lead close rate
Open rate
Click rate
Web pages viewed
You can use any of this information to trigger other automations like a 'Hot Prospects' or 'Former Client' workflow.
Build This Automation: