Why is this helpful?
The combination of DaXtra's search and match technology with Bullhorn Automation's candidate engagement software enables recruiters to find and match candidates to jobs and then automate the initial engagement with those candidates.
Engaging candidates with better targeted and matched jobs creates a better candidate experience and increases the likelihood of conversion and placement.
Create a better candidate experience
Put the right jobs in front of candidates (more quickly)
Deeper dive
1. Create a list of candidates that have matched a job based on DaXtra's auto-matched submission status.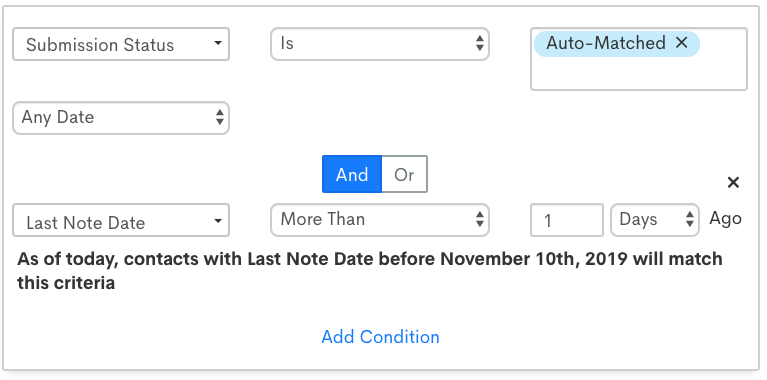 2. Once a candidate matches the above criteria, this workflow will automatically send a job alerts email (and/or text) notifying the candidate of their newly matched jobs.
Hello %FIRSTNAME%,
We just received a new %SUBMISSIONJOBTITLE% role that looks like a great fit for you.
These opportunities move quickly, please either reply back or click one of the buttons below so we can talk more about it!
I'm interested, let's talk!
This one isn't right for me (you can also adjust these alerts here)
Since you are on our key contact list we wanted to notify you right away, excited to hear back!
Thanks,
%OWNERFIRSTNAME%
3. Add job notification email(s) and text(s) to your workflow to increase the likelihood of candidates responding.


Bonus points
Add task for recruiter to followup with candidate, if job viewed but not applied to
Notify recruiter if candidate opens email
Change candidate's status depending on actions taken (or not taken)
Final Thoughts
Combine DaXtra with Bullhorn Automation to improve the accuracy and effectiveness of your job alert notifications.
Key metrics:
Open rate
Engagement score
Time to fill
Submission rate
Placement revenue
Track these metrics before and after implementing DaXtra with your Bullhorn Automation platform to see how the tools impact these KPIs as well as your ROI.