Why is this helpful?
Referrals from happily placed candidates is one of the most cost and time effective methods of adding fresh and interested prospects to your talent pool.
We make this process super easy by combining the power of Bullhorn Automation and emailing capabilities with Staffing Referrals' powerful referral tracking app.  All of which is tracked directly back into your ATS and CRM.  From the time your email goes out, the referral process is tracked through Staffing Referrals so you never miss a submission or have to manually enter the referral data.
Grow your talent pool through easy and effective candidate referrals
Automate the referral and tracking process
Deeper dive
1. Create a list in Bullhorn Automation that looks for contractors with who have been placed on assignment. In our example we're spotting contractors with a placement status of approved.  You can add additional filters as needed, for example placement employment or type.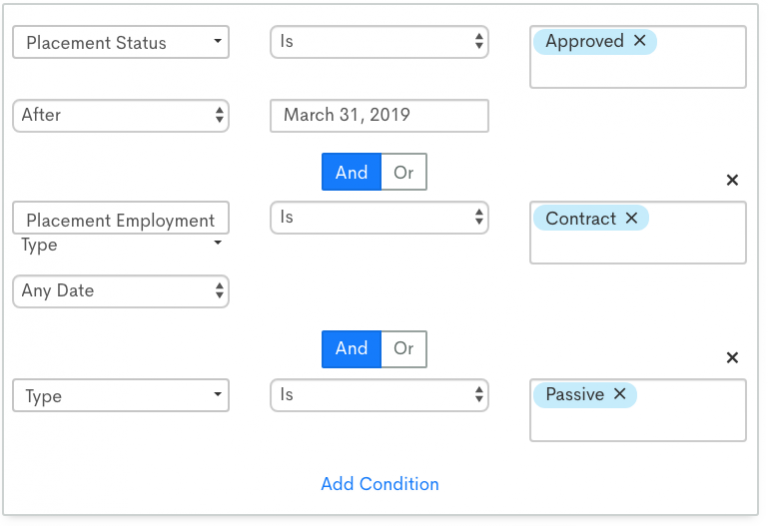 2. Three days after their placement date, send the contractor an email with a referral request powered by Staffing Referrals – You can offer referral bonuses or other various incentives to the candidate to encourage them to complete the form.
Hi %FIRSTNAME%,
I hope you are enjoying your first couple of days at %PLACEMENTCOMPANYNAME%!
I'm reaching out to see if you know any other %JOBTITLE% or %INDUSTRY% contractors that are in the job market? For each candidate your refer, I can offer you a referral bonus of $[AMOUNT] (if the candidate is placed).
You can just click here [ADD LINK TO FORM] to submit any friends or colleagues who may be interested in working with us.
With that, I hope the rest of your week goes great, and I'll be touching base again with you in a couple weeks.
Talk soon!
%OWNERFIRSTNAME%
Bonus points
Send text reminder to placed candidate 3 days after email, if email not opened
Send notification to recruiter when referral email opened, but no referral submitted
Set task for recruiter to followup on all referrals submitted
Add note to candidate record when referral submitted
Increase candidate score when referral submitted
Final Thoughts
Referrals (and referral bonuses) are a no-brainer way to add qualified candidates to your database while keeping your current contracts engaged and entangled. Using Staffing Referrals makes it that much easier through seamless tracking and integration.
Key metrics
New candidates added to database from referrals
Referrals placed
Revenue from referrals