Behind Bullhorn: Mary Curtis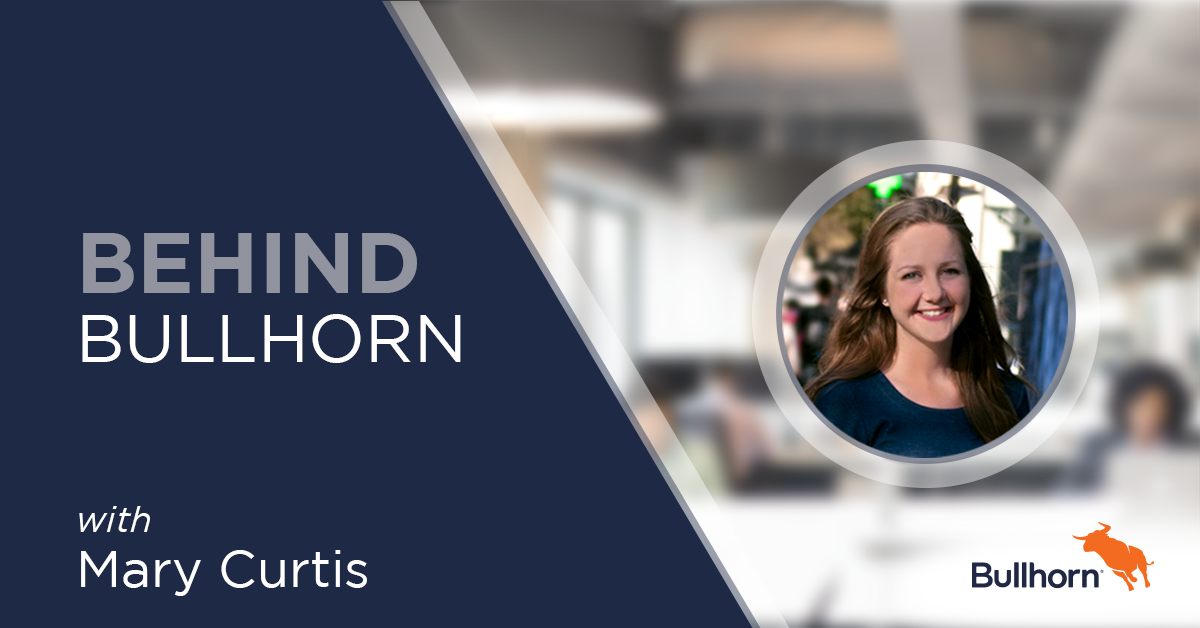 At Bullhorn, we've made it our mission to create an incredible customer experience, and in doing so, we've hired some incredibly talented people who put our core purpose into action every day. Introducing Behind Bullhorn: A spotlight series on the unique personalities that drive our business.
Our series continues in December with Mary Curtis, Bullhorn's Senior Product Designer. As part of the user experience (UX) team, Mary works every day to deeply understand the needs of Bullhorn's customers, and creatively develop design solutions to meet those needs.
A Day in the Life of a UX Designer
On a day-to-day basis, Mary can be found working with a variety of different groups—from the development team, to senior leadership, to customers, themselves. When Mary isn't whiteboarding ideas with her team of UX designers or giving feedback on her peers' work, she can be found holding meetings with developers and product executives to gather feedback. In an incredibly collaborative role, Mary will often work with colleagues in Marketing, Training, and Support to help inform and influence the initiatives of the product organization's roadmap.
Customer Feedback, Heard
What Mary really loves, however, is to hear from Bullhorn's customers, directly. Oftentimes, Mary leads client calls to better understand user workflows and needs, giving her the opportunity to translate a customer's challenges into creative solutions. "It's always satisfying when customers come back to me to say how much they appreciate us listening to their needs," says Mary.
"The best part about my job is working with customers to creatively solve problems."

—Mary Curtis, Bullhorn
For Mary, success means creating an incredible experience for Bullhorn's customers. She says there's always room for improvement even after a product feature or a feature enhancement have been shipped out. "Some successful times I think of are when a customer comes back to me and thanks me for listening to their feedback. Even if it's something really small, it really affects their day-to-day," she said. "So to me that's probably how I would define success. Even if it's still not perfected yet, if the customer likes it, that's all that matters."
Destined for Design
Although Mary's passion for customer success was discovered at Bullhorn, her roots in design date back to high school in her hometown of Randolph, Massachusetts. After graduating from high school, Mary went on to pursue her passion at The Savannah College of Art and Design before joining Bullhorn in April 2015 as a UX Designer.
Mary has borne witness to much of the growth at Bullhorn, recalling that when she started, there were roughly 300 employees. "Now, we've probably tripled in size from that," she says. Beyond headcount, Mary believes that Bullhorn has grown as an organization in its ability to work together across departments; "I also feel like there's a lot more cross-functional collaboration now," she says. "More people are thinking about it and trying to find ways of implementing it into their work."
Taking On More Leadership
Mary was promoted to Senior Product Designer this past April. "Moving up to a more senior role was no easy mountain to climb! Over three years I worked on building relationships across the organization by constantly being eager to take on new responsibilities and collaborate on ways to provide an incredible customer experience, not just through the product itself," says Mary.
"I wanted to ensure that our customers were having a great experience—from implementation and training, to working within the product, and having a platform to provide feedback and get support. This not only allowed me to gain respect and build a strong network but also helped to evangelize the practice of user experience across the organization."
Making Your Voice Heard
One piece of advice Mary has for women working in a male-dominated field—and a skill she's constantly honing—is knowing how to push back and make your voice heard. "Staying focused on this has helped me to grow both personally and professionally," she says.
Despite her role often requiring critical feedback for the developers, Mary has been able to build a trusting and respectful relationship with the team. When pushing for the team to make the extra effort and ensure a feature is pixel-perfect, Mary made sure to remind them how each small inconsistency or flaw adds up and will ultimately impact the perception of the product. "For Bullhorn to remain a leader in the industry, we need to pay attention to those details and consistently deliver an incredible customer experience," says Mary.
"This same concept applies when I've had to push back on our product executives to prioritize certain features or enhancements based on my research and hearing the direct voice of our customers. Sometimes it can be tough to speak up in those situations, but when you are confident with the data to back you up, you'll find that people will be more trusting of your guidance."

Where are you from?
Randolph, Massachusetts
Fav 90's jam?
A tie between "Stop" by The Spice Girls and "Together Again" by Janet Jackson
Name of your fictional debut album?
Blood, Sweat, and Cupcakes
Where would we most likely find you outside the Bullhorn office?
Walking my one-year-old Aussie/Golden Retriever puppy, Brady, around the Esplanade
If you weren't in your current role at Bullhorn, what would your career be?
I've always been interested in health and fitness, so probably a nutritionist or fitness coach
Describe your high school self in one word.
Artsy
What do you enjoy most about working at Bullhorn that may surprise people?
Product design team offsite in Vermont
Worst summer job/weirdest job you've ever had?
Working two jobs in the mall at the same time preventing me from seeing sunlight for days on end.
Biggest pet peeve?
People interrupting others during meetings
Least favorite food?
I'm a vegetarian, so meat!
Favorite food?
Vegetarian tacos with guacamole… homemade of course!
Best concert you've ever attended?
Stevie Nicks
Dream dinner guest?
Boyfriend and Brady (my dog)
Favorite place to eat?
Lolita Cocina & Tequila Bar
What phobias do you have?
Cockroaches
Dream concert you could attend?
Whitney Houston
Strangest trend or fashion trend you participated in?
Dying the underside of my hair pink and side bangs
Top item on your bucket list?
Travel the world with my dog
If you'd like to read more from Behind Bullhorn, learn about Bullhorn's Director of Product Management, Rob Henshaw, or Bullhorn's Business Development Manager for North America, Mike Fleming.
Subscribe to the Customer Blog
Subscribe for trends, tips, and insights delivered straight to your inbox.