How Do I Keep My Top Travel Nursing Talent? Deliver An Incredible Provider Experience.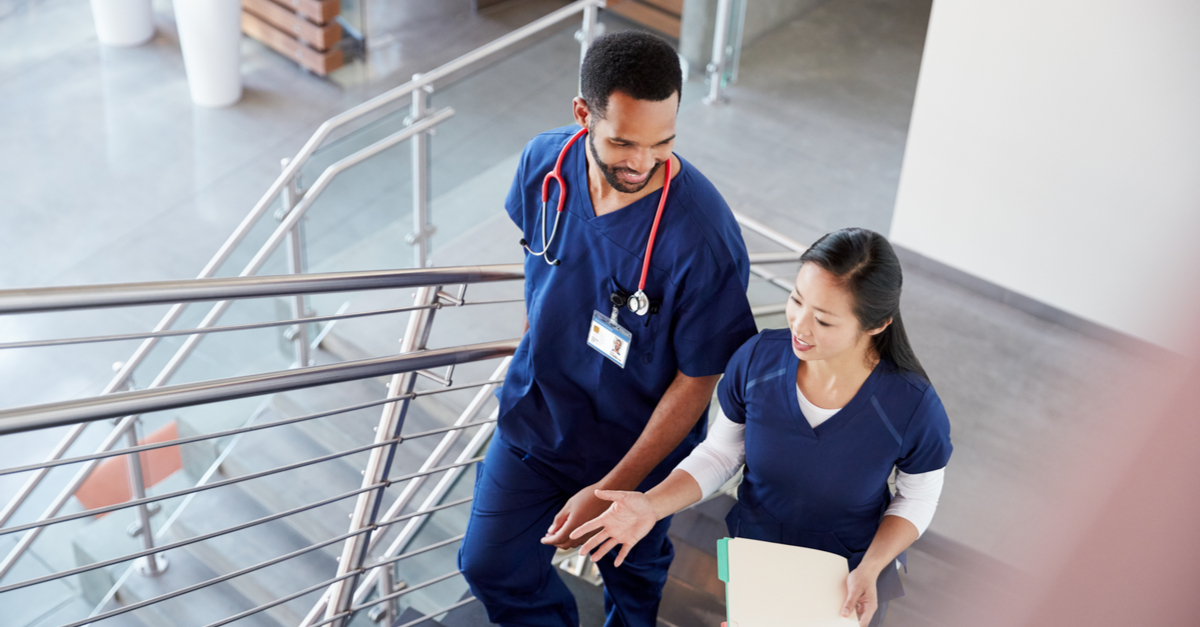 Travel Nursing is an exciting place to be in today's healthcare staffing market. During the last recession, nurses were afraid to give up steady employment in favor of new opportunities. Today though, now that the economy has rebounded, nurses are actually looking for different forms of employment, and we're seeing the positive effect this new economy is having on Travel Nursing specifically. Travel Nursing represents about 1/3 of the healthcare staffing market, making it the largest revenue-generating healthcare segment. Not only is it generating more revenue than Per Diem, Allied, and Locum Tenens, but it's also outpacing their growth as well.
Source: Staffing Industry Analysts 
If you're already operating a Travel Nursing division, the good news is that you're benefiting from this major opportunity. The challenge, however, is the increasingly competitive world you operate in. Redeployment and provider engagement has never been more important than it is today and, because of that, it's critical that you deliver an incredible provider experience.
So, what's the best way to find out what your travelers want from you? Ask them! And that's just what Bullhorn did.
Bullhorn teamed up with TravCon, an annual conference for traveling healthcare professionals who want to learn new skills, meet other travelers, and connect with staffing agencies like you to find their next assignment. Together, we surveyed more than 1,200 of those traveling healthcare professionals about their experience with travel companies, asking them a range of questions from how often they prefer firms communicate with them to the most important factors when considering a new assignment.
From the results, we learned the three secrets to delivering a best-in-class traveler experience:
1) Your Travelers: Seek Adventure
The strong economy is posing several challenges, including a nursing shortage and knowledge shortage. At the same time, however, nurses are more confident that they will be able to find a job. They feel more comfortable exploring new opportunities, and many are turning to travel nursing as an adventure. They want to see and meet new people, experience different cultures, and have the freedom to move around. When asked what motivated them to travel, most travelers said they had a need to experience something new and exciting.
While the underlying motivation for traveling is to experience something new, travelers still ranked compensation most important when actually choosing an assignment. This was followed then by location.
This information is powerful. Get to know your traveler. Understand how adventurous they are. While compensation is important in choosing an assignment, it might be negotiable if you're able to provide your traveler a new and exciting experience — the new and exciting experience is ultimately why they chose to travel in the first place! Location matters.
2) Your Travelers: Care About Recruiter Relations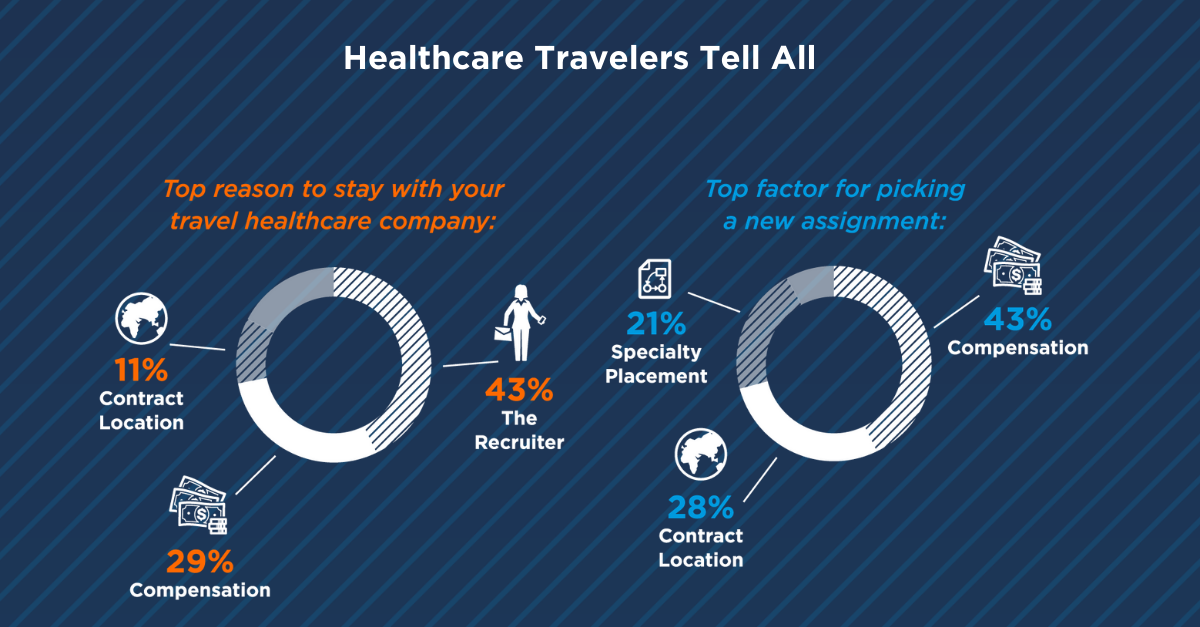 Recruiters are your differentiation. The people your travelers interact with will make or break their experience. Next to compensation, the recruiter is the reason why travelers decide to stay with their current firm. They want someone who is easy to reach, highly responsive, and willing to go above and beyond — those factors, according to respondents, are more important than knowledge of the industry.
When it comes to communication, most travelers prefer recruiters contact them once a week. They like texting over any other form of communication, including email and phone, and they prefer to email or online upload their credentials.
It might sound obvious or simple, but being able to cater to these preferences really is the 'cherry on top' of delivering a great experience. For those that were at Engage this year, and enjoyed the fireside chat with Adecco's Joyce Russell, it's all about delivering that 'cherry on top' to truly create an exceptional experience, differentiate yourself, and keep your travelers coming back for more.
3) Your Travelers: Want to Be Efficient Too


As it turns out, travelers are not so very different from you. Just like you, travelers are constantly gathering massive amounts of paperwork and credential requirements, and most of them are doing so manually. Time is precious and travelers are often juggling a lot at once. Travelers want streamlined processes so that they can be most efficient with that time.
Are you using an onboarding tool to automatically capture required documentation and signatures? How are you managing credentials today – is it in Excel or do you have a system to capture credentials and automatically notify a traveler when theirs is about to expire? Consider reviewing your workflows to see where you can make both your and your traveler's lives easier and more efficient. By exploring new technology and adopting new processes, you can actually improve the experiences and efficiencies of not just your team, but also your providers.
So, why does all of this matter to you? Now is the time to take advantage of today's massive opportunity that exists in Travel Nursing. Now more than ever, it's critical to deliver an incredible traveler experience, and it all starts by knowing who your travelers are and what motivates them most.
---
To find out what makes travel healthcare professionals tick, we surveyed over 350 travel healthcare professionals at Travcon. Learn what motivates your travelers and how your travelers and what they look for in recruiters in our ebook, Travelers Tell All: How to Deliver a Best-in-Class Provider Experience.
Subscribe to the Customer Blog
Subscribe for trends, tips, and insights delivered straight to your inbox.