Cloud Based & Configurable 
No software to install or maintain, our cloud onboarding solution is accessible from any browser, optimized for mobile devices.
All Documents In One System
Easily create unlimited, customized packages for automatic document generation, eliminating manual effort to produce onboarding paperwork.
Faster Onboarding & Higher Compliance
We ensure faster candidate starts and provide more compliant onboardings for you and your clients.
Expedited Onboarding Process
We make onboarding simple, saving your recruiters and your candidates countless hours.
Reduce the complexities of onboarding.
Staffing firms face many unique challenges when onboarding contractors. Compressed timeframes between an offer and a start date provide little room for mistakes or delays.
eStaff365 reduces the complexity of contractor onboarding, including extensions and re-deployments, by using a rules engine for the creation of a precise onboarding package for each new hire. HR staff and Account Managers can easily monitor the process, and make necessary course corrections to meet client deadlines.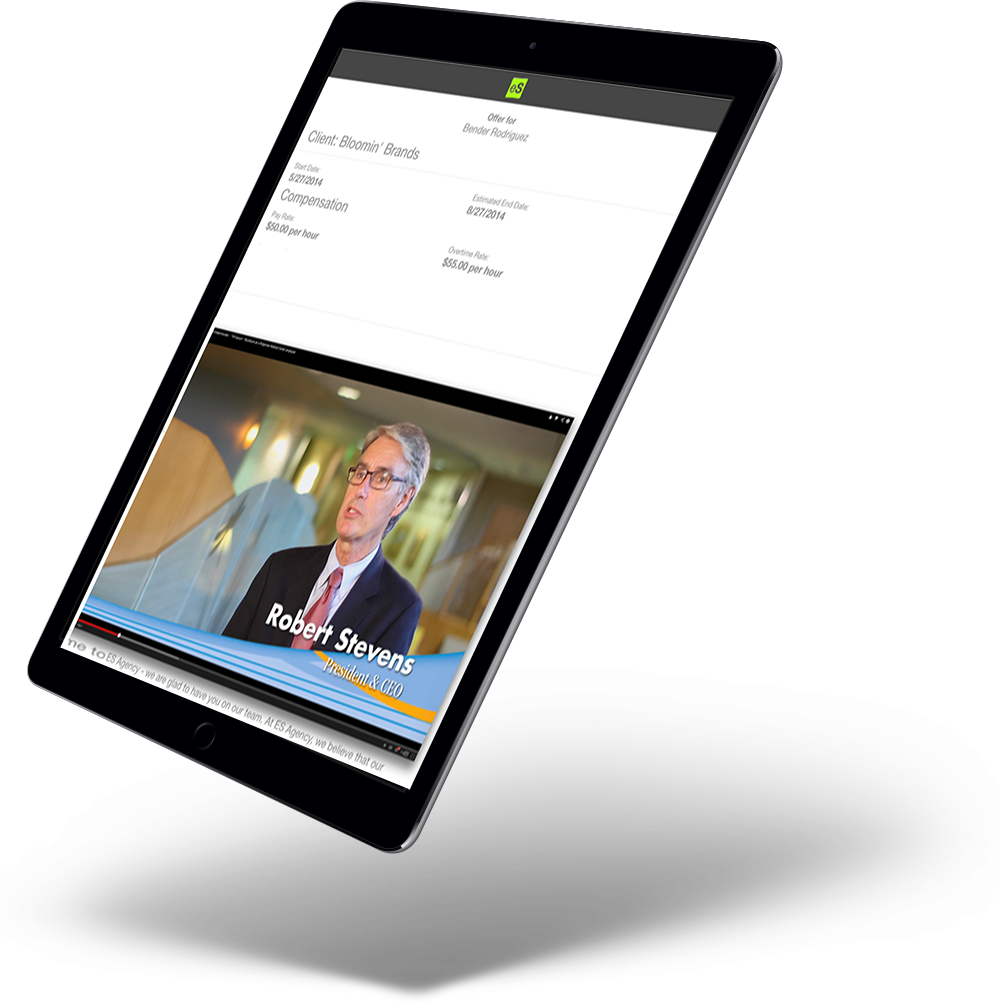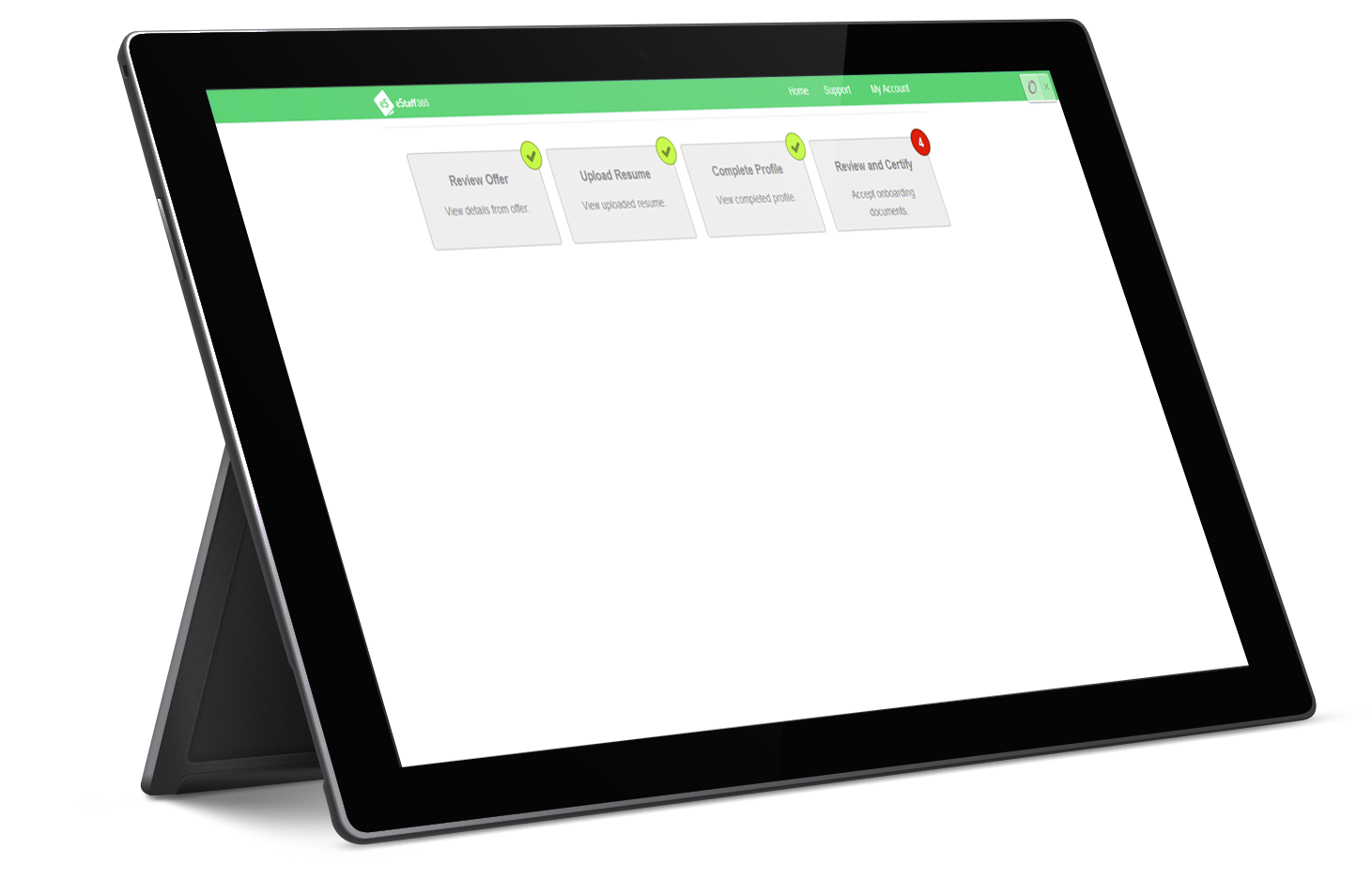 Simple, intuitive experience for new hires.
eStaff365 paperless onboarding provides an intuitive user experience for your new hires as they onboard with your agency. The system parses the new hire's resume and then guides him or her through the process of providing all of the profile data, such as employment and residence history, needed for background screening. You can also configure collection of references, certifications, licenses, and EEO data.
Get an overview of your onboarding schedule.
The eStaff365 system makes it easy to communicate with your contractors, providing them with proactive notifications so that they are aware of their onboarding schedule and status.
✓ Reminder emails and messages when the onboarding is not progressing on schedule
✓ Notifications when the contractor's start date is at risk
✓ Fully configurable email templates
Demonstrate compliance by allowing your clients to audit your onboarding documents. You can create temporary online access for a client auditor, permitting them to review onboarding documents for contractors who have been on assignment at that client. Sensitive information in documents is redacted to protect your contractors' privacy.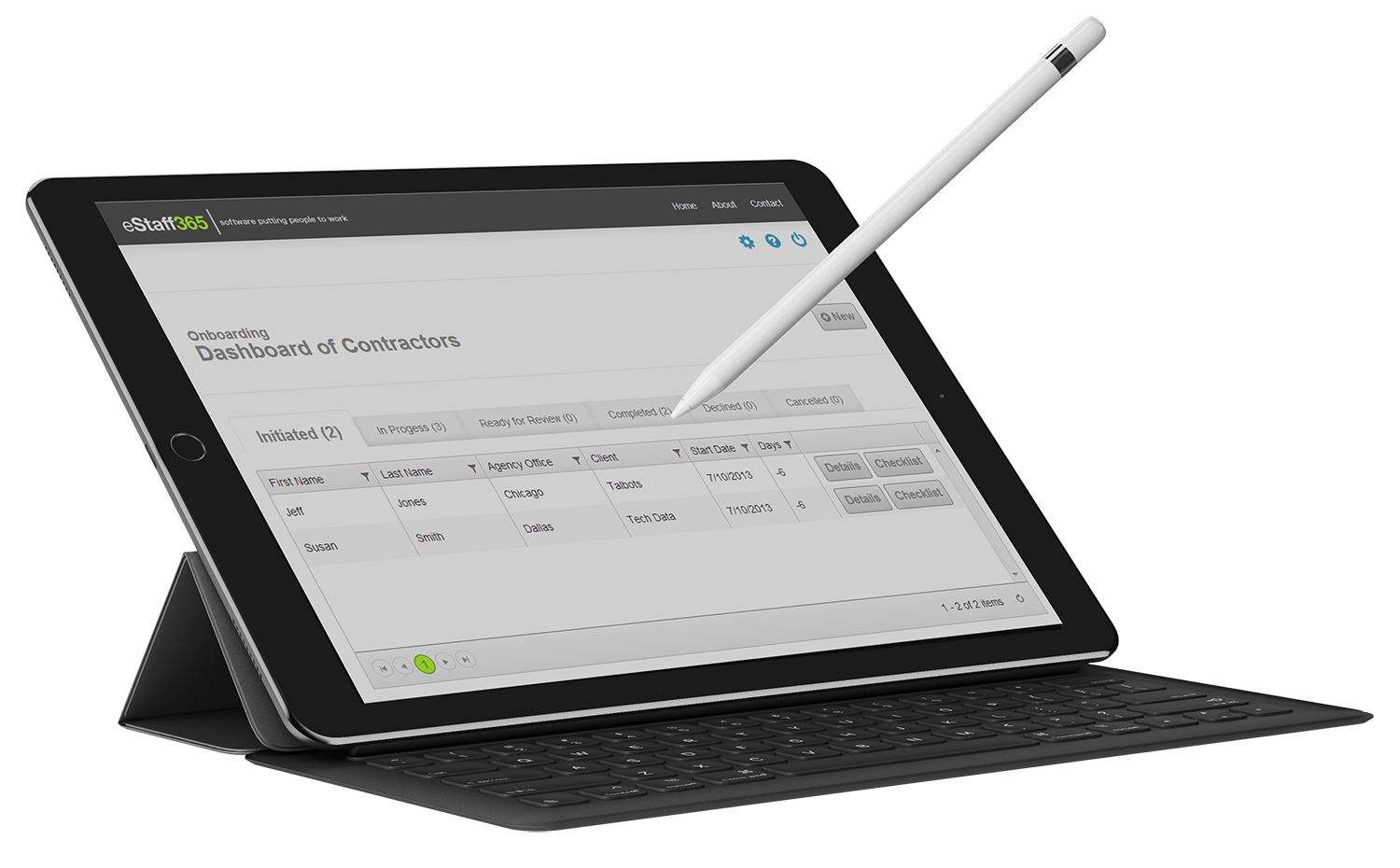 No more faxing, no more emails.
All of the onboarding documents are reviewed and accepted by your new hire online which means no more faxing, no more emails. PDF documents are signed electronically ensuring that they are legally binding. eStaff365 system leverages a secure certificate-based digital signature to ensure that signed documents cannot be modified. For the new hire, the process of reviewing and signing documents is easy and secure.
✓ Documents are locked once signed
✓ No need for a separate document management system
Fill placements with a click.
Our re-deployment and re-hire functionality makes it easy to quickly assign a contractor to a new placement. Rather than presenting the contractor with a full set of "new hire" onboarding documents, eStaff365 is smart enough to recognize a re-hire or a re-deployment, and it automatically determines the minimum set of documents needed.
✓ Track the expiration of documents
✓ Automatically record contractor's employment history
✓ Increase client satisfaction through a simplified re-deployment process

A form for every need.
You configure the eStaff365 cloud onboarding solution setting rules for which onboarding documents need to be completed by which type of new hire. Our system can deliver standard federal and state forms, your agency's standard forms, and even your client's documents. Our "no code" solution allows you to easy upload new documents and automatically populate them with data from the system.
✓ Identify which documents are delivered to which new hires
✓ Automatic detection of fields in your PDF documents
✓ Determine how contractors are onboarded for each client, ensuring compliance with the client's policies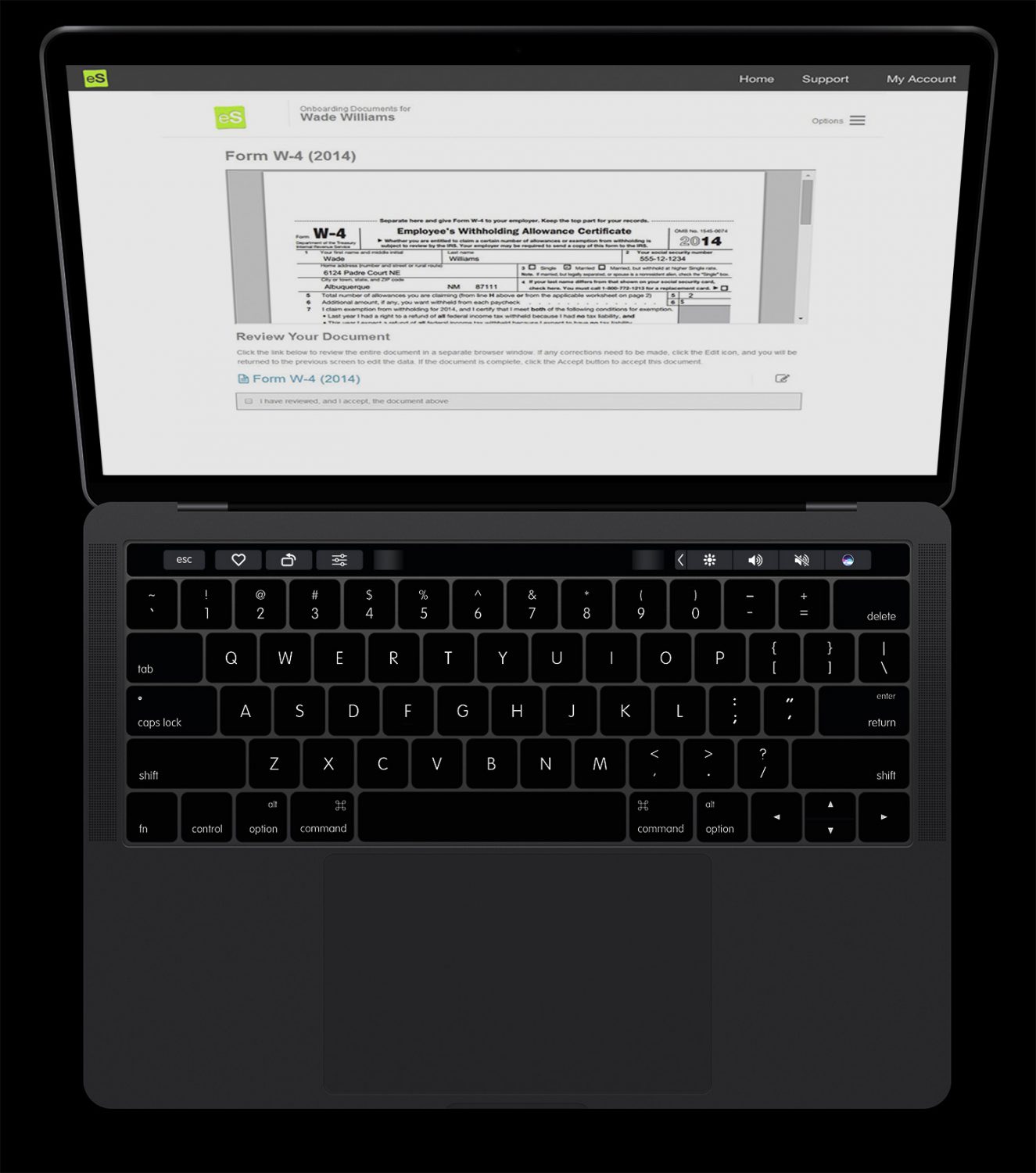 The right information at the right moment.
We provide your contractors online access to benefits and pay information after they begin their assignment. Through password-protected protocols, eStaff365 delivers content in a targeted manner using the attributes of the consultant's placement.
✓ One password gives your contractor access to any information they need
✓ Consultants have access to their onboarding documents at any time