Brand Strategy
Great branding defines and advances your value in the marketplace. It makes an impression, sparks interest, and generates action. A great brand fosters enduring connections and loyalty. ClearEdge Marketing helps businesses define, launch, and optimize brands that strengthen their market presence and competitive position.

Digital Marketing
From custom websites and social media to Search Engine Optimization (SEO) and Search Engine Marketing (SEM), we help organizations reach more prospects, attract the right candidates and generate business faster and more cost effectively.

Sales & Recruiting Enablement
Making your teams more effective and efficient is at the heart of our sales and recruiting enablement solutions. Whether you need a strategy, campaigns or collateral, ClearEdge can help you create new opportunities and boost revenue.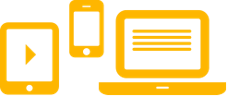 Content Marketing
How are you reaching prospects, clients, and candidates in today's crowded marketplace? At ClearEdge, our strategists, writers, and designers help businesses translate their expertise into relevant content using mediums such as blogs, surveys & reports, videos, and infographics that reach the right audiences.