Use the power and insight of Net Promoter® Score to improve retention and rehire rate, grow accounts & win new business
Rooted in service-quality research, industry benchmarking, and over a decade of data from clients and talent alike, ClearlyRated's Net Promoter surveying software empowers staffing firms to survey client, talent, and internal employee satisfaction, capture testimonials, compare service levels to competitors' levels, and earn recognition for excellence.
Why NPS? Because it's a single, simple metric. NPS is easy to calculate, track, and benchmark against, meaning you know where you stand—whether you're comparing yourself to your competitors, the industry standard, or your performance last quarter.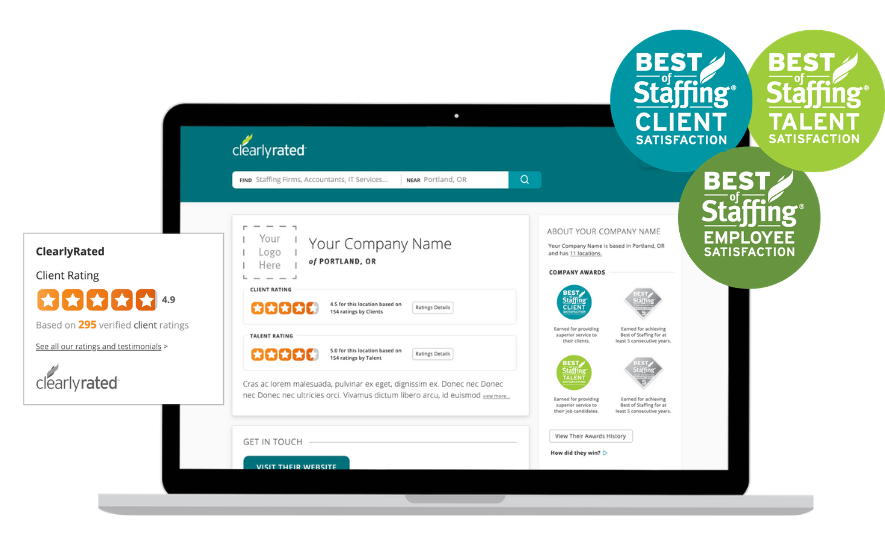 Take control of your firm's reputation—both online & off
When most staffing firms say they differentiate on service quality, how do you stand out from the crowd? ClearlyRated's survey program has one of the most recognizable marks for service excellence in the industry: the annual Best of Staffing® award. When you qualify for our award, you have compelling, third-party proof of excellence that will help you communicate to clients and prospects that your words are matched by your actions.
Your cumulative survey results will also be made available on your profile page on ClearlyRated.com's online business directory, allowing you to showcase your awards, star ratings, and testimonials and translate your positive service record into an opportunity for further growth.
Our SEO-optimized profile pages amplify the voice of your clients and candidates, improve your firm's discoverability in organic search, and broaden exposure to your star ratings—most firms (70%+) can expect their ClearlyRated star ratings & profile page to be featured on the first page of Google's local search results.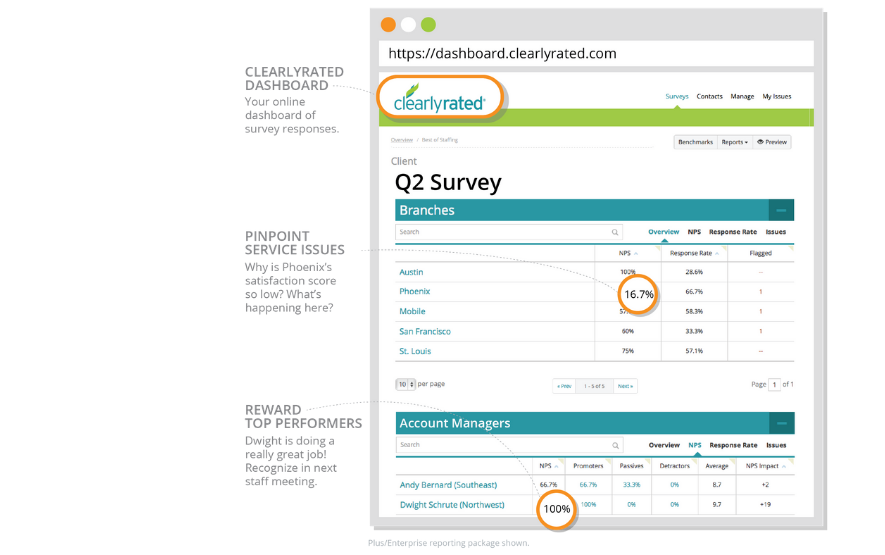 Operationalize your commitment to service excellence and then share the #goodnews
In order to center your organization around service excellence, you first need to know where you stand. Our data reporting is available at the click of a button, allowing you to segment by account manager/recruiter, location, or any other metric—making it easier than ever to understand employee, client, and talent feedback and put it to work towards positive change within your organization.
Our automated talent and client engagement program helps you touch base with your key contacts at exactly the right moment, leveraging these critical touch points to communicate that you're invested in their success and provide you with immediate visibility into service issues as soon as they arise with our automatic detractor notifications.
Our tool also helps you share your #goodnews with ease. Our integrated social sharing features, automatic testimonial gathering, and internal employee Shout Outs (a crowd favorite) make it easier than ever to share positive feedback and guarantee you're not leaving survey value on the table.
Ease of use + our comprehensive Bullhorn integration guarantees near-immediate ROI

After collaborating with our support team, your ClearlyRated survey dashboard will be fully integrated with Bullhorn, including a custom tab displaying your NPS survey data and issue-resolution tracking right within your ATS.

Every bit of information captured from your automated critical touchpoint surveys for your client and talent engagements will be updated in real time—allowing you immediate visibility into the perceptions of your most important contacts.

This simple implementation process leads to near-instant usability: Your respondents' feedback is available as soon as they reply, and most firms can expect to receive initial feedback within 1 month of signing their contract.

Our tool is so adept at helping firms identify, act on, and resolve business issues that 98% of staffing firms who survey with us report a positive ROI.
The staffing industry's most trusted source of client, candidate & employee experience insights

No other survey provider understands the unique challenges and complexities of the staffing industry like we do. After all, we've been ASA's preferred satisfaction-survey partner since 2007, and we've sent over 15 million individual surveys on behalf of staffing firms just like yours.

With more than a decade of industry research informing everything from our survey questions to our internal operations, there's a reason we work with more staffing firms than any other provider in the country: We understand you—and we can't wait to put our insight to work for you.