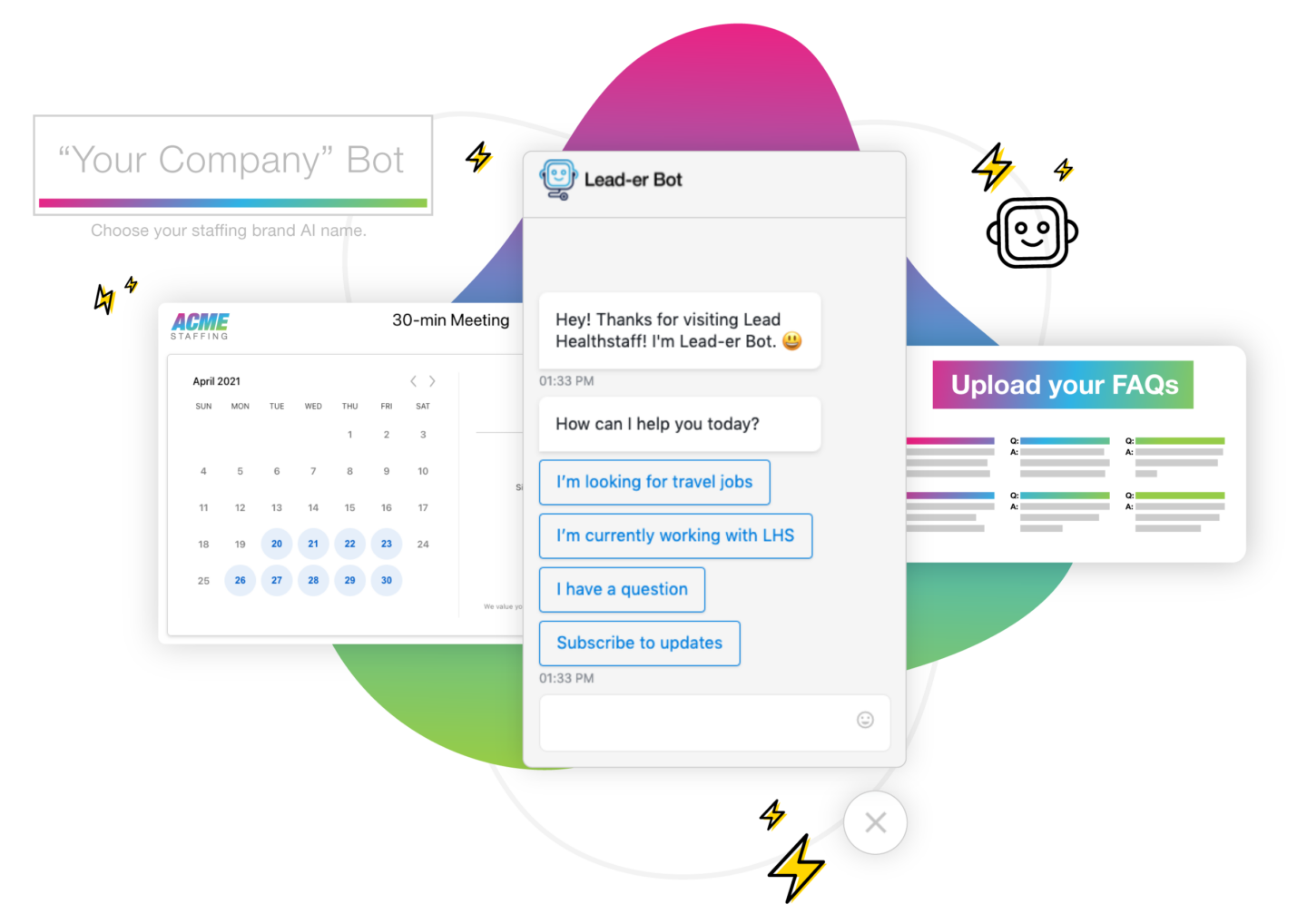 Create a virtual recruiter that's available 24/7
Accelerate growth without increasing your headcount. With Staffing Engine AI, you can create a virtual employee to make sure you never miss an opportunity again by always responding and becoming available on-demand, 24/7.
Choose a name for your branded staffing AI
Become available 24/7 by qualifying candidates and booking meetings for recruiters
Track and record everything back to Bullhorn or Salesforce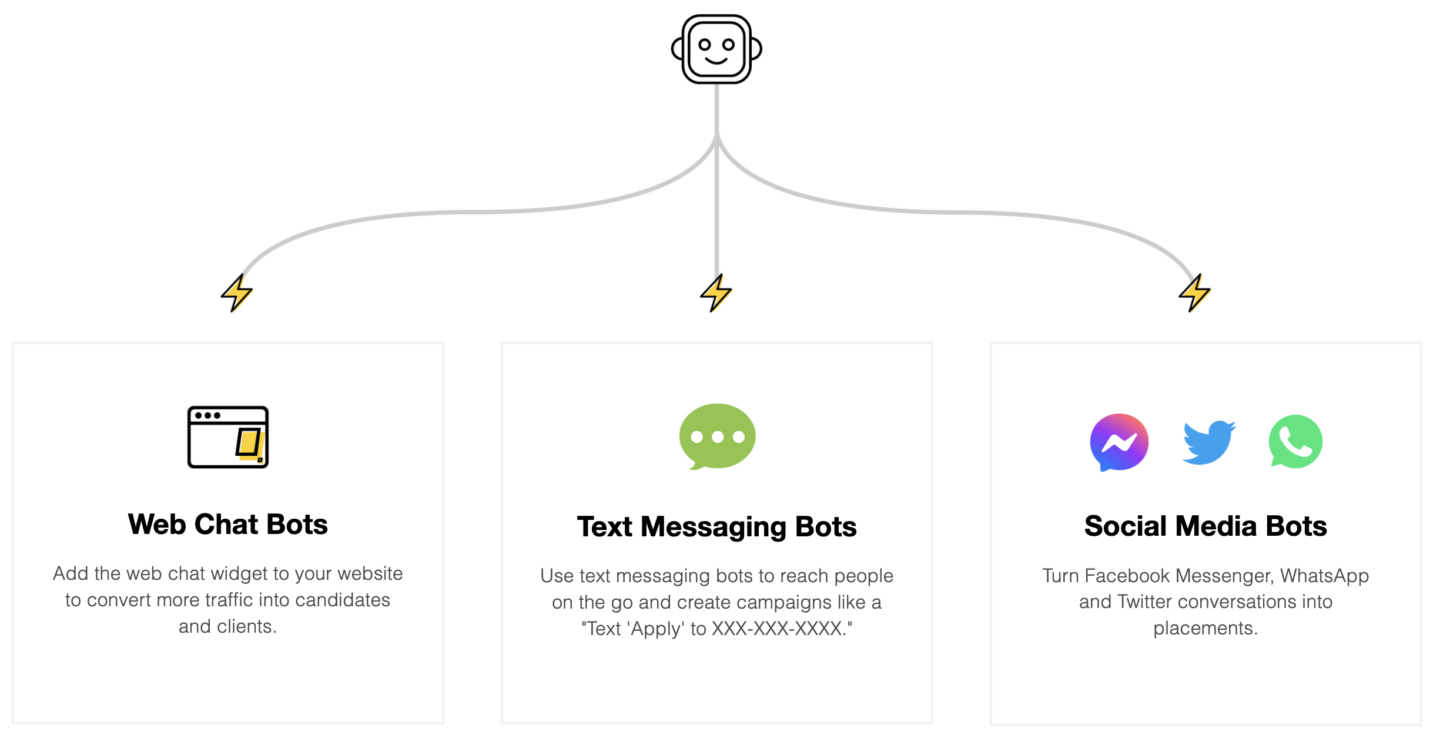 Turn conversations on your website, text messaging, and social media into placements
Enable AI bots on multiple channels including web chat, text messaging, and social media to scale conversations and turn them into placed candidates or new clients.

Increase lead generation with web chat bots – Add the web chat widget to your website and in email and SMS outreach to qualify and route candidates to recruiters

Reach anyone, anywhere in real time with text messaging – Use text messaging bots to reach people on-the-go and record answers directly to Bullhorn or Salesforce.

Turn social media direct messages into candidates in Bullhorn – Add a bot to Facebook Messenger, WhatsApp, and Twitter conversations to turn social friends into candidates and clients.

Get your team working faster with real-time notifications of Bullhorn activity
Get your team out of messy email inboxes where things get lost. With Engine Alerts, you can enable your team to work faster with real-time notifications of activity in Bullhorn.

As applicants and leads come in, use smart logic to distribute them to the appropriate individual and alert them in real-time
Whether you're sourcing talent on LinkedIn, searching for that perfect resume on a job board, checking your email, or adding a note in Bullhorn, the Engine Alerts Chrome extension will alert you to new activity in Bullhorn so you can take immediate action on important items.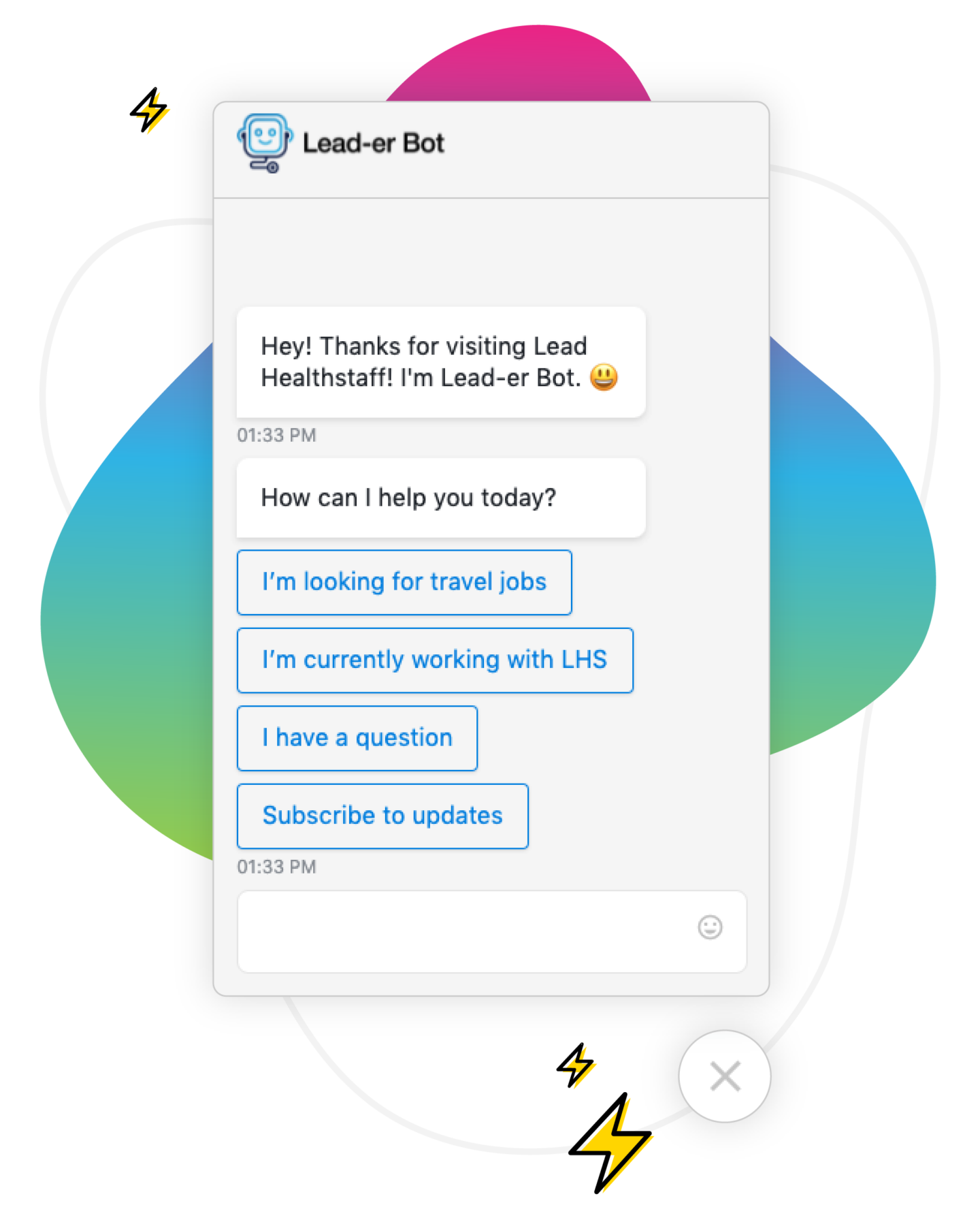 Scale conversations and source more qualified candidates
Are you still relying on old-school website forms, slow email exchanges, or phone calls to qualify candidates?
With Staffing Engine Conversation Flows, you can scale the number of conversations you can manage, ask qualifying questions, and route candidates to recruiters in real-time.
Collaborate with our conversation designers to help configure and launch bots fast
Leverage built-in conversation best practices and customize the bot to fit your brand voice
Reduce the time to launch bots from weeks/months to hours/days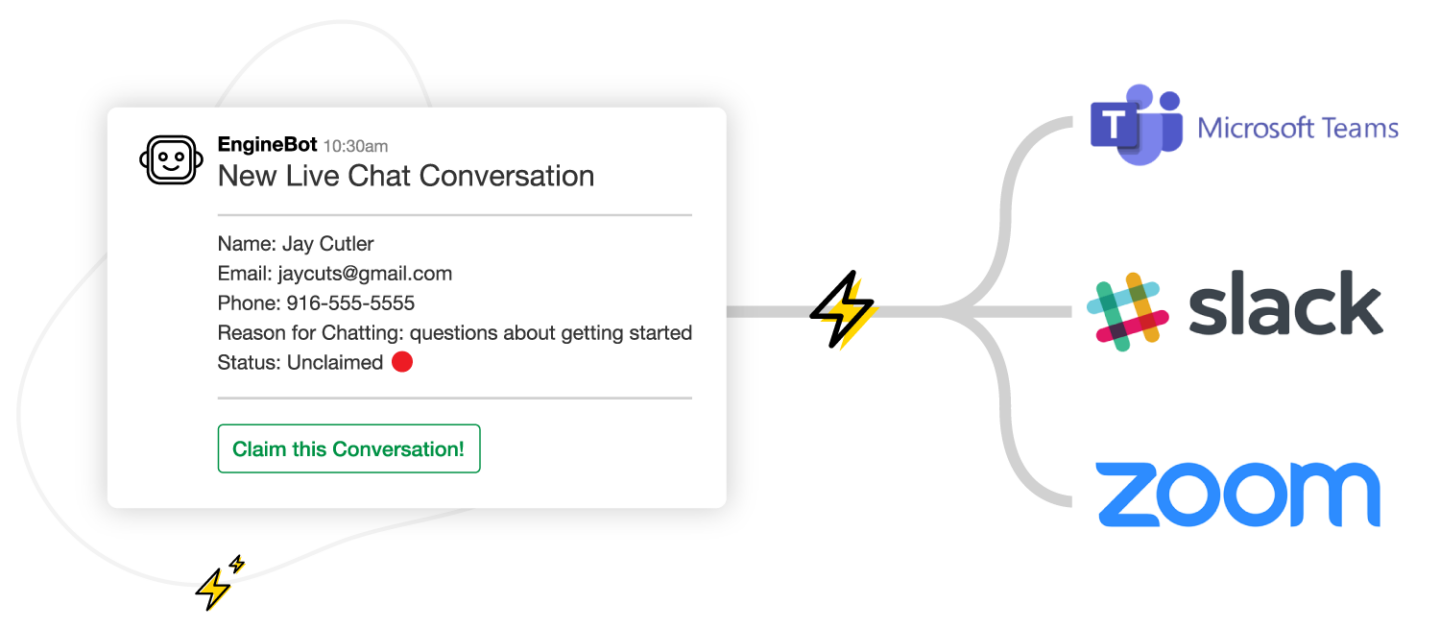 Live chat from MS Teams, Slack, or Zoom with candidates or clients on your website
Getting your team to adopt another new tool can be hard. With Staffing Engine Live Chat, you can connect candidates with recruiters to manage conversations with your existing tools like Slack and MS Teams.
Connect your website live chat to MS Teams, Zoom, or Slack to manage conversations
Capture those conversations and send them directly into Bullhorn as a note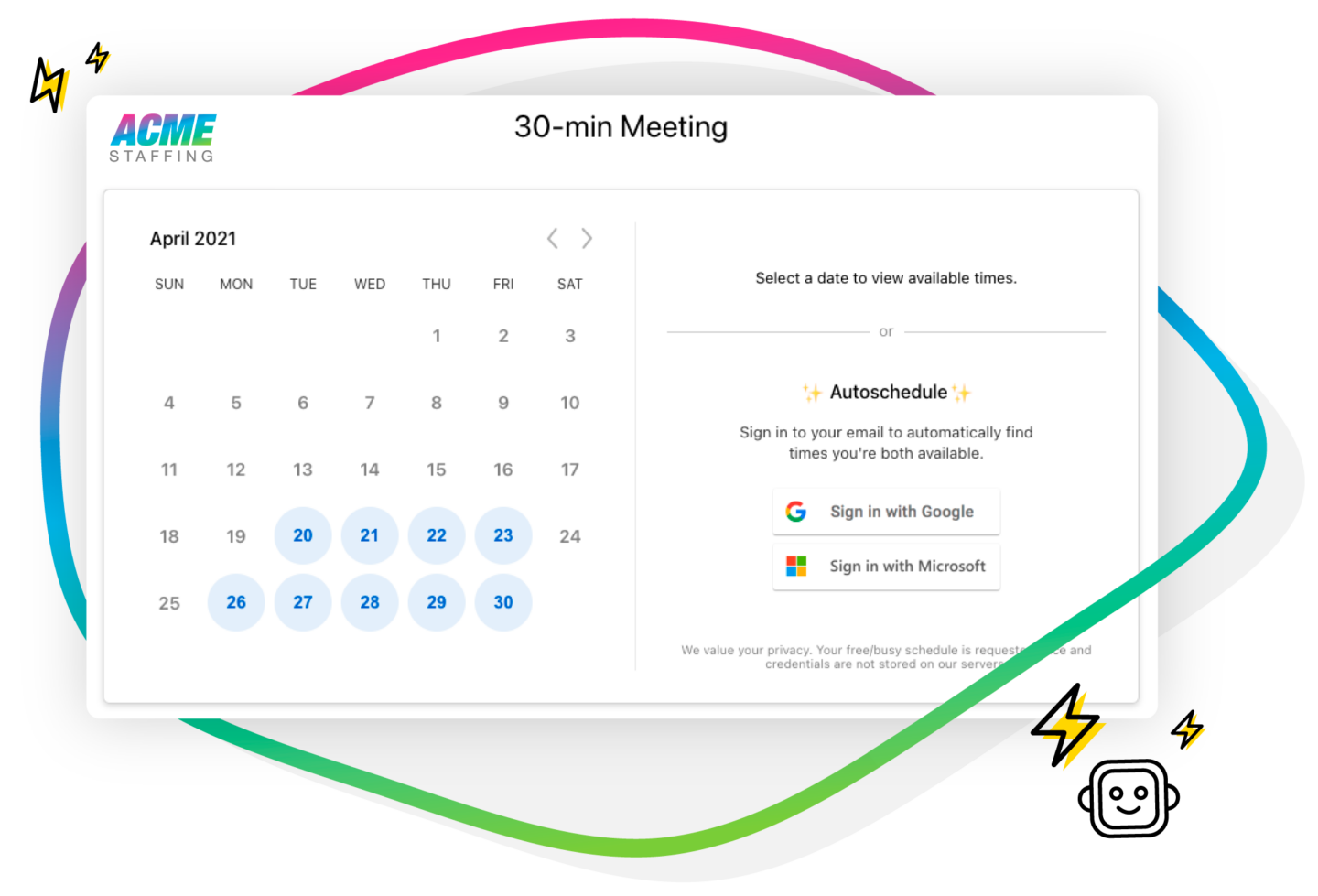 Qualify Candidates and Book Meetings for Recruiters and Sales 24/7
Relying on email and playing phone tag for every task creates a slow and frustrating experience.
With Staffing Engine Meeting Booking, you can enable bots to qualify candidates, route them to the right recruiter, and book meetings directly from your website
Each recruiter and salesperson will also get their own unique meeting links to share with candidates or clients