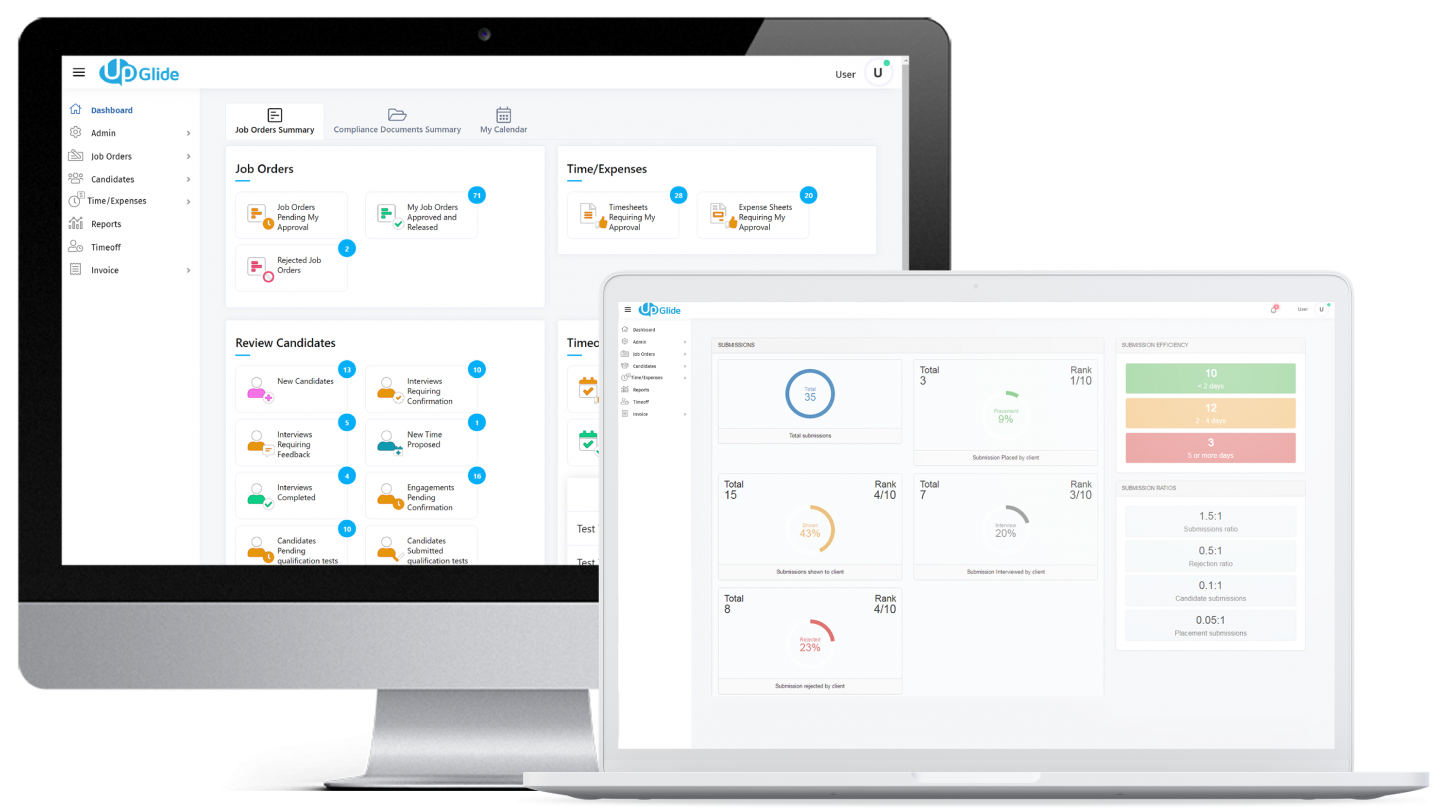 More than just a VMS, a total talent management solution
Engage and manage candidates, employees, vendors, and independent contractors in one central location using UpGlide cloud-based total talent VMS technology.
Contingent Workforce Management
Broadcast job orders with Bullhorn ATS integration
Assess & review candidates
Manage direct hire, contract hire, 1099 and SOW engagements
Onboard and offboard employees
SOW and Project Management
Oversee project objectives, creation, approval, bidding process, and milestones
Multi-project management
VMS
Easily monitor vendor performance, track submissions, and negotiate bill rates
Identify vendor performance gaps using vendor management scorecards
Time and Expense Management
Track contingent workforce spend through approved timesheets
Consolidate invoicing and payments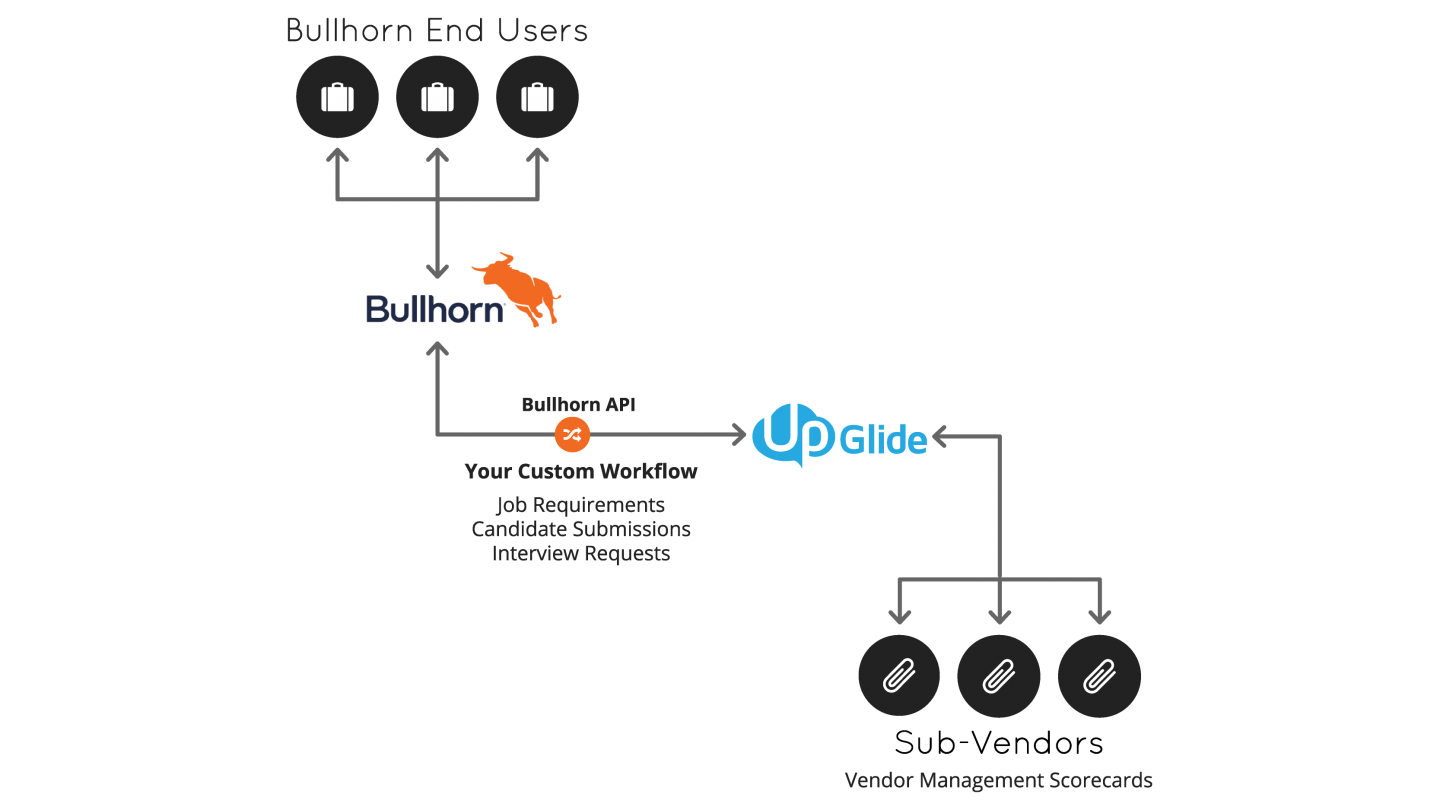 Your own sub-vendor program made possible
UpGlide Sub-Vendor Management provides staffing agencies with an integrated Bullhorn ATS solution to facilitate their own sub-vendor engagements and seamlessly deliver qualified talent to clients.
Run Your Own Sub-Vendor Program with Native Bullhorn ATS integration
Capture job requirements in Bullhorn and seamlessly flow information to sub-vendors through UpGlide with your own custom workflow.
Present all qualified candidates to the client via UpGlide through Bullhorn API
Manage candidate submissions and interview requests within UpGlide with real-time syncing status updates in Bullhorn ATS
Direct all sub-vendor submissions to the job order owner in Bullhorn
Track sub-vendor performance through configurable vendor management scorecards in UpGlide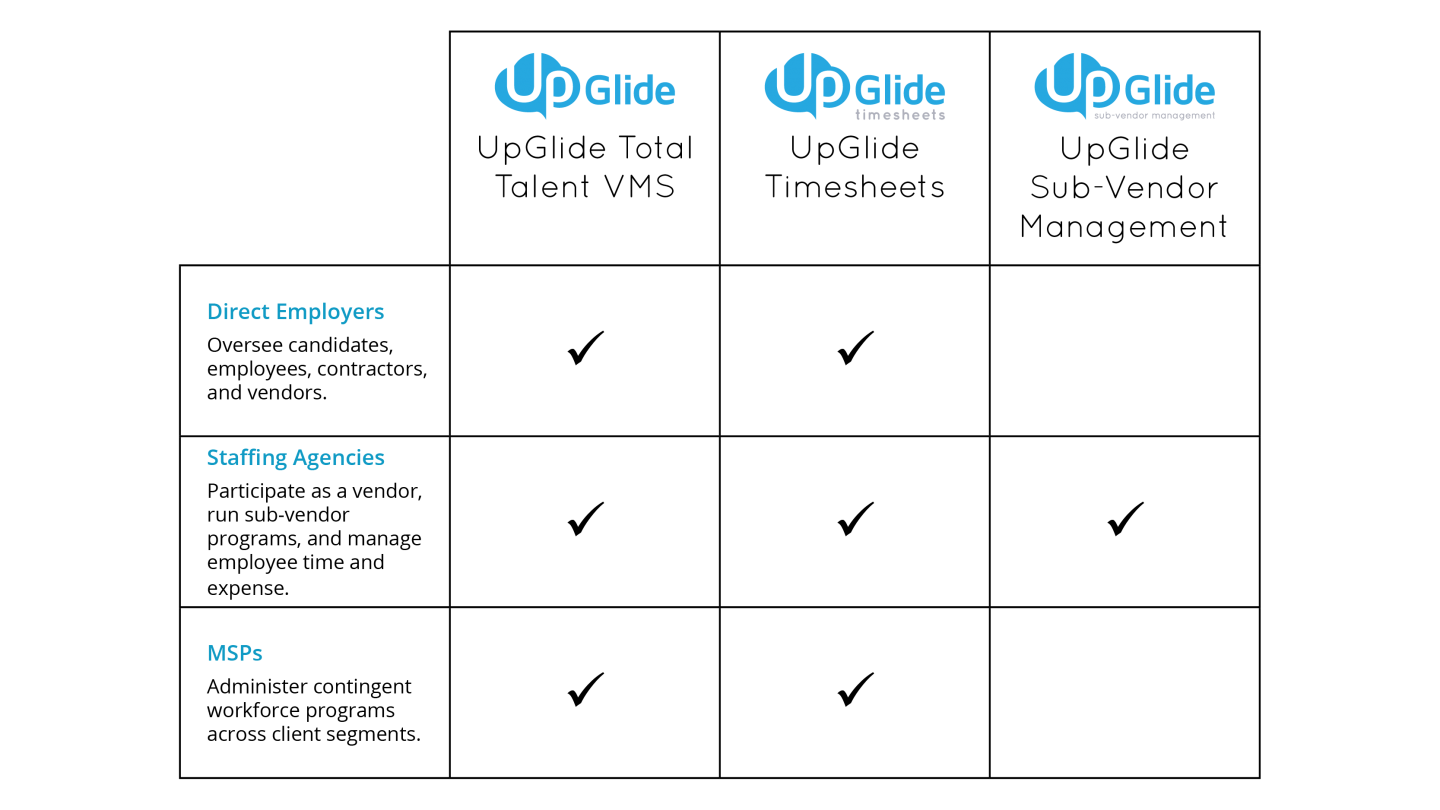 Cloud Workflow for Different User Applications
With different business models and approaches to staffing, UpGlide is built with these diverse perspectives in mind.
User Roles
For Direct Employers: Use UpGlide as a self-service tool to engage and manage your own contingent workforce program
For Staffing Agencies: Use UpGlide to participate as a vendor in corporate contingent workforce programs, manage sub-vendors, and employee time and expense
For MSPs: Use UpGlide to streamline contingent workforce program administration across multiple clients
Products
Total Talent VMS: Completely oversee and manage your workforce lifecycle from beginning to end
Sub-Vendor Management: Manage your own sub-vendor program in addition to independent staffing
Timesheets: Manage employees' time and expense information from multiple sources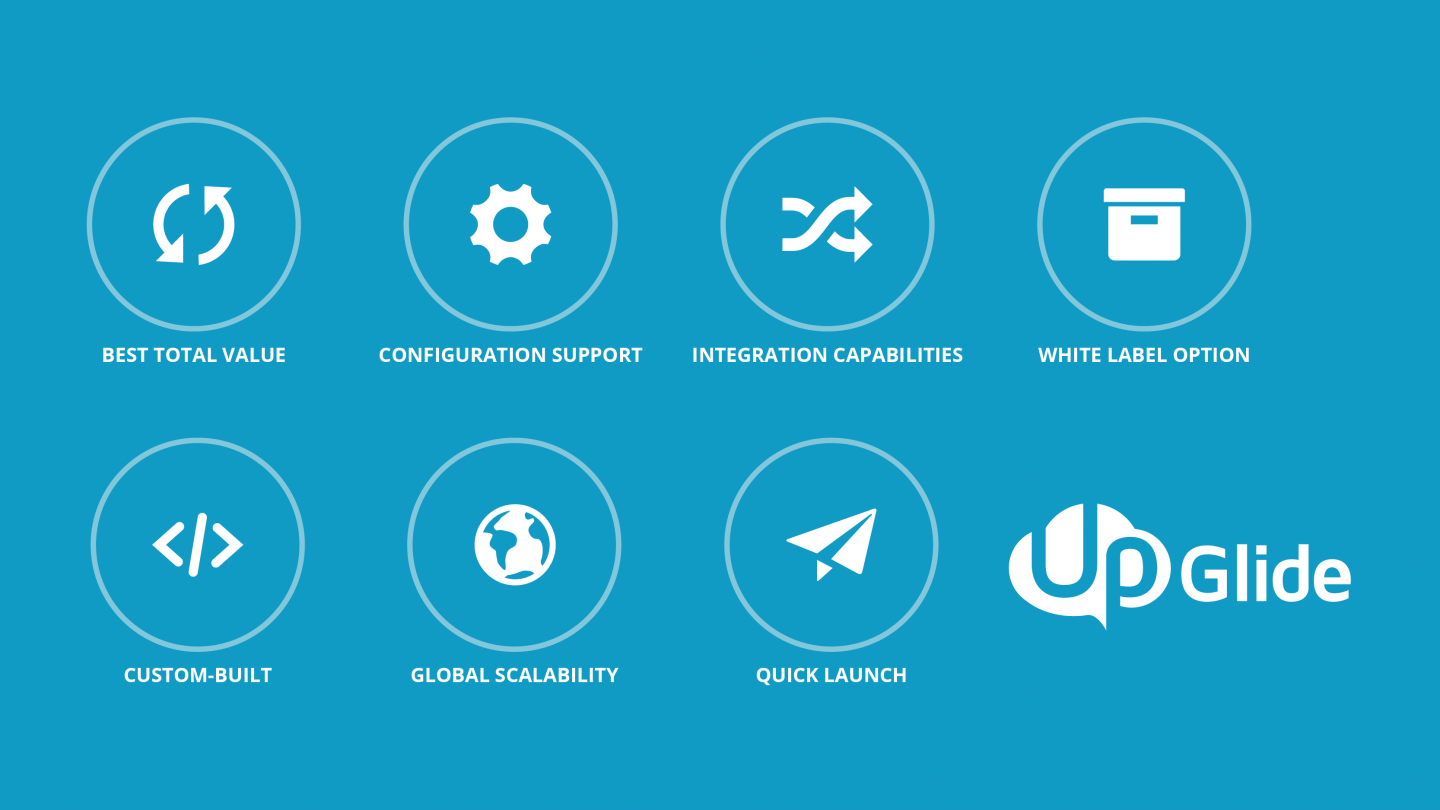 Benefits of UpGlide
Best Total Value: Streamline contingent workforce management processes while experiencing a greater ROI
Configuration Support: Complete support throughout the entire implementation process to accommodate you with the most viable solution
Integration Capabilities: Seamlessly connect workflow across external management systems
Bullhorn ATS
Procurement systems
Payroll systems
Financial systems
Timekeeping systems
White Label Option: reinforce your brand with UpGlide's white label option
Custom-Built: All aspects of the tool can be modified and designed to fit your unique program specifications
Global Scalability: Bring together worldwide clients, candidates, and vendors through one unified access platform
Quick Launch: No delays, no waiting around. Fast build turnaround allows you to leverage the platform right away