7 Ways to Excel at Change Management When Implementing New Tech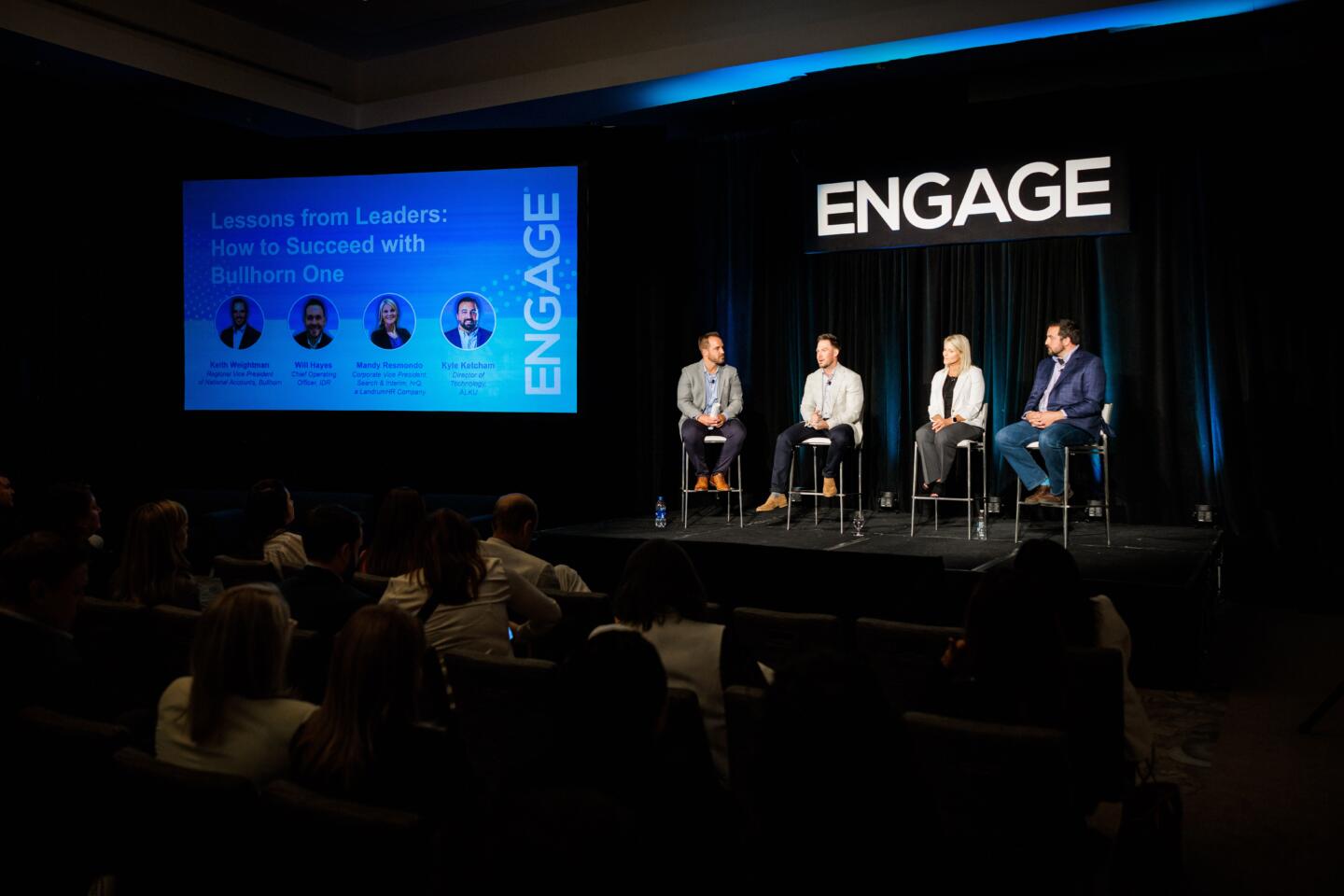 Leveraging digital solutions is essential to staying ahead of the curve in the modern world – but implementing new tech can be daunting. How can you ensure that you're setting your organization up for success?
At Engage Boston 2022, Bullhorn's own Keith Weightman, Regional Vice President of National Accounts, spoke with staffing leaders who have successfully implemented Bullhorn One, our end-to-end recruitment solution, as the foundation for their continued growth. Below are a few insights from Will Hayes, Chief Operating Officer at IDR, Mandy Resmondo, Corporate Vice President, Search & Interim, hrQ, and Kyle Ketcham, Director of Technology, ALKU, on what they've learned through the implementation process – and how they're using Bullhorn One to drive their success.
1. Work closely with your partner
Amidst the complexity of implementation, it's essential to be able to rely on your partner, from minor technical details to the broad strokes of project management. Encountering issues is inevitable, but working with the right people to solve the problems as they happen can help ease the stress of implementation and create a smooth experience for our employees and clients alike.
"Especially if you're a fast-growing company, you're not gonna have everything buttoned up all the time, and that's okay," said Kyle Ketcham. "That's where you rely on your partners, you rely on Bullhorn, you rely on whoever you're using for that implementation to help you."
Added Will Hayes, "Bullhorn was with us each step of the way, which had added a lot of value to us."
"The customer service that we received from Bullhorn and continue to receive today, we have a true partner there," added Mandy Resmondo.
It's not all stress, though. If your organization is working with the right partner, you'll likely come away from implementation not only with a new product but with plenty of lessons learned. "Even the people putting the software in place when you're making purchases of this scale, you're learning a little bit," said Hayes. "You think you get it, but then you put the software into action and see its impact."
Even so, having the support line on speed dial might not hurt. Said Hayes, "you're going to be calling them quite a bit."
2. Audit and test
Being prepared is the name of the game. Our panelists spoke about the importance of auditing and testing new software before implementation so you and your team have all the knowledge you need ahead of time.
"The due diligence up front is well worth it," said Ketcham. "And when you're sitting in early demos, and then you start to get into more details, it's better to ask all the questions then, rather than when you're in the thick of it."
3. Find the right project manager
A project manager can be a guiding light during your implementation process. Given the work it can take to launch new technology within your organization successfully, our panelists recommended having someone take on the role entirely. When implementing Bullhorn One, a specialized group is assigned to projects, confirming correct measures on the best path forward.
"We had just gone through an implementation three years prior," said Resmondo, "so going into Bullhorn, we knew how difficult it was for someone within our organization to do their full-time job and run an implementation."
"We quickly realized this is essentially gonna be a second job for many people," added Ketcham. "I think at the very beginning, we underestimated just how much time this would take from some of those core members who have a day job to run as well."
4. Stick to your plan
It can be easy to get overwhelmed when implementing new systems. Setting deadlines – and sticking to them – can help break down your project into achievable goals.
ALKU considered their audiences first and then worked backward. What do clients, consultants, and employees need to know? How would they receive that information? They then worked on how best to deliver the relevant information to those audiences, be it FAQs, calls, or videos. ALKU had a repository of information for their internal employees to use and self-service information sent to their external stakeholders. "If that hadn't been part of the process," says Ketcham, "we really would have paid for it later."
5. Involve people in the field
Introducing an entirely new tool to your organization can be daunting. Involving a range of employees from the early days of implementation can build familiarity with new technology and help drive quicker – and smoother – adoption. Said Ketcham, "The people that were involved in standing it up, start to finish, are the folks that are then using the tool when you go live. So by the time we reach the go-live point, it wasn't a daunting milestone for those users because they lived and breathed it every day for quite a while."
"We had a few of our recruiters and other stakeholders, part of the process that we consider super users," added Resmondo. "And then they would take [their learnings] back to their team throughout the process for training."
Involving your entire team can also help you spot potential issues sooner rather than later. "They're the face of the customer and the one dealing with the issues," said Hayes, "so making sure they're able to communicate proactively and involving them early, I think that's something we've learned."
"Obviously, I helped drive the project, but I wasn't necessarily the subject matter expert," Hayes added. "Make sure they have their seat at the table."
6. Communicate, communicate, communicate
"You can't overcommunicate," said Ketcham. Whether they're consultants or clients, recruiters or sales, it's essential to bring everyone into the fold. "Making sure they knew that we were doing this project and why."
hrQ involved their marketing department in creating an internal communication strategy around their implementation. "We had sessions with the entire organization around, 'Hey, this is what's coming, right. We're excited. This is the new functionality you'll have with the system,'" said Resmondo. "That's how we approached the training and built that excitement around it."
7. Give feedback
Implementing new technology isn't a one-time project. It's the beginning of a potentially fruitful partnership, wherein you and your partner can work together to achieve continued growth for everyone involved. Providing feedback on products is part of that. 
"We continue to keep in touch with Bullhorn's product team and give our feedback," said Ketcham. "I think that's important. If you don't speak up and give your feedback, I don't think you could expect your stuff to get done. So we always try to make sure that it's constructive and can explain the business reason. Why do we need this, want this? How does it impact our business?"
---
Want to learn more about how Bullhorn One can help build a foundation for growth? Take a look at our product page or request a live demo.
Subscribe to the Staffing Blog
Subscribe for trends, tips, and insights delivered straight to your inbox.