Become an agency providers want to work with: Insights from today's healthcare staffing leaders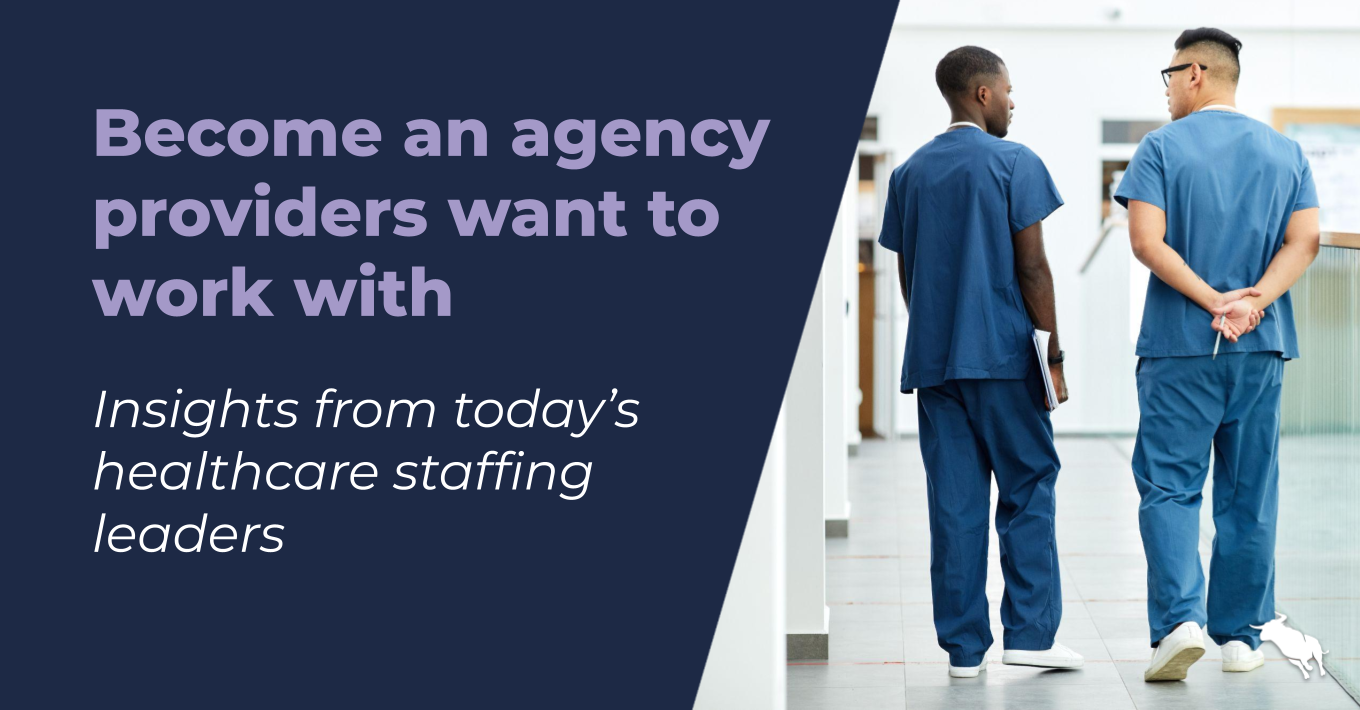 Healthcare staffing firms are facing a number of challenges in today's market, including a shortage of qualified providers, increasing competition, and rising costs. In order to succeed in this environment, staffing firms need to focus on differentiating themselves from the competition and providing a superior experience for both clients and providers.
Put simply, healthcare staffing firms must "work every day to be easier to do business with," according to Brendan Courtney, President and CEO of HealthTrust Workforce Solutions.
Read on for insights on strategies for maximizing returns through streamlined operations that Courtney, Jason Niad, Vice President, Product – Healthcare at Bullhorn, and Lynne Gross, President of RNnetwork, shared at this year's Healthcare Staffing Summit, hosted by Staffing Industry Analysts (SIA).
Understanding the current state of healthcare staffing
The healthcare industry is experiencing a re-shuffling of the deck, presenting staffing agencies with a unique opportunity to emerge as leaders in the market. Niad highlighted the market's growth from 2022 to 2023, emphasizing that while some may perceive a downturn, the reality is a larger market with abundant opportunities. 
"Normalization of the marketplace is necessary," Courtney added. "2022 revenue levels weren't sustainable for the healthcare industry. As [SIA] shared, last year, 63% of hospital systems lost revenue. We need hospital revenue to get healthy. As our revenue goes up, that's an expense line for a hospital system. You can pick any of those four (Travel, Per diem, Locum tenens, or Allied) for diversification; there is plenty of opportunity no matter what verticals you want to explore."
So, how can staffing firms navigate a changing market, rising talent demands, and increased costs? It's all about relationships and the provider experience, says Gross. "We're leaning more into our client relationships and tier one clients. RNN is prioritizing client needs with our 'recruit to fill' strategy, which allows us to identify quality providers and reduce time to fill."
Doubling down on digital transformation
One of the most important ways that staffing firms can differentiate themselves, streamline operations, and maximize returns is through digital transformation. By investing in the right technology, staffing firms can improve the efficiency and effectiveness of their operations, optimize the candidate and client experience, and gain a competitive advantage.
"Digital transformation is huge. Staffing is evolving quickly to meet the needs of providers and clients, and it's something they've started to invest heavily in the last few years. Technology is central to improving the candidate experience," said Gross.
Healthcare staffing firms must make it easy for providers to attract, retain, and redeploy talent while reducing costs. This means having an omnichannel approach to meet providers where they are and automating or streamlining touchpoints and processes like resume screening and scheduling interviews.
Courtney added, "I couldn't agree more about the importance of digital transformation. Nomad, Aya, and Trusted are very popular. The Vivian job board didn't exist a few years ago, and now it's the top place [providers] go to look for jobs. Reduce friction with your candidate base to make it easy for clinicians to find jobs in the industry."
Supporting each phase of the talent journey with your tech stack
In Bullhorn's 2023 GRID Talent Trends Report, we confirmed that every stage of the recruitment cycle affects the candidate experience and, as a result, talent's willingness to continue working with a staffing firm. 
This means that staffing firms need to consider how their tech stack can improve or transform each Moment That Matters to ensure the recruitment process is as seamless as possible for the provider, the recruiter, and the client.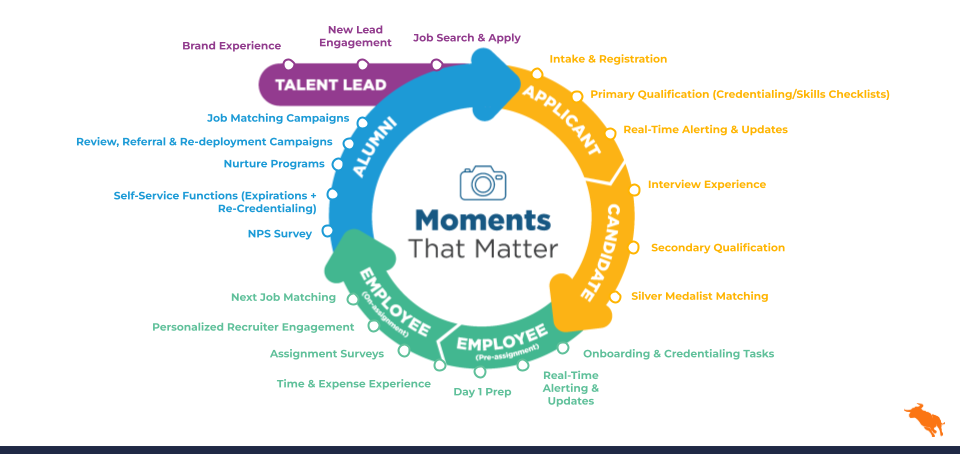 Talent Lead
The recent changes in healthcare staffing are not limited to things like rising costs and more client demands. Providers are also changing their expectations and needs during the job search, favoring more self-service options so they can search for a new opportunity on their terms. 
Courtney explained, "The biggest changes that have taken place is that people in general, not just healthcare folks, want more access to self-service. They want to be able to do things more on their own. It's like how travel agencies don't exist anymore because airlines made it so easy to buy your tickets online, right?"
Self-service options make it easier for providers to find a new role and help recruiters manage the recruitment process at scale, often leveraging automation or AI tools to optimize the process. 
Regardless of technology or strategies, consistency is key for attracting top talent, says Gross. "Consistency is of the utmost importance for providing excellent service. A few years ago, we introduced a customer excellence program. From the moment someone is hired, they're onboarded with certain touchpoints, and we've outlined what expectations are throughout the provider journey. And [recruiters] are held accountable to those expectations, and we reward and recognize top performers. We also track and measure progress through NPS."
Applicant & Candidate
To keep up with changing provider needs, especially how they prefer to be contacted during their job search, healthcare staffing firms should consider adopting an omnichannel approach to engage providers effectively. This involves understanding when to use automated messages or a self-service platform depending on provider preferences.
"For per diem, and, to a lesser extent, travel nursing, we have an app. 60% of shifts are sent through the app, and providers get a notification, and then, with a click of a button, they can accept a shift. It frees up producers to focus on other activities," explained Courtney.
Courtney's team also has success with other modalities, like texting, to connect with per diem providers. Gross's team uses Bullhorn Automation to deliver messages at scale, and they are in the process of evaluating AI.
"AI is really exciting," said Gross. "We're in the infancy. How does AI solve problems that may be too costly to solve? Or problems that are not impactful enough for humans to solve? We have a team investing in this because of AI's many efficiencies and quick wins, such as just-in-time things like job descriptions, profile summaries, research, and content."
Employee
The credentialing and compliance process – a core component of healthcare staffing – has significantly changed over the past few years. One of the most significant changes is the use of technology to streamline the process and make it easier for providers to work with healthcare staffing firms.
These core processes are unique to healthcare staffing firms and can often cause delays and friction during the process. Courtney explained, "Credentialing is what makes healthcare staffing different from other staffing verticals. I think the industry needs credentialing consolidation so that credentials can be shared more easily across health systems and staffing companies. I also think that, as an industry, eventually, there will be credentialing criteria that are shared across health systems. It's so hard to get hired from one firm to another just because of the burden of credentialing and managing the sheer volume of what a nurse must do to get hired."
Niad emphasized the need for an integrated workflow to transform the credentialing process further: "You want your credentialing and compliance team to live in one system and drive as much of the workflow in one central view."
Just as important as maintaining compliance and up-to-date credentials is the need to pay providers on time and accurately. Errors during this phase of the provider journey can be costly and result in a poor experience for providers and clients.
Here, staffing firms should look closer at their tech stack to uncover ways to transform this crucial phase. "Thanks to our partnership with Bullhorn, we've integrated with BTE (Bullhorn Time & Expense) and Workday," Gross added. "It has dramatically impacted the provider experience and streamlined the billing process for our clients. It's been a huge win, win, win for our internal team, our clients, and our providers. And it really allows for scaling up."
Alumni
Alumni are a valuable resource for healthcare staffing firms as they can be redeployed into a new role, provide referrals for new candidates, and serve as ambassadors for the firm. Staffing firms should stay in touch with their alumni and keep them updated on the latest news and business developments.
However, many in the industry aren't tapping into this pool of qualified talent, according to Courtney. "We don't do as good of a job as an industry as we should at maintaining good, constant relationships. All of us have hundreds of thousands of candidates in our database, none of whom are working for us," said Courtney. 
Making this happen for the entire provider pool can be tricky without the right technology. Gross explains their approach: "We use Automation to help us with checking in, redeployment, and win-back campaigns. It helps recruiters to know when, where, and how to engage. We have a loyalty program to encourage providers to stay with us."
A healthcare firm's tech is only as good as the strategy, process, and people behind it. It's crucial that firms build a relationship-driven culture within their firm to encourage recruiters to nurture those relationships even after a provider's placement has ended. Providers want to work with staffing firms that have placed them in the right role, so firms that capitalize on this can better stand out against the competition.
Courtney explained how his team approaches redeployment and nurturing client relationships: "It's somewhat formulaic. We train recruiters to stay in touch with the nurse during their 13-week assignment. They're also talking to the facility to see if they want to extend another contract with that provider. We track where our candidates come from, and our top source of candidates is referrals."
Learn more about the trends and topics shaping the healthcare staffing industry.
Subscribe to the Staffing Blog
Subscribe for trends, tips, and insights delivered straight to your inbox.