Win a Free Ticket to Engage 2018! [#BullhornEngage Twitter Contest]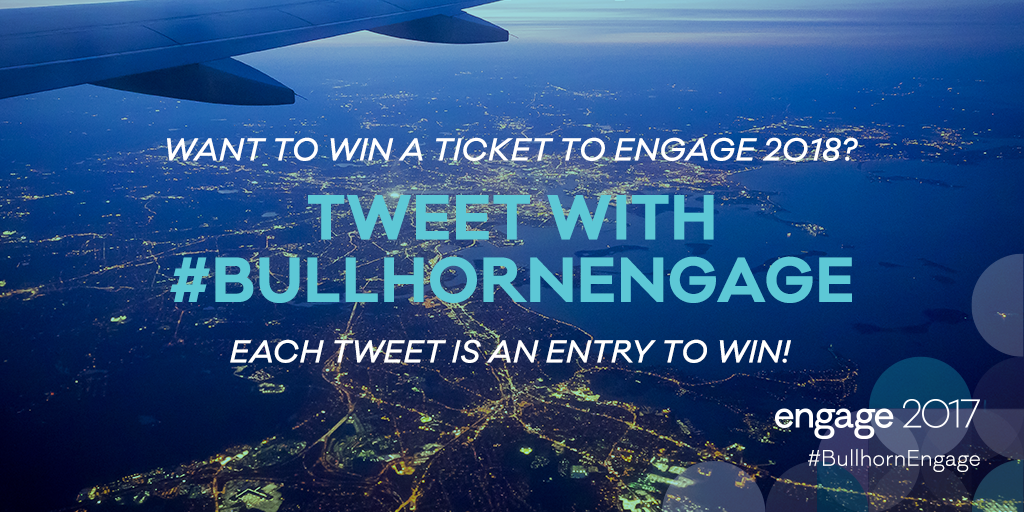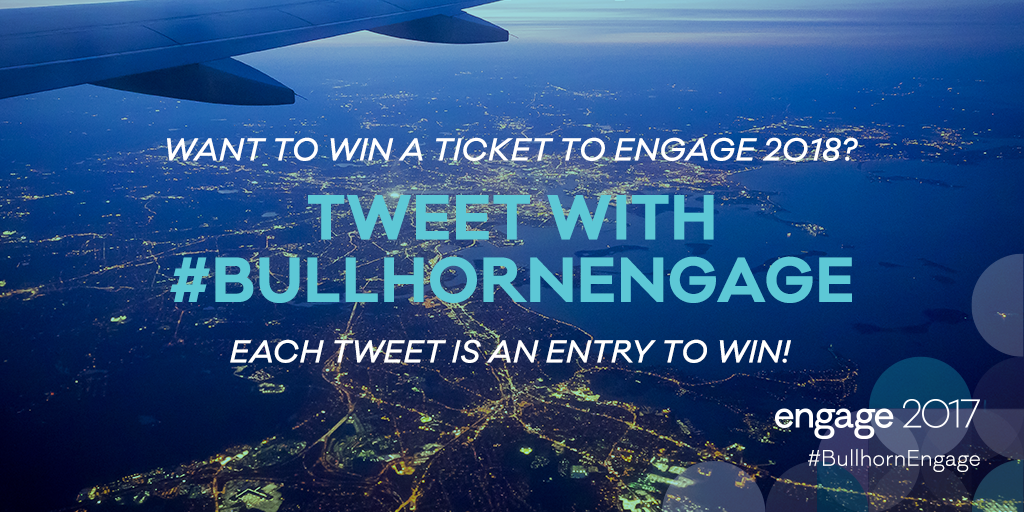 Engage 2017 is (almost) here at last and we couldn't be more excited about it! To celebrate, we're launching the #BullhornEngage Twitter contest throughout the event. Here's everything you need to know about it.
What is the #BullhornEngage Contest? 
There's so much to do and see at Engage 2017, and we want your help in capturing it all on social media. As our way of saying thanks to everyone who joins in on the fun on social media, we'll randomly select one person to win a free ticket to next year's event. See the contest page here for more details.
How Do I Enter?
Tweet about the event with the hashtag, #BullhornEngage. That's it. You'll be entered to win!
How Many Times Can I Enter the Contest?
As many as you like! Each #BullhornEngage tweet is an entry to win.
Who's Eligible to Win?
Any eligible user who tweets from an individual Twitter account. (Sorry, we can't award tickets to an entire company!) If your personal profile and company profile are on in the same on Twitter, add #BullhornContest to your tweet, so we know to count it as an entry.
To be eligible, you must be over 18 and not be an employee of Bullhorn, Inc. See full eligibility rules here.
I Don't Want to be Part of the Contest
Tweet with #BullhornEngage anyway—it's the official hashtag of Engage 2017.  The #BullhornEngage contest prize will be awarded to the first selected user to confirm they would like the prize. Don't want the prize? We'll select someone else.
When Does it Start? 
It's live now! The contest ends at midnight on Friday, June 9th.
---
Engage is the ideal event for exploring the opportunities and challenges associated with accelerating your business growth in the new relationship economy. You'll learn to build better business relationships and more effectively engage customers, candidates, and employees. We'll explore the impact of emerging technologies on relationship-based businesses. Now celebrating our 10th year, Engage brings together practitioners and innovative business leaders in B2B services industries including Staffing and Recruiting, SaaS, and Consulting, but is still intimate enough that you'll see some of your favorite staffing friends.
---
Subscribe to the Staffing Blog
Subscribe for trends, tips, and insights delivered straight to your inbox.