Exploring Company Culture and the Future of the Global Workforce at Newco Boston 2017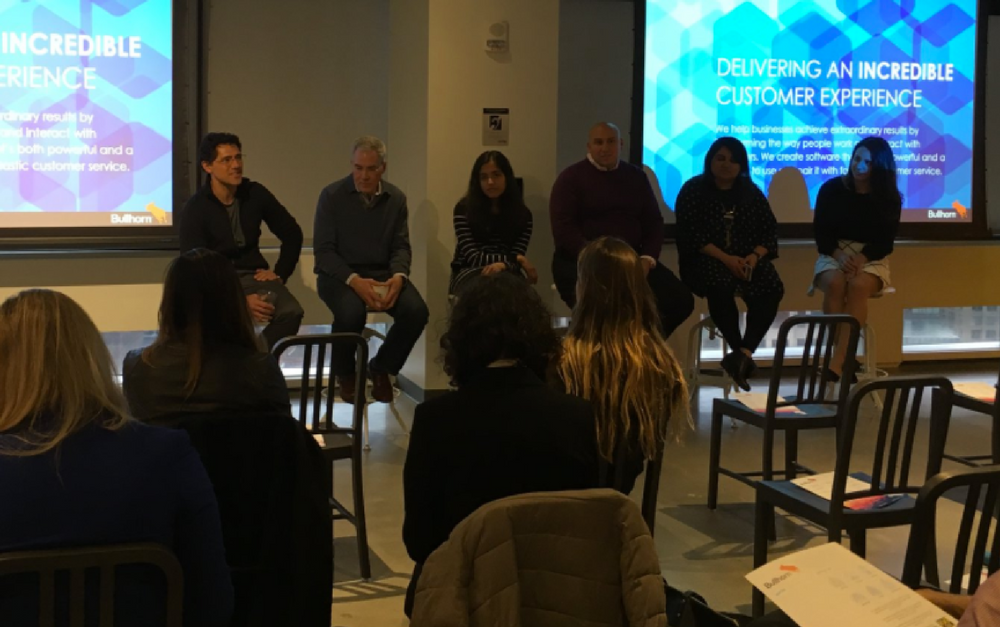 What's it like inside the office of an inspiring company? That's one question NewCo Boston 2017 answers, inviting attendees into the offices of innovative, purpose-driven companies. This year, we at Bullhorn were thrilled to participate, inviting attendees inside the doors of our global headquarters in Boston.
Held April 5-6, the two-day NewCo Boston 2017 festival celebrated Massachusetts' most inspiring companies and showcased the knowledge of its most innovative founders and top executives. It allowed more than 80 technology companies across the Bay State to open their doors and invite guests to learn more about their businesses, products, and cultures. MassTLC, New England's premier network for technology executives, entrepreneurs, investors, and policy leaders, presented the event locally.
Participating in NewCo Boston 2017, a panel of Bullhorn executives and employees discussed how the company has maintained its startup spirit amid rapid, global growth since its founding in 1999 and how its core values of ownership, be human, speed and agility, energy, and service have guided its culture. They also spoke about how artificial intelligence and machine learning will impact the future of staffing and recruiting.  
Founder and CEO Art Papas told participants—who braved a downpour of rain to attend—that Bullhorn's core purpose of "creating an incredible customer experience" is one of the backbones to its engaging workplace culture. After originally focusing on global dominance, Papas restructured the rally cry to be more customer-centric, which encouraged more cross-company collaboration to provide superior customer service.
As the staffing and recruiting industry looks to the future, fears have ignited around automation and machine learning that could potentially eliminate recruiters' jobs. However, the session dispelled this common myth by educating attendees that advancements in robotics and automation will actually create more job opportunities — not thwart them — and may even help promote recruiters.
Rounding out Bullhorn's panel included Gordon Burnes, CMO; Mike Restivo, CRO; Vinda Souza, vice president, marketing communications; Bansri Poduval, manager, software development; and Juliana Piemonte, inside sales account executive. All the panelists shared their stories about what attracted them to work at Bullhorn and how they've created thriving careers at the company.
A MassTLC member, Bullhorn is proud to connect with the greater Boston technology community. If you'd like to come run with the bulls, please view our career opportunities: https://www.bullhorn.com/careers/.
Subscribe to the Staffing Blog
Subscribe for trends, tips, and insights delivered straight to your inbox.