Captain "Sully" Sullenberger will Keynote Engage Boston 2018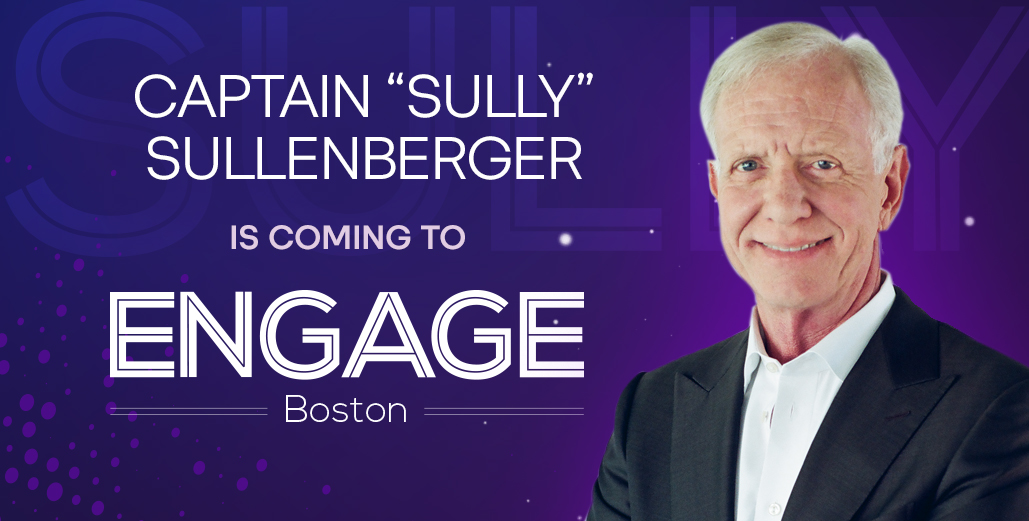 The moment we're all waiting is here—we're honored to announce that the "Miracle on the Hudson" hero, Captain "Sully" Sullenberger, is the headlining keynote at Engage Boston 2018.
Captain Sullenberger, known to the world as 'Captain Sully', became an international hero on January 15, 2009, when he and his crew safely guided US Airways Flight 1549 to an emergency water landing in the frigid New York City Hudson River after the plane's two engines lost thrust. The incredible feat earned Capt. Sully inclusion in TIME's "Top 100 Most Influential Heroes and Icons of 2009." He and his crew were also honored with the passage of a Congressional resolution for bravery and the French Legion of Honour. He had logged more than 20,000 hours of flight time at the landing.
Everyone's reputation is made on a daily basis. There are little incremental things—worthwhile efforts, moments you were helpful to others—and after a lifetime, they can add up to something. You can feel as if you lived and it mattered.
Capt. Sully Sullenberger
Sully's extraordinary moment of heroism that launched him into the international spotlight was the culmination of years of education, planning, leadership, and professional strength. In his can't-miss keynote, he will share inspirational advice on how to achieve similar high levels of performance through continuous learning, leadership, and culture. Whether you're just embarking on a career in staffing and recruiting or you're a weathered pro, Sully's advice on how to meet the unexpected with optimism and courage will radically change the way you operate on a daily basis.
We all think about how we would respond in a time of crisis, and so we're excited to announce Capt. Sullenberger's keynote at Engage, an inspiring story of leadership and resilience in a time of extreme challenge,
Art Papas
Bullhorn Founder and CEO
You can learn more about Sully and his tenets for preparedness, resilience, and achieving the remarkable in his books Making a Difference: Stories of Vision and Courage from America's Leaders and the #1 New York Times best-seller, Highest Duty: My Search for What Really Matters. The latter was adopted into the acclaimed major motion picture, Sully, starring Tom Hanks.
Sully joins an all-star lineup of passionate speakers at Engage Boston 2018. The 2018 speaker roster features inspirational authors, industry thought leaders, and brilliant luminaries guaranteed to energize and enlighten. Don't miss out! Register today with discount code SULLY to save $200 on your ticket.
Subscribe to the Staffing Blog
Subscribe for trends, tips, and insights delivered straight to your inbox.