Connected Recruiting: Where To Start (And How To Get Results)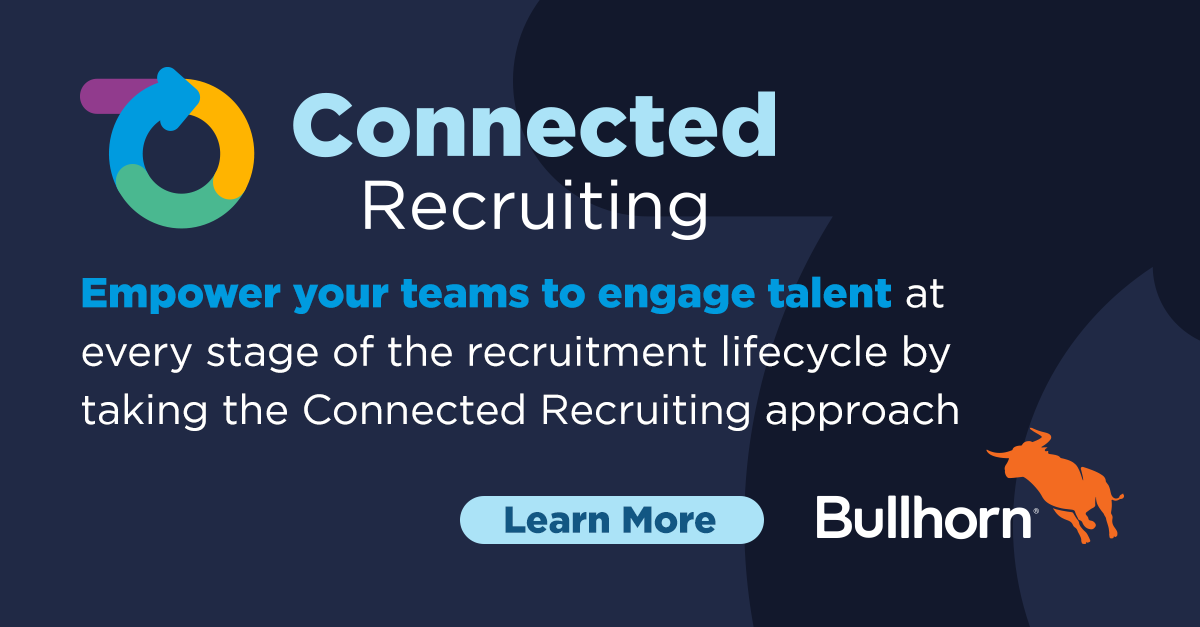 When it comes to engaging candidates during the hiring process, there's no shortage of best practices and technologies to help your team effectively communicate with candidates before, during, and after placement. 
But with hundreds, sometimes thousands, of candidates in process at once, how can you ensure each candidate is receiving targeted, personalized communication while still meeting the ever-increasing expectations of your clients? And how can your team provide a positive experience that will yield you a candidate referral or, better yet, the ability to redeploy that candidate?
We teamed up with a panel of recruitment technology experts to discuss the Connected Recruiting methodology, a strategy to help firms effectively communicate with candidates at every stage of the talent lifecycle to create a consistently engaged talent pool.
We've recapped the conversation below, highlighting insight on Connected Recruiting shared by Daxtra, Kyloe Partners, Haley Marketing, and Staffing Future. You can also watch the webinar on-demand to catch anything you missed.
There's a lot that the Connected Recruiting methodology can impact. Where should recruiting teams start?
Raymond Pennie, Kyloe Partners: Look at what you do today and go through it like a candidate. Seed your database with something that comes to you and try it. Don't forget about data hygiene. Start slowly and then get better and better. 
David Searns, Haley Marketing: "Map your process. Experience your own company's service. Determine where you have the biggest gaps, or where you can have the quickest wins, and start there."
Jack Copeland, Staffing Future: "It depends on where people are in their marketing, technology, and automation journey. There should be short-, medium-, and long-term goals. Start with low-hanging fruit to get recruiter and management buy-in. Don't try and get too sophisticated too quickly. It's a journey."
Focusing on attracting talent, what can businesses tweak that will be game-changing?
Searns: "Attracting talent starts early. Think about the intent of active and passive job seekers, how and where they will find you, the information they seek, and how to get them to find you and your jobs. Attracting talent is about content, SEO, social media, and managing your online reputation."
Chris Wirt, DaXtra: "Chatbot interaction can enable technology to serve candidates right-fit positions and even answer questions related to the role. All of these will improve the candidate experience but will also increase the click-through rates. We've seen stats as high as a 400-percent increase in apply/click-through rates."
Copeland: "Mobilize and empower your recruiters to easily expand your message. Make it easy for them to share jobs, content, and branding consistently. Enable them to leverage automation and other tools without fighting against marketing or breaking processes. Involve them in the conversations around what their candidates are attracted by, and get them to ask candidates what they feel is valuable. Make sure each of them understands your brand and message and what your company is about and can sell the business value."
What works best when it comes to engaging candidates effectively and authentically? 
Pennie: "Personalization is important. When you communicate with talent, don't send out-of-date communication or mismatches. Make sure you are keeping the data up to date. If someone has a new skill and a higher rate, make sure you record that properly. This forms the core of any nurture campaign and how you segment your communications. Therefore, update the skills, rates, and dates when someone starts a new assignment."
So it sounds like it's all about the data. What are the common segmentations you see to split up these different audiences?
Copeland: "We've seen many clients segment based on candidate engagement scores, how recent the latest touch point is, or even custom fields and triggers populated by campaigns. One of our clients would build landing pages or micro sites for specific candidates, then run segmented PPC campaigns to that landing page, and have leads convert to a tearsheet. Bullhorn Automation would run those triggers to pre-qualify them. For those that didn't engage, they have a ready-made list of talent they can nurture and then try and re-engage for the next big project in that area."
Put simply – you have to nail the onboard phase. You have a captive audience and the right person; you can't trip the finish line!
Pennie: "Think like you are the candidate and where might they be [in order to] to get the most positive engagement. For example, if your candidates are always busy working, things need to be very mobile-friendly. Provide reminders when something important might expire using their preferred communication method."
Searns: "When we think of onboarding, we tend to think about HR, administration, and providing job information. But onboarding is also about setting expectations for performance and communication and ensuring the unasked questions are answered. Whether it's via automated workflows, mobile apps, or help desk-centered communication systems, you can deliver an exceptional experience by sharing information that connected candidates want to know."
Last but not least is the nurture phase, often overlooked but maybe one of the most critical turning points in the cycle to keep it going. How can teams ensure they keep talent engaged during this phase to get a referral or redeploy the candidate?
Searns: "Nurturing is the key to maintaining career-long talent relationships. It improves retention, increases referrals, and builds your employment brand. Nurturing is about delivering personalized experiences that recommend the right jobs, sharing content, and demonstrating real consideration for the people in your ATS. Nurturing is about people. How will you use automation and content to build long-lasting relationships with your talent?"
Wirt: "Implement more efficient search capabilities by adopting AI-based search/match technology to more effectively rank candidates and reduce the possibility of missing candidates. Utilize automated matching to shortlist candidates. Make sure that recruiters are using all of the tools available from a searching/sourcing perspective, which will allow them to engage with a more diverse range of candidates and decrease time-to-fill. It's impossible to keep up with thousands of candidates consistently, but by using technology that can identify specific skills of candidates, chatbot and candidate engagement technologies can go a long way in making sure that you're constantly engaging with your database whether it's brand new placements or an improved redeployment strategy."
Copeland: "It's also important to have a nurturing strategy for candidates at the top of the funnel who are not in your ATS, including website visitors and candidates connected with your user base on Linkedin that are not yet in Bullhorn. They all have a small awareness of your brand and adding valuable content and building credibility over time will help them convert when they are ready."
Measurement is a crucial component of adopting the Connected Recruiting approach. I heard this quote recently from someone on the team, and it stuck with me: "What's important gets measured, and what gets measured gets done." What are the critical KPIs to check to see if you're making a difference by investing in the candidate experience?
Copeland: "You need end-to-end reporting on your conversation at every stage of drop off, from initial touchpoint when you receive a click to minor lead conversions to full lead conversion and, ultimately, revenue. Too many people start reporting on the candidates that apply and miss the whole top of the funnel."
Pennie: "Automation and onboarding can start to fall apart if the critical pieces of data aren't there. Take the manual processes out of the recruiter's hands and update your data on autopilot. If you have required fields, and you rely on a person to complete a task or fill that in, it's only going to get done correctly for the candidates that are a good fit for that point in time, but think about the candidate that came second."
We shared many things you can do, but who's responsible for making this happen?
Copeland: "Senior management needs to run the strategy, and recruiting/sales need to be involved. But to have success in deploying things like this, you need wider support from across the organization, including IT, Operations, Marketing, and external partners. It may be harder to track ROI tangibly, but the companies that lean into this process grow the fastest and build a brand. Too many companies are willing to spend the money on the traffic and on the technology but not the time to analyze and optimize, and, for team members tied to quota, it's often a distraction."

Subscribe to the Staffing Blog
Subscribe for trends, tips, and insights delivered straight to your inbox.