Engage (2015) to Win – Ryan Estis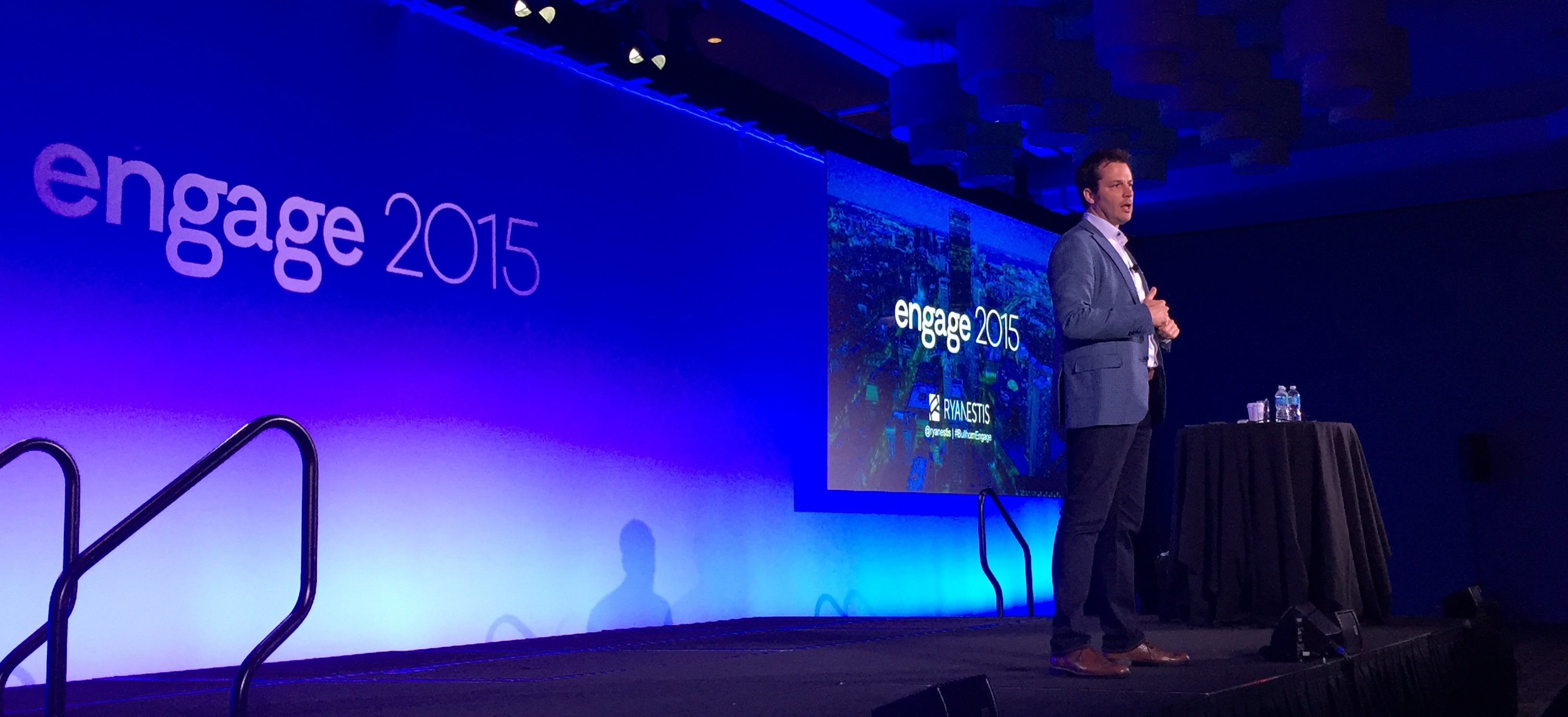 According to Ryan Estis, this is the best time to be in business in the last twenty years. Six years ago, of course, it wasn't such a great time. In January 2009, Estis's boss called him and told him that, even after a series of layoffs, his company would be laying off an additional 30% of the workforce. After thinking it over, Estis decided to resign from his position as Chief Strategy Officer at a company where he'd worked for fifteen years. He felt that the decision had been driven by a fundamental, underlying issue, not just by the economics of the recession. Estis realized that he needed to step away, reinvent himself, and become an entrepreneur. Since his resignation, he's learned two valuable lessons:
Holding onto the status quo when the world is changing fast is a pretty dangerous way to approach business. His business should have been attempting to jumpstart business with creative initiatives like those at Engage 2015, but instead, there were strong pockets of resistance.
We are on the cusp of another transition that's just a significant as the 2008 shift – different, but just as significant. The next five years can be a hugely rewarding time if you can meet customers' needs.
As Art noted, customers are different today. Forrester Research has labeled the next five years as the era of the customer. There will be more changes in the customer universe in the next five years than there have been in the past fifty years. Today's customers are more savvy, sophisticated, and informed, and they've done their homework. Your team has to meet them in a different place than they did even five years ago.
There are so many more buying options now for customers, and competition is just a click away. This especially applies to the hyper-competitive recruiting industry. Because of this competition, expectations have naturally been driven higher – what used to be good enough won't drive growth in business through to 2020. Average just isn't good enough anymore.
In order to win in the era of the customer, the focus must shift from what your company does to the way it does business. And in order to get this "how advantage" over your competition, you have to be consistently remarkable, enough so that your customers will be forced to remark positively on your business.
There are three things you can do with your customers right now in order to improve your opportunity to win:
Provide compelling insight – You have to be able to teach people things about their employees and customers that they don't know. Customers don't care about your business and its legacy pitch. They care about their business and their growth – you're way down at the bottom.
Deliver deep customization – You should commit to a single vision for your customers, but also offer the ability to adjust to your customers' specific wants and needs. What matters most to your customers are their culture and customers.
Create a sense of urgency – This is difficult, but depicting a situation of absolute need for your customer is very important for the strength of your relationship.
Estis then revealed that he'd provide the audience with four crucial principles to better engage customers.
1. Brand the customer experience – Create a process and a language for your people to embrace that gives you an identity with the customer. What's your identity, your story, your compelling differentiation? Can you execute on it consistently? That's when the magic happens.
Demand vision
Brand strategy
Resource optimization
Creative content
Customer engagement
Demand performance
Relationships precede financial results. If you put people first, performance and profitability will follow. Instead of focusing on how to be successful, focus on how to be helpful. If you get people to where they want to go, they'll return the favor.
A great deal of this depends on how you decide to show up. Every touchpoint with a customer is an opportunity to add value and build a relationship. You decide how to respond to the challenges you're confronted with, even the ones that are beyond your control. As a leader, everyone is paying attention to your example. As Kip Hollister covered in great detail, your company's culture is a reflection of how you lead.
You have to drive referral growth into your business. How?
1. Be a connector. You have to make more referrals yourself, without the expectation of anything in return.
2. You have to make it easy. You must earn the right to ask, then ask, and make it easy for people to refer you. If you want your customers to be evangelists for your brand, you have to have brand evangelists in your organization.
2. Lead from a Position of Influence – Influence isn't about tenure and title. You only really need two things: effective communication skills (both listening and speaking) and courage. You have to embrace change, set standards and expectations, and hold people accountable consistently. If you want a high-performance culture, you have to go first, and tell people what they can expect from you.
The way we engage with customers and candidates is going through a fundamental shift due to the advance of social media. You have to be able to speak socially to Millennials. Estis loves social media for two reasons: 1. It provides your company with a more robust data set to make business decisions and 2. It's a catalyst for growth in your business. The strength of online relationships are huge. They're not just changing business, they're transforming life. Estis' blog changed his business entirely – he feels that there's no chance he would be as successful without it. Used effectively, the connections you develop from social media can become some of the most effective connections you'll make.
3. Be a Culture Champion – You have to be the living representation of the culture that you want your company to embody. Every day, you should strive to be better than you were the day before. At the Mayo Clinic, the mission statement is, "The needs of the patient come first." This isn't just a meaningless mantra at Mayo – it's a way of life, and it changes the lives and careers of those who choose to carry it with them. The philosophy of a life-changing career comes from the top, and it's the outcome of extraordinary leadership.
4. TAN Plan – Take action now. Plan to take three ideas away from Engage 2015 and work to apply them to your business in the next 30 days.
Subscribe to the Staffing Blog
Subscribe for trends, tips, and insights delivered straight to your inbox.