How Will You Meet the Moment? The Best of Engage Boston 2022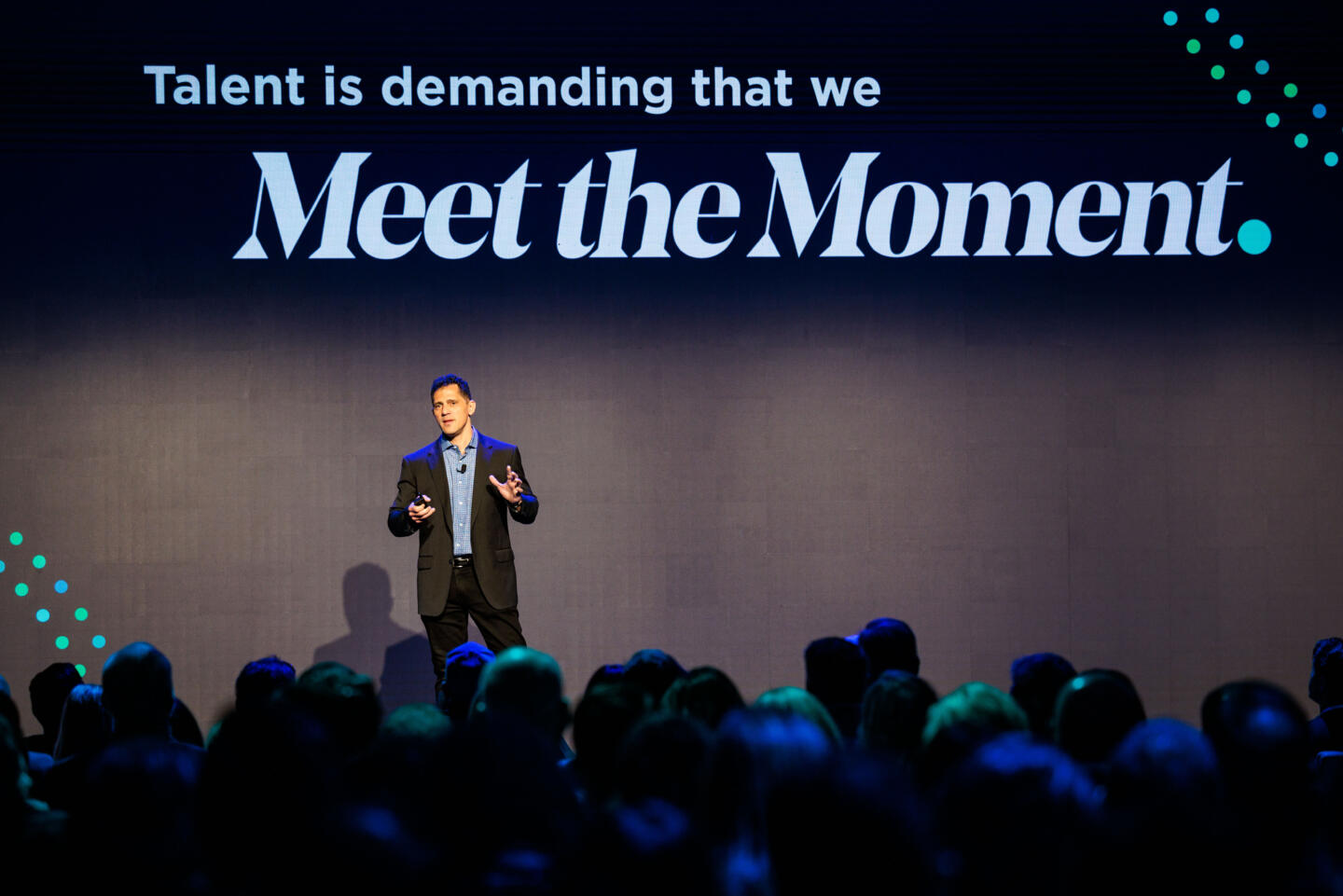 44 speakers. Over 1,000 attendees. 47 sponsors. And too many handshakes, hugs, and smiles to count. At Engage Boston 2022, we finally had the opportunity to get together in person with our customers, staffing peers, and partners for the first time in three years. 
It couldn't have come at a better time: while in-person gatherings may have resumed, the world is far from back to normal. Staffing leaders are trying to contend with many challenges, from this new phase of the pandemic to economic and geopolitical instability. Engage Boston was an opportunity to share best practices for overcoming these obstacles and discussing what it would take to meet the moment that we find ourselves in. 
Here are some of the highlights that you can take back to your teams. 
And if you want to relive your favorite moments or catch up on any content you missed, check out our Engage Boston 2022 Content Hub.
Meet the Moment
The world of work has fundamentally changed since we last met in person at Engage Boston 2019. A key theme of Engage Boston 2022 was how staffing firms can overcome challenges, take advantage of the opportunities ahead, and use technology to meet the moment and improve the candidate, client, and employee experience. 
This message permeated the keynote address delivered by Bullhorn Founder and CEO Art Papas and the "Vision for Innovation" presentation given by Matt Fischer, President and COO, and Jason Heilman, SVP, Product, Automation + AI.
Art kicked off his opening keynote by acknowledging the vast transformation the last few years have brought in how both professionals and consumers use technology, including its vital role in building a strong culture and community within an organization. Businesses like Target and Home Depot that rose to the occasion, transformed their technology, and created a community within their customer base saw huge gains in market share during the pandemic. "Culture is not about ping pong tables and lunch in the office," said Art. "Culture is how you treat each other. Community is when you get people together and they feel like they're part of something."
But with talent at a premium and teams working remotely, how can firms ensure they create a great internal and external culture? Technology can make all the difference, as Art emphasized: "Tech is a critical enabler of growth. Companies building apps aren't just building them for the sake of technology; they're doing it because the world is different, and they have to respond."
Once you've established the foundation of technology within your business, the key is ensuring you're using that technology in a way that's both personal and scalable. Art introduced the Connected Recruiting methodology to address the ongoing need to attract, engage, onboard, and nurture candidates so your team can ensure an incredible experience for your talent, create an ever-growing and consistently engaged talent pool, and lower your cost of talent acquisition.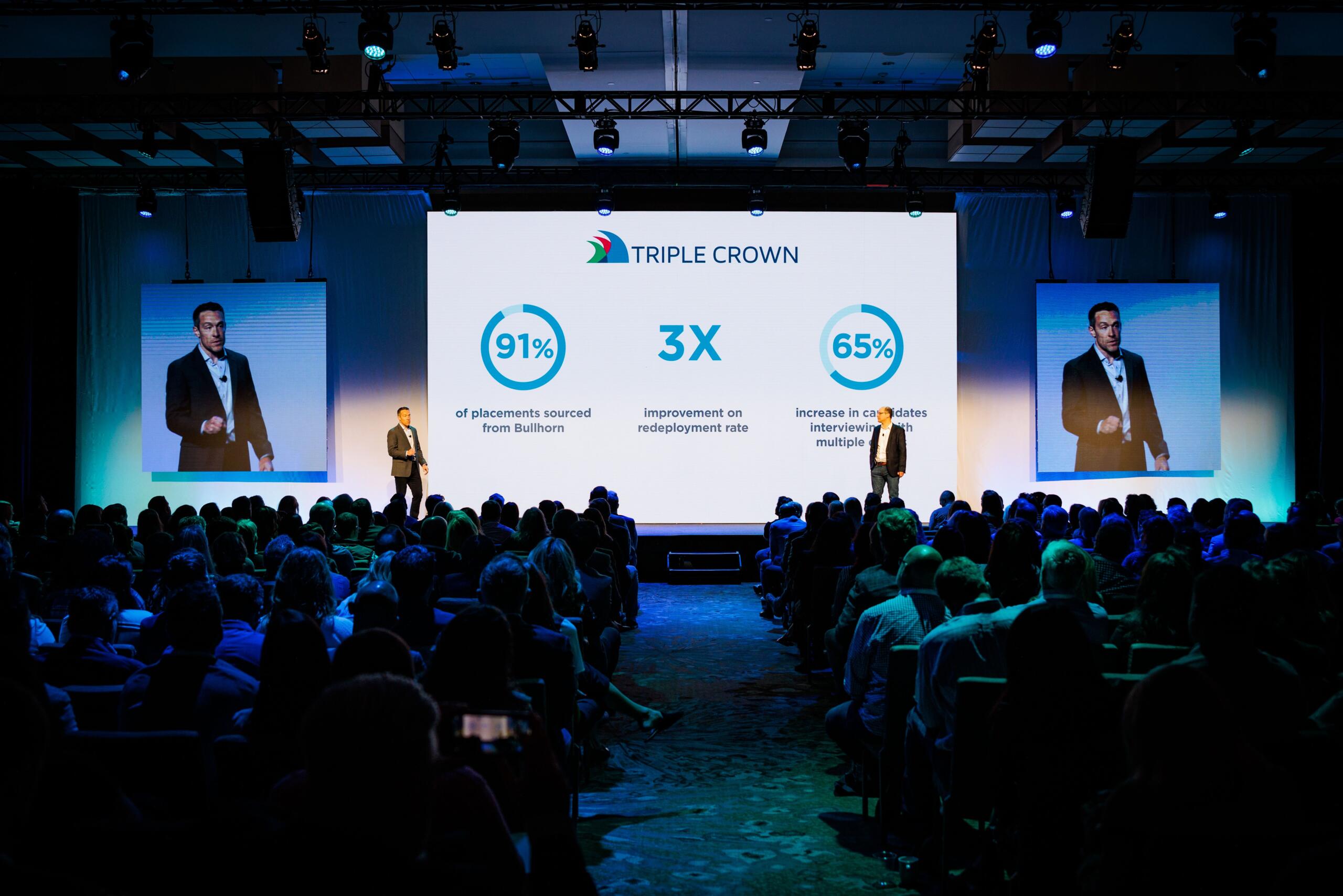 After putting this methodology into practice, the key is continuous testing and measurement to identify learnings and areas for improvement. Staffing firms must embrace this transformation and double down on nurturing talent relationships to increase referral and redeployment rates, both vital components of the Connected Recruiting strategy. And at the heart of it all? "If you keep people engaged, you can keep redeploying them and build a community," noted Art. 
Continuing the theme of meeting the moment, Matt Fischer and Jason Heilman took to the stage to emphasize the opportunities automation affords firms to elevate the experience of both talent and clients. The key is to build a strategy that enables your team to keep things personal while reducing time spent on manual tasks. And the payoffs can be huge, as Matt and Jason shared: "Those using [Bullhorn] Automation are seeing almost twice as many interactions as those not using Automation, and are making 30% more placements."
As Matt and Jason showed, automation can transform more of your recruitment processes than just reducing manual tasks. From targeted engagement that you can track, to a seamless experience from candidate to employee, to using actionable feedback to improve referral and redeployment rates, Automation enables you to hire more of your best candidates and increase overall candidate and client satisfaction.
A Look at the Staffing Industry in 2022 (and What's to Come)
Throughout Engage Boston 2022, we took a look at the state of the industry and discussed predictions and considerations for the future of staffing. From the talent shortage to the rise of remote work and the Great Resignation (or Great Reshuffling), staffing firms in 2022 are faced with new challenges and longstanding obstacles, including the growing importance of building a scalable candidate engagement strategy and the vital need to future-proof your business.
Vanessa Fucciani, President of Triple Crown, explained how her team transformed their redeployment strategy using principles from the Connected Recruiting methodology:
"We did a lot of work with the marketing team to always be top of mind with our candidates and clients. Now, we look at redeployment every week. We contact them right before the end of their assignment and try to get them redeployed within eight weeks."
Andrew Limouris, President and CEO of Medix, shared one way his team is navigating the talent shortage:
"When we have a candidate without all of the job requirements, they might still be a good fit for a client. It's more important than ever to know the client so that they can sell the candidate. It's essential to know the candidate and know the client. How are you getting creative? That's the kind of mindset needed in this place and time."
Teresa Carroll, Founder and Principal Consultant of Three Data Points, explained her approach to future-proofing a staffing firm:
"The way to focus now is specialization. Flip it to talent however you can. Everyone is realizing that talent will be in the driver's seat. Take care not only of your employees, but you can [also] disrupt the industry with how you take care of your temporary employees. Spend time really understanding that community."
David Schwartz, Senior Managing Director of Blackstone, summarized the current state of M&A in the staffing space:
"The shift in the industry from being historically surge-driven and low-skilled labor to a strategic approach with higher-scale labor on a contingent basis has made the industry more scalable and investable from a private equity perspective. That has driven a lot of M&A activity."
Unlocking the Benefits of Technology in 2022 and Beyond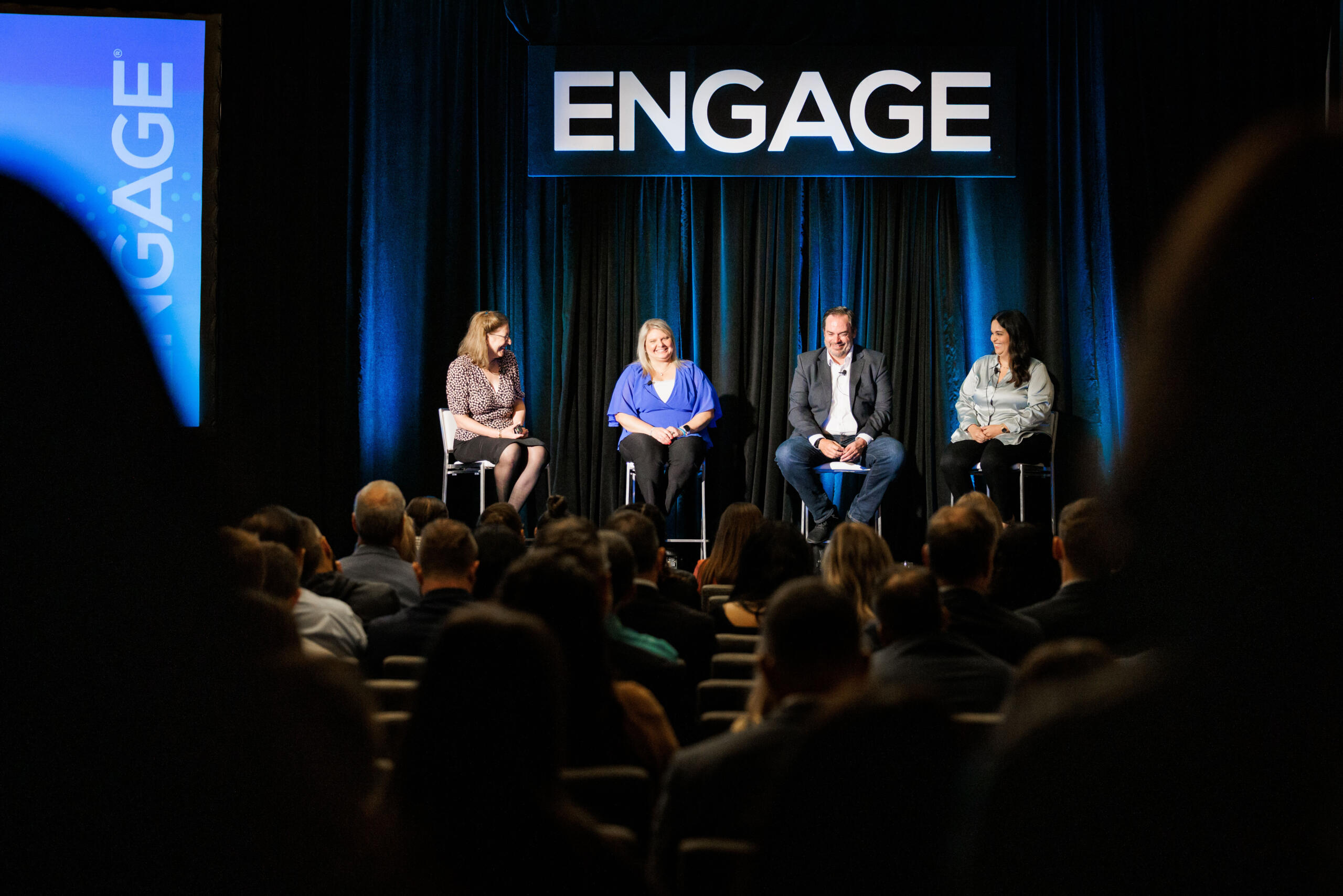 Given the lasting impact of the pandemic and the industry's shifts in the face of the new world of work, utilizing technology to meet the moment was predictably a common topic amongst speakers and attendees at Engage Boston. Speakers addressed a wide range of topics, including:
How can firms grow their business in a post-pandemic world?

How can recruiters keep strong relationships with candidates and clients?

How can you utilize technology to meet the moment and exceed client expectations?
Jeff Beckmann, CFO at LRS, emphasized the importance of digitizing your systems and working out of a single source of truth for talent and customer data:
"We had everything in different places. We needed a single source of truth. Now, everyone's rowing in the same direction. We've been able to speed things up and spend less time searching. It's all there so we can care for the customer."
Billy Davis, Product Manager – Automation and AI at Bullhorn, weighed in on how to meet talent where they are:
"You need to capture their preferred method of engagement now. The secret is an omnichannel mix—some candidates won't like a chatbot, others will, especially with different generations."
Dena Campbell, SVP of Systems and Strategy at Vaco, shared why her team is doubling down on candidate experience:
"We learned people are expecting and demanding more, like flexibility and working from home. Candidate experience came up again and again as a priority. Our culture is important, and we have to deliver for our candidates."
Success Stories and Lessons Learned from Bullhorn Customers
One of the best parts of Engage is hearing from fellow staffing industry experts and leaders on what's working, what can be improved, and lessons learned along the way. Engage Boston 2022 was no different, with an entire breakout session track dedicated to sharing customer stories and experiences. From the increasingly complex healthcare staffing vertical to building a scalable tech stack, our customers shared words of wisdom touching on every aspect of the recruitment lifecycle.
Amy Reed, Vice President Operational Strategy at CHG Healthcare, shared why automation is crucial in fast-paced healthcare staffing:
"The second you are not following up with someone, there is another person who is. There is automation and technology, but you still need to create that relationship at the end of the day."
Tim Pröhm, VP of KellyX at Kelly Services, discussed how his team finds value in their tech stack and the Bullhorn Marketplace ecosystem:
"Part of the scalability for us is making sure it works for the vendor and us. The Marketplace concept takes a lot of pain and guesswork away from an organization."
Mandy Resmondo, Corporate Vice President, Search & Interim, hrQ, a LandrumHR Company, provided advice on change management when implementing new technology, such as Bullhorn One:
"Our team was very excited to move to a tool that was so intuitive, and we brought them along during the process, so they knew where we were at and where we were going."
TJ McGoldrick, Vice President – Delivery at The Baer Group, broke down how to make recruiters more comfortable using automation:
"Automation is a process and a journey. We look at three things to make our recruiters comfortable with automation: first, automation improves data health; second, automation is an enhancement, not a replacement; and third, automation is a safety measure for when the recruiter is unable to get to a task."
Thank you to all of the attendees, speakers, and sponsors who made Engage Boston an incredible and unforgettable experience. We can't wait to join you next year for Engage 2023!
---
Check out more Engage highlights and resources on our Engage Boston Content Hub.
Subscribe to the Staffing Blog
Subscribe for trends, tips, and insights delivered straight to your inbox.