Highlights from EngageX 2020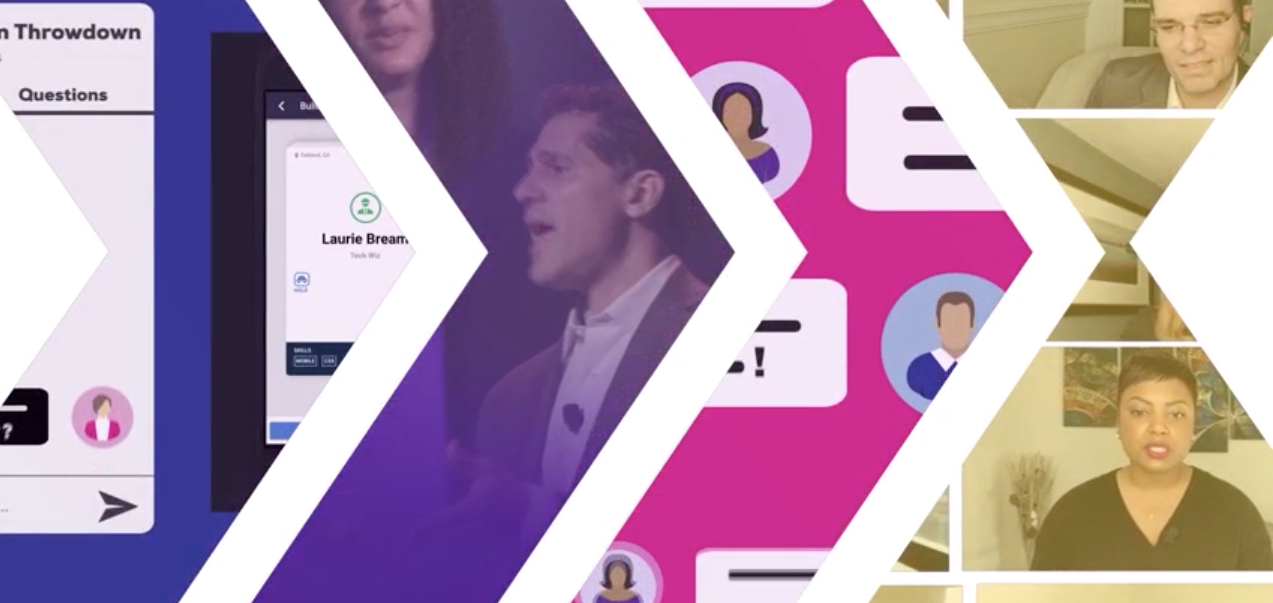 On the first day of
EngageX 2020
, the online experience, thousands of staffing and recruiting professionals came together in one (virtual) space to network, learn, and discuss challenges, opportunities, and everything in between. If you want to relive your favorite moments or catch up on any content you missed, you can
watch the breakout sessions from Day 1 on demand right now
. Read on for a recap of the major themes and conversations from Day 1 of EngageX.
Creating a Better Future
In the wake of COVID-19 and its long-reaching, devastating impact on the personal and professional lives of those in the staffing industry, many of the speakers at EngageX focused on how we can build a better future for ourselves, our businesses, and the world at large. Bullhorn CEO and Co-Founder Art Papas and former NASA Deputy Administrator Dr. Dava Newman each tackled the theme of looking forward and creating a better tomorrow through two very different yet inspiring keynotes.

Art Papas started his keynote with a look at the current state of the industry. Due to Bullhorn's access to thousands of records of staffing and recruiting activity, we have a unique insight into the degree of which COVID-19 has impacted business activity.
The verdict? Key indicators like job orders fell to 50 percent of normal activity during the pandemic, but all signs point towards recovery now. Most sectors are still down 30 percent from pre-pandemic activity, but the trajectory is upward heading into the future.
He then spoke of the various opportunities available to staffing firms right now. One opportunity is the emergence of new roles that didn't exist before and the transformation of existing roles to the world of remote work. He shared the story of one customer who placed 4,000 temperature-takers in the U.S., a job that had no demand three months ago.
The second kind of opportunity is the opportunity to eliminate manual work through automation. By automating time-consuming tasks, staffing and recruiting companies can spend more time on relationship-building and innovating.
Finally, on the eve of Juneteenth, the celebration of the end of slavery, Art Papas spoke to the unique opportunity staffing companies have to create a better tomorrow. As inequality and injustice continue, those in the people industry have an opportunity and a platform to have conversations with talent and employers and shape a fairer, more inclusive world of work.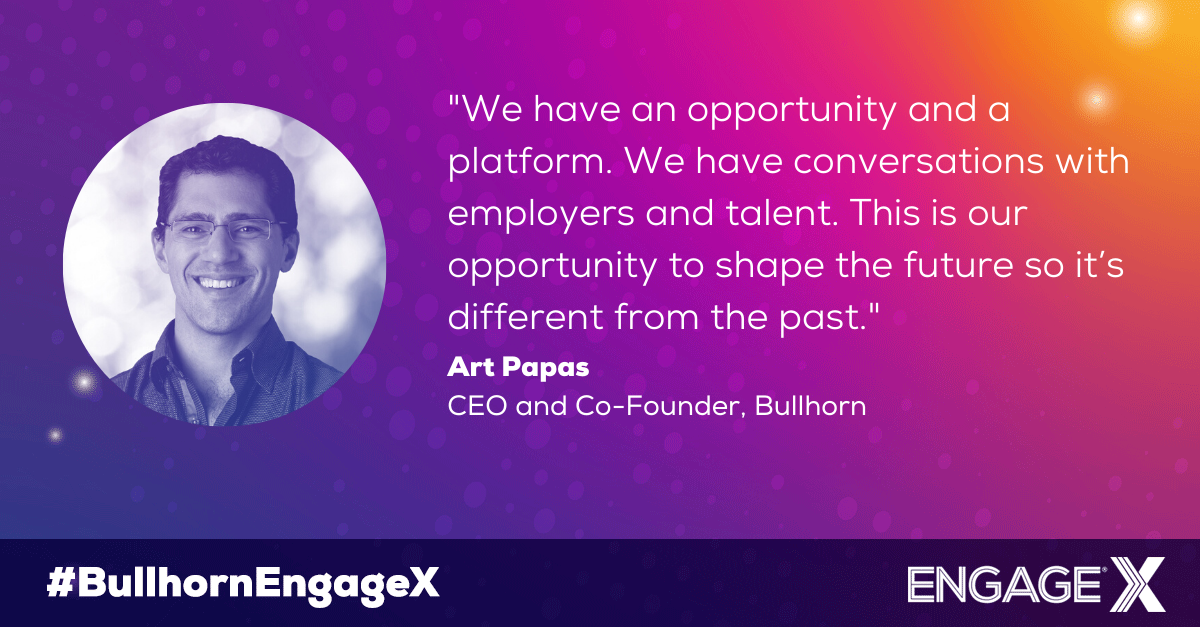 Optimism also exists for the immediate short-term future of the staffing industry. Nearly 400 staffing pros shared their outlook for the next quarter in a live poll. More than 70 percent of companies expect business to improve, and less than a tenth project their performance to decline.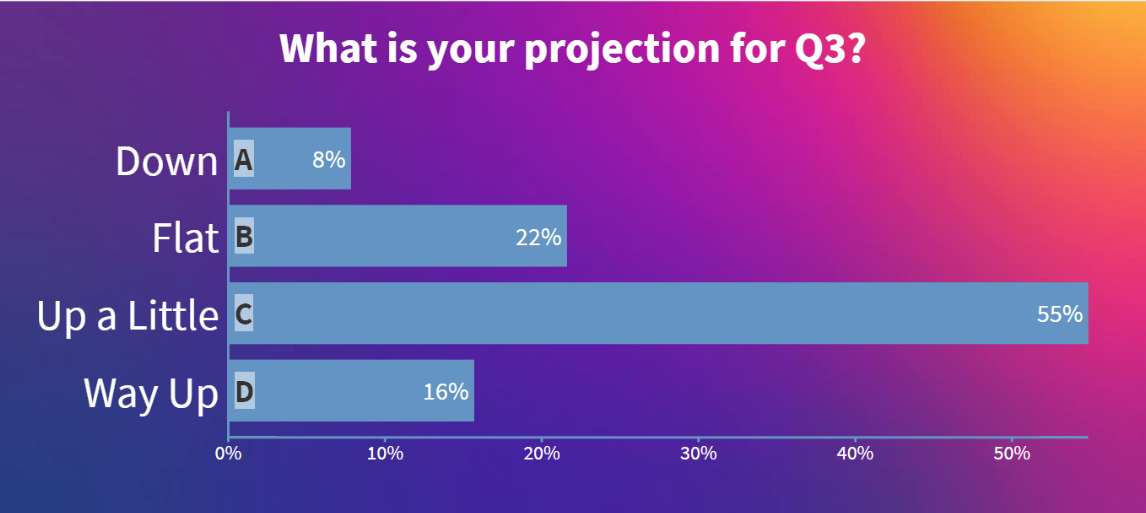 For the second keynote of the day, Dr. Dava Newman, MIT Apollo Professor of Astronautics & Former NASA Deputy Administrator, shared lessons learned in her pioneering career that are especially relevant now to staffing and recruiting professionals: the role of a good leader, how to learn from failure, and the role of diversity in the future of work.
As the Deputy Administrator at NASA during the Obama Administration, Dr. Newman had to lead a diverse group of talent to take on challenges no one had ever tackled before. To do so, she developed an innovation framework. There are four kinds of innovation:
Continuous Innovation: With your existing organization and technology, what can you do every day to be better and to improve?
Revolutionary Innovation: What can you accomplish when you keep your existing organization model but implement new technology?
Disruptive Innovation: What can you accomplish when you take your existing technology but adopt a new approach?
Transformative innovation: What challenges and opportunities are present when you start completely from scratch with new technology and a new organizational framework?
Dr. Newman then spoke about the power of innovation to transform the future of work. As new technologies emerge and boost countries' economic output, and how can we leverage that growth to solve issues of inequality and lack of opportunity? And what lessons have we learned from the pandemic towards these goals? Dr. Newman shared three takeaways:
Good leadership has the power to transform and bring in new ideas
We have to adapt quickly to make the most out of the current landscape
The pandemic has exposed our weaknesses: we need to learn from our mistakes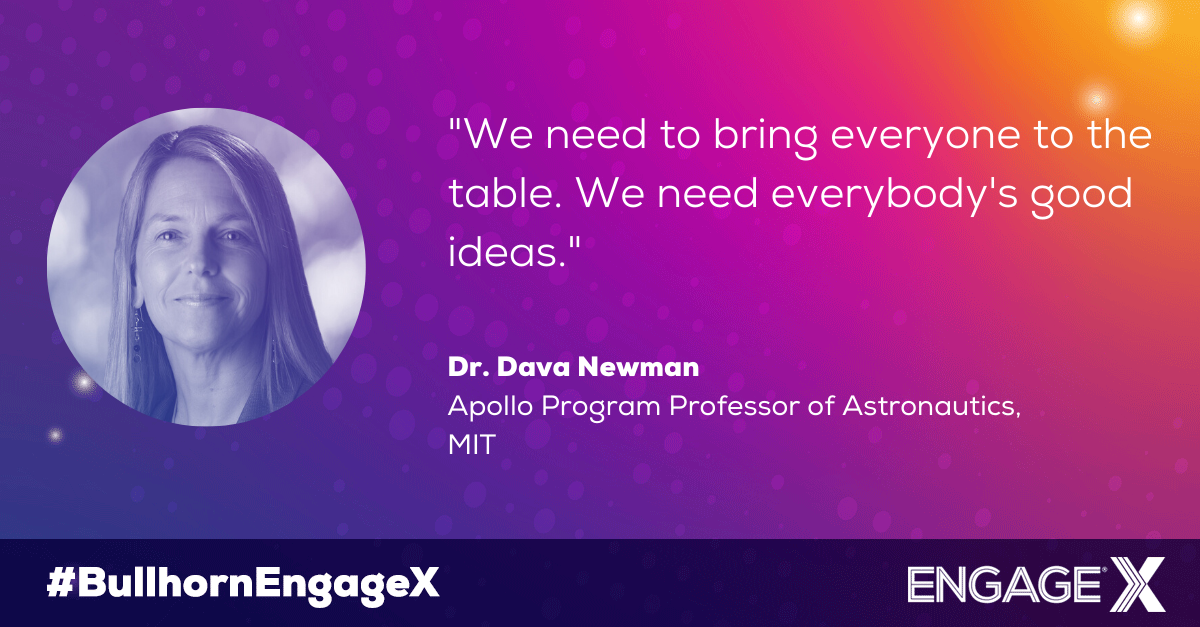 Succeeding as a Staffing Firm in the Wake of COVID-19
Given the outsize impact of COVID-19 on the staffing industry, it was predictably a common topic amongst speakers and attendees at EngageX. Speakers addressed a wide range of topics pertaining to COVID-19 and its aftermath including:
How can firms grow their business post-COVID-19?

How can recruiters keep strong relationships with candidates and clients?

How do you handle the mental and emotional stress of a pandemic?

What are the legal implications for staffing firms?
Reminder: attendees can watch all of the Day 1 Breakout sessions for a limited time. Here are some highlights:
Sirmara Campbell, the Chief Human Resources Officer at LaSalle Network, emphasized the importance of strong leaders to weather the challenges of a pandemic: "We believe the best way to lead employees is through transparent leadership. We've chosen to overcommunicate with our staff and implemented weekly townhall calls with the entire organizations."
Yvette Cleland, CEO of Clinical Professionals, shared some of the unexpected positive consequences of the pandemic on candidate relationships: "Pace of candidate contact has gone up. We've seen a better quality of meetings with senior candidates, in turn bringing in more jobs. Candidates that were previously slow at getting back, now suddenly could work virtually and had to."
Barry Asin, President of Staffing Industry Analysts, discussed the potential for innovative ideas and solutions to emerge in the aftermath of the pandemic. "A downturn can be an accelerant to change. In 2008 we saw that with VMS—the last large innovation in the staffing industry."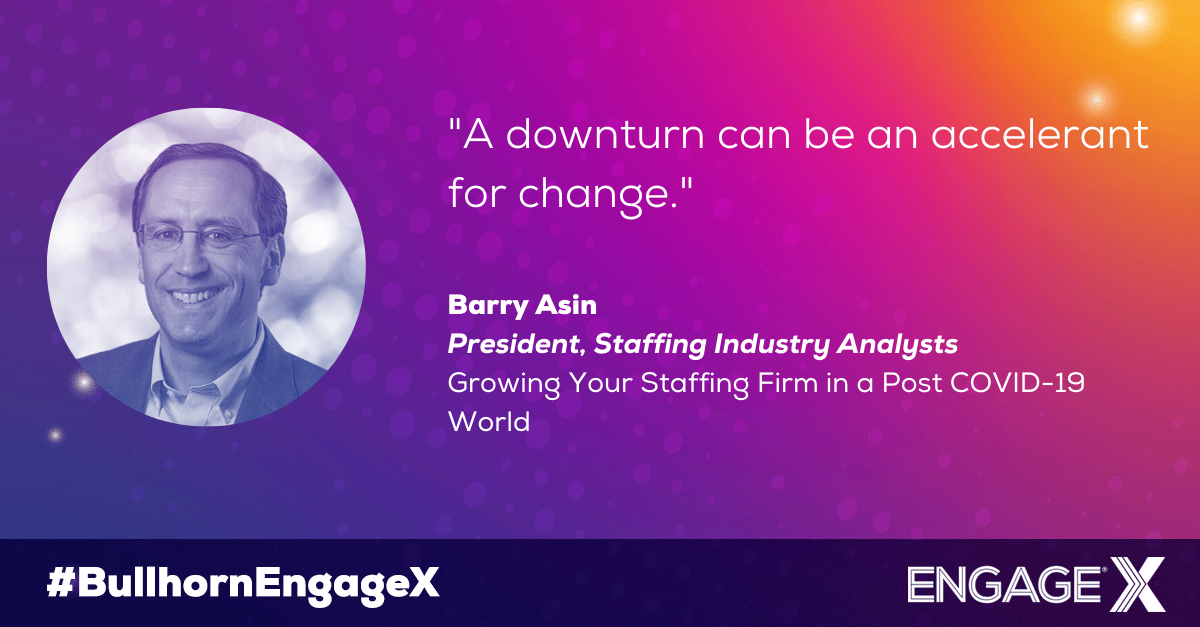 The Power of Discussion and Asking Questions
One of the tenets of Engage is that staffing professionals are at their best when they come together and learn from one another. Accordingly, it was critical that we capture the spirit of meaningful conversation in an online setting. On the first day of EngageX, attendees participated in hundreds of one-one conversations with Bullhorn experts, Marketplace Partners, and their peers.
The sessions throughout the day were also interactive, with speakers answering questions during their presentations. Here are some top questions and answers that took place in the breakout sessions.
Rigidity versus Resilience: Unlocking the Power of People in a COVID-Impacted World
Q: How can we use gamification that directly impacts our business and doesn't cost much?
A: Gamification is a science, but that doesn't mean it has to be expensive. You can add 'game elements' to your daily workflow. This can be as simple as badges and medals, but you can also take it one step further.
Technology-Driven Recruitment Marketing: Candidate and Client Lead Generation to Scale Your Business
Q: Can you clarify what A/B testing is and how a staffing firm would use it?
A: A/B testing is the ability to create two variations of a message and test it against a sample of your audience. You can then use your findings to deliver the winning variation to the remaining group. A good example would be adjusting the message of your subject line. Variation A would get sent to 5 percent of your audience while variation B would get sent to a different 5 percent cluster. When testing subject lines, you'll likely use your Email Open rates as a way to determine which subject line was stronger.
Growing Your Staffing Firm in a Post COVID-19 World
Q: What tech positions will be in the highest demand post-COVID-19?
A: The best tech positions are the ones that your firm is uniquely skilled to deliver better than others. Right now we are seeing lots of interest in cloud, cybersecurity, mobile, and health IT.
Fighting Legal Battles for Staffing in the Time of COVID-19 – What Staffing Executives and their Clients Need to Know Now
Q: What practices and protocols should we use to deploy our contract workers to ensure their safety during COVID-19? And how can we protect our firms from potential litigation?
A: Staffing firms should utilize safety and health questionnaires for workers; they should also utilize ASA's safety checklist to assess client worksites. Staffing contracts should also specify that the client will adhere to all health and safety laws.
Thank you to all of the attendees, speakers, and sponsors who made day 1 of EngageX an incredible and unforgettable experience. We can't wait to join you for Day 2. Stay tuned for the EngageX wrap-up recap!
---
Want to read more about the topics that matter most to staffing professionals? Subscribe to the Bullhorn Blog for news, tips, interviews, trends, and more.

Subscribe to the Staffing Blog
Subscribe for trends, tips, and insights delivered straight to your inbox.