How to Improve Your Candidate Experience with Video Interviewing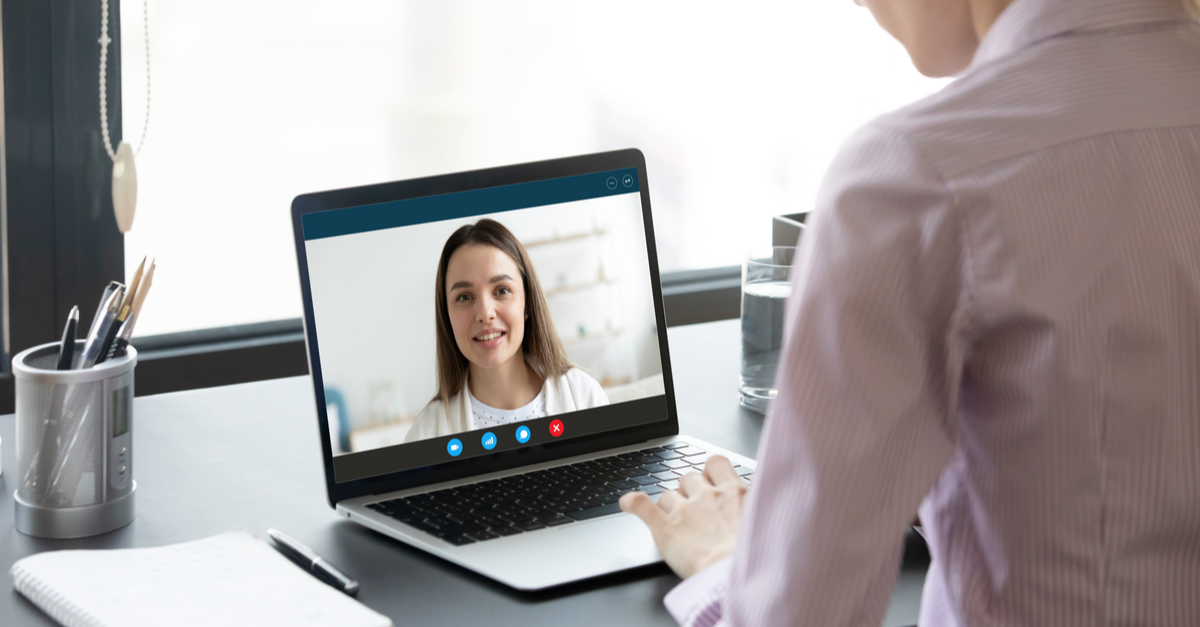 In a fully remote world, maintaining a great candidate experience throughout the hiring process can be tough. 78% of candidates say their overall experience indicates how a company values its people and, without in-person meetings or office tours, they feel more disconnected from the interview process than they normally would. Not to mention, the idea of joining a new company during an economic downturn is daunting and candidates need to feel confident from the outset of the hiring process. One solution for these concerns is video interviewing.
Video interviewing solutions are groundbreaking for remote hiring as they allow recruiters and hiring managers to remotely replicate their interview processes as closely as possible. Candidates love them too: 81% find digital interviews to be innovative. Beyond just being interesting technology, video interviewing software is packed with tools to help you hire the best candidates for your organization while ensuring that they have a positive experience along the way. Here's how: 
Streamlined Hiring Process 
With video interviewing software, your team can curate a consistent, clear, and branded process so that candidates seamlessly move through each step of the process without a hitch. 
First, you can put together a question set that's specific to the position you're hiring for based on the core competencies that are essential for success in that role. From there, candidates can complete a one-way video interview, answering your questions with short video responses on their own time. This is completed within your own company branded portal, where you can personalize the candidate experience by uploading welcome videos, recording recruiters asking the questions, and more. 
Once screened, candidates can easily schedule a two-way interview via text or email for a time that works best for their calendar. With automated email or text updates and reminders, they'll continue to feel involved and invested in the hiring process. By giving candidates control, 80% schedule their interviews within 24 hours of receiving an invite (and you'll reduce time spent scheduling interviews by a whopping 84%). 
Every step of the way, your team can take notes on your candidate's profile, providing feedback and to-the-minute updates so when it comes to the actual interview, hiring managers won't miss a beat. This friendly, cohesive candidate experience culminates in a live interview that candidates can participate in at any time, from anywhere in a branded interface that they're already familiar with. 
Fewer Opportunities for Bias 
Structured digital interviews help to remove unintentional bias from the hiring process because they're predetermined in nature. Regardless of a candidate's ethnicity, race, or gender, hiring managers and recruiters can ensure the same consistent experience for every candidate that applies for a job. This way, interviews are based on a position's requirements, not the individual candidate. Further, video interviewing platforms like interviewstream record and store interviews for two years. By keeping these records, you can safeguard your organization in case of an audit or potential lawsuit. 
More Effective Connections 
As candidates go through the hiring process using video interviewing software, they're bound to notice a few things, like how quickly the process moves. On average, there's a 58% reduction in time-to-offer. They will probably also feel like they're getting a good look into your company culture – your branded portal, automated email messages, and continuous engagement reflect an innovative and attentive workplace. Candidates are acutely aware of these factors – we know that because interviewstream clients have seen a 20% increase in top candidates interviewed. Engaging this exceptional talent is no easy task, and it sets your company up for future hiring success, better employer brand perception, and improved employee retention. 
When it comes to creating the best candidate experience possible in today's volatile hiring landscape, video interviewing software is essential. Engage and hire effective team members that you need to succeed in 2020 with a video interviewing solution. What better place to start your search than a platform that integrates directly with Bullhorn, like interviewstream.
---
To learn more about interviewstream, click here.

Subscribe to the Staffing Blog
Subscribe for trends, tips, and insights delivered straight to your inbox.