The Birth of Innovation Crossing: Bullhorn Moves to a New Global Headquarters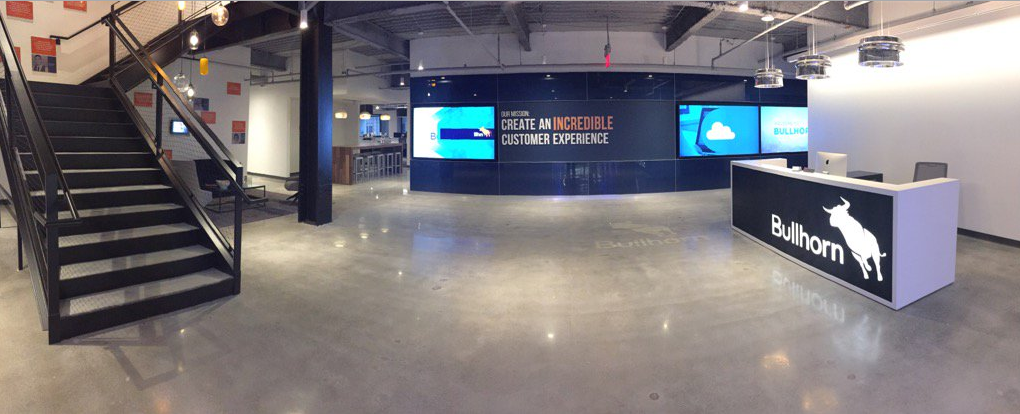 Today, Bullhorn officially moved its global headquarters from Boston's Fort Point neighborhood to a stunning new space at 100 Summer Street. I'm very excited about this move and what it means for our company and customers. We've embraced the idea of "open concept" and extended it to a whole new level in where we work, how we collaborate, and the value we bring to our customers.
The move to our new location was driven by our explosive growth over the last three years – we multiplied both our employees and customers by 3 over that period. In that same time, Fort Point – once just a lonely haven of decent seafood – blossomed into the Innovation District, with some of the most exciting companies in Boston calling it their home. Bullhorn spent more than a decade in the Innovation District, and I personally helped recruit many tech businesses to the area back when Jimmy's Harborside was still in business. We weren't just early in making the Innovation District "happen" – we were the pioneers.
As much as I'd love to stay in the Innovation District for the indefinite future, it's pretty much maxed out as far as space goes. The Class A inventory is nonexistent. When we first realized we had outgrown our space on Farnsworth Street, we considered moving to another building in the area, but it was an old brick-and-beam construction like our existing office. We would've been spread across six floors, and that kind of setup is toxic for innovation and collaboration. Most buildings in the Innovation District, unfortunately, would have been similarly limiting. Additionally, as we examined our new brand colors, we came to the realization that brown and rust-colored bricks and beams just didn't mesh with our new brand identity at all. The Farnsworth office has a very dated look, not modern or sleek like our products. Bullhorn had outgrown not just the size of the space, but its aesthetic as well. With that disparity in mind, I knew I had to find a modern-looking glass and steel building to represent us visually.
So I branched out of the Innovation District in my search for Bullhorn's new space. It was then that we found what people are calling "Innovation Crossing." The name stems from the expansion of the Innovation District across Fort Point Channel to the area near South Station and Downtown Crossing. A few tech companies, like Rapid7 and Bolt, have already ventured into the area, but it's still very early in the neighborhood's renaissance from tired financial center to burgeoning tech hub. In fact, the Innovation Crossing area of Boston reminds me of Fort Point a decade ago – it's already famous for a very specific legacy, but legacy tenants are moving out and opening up a tremendous opportunity for rebirth. There are so many new restaurants in the area, and Boston is beginning to see fewer people in suits working at high finance companies, fewer Macy's shoppers, and many more programmers, engineers, and marketers. There's a lot of space for rent, and a lot of space for growth.
The location of Innovation Crossing is amazing, from its public transportation access to its food trucks, restaurants, and water views. I truly believe that this neighborhood will soon be an even bigger tech hot spot than the Innovation District. So we jumped on the opportunity to move our global headquarters, and we are leading the charge in spreading the word about Innovation Crossing. The City of Boston is excited about our move too – it's even branding 100 Summer Street with our name and logo in an awesomely unique way. We partnered with the owner of the building and the city to build a sculpture in the courtyard on the corner of Summer Street and High Street with our branding on it. This is really very cool. Boston is a very historical city – this kind of development isn't taken lightly here. Boston's support indicates its clear desire for more tech businesses in the area. A tech company influx into Innovation Crossing would be great for Bullhorn, great for Boston, and great for tech in general. Innovation Crossing is going to be amazing – mark my words. As Bullhorn grows, so do the areas around it. It's a virtuous circle of growth all around.
Collaboration is not something we take for granted. In fact, it's why we've accomplished what we've accomplished. Our revolutionary approach to CRM – focused on openness and radical transparency in communication – has led to numerous industry accolades, including a spot on Gartner's Magic Quadrant for Sales Force Automation, being named an Editors' Choice by PC Magazine, and our place as a winner on the 2016 CRM Watchlist. Our approach has also resulted in hundreds of new customer wins across diverse industries, and by the end of 2016, we plan to hire 100 more employees in Boston to end the year with about 350 local employees and well over 700 worldwide.
Bullhorn's new headquarters at 100 Summer Street boasts 77,000 total square feet, an increase of 33,000 square feet over our previous space on Farnsworth Street. The space has two floors (connected by an open stairwell) and an open floor plan, which is designed to foster innovation, collaboration, and easy communication. GE will be taking over our former space at Farnsworth, and its CEO, Jeff Immelt, will be sitting in my old office, which is great. We're passing the torch to an amazing organization. Hopefully, GE experiences the same explosive growth that we did while we were there.
Our HQ move is just one of many exciting milestones coming for Bullhorn in 2016. Onward and upward!
Subscribe to the Staffing Blog
Subscribe for trends, tips, and insights delivered straight to your inbox.