What's the Next Big Idea in Staffing? Vote in the March Madness Big Idea Bracket
The staffing industry is moving fast. Thanks to the influence of new technologies, ideas, and approaches, the industry is evolving and adapting in exciting new ways. But which innovations are passing fads, and which have the power to truly transform the industry?
We want to hear from you! Read about the eight finalists that are changing the industry, then vote for your favorites. Come back each Thursday to see which innovations have advanced.
SMS Messaging (Texting)
Texting is having a moment. It's the fastest-growing communication channel in the staffing industry—69 percent of surveyed staffing pros plan to increase their usage in 2018.
SMS messaging is growing fast because it's what candidates want. Nine out of ten people expect SMS as a standard option to communicate with businesses and users give it the highest satisfaction rating of any communication channel. It's also effective: recipients read 98 percent of texts within 3 minutes.
SMS messaging still hasn't seen widespread adoption yet, but it's on its way. Could it one day overtake email as the dominant form of communication between candidates and recruiters?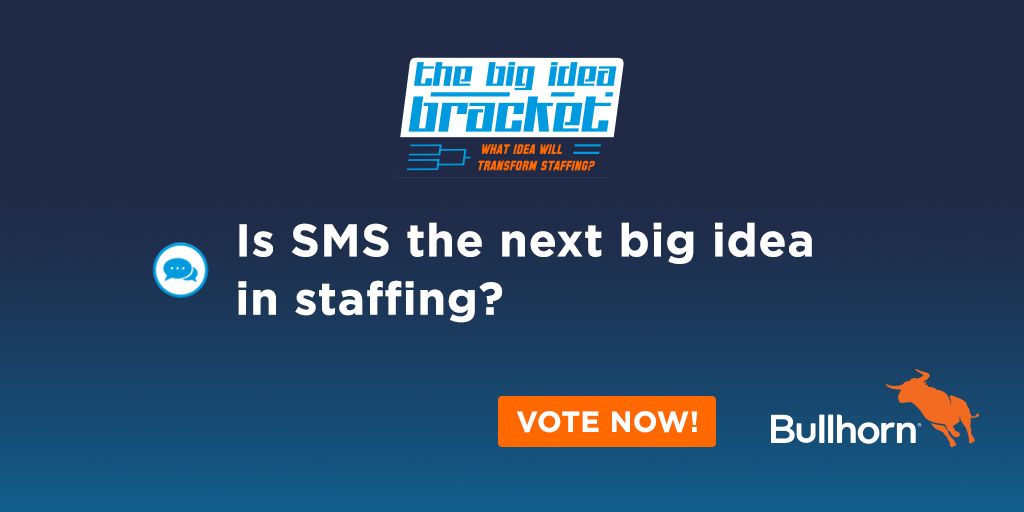 AI
There's no doubt about it: staffing professionals are excited about artificial intelligence (AI). In a recent survey, respondents picked AI as the single most-likely idea to transform the staffing industry.
It's not hard to explain the excitement. The applications of AI are nearly endless: virtual assistants, chatbots, predictive intelligence, semantic search—and these are just some of the technologies that are already available thanks to the influence of AI. And as data gets better, so will the uses of AI.
The precise role AI will play in the future is still uncertain. As TextKernel CEO Jakub Zavrel said, "If you believe in the idea of exponential acceleration of technology, 2025 will become increasingly hard to predict."
This may explain why, in staffing, AI is still at its earliest stage of adoption. But in terms of potential and the ability to generate excitement, it's hard to top artificial intelligence.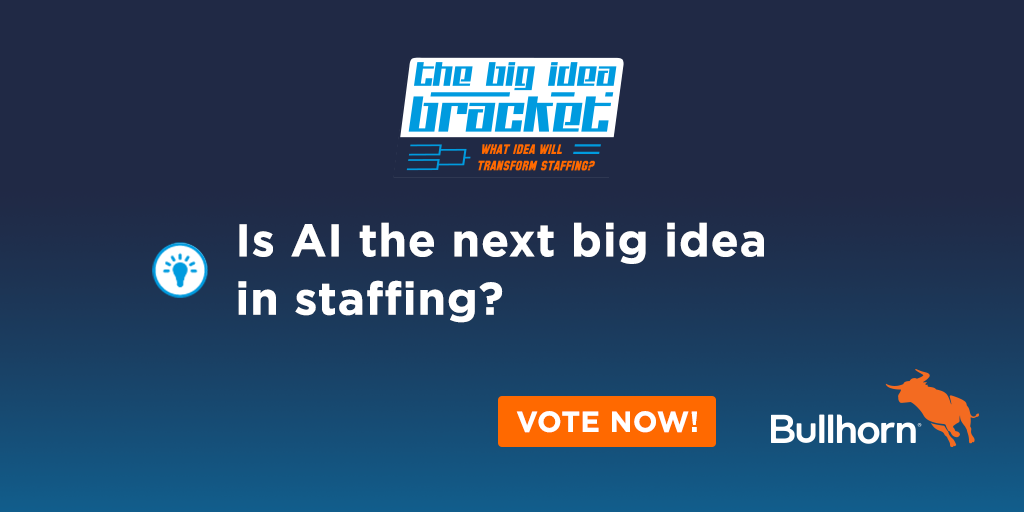 Automation
If productivity is your priority, automation is here to help.
The applications of automation are far-reaching: candidate sourcing, screening, nurturing and onboarding, sales, account management, and back-office activities—just to name a few.
Automation is so powerful as a tool because it can both improve productivity and help you focus more on candidate and client engagement. In fact, recruiting pros are split on which of those two contributions is the bigger value-add provided by automation.
Given its ability to help your firm save time, money, and improve engagement, don't count on automation remaining as staffing's best-kept secret for long. It may just be the next big thing.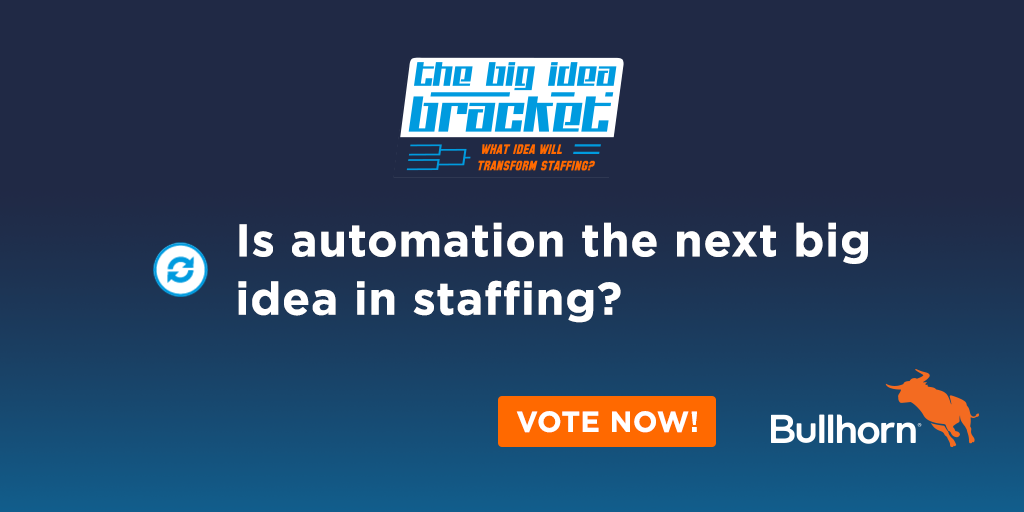 Mobile Recruiting
In an increasingly mobile world, it's imperative for staffing firms to get onboard. Now more than ever, candidates use mobile devices for every part of their job-hunting process. Yet staffing firms still haven't fully embraced the mobile mindset.
When it comes to mobile optimization, the numbers leave something to be desired:
39 percent of career websites are optimized for mobile

36 percent of job postings are optimized for mobile

36 percent of application processes are optimized for mobile
Mobile use among candidates is only growing. Sixty percent of all job searches come from mobile devices. Among millennial users, the number rises to 78 percent. If you want your firm to be future-proof, consider making mobile recruiting a part of your plan.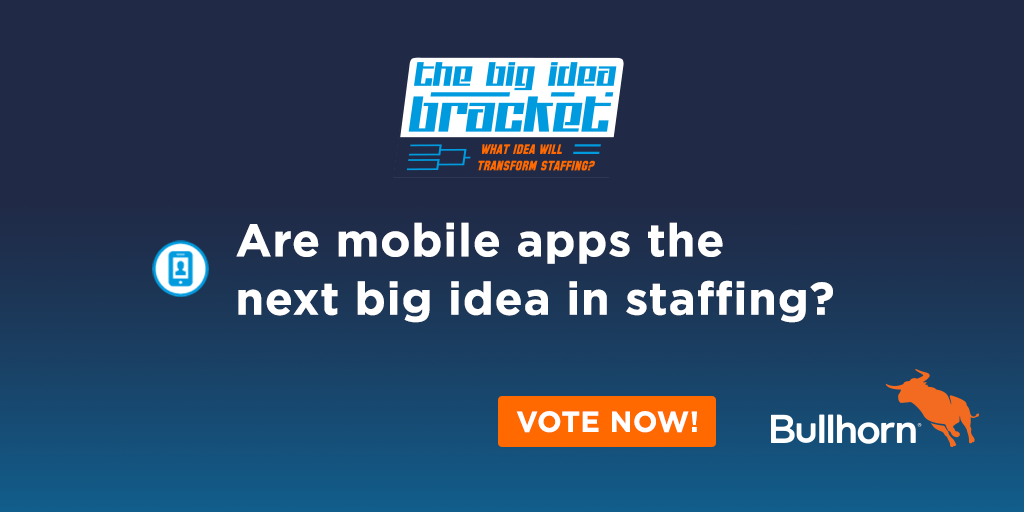 Social Media
The staffing industry has already embraced social media, but the true impact of social may just be beginning. Seventy-eight percent of the US population have social network profiles, and thanks to its widespread use among younger generations, the number is only growing.
Social media is already the third-most popular method for sourcing candidates, and three out of five staffing firms are planning to use social networks more in 2018. With good reason—half of candidates used social media in their most recent job search.
There are still many untapped ways to communicate, engage, and interact with candidates on social channels. Staffing firms that can find innovative and forward-thinking approaches to social media will have a huge leg up on the competition.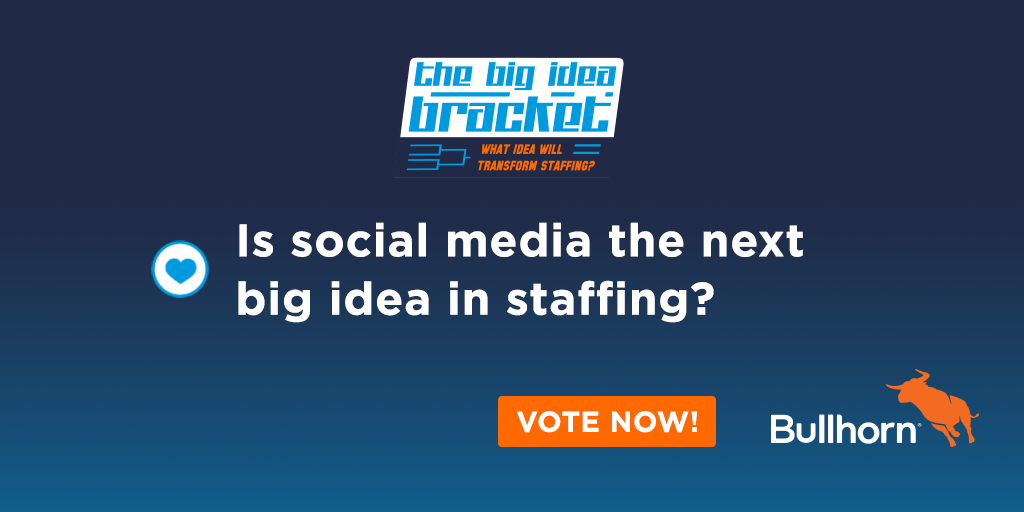 Video Interviewing
Is video interviewing the great big equalizer in staffing? If you ask any of the increasing number of small and medium-sized staffing firms that employ it, the answer is a resounding yes.
Video interviewing decreases the costs and eliminates the boundaries that come with interviewing candidates. Staffing firms that may have previously been constrained to operating in a local radius are now able to interact with candidates across the globe in ways that were previously unimaginable. And by eliminating travel costs, video interviewing has the potential to save your firm time and money, too.
Video interviewing hasn't seen widespread adoption yet. Twenty-nine percent of staffing professionals don't use it. But its many benefits make it a great candidate to become the next big thing in staffing.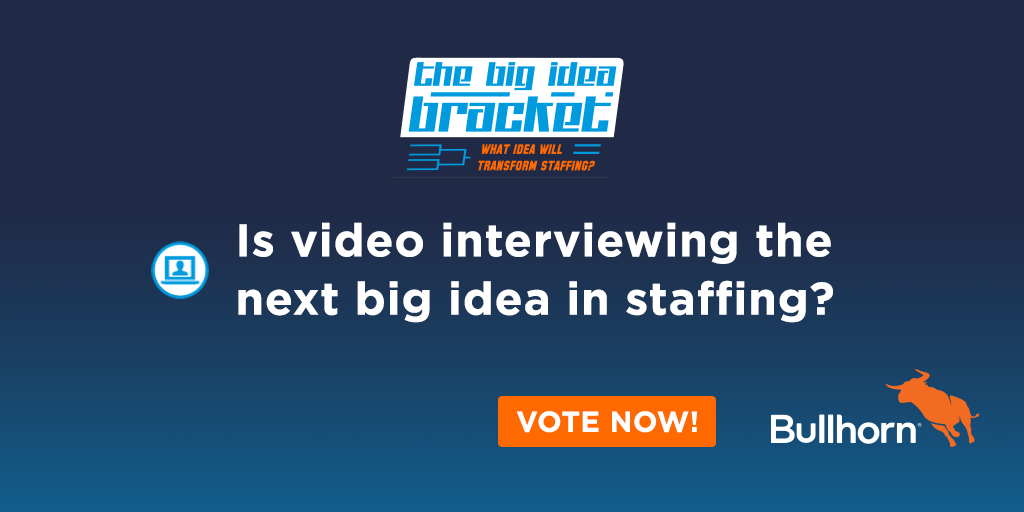 Digital Staffing Platforms
Are online staffing platforms for the freelance workforce a friend or a foe to industry? The jury's still out: 63 percent of surveyed recruiting professionals are unsure about the impact of digital staffing platforms.
Freelance digital staffing platforms have disrupted the industry in a major way—in 2016, businesses spent $1 billion on freelance labor through the freelance platform, Upwork, alone. The combination of a low price point and the promise of self-service has led to the popularity of these digital staffing platforms.
But are they more likely to hurt your business as competition, or will they become a useful tool in your arsenal that clients will pay you to project manage? Regardless of the approach you choose, one thing is certain: online staffing platforms are a part of the industry and they're here to stay.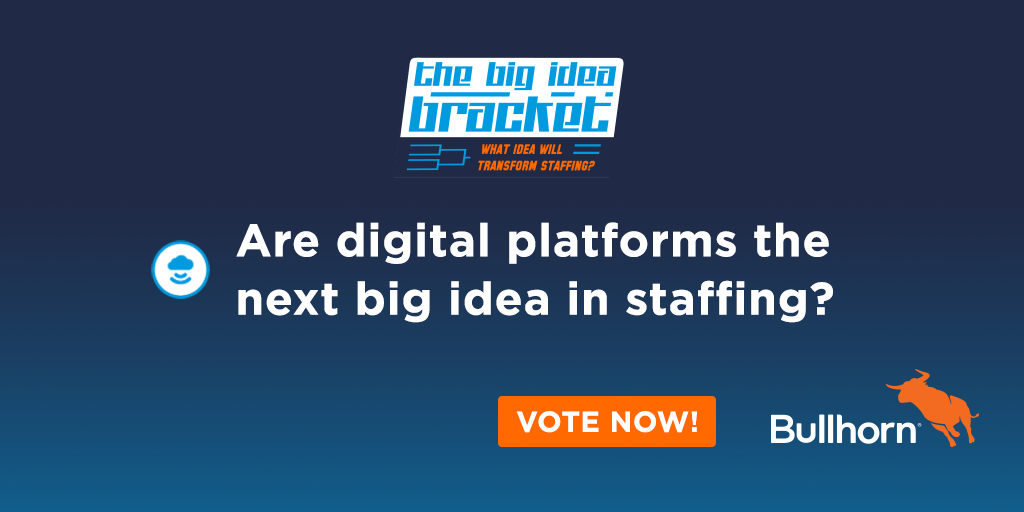 Analytics
Staffing firms have access to more data than ever before. And thanks to the development of technology like predictive intelligence and automatic data capture, analytics are more valuable than ever before, too.
Thanks to automatic data capture, firms don't need to manually log their activities or their interactions with clients and candidates; your applicant tracking system (ATS) can do it for you. Because analytics about your firm are easier to access than ever before, the applications for it will likely increase too.
And applicant tracking systems with predictive intelligence can utilize that data to be proactive and prescriptive, instead of acting as a data depository. Is a candidate or client waving red flags? Your ATS can leverage your data to alert you to it immediately.
It's easy to envision a future in which staffing firms rely even more heavily on analytics to make smart decisions about their business.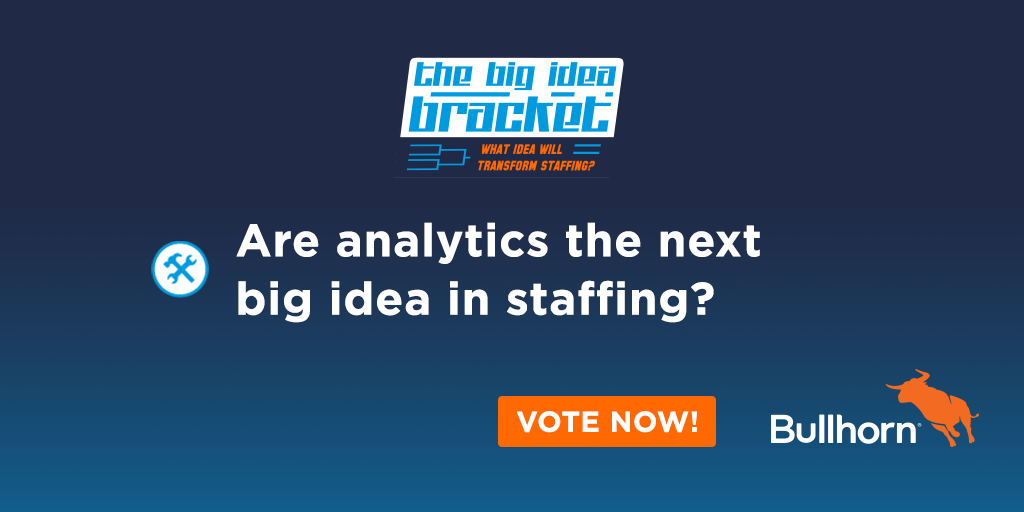 ---
You know the contenders—which innovation deserves to be the champion? You decide! Vote now. And check back every Thursday to see which ideas have advanced.
Vote in the Big Idea Bracket!
Subscribe to the Staffing Blog
Subscribe for trends, tips, and insights delivered straight to your inbox.