Sourcing the Best Talent: A Shift in Trends
We recently released our 2013 North American Staffing and Recruiting Trends Report, and while some of the findings we expected based on our observations throughout the year, others were surprising.  Case in point ―the ineffectiveness of job boards.
According to more than 1,800 recruiting professionals, job boards ranked dead last in terms of most effective ways to source high-quality candidates. Recruiters rated the effectiveness of various common methods for finding candidates in 2012 on a scale of 1 to 5 (1 being the least effective, and 5 being the most effective). "Networking with other people, firms, and associations" came out on top with an average of 4.17, "referrals from previous placements" was second with 4.08, and "in-house candidate databases" rounded out the top three at 3.84. Meanwhile, 45% of respondents cited "social media" as a highly effective sourcing method, giving it an average rating of 3.48. This is in contrast to 2011, when social media was in last place with a 3.18 rating.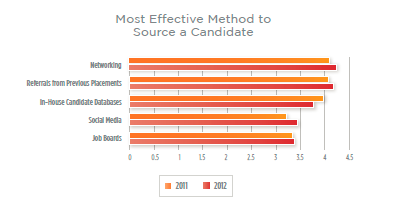 While it's great news that social media is gaining traction as an effective way to find the best talent, job boards – the harbinger of a recruiting revolution of the early aughts – are certainly still very popular…so why aren't they working?
It may be that job boards aren't the problem, per se, but that other methods just work better. The New York Times recently ran a piece on the benefits of hiring employee referrals (which ranked very highly in our Trends survey). In the piece, author Nelson Schwartz quoted one HR expert who argued that candidates who apply using job boards carry with them a negative stigma, whereas those who are referred by current employees have almost a halo effect.
With nearly 5 million Americans having been out of work for more than 27 weeks, according to the Times article, there's nothing charming about stigmatizing those who have no inside connections to a company and therefore must apply using publicly-available vehicles like job boards. While referrals clearly, as our data proves, work better than job boards do, companies' increasing reliance on referrals smacks of elitism and presents the risk of encouraging homogeneity and cookie-cutter workforces.
The onus may fall on the job boards themselves to invest in making sure the application process prioritizes quality over speed. Candidates should not be able to apply to twenty jobs an hour, but advances in job board technology have made it relatively easy to do so. To blanket apply – "spray and pray" – to various jobs only serves to make a candidate less marketable, because it makes them appear unprepared, disrespectful of the individual job's requirements, and seemingly desperate for any possible opportunity. While desperation is not, in reality, a sign of weakness, in a market where hiring companies can pick and choose from any number of qualified candidates, an applicant's every move is under close review.
This would explain why social media is gaining in popularity. Social media, unlike job boards, facilitate authentic engagement – a conversation between hiring manager, recruiter, and candidate. It allows every party to vet the other before wasting anyone's time, and it forces people to be human beings, as opposed to "spray and pray" robots.
Job boards aren't going to die anytime soon, but they must evolve if they are to remain a competitive, effective vehicle for sourcing.
Download the full Recruiting Trends Report to review additional findings surrounding the state of the staffing industry in 2013.
Subscribe to the Staffing Blog
Subscribe for trends, tips, and insights delivered straight to your inbox.