On Starting a Staffing Firm: Tips to Overcome Key Challenges from Kyle Morey-Leber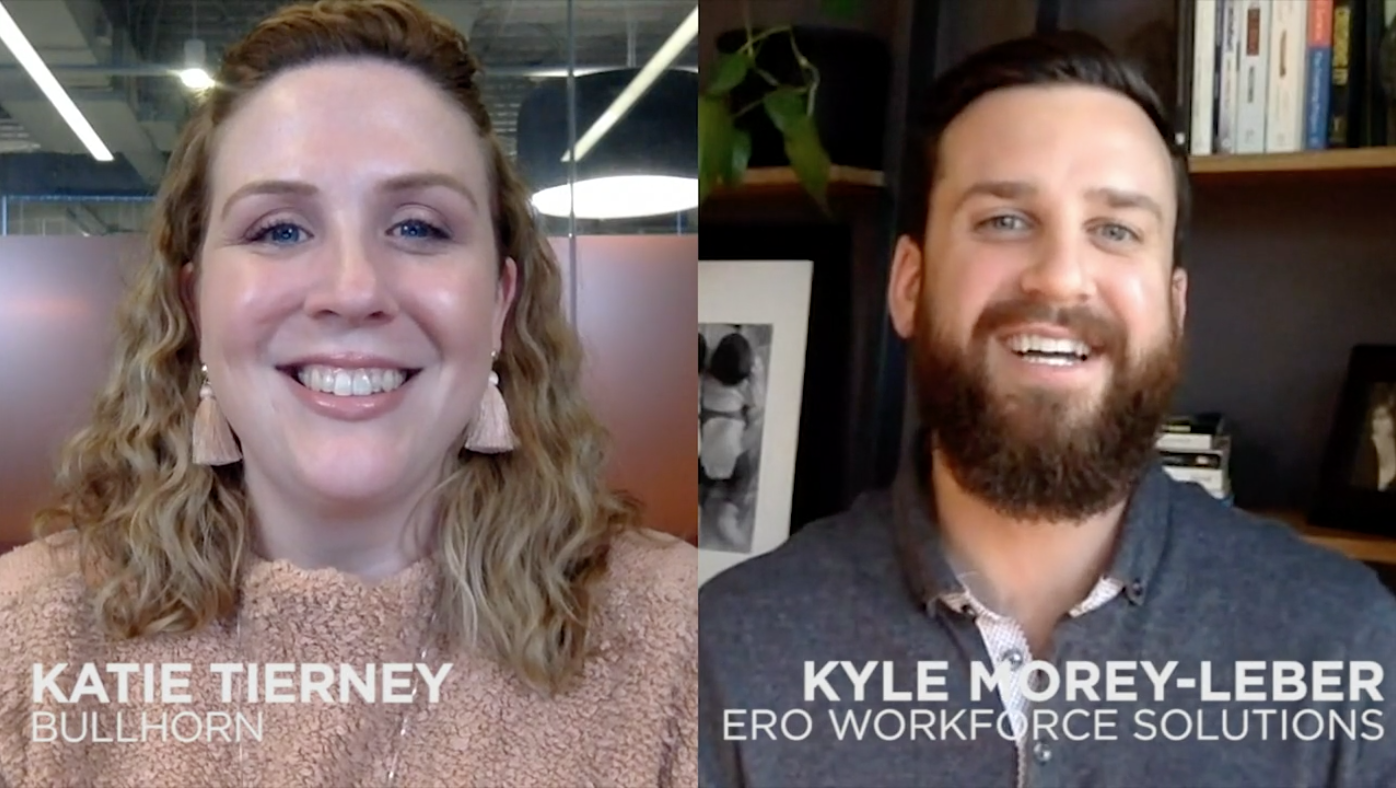 Staffing firms have no shortage of challenges, but business leaders have some particular hurdles they have to overcome as they're starting a staffing firm. I had the opportunity to talk with Kyle Morey-Leber, Vice President of Client Services at ERO Workforce Solutions, on the subject as part of our Staffing Speaks Out conversation series.
I spoke with Kyle about his experience working in the staffing industry for both large firms and startups, and he shared his insights on how firms should think about digitizing their recruitment process and how a startup's choice of software influences its business.
Read on or watch the interview below for Kyle's insights on starting a staffing firm.
Katie Tierney [KT]: I know you've been in the staffing industry for a while and you're currently working at a startup after having worked for some larger firms. How has that change been for you? What are some of the biggest challenges you've dealt with in working in a startup and starting a staffing firm?
Kyle Morey-Leber [KML]: First off, I love everything about working in a startup. What I love most are the inherent challenges in starting up a small business. There are things that come at you every single day that you're not prepared for and you've got to move on your feet, you've got to be nimble, and it's a lot of hard work. To me, that's very rewarding. What's very different about it is how many clients you have. I was in a very large firm with access to more requisitions than I could ever fill. And now working in a startup as a small company, it's… well, we flip that around. It's aggressive outbound outreach every day to develop relationships with clients that are going to really appreciate and understand our passion and our purpose, and that we can provide some genuine value.
KT: When it came time to digitize your recruitment process for your staffing firm, where did you start? What was most important to you?
KML: Well, here we started with the end in mind. We're in the business of providing quality patient care, so we're passionate about quality because, really, the patient could be your mom or your dad or your brother or your child for that matter. We had to make sure that using technology to streamline our process did not negatively impact the quality of our product because the quality of our product is paramount in everything that we do. We really had to dig into our qualification and disqualification processes and define those key steps. What are those key pieces along the way that we can digitize that are going to help us with speed to market? This is a very competitive industry, yet we're not going to negatively impact that final product.
KT: What do you think has been one of the most unexpected benefits of digitizing your recruitment process?
KML: An unexpected benefit was the community that we built amongst our team members. I think a lot of companies will start with really good leadership in the sense of, "Okay, this is what I think we should do and this is how we're going to do it, so let's take these steps." We got down in the weeds with all of our staff—with our recruiters that are doing this job on the day-to-day, with people that are talking to the clients—and we really worked together as a team to build out the process and to make sure that all the tech that we were using was in line with what's realistic versus giving orders. We collaborated, and through that process, the ownership that we brought to the organization was amazing. It was certainly a positive impact that we weren't expecting when we were seeking time-to-market and quality of product.
KT: In what ways does a startup's choice of software most significantly influence their business?
KML: Oh, it's so important to get yourself dialed in with the right software as early as possible. I highly, highly recommend, as you're out there shopping, trying to determine what ATS or CRM you're going to use or what software you're going to use for payroll or for invoicing—anything that goes along with quality assurance, human resources—test drive it again and again and again, and go out there and get some peer references. The last thing you want to do is get tied to something that doesn't fit with the other pieces of the puzzle with respect to streamlining your business.
As we went out to garner some interest in the investment community in our startup, everybody had this buzz about technology. What technology are you using? What technology are you going to build? And I understand that because technology is improving and streamlining staffing in a way that nobody would've predicted 10 years ago. But at the same time, we're very happy picking tech right off the shelf, using tech that we can adapt, and that we can mold, and that works with other tech that's in line with our business model versus coming in and saying, "Yeah, I'm going to build tech". It just made more sense for us to go out there, get something off the shelf, and adapt it so that it met our specific business needs.
KT: I'd love to hear about your experience with Bullhorn. How's it helping you?
KML: Oh, I love everything about Bullhorn. I'll be honest, I've been using it for over a decade. I love that you can adjust it for every organization. I run my shop different than somebody else runs their shop down the road, and we can customize it to what works for us. I also love that each user can customize their interface, which means for anyone on my client services team, I don't have to say, "You have to have it like this, it's always going to look like this." It's "Okay, well, what's your focus? Go ahead and make that adjustment to what makes the most sense for you." It gives you this sense of autonomy as you're going through your day-to-day and your workflow, which is so useful and so helpful.
KT: What's one industry trend you're following really closely?
KML: I'm just fascinated by the gig economy right now. In the staffing world, we put bodies in seats, almost literally. We have to fill vacancies and the millennial generation, they want to have flexibility. It's not the economy of the past where you would take a job at Ford, and you would work there for 50 years all the way into retirement. People want to have flexibility. They want to work remotely and they want to be able to work for a period of time, gain some skills, gain some experience, and move on. So I'm watching closely to see how the staffing industry as a whole basically makes some adjustments to work with their clients to meet the demands of the candidates.
Want more advice on starting a staffing firm? Get insights from staffing experts, leaders, and innovators at Staffing Speaks Out, a hub devoted to conversations with the best and brightest in the staffing and recruitment industry.

Subscribe to the Staffing Blog
Subscribe for trends, tips, and insights delivered straight to your inbox.