The Importance of Customer Experience – One Phone Call at a Time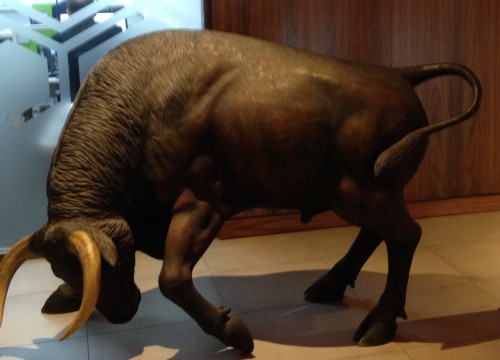 At Bullhorn, helping businesses create an incredible customer experience is our core purpose – our reason for doing what we do every day, our reason for continuing to innovate and think ahead. We understand that in order to help our customers provide exceptional service experiences, we need to demonstrate that behavior first and foremost. Over the past several years, we've made delivering an incredible customer experience the foundation of everything we do, and we've re-architected our Support framework and made critical improvements to our Services organization to facilitate this goal.
The results have been truly encouraging to us. We often receive notes and calls from customers who had a positive experience with our Support representatives and other public-facing employees, but every so often we get a special message that simply leaves us speechless. We recently received one such customer note from Tray Plyler, Recruiting Operations Lead at Associate Staffing. Tray had interacted with Jason Hart, one of our Technical Support Analysts.
While we don't usually publicize the commendations we receive, we feel Jason's service and Tray's kind words deserve special recognition. Tray has kindly given us permission to publish the entirety of his message:
"Let me start by saying that I've responded to these surveys in the past, and have been a very big fan of Bullhorn Support. In fact, I had resolved that some of the things I had commented on previously would be enough feedback to last at least until next year. BUT THEN, I had a support call with Jason Hart today, and there was no other choice but to write back in with more feedback.
I have had the pleasure of working with multiple Bullhorn Support Staff that have gone above and beyond, but Jason has officially taken the top spot. I really cannot say enough about how much it means when the representative of a company goes beyond the call of duty in their efforts for the customer; and not only did Jason go beyond, he went LIGHTYEARS beyond what may have even be hoped for. I am a very curious and inquisitive person, especially as it relates to our Bullhorn ATS System. Most of my questions are beyond what's been covered in your external documentation. I had several questions like this today with Jason, and rather than simply providing a response, Jason provided solutions. And when a solution wasn't readily available, he was so insightful as to continue reach into his own personal understanding in solving our problems. You can't coach these things. You can't incentivize what can only come from someone's passion in exceeding what's already accepted as the top tier of performance; BUT if you're lucky, you'll have people like Jason Hart that do these things because it's simply who they are as a person.
If there is a National Competition for Support Personnel, Bullhorn should immediately enter they're representatives in it, because without any exaggeration I can say that I'VE NEVER EXPERIENCED customer support anywhere near the level that I've experienced with Bullhorn so far. And if that wasn't enough, then it's all the more mind-boggling that it has been at this level of performance so consistently. I'm truly blown away. It's the type of customer satisfaction that makes someone want to buy a Billboard to broadcast it to the world. I'm frankly speechless at this point. I would recommend putting people like Jason Hart in the most critical position of influence for your business decisions, because these are the kind of people that understand the essence of what your customers truly want. They're the 'Salt of the Earth' for companies at the pinnacle of commerce.
Thanks again for everything."
– Tray Plyler, Recruiting Operations Lead, Associate Staffing
We'll continue to strive to make a positive difference in the lives of our customers, as they do every day for our employees. And the results will speak for themselves…
Bullhorn Customer Satisfaction (7/1/14 to 3/1/15):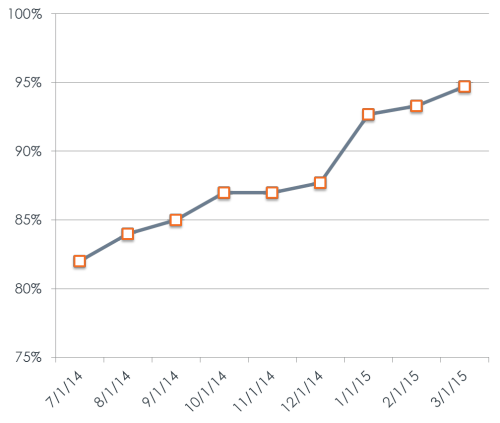 Subscribe to the Staffing Blog
Subscribe for trends, tips, and insights delivered straight to your inbox.