The Ultimate Software Buyer's Guide for Staffing and Recruiting Firms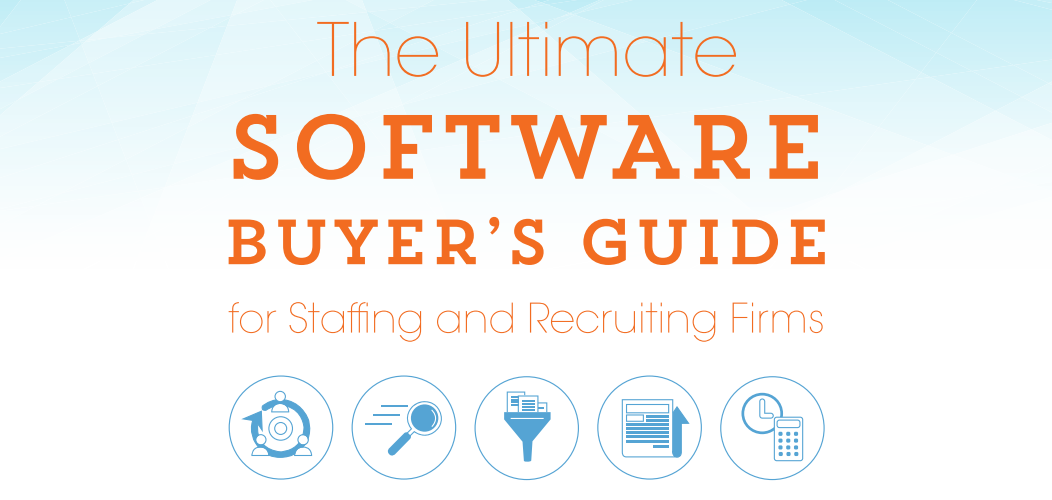 The Ultimate Software Buyer's Guide for Staffing and Recruiting Firms aims to help you decide what type of recruiting software is best suited to the needs of your company. Whether you're in the market for a complete system overhaul or just need one or two software components to bring your company's performance to the next level, our guide will walk you through the features you should look for and the steps you should take to ensure that you choose the best product for your firm.
This guide tells you what you need to know about each of the most important products for staffing and recruiting firms' success, including:
Customer relationship management (CRM) systems
Applicant tracking systems (ATS)
Vendor management system (VMS) integration
Onboarding software
Back office software
Whether your firm could benefit most from an excellent CRM to track its relationships more effectively or back office software to streamline routine operations, The Ultimate Software Buyer's Guide will give you all the knowledge you need to make an informed decision for your company.
Our guide also contains the information you need to decide on the best type of software for your staffing or recruiting firm: will your ideal solution be on-premise, hosted, or Software-as-a-Service (SaaS)? This buyer's guide will give you a clear picture of the flexibility and security you can expect from each of these options.
While finding an excellent product to boost your firm's performance is important, the solution you choose also must have the necessary infrastructure to support the product and your company's operations. Can you access the options you're considering on each of your mobile devices? Do the providers you're evaluating allow you to add additional functionalities to their base systems? Are their security and recovery practices up to snuff?
To find the information you need to discover the best solution for your company, as well as a checklist to use throughout your search process, read The Ultimate Software Buyer's Guide for Staffing and Recruiting Firms.
Subscribe to the Staffing Blog
Subscribe for trends, tips, and insights delivered straight to your inbox.